SJFF 2022 – BLOCK 9 – Emergence: Out of the Shadows [Hybrid]
Watch online: Sep. 28 – Oct. 2

Watch in person: Oct. 1 at 7:30pm
In-person tickets
$13 General Admission
$10 Student/Child/Senior
$7 Member
Virtual tickets
$5 – $25 Sliding Scale
$50 – $125 Sliding Scale
Festival Passes grant access to BOTH virtual AND in-person film programs!
Individual Tickets are available, as well, but are for EITHER virtual-only OR in-person-only access.
Click for Accessibility Info
Ticketing, concessions, cinemas, restrooms, and our public edit lab are located on Northwest Film Forum's ground floor, which is wheelchair accessible. All doors in Northwest Film Forum are non-motorized, and may require staff assistance to open. Our upstairs workshop room is not wheelchair accessible.
We have a limited number of assistive listening devices available for programs hosted in our larger theater, Cinema 1. These devices are maintained by the Technical Director, and can be requested at the ticketing and concessions counter. Also available at the front desk is a Sensory Kit you can borrow, which includes a Communication Card, noise-reducing headphones, and fidget toys.
The Forum does NOT have assistive devices for the visually impaired, and is not (yet) a scent-free venue. Our commitment to increasing access for our audiences is ongoing, and we welcome all public input on the subject!
If you have additional specific questions about accessibility at our venue, please contact our Patron Services Manager at cris@nwfilmforum.org. Our phone number (206-329-2629) is voicemail-only, but we check it often.
Made possible due to a grant from Seattle Office of Arts & Culture, in partnership with Sensory Access, our Sensory Access document presents a visual and descriptive walk-through of the NWFF space. View it in advance of attending an in-person event at bit.ly/nwffsocialnarrativepdf, in order to prepare yourself for the experience.
NWFF patrons will be required to wear masks that cover both nose and mouth while in the building. Disposable masks are available at the door for those who need them. We are not currently checking vaccination cards. Recent variants of COVID-19 readily infect and spread between individuals regardless of vaccination status.
Read more about NWFF's policies regarding cleaning, masks, and capacity limitations here.
Emergence: Out of the Shadows
(Vinay Giridhar, Canada, 2021, 81 min, in English)
CW: suicidal ideation, brief mention of sexual abuse
For Kayden, Jag, and Amar, awakening to and expressing their sexuality within conservative South Asian families was a lonely and terrifying experience. Denial, shame and despair haunted their youths, even threatening their lives. Yet, they've emerged.
In this gripping documentary, the disparate journeys of three people candidly converge around a shared sense of compassion and healing as they bravely convey their often heart-wrenching stories. Confronted with tradition and taboo in their Punjabi Sikh cultures, resisting silence, Jag's parents and Amar's mother choose love over rejection, offering courage and inspiration to individuals and communities struggling with acceptance. Tender, thoughtful and teary, Emergence: Out of the Shadows asserts a potent and transformative voice in support of marginalized queer youth and their families.
Header photo credit: Emergence: Out of the Shadows, dir. Vinay Giridhar
FAQ: How do I watch online?
FAQ: How do I watch in-person?
Purchase your ticket through Brown Paper Tickets; come to the show!
You can also purchase a ticket on the day of the screening at Northwest Film Forum's box office (1515 12th Ave, Seattle).
If you have purchased a Hybrid or In-Person-Only Festival Pass, we'll be able to look you up at Will Call by the name you purchased under.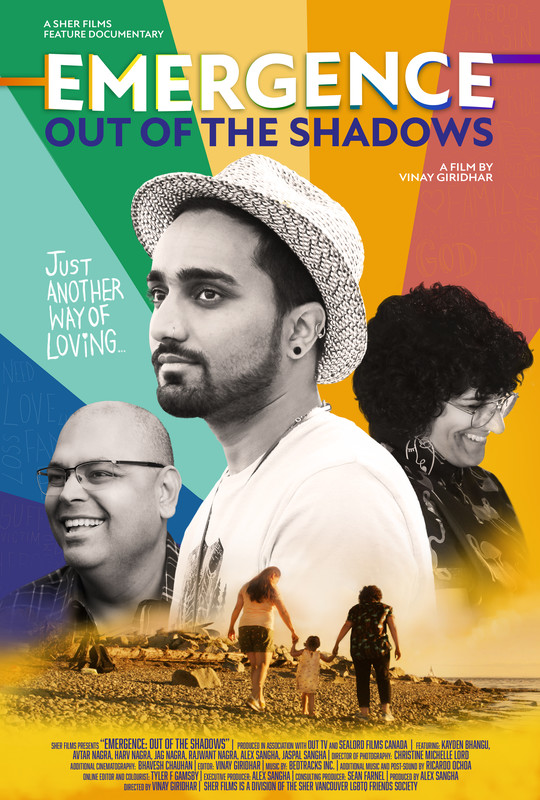 ---
Teguh
US Premiere!
(Riani Singgih, Indonesian, 2021, 14 min, in Indonesian with English subtitles)
In Indonesia, where LGBTQI+ folks are still heavily discriminated against, many still have to hide their identity due to fear of oppression by those in power. This film follows Teguh, who was dishonorably discharged as a policeman due to his sexual orientation. With the support of his partner Tonny, Teguh decides to pursue justice by bringing his case to court; an unheard-of act in Indonesia's LGBTQI+ community. The potential dangers of going against the institution are counterbalanced by a foundational love story between Teguh and Tonny, which clearly justifies and validates their fight.
---
Click to return to Festival Home:
⚠️ Please note: NWFF patrons will be required to wear masks that cover both nose and mouth while in the building. We are not currently checking vaccination cards.
---