Stage Russia HD – Iran Conference [In-Person Only]
This event took place on Feb 6, 2022
$13 General Admission
$10 Student/Child/Senior
$7 Member
⚠️ Public safety notice ⚠️
NWFF patrons will be required to double-mask while in the building. Disposable masks are available at the door for those who need them. To be admitted, patrons ages 5+ will also be required to present EITHER proof of COVID-19 vaccination OR a negative result from a COVID-19 test administered within the last 48 hours by an official testing facility. Boosters are strongly recommended, though not required for entry.
NWFF is adapting to evolving recommendations to protect the public from COVID-19. Read more about their policies regarding cleaning, masks, and capacity limitations here.
Igor Sergeev & Vladimir Kuznetsov
Russia
2h 40m
About
Igor Sergeev and Vladimir Kuznetsov's multi Golden Mask nominated production of Ivan Vyrypaev's thought-provoking and timely Iran Conference takes place at a symposium in Denmark where influential public figures and scientists gather to discuss the current clash of modern Western liberal ideology with traditional religious consciousness and way of life. An attempt to present reports prepared by the lecturers quickly transforms into a lively conversation about spirituality, ethical dilemmas and personal experiences related to the condition of humanity today. Vyrypaev's aim is, of course, not to deliberate on the East/West friction, but to present a true-to-life philosophical parable about humanity, faith and love.
(Igor Sergeev & Vladimir Kuznetsov, Russia, 160 min, in Russian with English subtitles)
Description courtesy of Stage Russia HD, still photos by Andrey Sukhinin.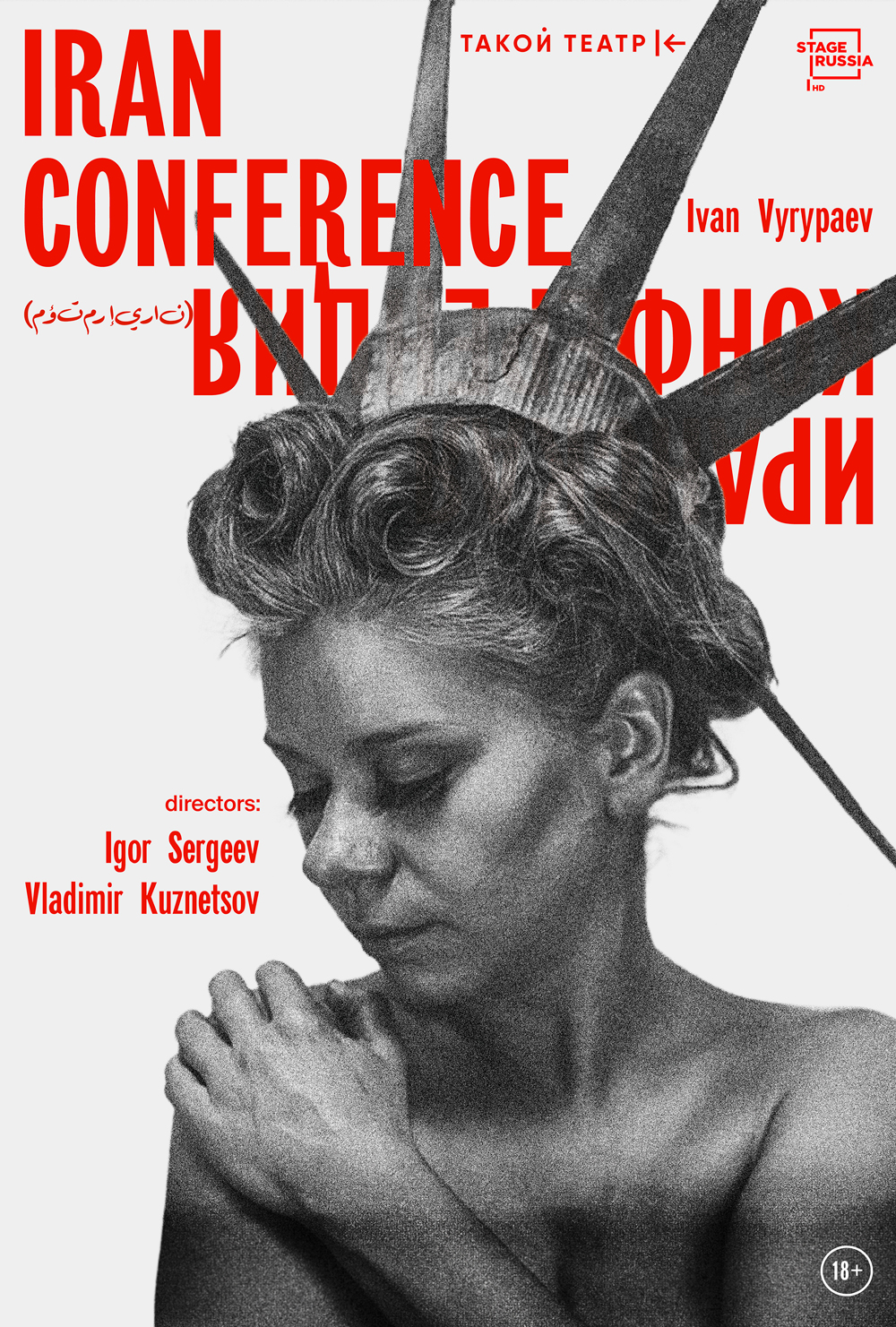 About the playwright:
Ivan Vyrypaev is the best-known and most frequently staged contemporary Russian playwright, theatre and film director, screenwriter, producer and actor. The New York Times has described him as "Europe's most promising playwright." After graduating from the Theatre Academy in Irkutsk, he has worked with theatres in Magadan, Kamchatka and Irkutsk. From 2005–2016 he worked with the iconic Praktika Theater, where he was the artistic director (2013-2016). He has staged several dozen productions in leading theatres across Europe. Vyrypaev's dramas create a new type of communication with the viewers: the actors and the audience are aware of their mutual presence; the defective language becomes simultaneously poetic and metaphysical. His plays have been staged in the best theatres in the world.
Cast & Crew:
Creative Team
Directors – Igor Sergeev and Vladimir Kuznetsov
Writer – Ivan Vyrypaev
Stage Design – Anvar Gumarov
Lighting Design – Andrey Lebed
Sound Design – Dmitry Madera
Video – Ivan Chernykh, Aleksey Sinitsa
Costumes – Stanislav Belozerov, Denis Gogolev
Cast
Philippe Rasmusen – Igor Grabuzov
Daniel Christensen – Leon Slovitsky
Oliver Larsen – Aleksandr Lushin
Magnus Thomsen – Artur Fedynko
Astrid Petersen – Yuliya Grishaeva
Emma Shmidt-Paulsen – Niele Meilute
Gustav Yensen – Stanislav Belozerov
Father Augustin – Aleksandr Khudyakov
Pascual Andersen – Pavel Philippov
Shirin Shirazi – Asya Shirshina
---