There Is a Field [Online]
May 27 from 7–9pm PT (film screening + Zoom panel discussion)
May 28–30 (view the film online, on demand)
Sliding scale admission: $0–25. Suggested contribution: $15
Please pay what you can; 25% of proceeds will go directly to support Washington state families impacted by police violence. Remaining proceeds support co-presenting organizations Donkeysaddle Projects, Dunya Productions, and Northwest Film Forum.
---
Northwest Film Forum is SCREENING ONLINE! NWFF's physical space is temporarily closed in light of public health concerns around COVID-19, but community, dialogue, and education through media arts WILL persist.
• • HOW TO WATCH • •
Purchase your ticket through Brown Paper Tickets.
If you're purchasing before opening night, May 27 at 7pm PT, your email receipt from Brown Paper Tickets will contain Zoom meeting details under "Ticket Details". (Don't see it? Check your spam filter.) The opening night Zoom event will take place immediately after the film, at 8:15pm PT; please begin watching promptly at 7pm PT if you wish to join the Zoom! Those purchasing after opening night will receive a password to view only the film.
If you encounter any issues logging in, please contact rana@nwfilmforum.org for a quick follow-up. (But please, check your confirmation email!)
• • VIEW THE PANEL DISCUSSION FROM MAY 27, 2021 • •
Tune in opening night for a Zoom panel discussion with:
Jen Marlowe, There Is a Field filmmaker and Founder & Director of Donkeysaddle Projects
Dr. Nada Elia, activist and professor of Arab American Studies at Western Washington University
Katrina Johnson, activist and cousin of Charleena Lyles
Dr. Jasmine Mahmoud, Assistant Professor of Arts Leadership at Seattle University
Moderator Nabra Nelson, Director of Arts Engagement at Seattle Rep
About
** Co-presented with Donkeysaddle Projects, Dunya Productions, Seattle Rep, and Northwest Film Forum. **
In October 2000, a police officer shot and killed unarmed 17-year-old Asel Asleh. His story is tragically familiar for Americans, but Asel was not killed in Ferguson, New York City, Atlanta, or Minneapolis. Asel was a Palestinian teenager who was murdered by Israeli police as he participated in a demonstration, calling for an end to the Israeli occupation and settler-colonization.
There Is a Field began as a play about Asel's life and his death, told from the perspective of his older sister, Nardin. Through Nardin's struggle to cope with the murder of her brother, the play offers a uniquely personal lens for learning about intersecting systems of oppression, including Zionism and white supremacy—root causes of state-sanctioned violence and structural racism.
Donkeysaddle Projects (DSP) filmed a performance-reading of There Is a Field at the Peñasco Theatre Collective in 2018, performed by activists, artists and organizers from the Movement for Black Lives. The film There Is a Field weaves together their performance with archival footage of Asel, and the activists' own realizations of the parallels they see between Asel's story and the experiences of Black, Indigenous, People of Color (BIPOC) communities in the United States. The film, set in Palestine and performed by BIPOC artists and activists in the US, builds solidarity across intersectional struggles for liberation and decolonization, and is sure to spark conversation and connection.

About the opening night event:
Dunya Productions, Seattle Rep, and NWFF are partnering on a virtual event which will include watching the film, followed by a meaningful discussion with Seattle-based Black Lives Matter and Palestinian justice activists, exploring the connections addressed in the film, ways to locally embark on joint organizing and solidarity, and the power of theatre and film in social justice movements.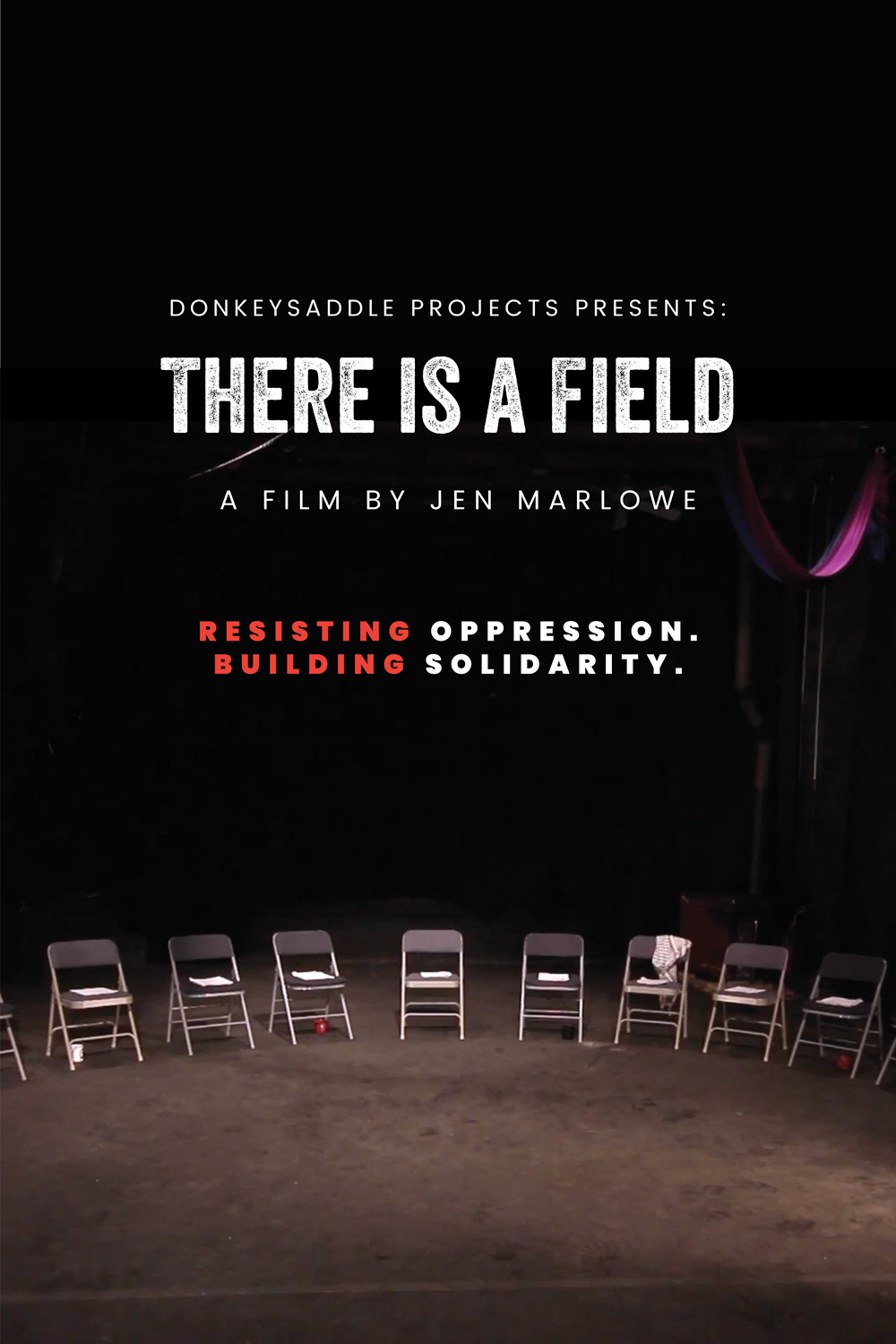 Dunya Productions is a new Seattle-based theatre company, centered on creating art and performance that will inspire and impassion our audience to engage with the global struggle for social & political justice. We seek to amplify the voices of Middle Eastern, North African, Arab people as well as other marginalized communities.
Seattle Rep puts theater at the heart of public life. Founded in 1963 and winner of the 1990 Tony Award for Outstanding Regional Theatre, Seattle Rep is currently led by Artistic Director Braden Abraham and Managing Director Jeffrey Herrmann. Over a season and throughout the year, Seattle Rep collaborates with extraordinary artists to create productions and programs that reflect and elevate the diverse cultures, perspectives, and life experiences of the Pacific Northwest. Seattle Rep's nationally recognized programs include the New Play Program, Public Works Seattle, the August Wilson Monologue Competition, Pay What You Choose, and numerous audience enrichment and engagement opportunities including post-play panels, discussions, and community events.
As theater-makers, we have the power to reveal our shared humanity through the stories we tell and transform communities in the process. This is only possible if we commit to the work of creating a more just and equitable space for Black, Indigenous, and People of Color (BIPOC) artists, staff, and community members.

Jen Marlowe
Jen Marlowe is an author/filmmaker/playwright and human rights activist. Her most recent book is I Am Troy Davis written with innocent death row prisoner Troy Davis and his sister. Her previous books include The Hour of Sunlight: One Palestinian's Journey from Prisoner to Peacemaker, and Darfur Diaries: Stories of Survival. Her films include Remembering the Gaza War, Witness Bahrain, One Family in Gaza, Rebuilding Hope: Sudan's Lost Boys Return Home and Darfur Diaries: Message from Home. www.donkeysaddle.org.

Nada Elia
Nada Elia is a Palestinian born in Baghdad and raised in Beirut, where she worked as a journalist covering the (un)civil war. Now Seattle-based, her activism focuses on resisting institutionalized systems of oppression (racism, sexism, criminal injustice). Elia teaches Arab American Studies at Western Washington University, and is a regular contributor to Mondoweiss and Middle East Eye. She co-edited INCITE! Women and Trans People of Color's Law Enforcement Violence Toolkit for Activists, as well as Critical Ethnic Studies: A Reader, and is working on a manuscript about the politics of solidarity.

Katrina Johnson
Katrina Johnson is the Senior Community Organizer with VOCAL-WA with an emphasis in building power for marginalized people. Before joining PDA, Katrina worked for Real Escape from the Sex Trade (REST) for just under two years as support staff in REST's emergency receiver shelter in South Seattle. Katrina became a social justice activist/advocate and spokesperson for her family in June of 2017, after her first cousin Charleena Lyles was killed in her home in North Seattle after police officers responded to the location to investigate a burglary Charleena had reported. Katrina works with other families who have lost loved ones to the use of deadly force in Washington state and nationally. I has been a guest speaker in various cities and states on police reform, served as a panelist locally, nationally, and internationally on police reform, state sponsored violence, and bridging the gap between police and communities for healing. Katrina organizes events, and authored an op-ed piece for BET.com.

Jasmine Jamillah Mahmoud
Jasmine Jamillah Mahmoud is a curator, arts advocate, and historian of art and performance. She is Assistant Professor of Arts Leadership in the Department of Performing Arts and Arts Leadership at Seattle University, where she teaches classes including "Public Policy and Advocacy in the Arts," and "Black Lives Matter: Art Leadership, Theory, and Practice." She previously taught at Washington University in St. Louis, where her courses included "Urban Ethnography in St. Louis." Her research and teaching engage performance studies, theater history, Black aesthetics, visual culture, aesthetic experimentation, race, feminist and queer of color critique, cultural policy, urbanism, and geography.
An essayist, scholar, and arts journalist, her writing and interviews appear in Modern Drama, Performance Research, TDR: The Drama Review, Women & Performance, as well as in Art Forum, ASAP/J Online, Canadian Art Review, Common Reader, Howlround, Hyperallergic, LitHub, and the South Seattle Emerald, where she writes a regular column centering BIPOC artists. Committed to arts advocacy, she currently serves as a Governor Inslee appointed Washington State Arts Commissioner, board president of Intiman Theatre, and a board member of On the Boards.

Nabra Nelson
Nabra Nelson is a community organizer and theater creator from Egypt, Nubia, and California. She is also the Director of Arts Engagement at Seattle Rep. As an arts administrator, director, playwright, dramaturg, and teaching artist, she works with theaters, universities, and community organizations to create positive change, strengthen community, and amplify under-heard voices through theater. She is a founding company member of Dunya Productions and Heard Space Arts Collective, and is a graduate of the University of California, Santa Barbara.
---