Titane [In-Person Only]
$13 General Admission
$10 Student/Child/Senior
$7 Member
⚠️ Public safety notice ⚠️
NWFF patrons will be required to wear face coverings while in the building. To be admitted, patrons ages 12+ will also be required to present EITHER proof of COVID-19 vaccination OR a negative result from a COVID-19 test administered within the last 48 hours by an official testing facility.
NWFF is adapting to evolving recommendations to protect the public from COVID-19. Read more about their policies regarding cleaning, masks, and capacity limitations here.
Julia Ducournau
France & Belgium
2021
1h 48m
About
** France's official entry to the 94th Academy Awards; winner of the Palme d'Or, Cannes 2021 **
The official synopsis of Titane: A metal highly resistant to heat and corrosion, with high tensile strength alloys, often used in medical prostheses due to its pronounced biocompatibility.
If only Titane were that simple. Bursting with violent energy, aggressive scenes, and commanding performances, Titane is one of the year's most original and thought-provoking films to come to theaters. French filmmaker Julia Ducournau (Raw, 2016) dares you to think beyond what could be "physically possible" and takes you on a ride that might leave you with more questions than answers… but at least it was one hell of a journey.
Alexia (Agathe Rousselle in her feature film debut) is on the run after a series of brutal killings that she has committed. Complicating matters, she comes to find out that she is also pregnant after an encounter with a special vehicle and seeks protection from a lonely man who believes that she is his long lost son.  This is just the beginning of the absurd, strange, and wild ride that seamlessly combines a tale of a serial killer with that of a family drama. (Amanda Salazar)
Images courtesy of NEON. Warning: This film contains explicit, intense violence.
(Julia Ducournau, France & Belgium, 2021, 108 min, in French with English subtitles)
"The magic of Titane is also owed to the grace with which Ducournau threads the needle between clarity and madness, shock and recognition, throttle and clutch…And, lest it need to be said, this is a movie that needs to be seen on a big screen with even bigger sound and a screaming crowd surrounding you on all sides. "F9" was cute, but outer space is hardly the most fun place a car can go." – IndieWire
"You'll likely walk out of Titane feeling like you've been rattled by a roller coaster, but the film's daring attempt at pathos has stuck with me the most." – The Atlantic
"Ducournau responds with a dystopian vision of hyper-gendered monstrosity — in which the femme and masculine, body and machine, are in constant, spectacular battle. Blasphemy or not, ironic or not, it's worth seeing — and re-seeing — on as big a screen as possible." – Hyperallergic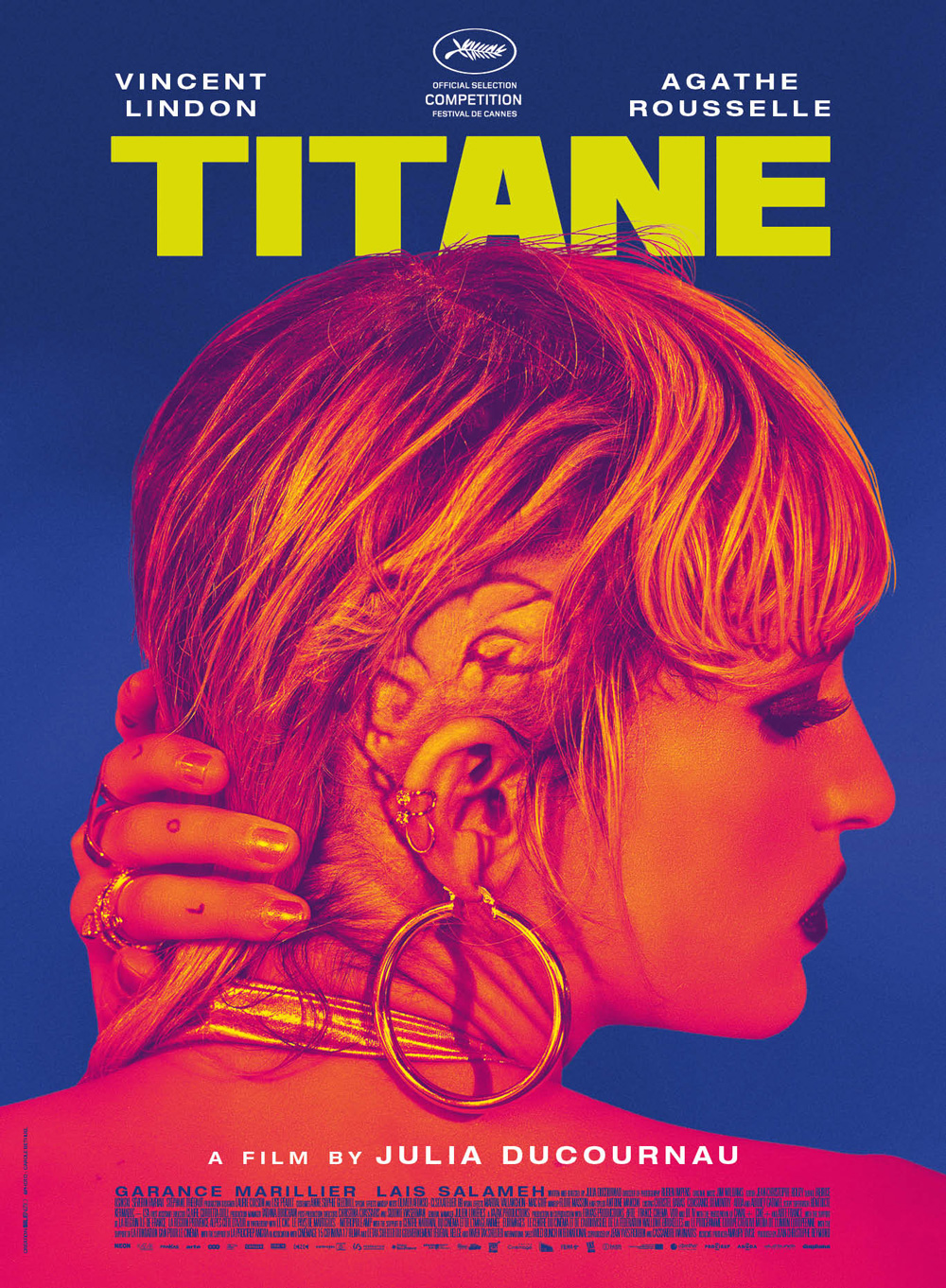 ---