Virtual Moving History – Black History Month 2021
Program I — Sun Feb 14, 2021: 4.30pm PST
Program II — Sun Feb 28, 2021: 4.30pm PST
This program will be streamed LIVE on our Facebook Videos page. Chat with the MIPoPS audiovisual archivists on FB throughout the stream!
No password is necessary to view Moving History programs. Donations to NWFF and/or MIPoPS are optional but appreciated.
Pictured above: Dr. Carl Mack, former president of Seattle's local chapter of the NAACP, gives a presentation for Black History Month 2003. (Watch it in full here.)
To celebrate Black History Month in 2021, MIPoPS is taking a look back through magnetic video materials they've digitized, exploring back from the mid-aughts. We've found Chad Goller-Sojourner reading his intensely evocative poetry in 2007 – Ossie Davis visiting Tacoma in 2003 to give a rousing keynote about Black labor's history in the States – teenage tap dancers echoing the footsteps of the Nicholas Brothers in 2000, and beloved Seattleite Sir Mix-a-Lot performing at Judkins Park the year of his first album release, 1988.
All of these are recordings to be cherished, but we invite viewers to keep a couple of things in mind as they watch: these clips are the tip of an iceberg. Think of the unseen volume of history that they suggest. How many more videotapes like them are out there, at a threshold of obsolescence? Home movies, local TV productions, video artwork, and more?
In a golden age of personal storytelling, when the camcorder had become commercially ubiquitous (and eventually affordable), "for posterity" suddenly became a much more diverse set of documents. But as technology marched on, creating and deserting audiovisual formats in its wake, a web of interrelated conditions bogged down materials created by and about communities of color. Unequal access to freedom, wealth, health, opportunities and technologies, all reinforced by the omnipresent class and race biases that undergird American life (archives included)… first these faults stood in the way of the material's creation, and now they continue to obstruct its preservation.
While this month's curation highlights Black joy, art, and community, it remains important to consider the unequal endangerment of information stored on videotape. All magnetic media is aging into oblivion, but Black cultural-historical records are less common and self-evidently more precious than white ones. MIPoPS is committed to prioritizing BIPOC-made and -centering material, and supporting public access to it.

Program I — Feb. 14, 2021
"If you're not careful with history, people will define who we are as a people." Dr. Mack, former president of Seattle's local chapter of the NAACP, presents about Black pride, heritage, and history-keeping during Black History Month 2003. Mack's magnetic personality and gift for collapsing time and place turn history into a profoundly empowering, accessible text – as well as a weapon – for Black liberation.
This rhythm tap performance by young dancers from Tap Central Studios took place at Seattle Public Utilities' closing celebration for Black History Month 2000. In her introduction, the company's program director touches on the importance of impressing young people with the significance of Black art forms like tap, to pass on their stewardship to new generations.
By 1993, hip-hop's ballooning influence and creative energy have attracted swarms of suits, bent on commodifying the genre. Buddah lead singer DMax, writer/performer MC Wild J, and B Mellow, a hip-hop DJ on KAOS FM (among other stations) and staff writer for Seattle rap mag The Flavor, discuss misconceptions about hip-hop with an assembly of teenage students. Drawing a clear distinction between commercially manufactured rap and rap as a powerful, sophisticated tool for storytelling and community-building, the three of them casually serve up a feast of food for thought.
Ossie Davis, toweringly charismatic at age 85, gives a speech at the 2002 Black History & Labor Celebration in Tacoma, Washington. As he takes on the subject of slave labor as the foundation of the American economy, Davis's signature dry wit and oratory flair never flags.
Excerpted from the 1988 Pacific Northwest Black Community Association Festival (now known as Umoja Fest African Heritage Festival & Parade), this R&B set by The Amazing Manning Brothers and performance by Seattle's beloved rap goofball Sir Mix-a-Lot are truly transporting.
Kenny "The Human Orchestra" Muhammad performs to an utterly flabbergasted audience at Bumbershoot 2003 following a hip-hop dance showcase. The crowd's responses range broadly from stunned disbelief, to confusion, to raucous standing ovations as the legendary beatboxer sweeps through his exhilarating repertoire of mouth-sounds.
At a reading hosted by Seattle Public Library, Chad Goller-Sojourner reads three bracing poems that explore emotionally and existentially liminal lived experiences. A Black boy raised by a white adoptive family, Goller-Sojourner's experiences of virtually all facets of identity – privilege, racism, sexuality – have a distinctly turbulent energy that empowers his writing.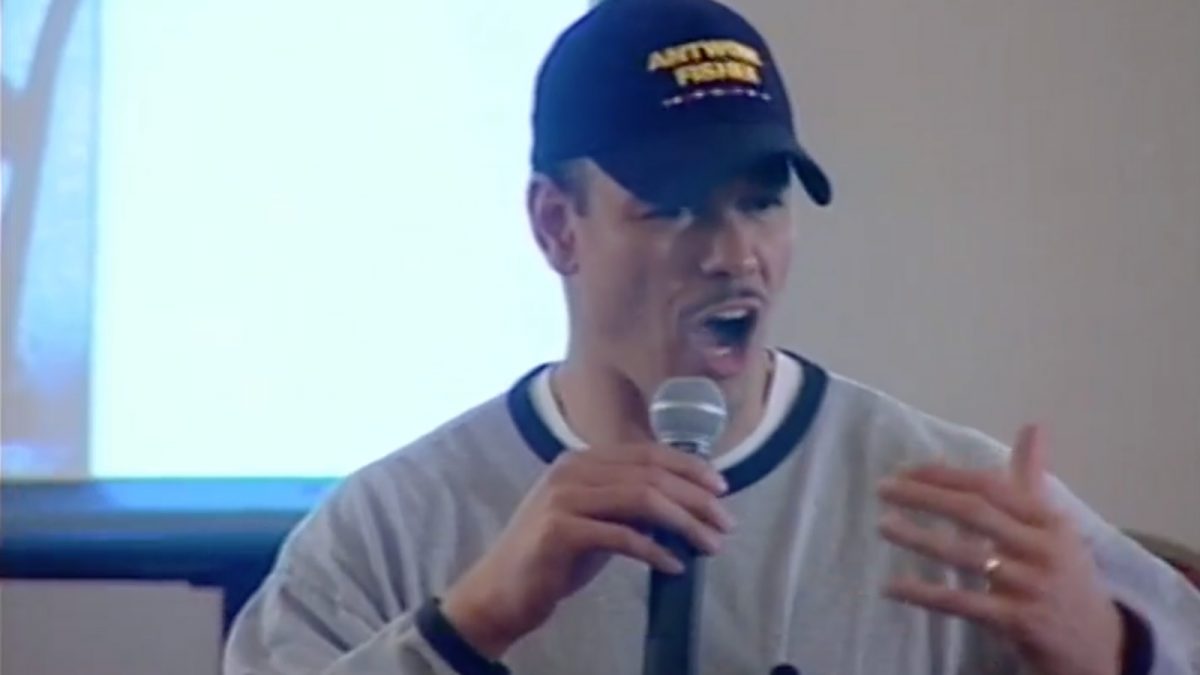 Program II — Feb. 28, 2021
Liu and Mack discuss how Dr. Mack's passion project, the Black Heritage Day desktop calendar, builds contemporary readers' understanding of the personalities, depth, and complexity of Black history, giving them the foundational support of perspective and identity.
Dr. Mack holds court about why the patriotism of Black Americans should be considered above reproach. He calls up a shameful erosion of principle from version to version Delaware's state constitution that plainly spells out America's gross opportunism, as Black people were afforded liberty and the right to vote when needed in the armed forces, and denied them again as soon as the smoke cleared.
During a break from this presentation, several community members share personal stories relating to Dr. Gregory's lecture. A former Frederick & Nelson's employee describes her experience in 1972 of becoming the first darker-skinned employee of the department store's sales team; a former Holly Park resident describes experiencing the hard social line of Orcas Street (south of which, virtually all residents were white), and being required to bus several neighborhoods away to Madrona to go to the beach; the daughter of a mixed race couple who grew up in the northern Central District describes her father's anxiety while visiting the University District, once a sundown zone of Seattle, for dinner with friends.
Ordinary heritage is every bit as important and interesting as extraordinary Black achievements. Cynthia, a library patron, talks about tracing her family history back to 1772 with help from Seattle Public Library's genealogy resources. "You get a sense of history, you get a sense of who you are, you get the little stories that your family may not have told you growing up…" …sometimes learning a bit more than you wanted to know. This footage was likely recorded as part of SPL's Libraries for All capital project.
This KIRO production digs deep into the history of Seattle's Black pioneers, even claiming to have identified the first Black resident of Seattle in historical records (c. 1851). Interviews with African American elder community members supplement a photographic montage that describes the ever-evolving narrative of Black culture and business in Seattle, and the many challenges met along the way. CONTENT WARNING: This clip contains several racial slurs.
Selections from the Seattle Urban League Photograph and Film Collection in UW's Special Collections that cover issues concerning the League in 1969; Edwin T. Pratt's assassination, protests at construction sites and on campuses, and the presentation of the first Edwin T. Pratt Award to Tyree Scott.
This short piece from the Washington Centennial Ethnic Heritage Project of 1989 spotlights a Black-owned business incubator in Tacoma's Hilltop neighborhood, which demonstrates the impact that access to office space, basic resources, and business mentorship can have.
Dustin Washington recounts the history of the American Friends Service Committee in human rights movements, and shares the personal background that has helped give him strength and direction as an organizer. Washington notes that hope is a massive determining factor in keeping oneself engaged, and shares two stories of transformative promise that have given him hope: concretely impactful student activism in the Tukwila school district, and a partnership with the Black Prisoners' Caucus to bring an ongoing Undoing Racism training into the Monroe Correctional Complex. The training helps prisoners recognize how the system, not them, is broken, and helps them identify ways that they can grow from that point.
In a 2004 speech, just a couple of weeks before the presidential election, Angela Davis presents a quick outline of the concepts of "civil death" (ex. political disenfranchisement) and "social death" (ex. slavery) and their expression in the prison-industrial complex, a convenient container for populations that America would prefer to exclude from democratic processes. We strongly encourage viewers to watch this wide-ranging talk, available here; this excerpt is the tip of an iceberg of interrelated ideas.
---
Digitization of this videotape material has been made possible in part by a grant from the National Historical Publications and Records Commission.
These programs are intended to promote public access to historical moving image materials available from local archives. All featured archival footage is publicly available to stream on MIPoPS' Internet Archive collection.
---
About [Virtual] Moving History
2nd & 4th Sundays, 4:30–5:30pm PT

MIPoPS is a nonprofit whose mission is to assist archives, libraries, and other organizations with the conversion of analog video recordings to digital formats according to archival best practices.
In order to adhere to social distancing best practices, MIPoPS is proud to partner with the Northwest Film Forum to bring you a weekly series of archival videotape documenting a diverse history in Seattle. Featuring a variety of material and topics, this series will curate a set of clips each second and fourth Sunday of the month to provide comic relief, local histories, music, poetry, and stage performance recordings, and much more.
MIPoPS hopes this series will educate and entertain viewers during this time of uncertainty and isolation.
---
Find out more about MIPoPS at mipops.org
Watch past screenings on their YouTube Channel
Browse hundreds of videos they've digitized on their Internet Archive collection
Connect with MIPoPS on social media:
Twitter @mipops_seattle
Facebook & Instagram @mipopsseattle
---