Virtual Moving History – Donnie Chin
Sun May 9, 2021: 4.30pm PT
This program will be streamed LIVE on our Facebook Videos page. Chat with the MIPoPS audiovisual archivists on FB throughout the stream!
No password is necessary to view Moving History programs. Donations to NWFF and/or MIPoPS are optional but appreciated.
Donnie Chin
💐 10/7/1955–7/23/2015 💐
This interview with Donnie was recorded by the Wing Luke Museum on August 8, 1996, at the International District Emergency Center, where Donnie dedicated the majority of his life to the safety of his community. He gave his all to support Chinatown-International District residents in dealing with everything from locked cars and lost pets, to shootings and fires.

"We had no training. All our training came from the streets. … It didn't take my mother to go to school to learn how to be a mother, or my father to tell me what's right or wrong."
Inspired by the Black Panthers, Seattle Chinatown-International District legend Donnie Chin founded the International District Emergency Center in 1968 (originally as the "Asians for Unity Emergency Squad"). He and his friends took it upon themselves to make the CID a safer place, providing free emergency medical services, block watch patrol, de-escalation, and substance-abuse and mental health check-ins that city departments failed to.
Donnie Chin was killed in his car during a patrol of the CID in the early hours of July 23, 2015. It is assumed that he was caught in crossfire between two rival gangs, and was not specifically targeted. Due to a lack of evidence and eyewitness testimony, his murder remains unsolved, despite repeated oaths by public officials that those responsible will be brought to justice. His legacy lives on among contemporary CID Community Watch groups, and it is our sincere hope that it will grow in equal measure to the increased concern for the safety of Asian communities across the US.
Special thanks to the Wing Luke Museum, with whom MIPoPS worked to digitize this Betacam SP tape. This recording is available in two parts, here and here on MIPoPS's Internet Archive page. Digitization of this videotape material has been made possible in part by the National Endowment for the Humanities.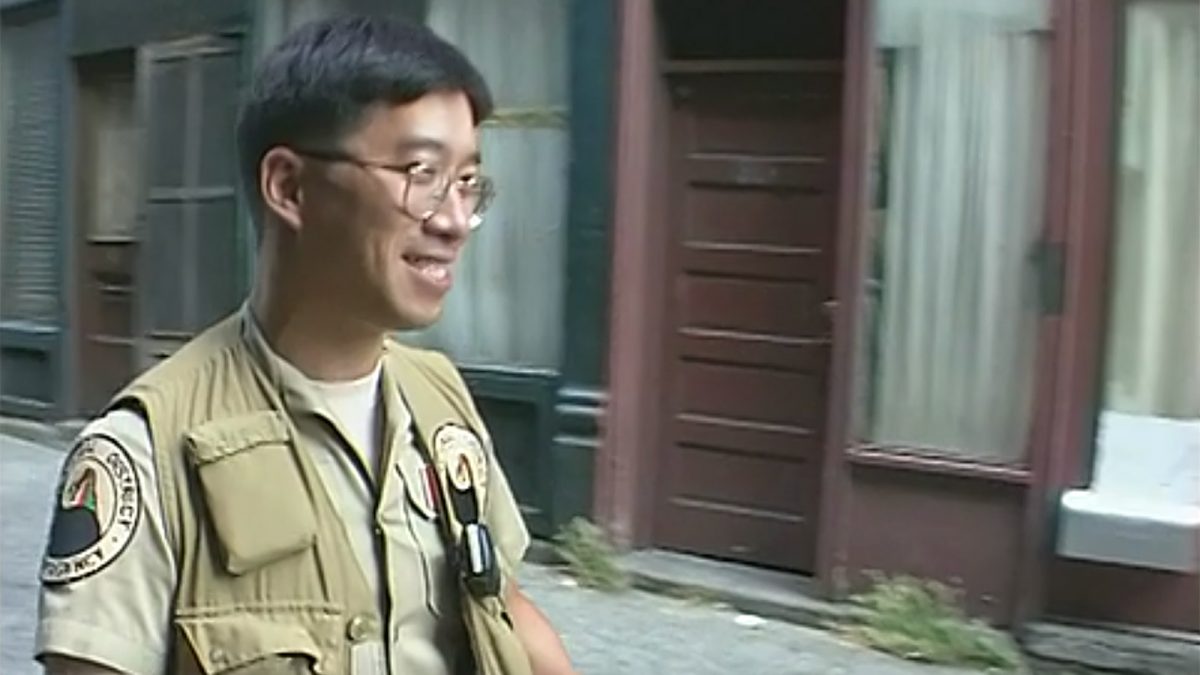 What did Wing Luke do with this footage?
This footage was used in a documentary produced by The Wing called Finding Home in Chinatown: The Kong Yick Buildings.
Finding Home in Chinatown: The Kong Yick Buildings tells the story of Seattle's Chinatown through the eyes of two buildings which were once the center of a vibrant immigrant community, but in the late 1990s were passing into an uncertain future. The Buildings were constructed in 1916 by over 150 Chinese pioneers who pooled their money to create a place they could call home. For several generations, the buildings provided places to live, do business and congregate. Offering a window into a rediscovered past, Finding Home in Chinatown captures the story a community told through brick and mortar.
The final cut of Finding Home in Chinatown is available to view online through Wing Luke Museum's Digital Tateuchi Story Theatre and is hosted on Vimeo by producer/writer/editor Shannon Gee. (Donnie's segment of the documentary begins at 00:42:36.)
Memorials and additional readings:
"He loved each and every one of you. Just as you loved him. If you were a total stranger, he'd risk his life to help you." – Dean Wong, dear friend and IDEC co-founder, from a transcript of his memorial speech for Donnie in Northwest Asian Weekly (Jul. 30, 2015)
"…absolutely no one has saved more lives or helped make the District a safer place to live than Donnie Chin, a paramount figure in the area and community." – Doug Chin, Seattle's International District: The Making of a Pan-Asian American Community (2009)
Support guardians and advocates of Seattle Chinatown-International District (CID):
CID Community Watch Group is just what it sounds like! They meet Wednesday, Friday, and Saturday nights at 9pm Hing Hay Park.
Seattle Chinatown International District Preservation and Development Authority (SCIDpda, est. 1975) is a community development organization that provides services in affordable housing and commercial property management, real estate development, and community engagement and economic development.
InterIm CDA (ICDA, est. 1969) provides multilingual, culturally competent housing and community building services for low-income, Asian and Pacific Islander, immigrant, and refugee communities.
The Chinatown-International District Coalition (CID Coalition) is a grassroots group of community organizers dedicated to fighting displacement in the CID. Humbows Not Hotels!
---
About [Virtual] Moving History
2nd & 4th Sundays, 4:30–5:30pm PT

MIPoPS is a nonprofit whose mission is to assist archives, libraries, and other organizations with the conversion of analog video recordings to digital formats according to archival best practices.
In order to adhere to social distancing best practices, MIPoPS is proud to partner with the Northwest Film Forum to bring you a weekly series of archival videotape documenting a diverse history in Seattle. Featuring a variety of material and topics, this series will curate a set of clips each second and fourth Sunday of the month to provide comic relief, local histories, music, poetry, and stage performance recordings, and much more.
MIPoPS hopes this series will educate and entertain viewers during this time of uncertainty and isolation.
---
Find out more about MIPoPS at mipops.org
Watch past screenings on their YouTube Channel
Browse hundreds of videos they've digitized on their Internet Archive collection
Connect with MIPoPS on social media:
Twitter @mipops_seattle
Facebook & Instagram @mipopsseattle
---