Virtual Moving History – The Video Artwork of Doris Chase
Program I — Sun Dec 13, 2020: 4.30pm PST
Program II — Sun Jan 10, 2021: 4.30pm PST
This program will be streamed LIVE on this page and on our Facebook Videos page. Watch on Facebook if you'd like to chat with the MIPoPS audiovisual archivists!
** VIEWER DISCRETION IS ADVISED: Nearly all of these films contain rapidly flashing images and colors which could potentially trigger seizures for people with photosensitive epilepsy. **

No password is necessary to view Moving History programs. Donations to NWFF and/or MIPoPS are optional but appreciated.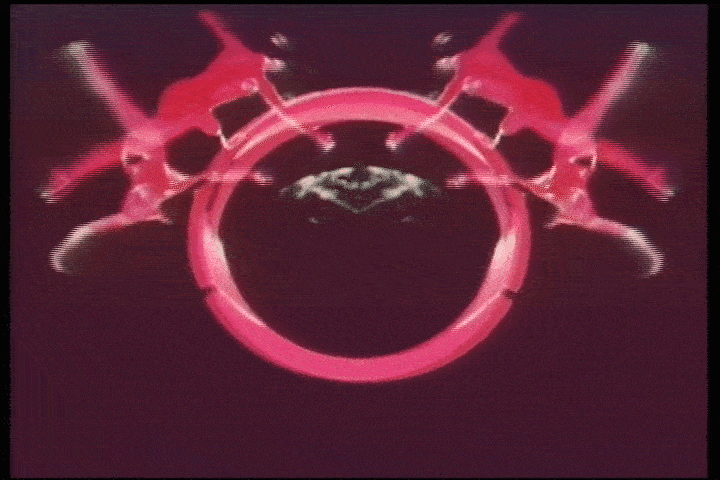 During the curation of their November 2020 Experimental Entertainment programs, the AV archivists at Moving Image Preservation of Puget Sound (MIPoPS) became so captivated by the late Seattle legend Doris Chase that they are dedicating both of their next two shows to her work.
Much of Chase's video art incorporates multiple distinct video effect perspectives and film exposures, processed and recombined through a variety of analog and digital treatments to become beautifully kaleidoscopic works. Her exploration of her practice led from painting, to sculpture, to large-scale public artworks (some of which are now Seattle landmarks), with detours in several other mediums along the way. As she ultimately discovered a new iteration of her artistic voice in video art, she entered into remarkable collaborations with video engineer Steve Rutt, choreographer Mary Staton, and others, creating several memorable, pioneering works in the field before her passing in 2008.

Program I — Dec. 13, 2020
Portrait of an Artist (1984) — Doris Chase reflects on her personal history, and the passions and perspective that inspired her to maintain art as essential to growth. This documentary covers, in quick succession, her wending course from painting, to sculpture in an increasing variety of mediums and scales, to the collaborative multimedia productions that she began creating in her 50s. Chase's integration of film, dance, theatrical monologue, sculpture, and video and computer technologies introduced her to scores of collaborators, whose participation often served to magnify her focus on feminist themes in her work. Chase was not shy about her insistence that audiences sit in close contemplation of these ideas, regardless of their comfort in so doing.
Electra Speaks (1982, 27 min.) — In this sterling example of the kind of productive discomfort that Doris Chase liked to facilitate, Sondra Segal performs an adaptation of a play written by Segal and others and originally performed at Women's Experimental Theater. This one-woman video monologue is an excruciating depiction of society's unforgiving lens on women's social performances, and the manner in which that scrutiny takes root in and distorts women's self-perception.
Content warning: This monologue contains evocative expressions of social anxiety and gendered antagonization in social situations that some audiences may find triggering.
Epilepsy warning: Contains rapidly scrolling, high-contrast video images that can potentially trigger seizures for viewers with photosensitive epilepsy.
Doris Chase Concepts: "Spirit Basket" (1983, 7.5 min. excerpt) — In this somewhat gentler effort by Chase to amplify feminine perspective and stories in visual media, Laura Simms recounts a folktale about masculine presumptuousness, differing spiritual perspective, and the potential power of trust in intimacy.
KCTS artist profile "Circle at the Center" (2 min. excerpt) — Chase had a commitment to working against the invisibilization of mature women from social discourse. This KCTS channel artist profile touches on her artistic advocacy for positive screen representations of older women.
Promotional video for Doris Chase's "By Herself" series (1994, 12 min.) – Chase created a unique syllabus and series of short video dramas that centered mature women in emotionally nuanced, relatable situations. The series was called "By Herself." It drew upon Chase's own experience of divorce, a considered decision she made to deepen her relationship with art, expand her perspective, and reclaim her independence. The program was offered to senior centers, with talking points, a moderator, and ample opportunities for audiences to discuss the films in the context of their own life experience. In Chase's words: "…the tapes serve as a catalyst for group discussions … a vehicle for nurturing ongoing intergenerational dialogue in a variety of group settings. By Herself provides role models of intelligent older women while suggesting the possibilities and excitement associated with independence in later life."
Program II — Jan. 10, 2021
** Introduction by Paul Siple, Communications Manager & Audiovisual Technician for MIPoPS **
Full Circle (1974, 9.5 min) — For the benefit of newcomers to her work, this brief artist profile of Chase traces the arc of her artistic practice from her period of wooden sculpture to her collaborative video art and dance pieces of the '70s. As her compositions grow from hand-worked wooden maquettes into 4-ton steel sculptures, she confidently adapts to the work's growing material demands. Her large-scale sculptures caught the attention of choreographer Mary Staton, with whom she collaborated to produce a sculpture-assisted dance for the Seattle Opera company. In Chase's words: "I like to work with the choreographer, to a degree, in suggesting how the forms might work, might form as an aesthetic whole or sculpture – and then, of course, I leave them to their own devices. … I create the form in the beginning, and then they transcend it with their motion and their change – and then of course I have to have the last word in putting it on tape and film."
Tall Arches (7 min) — Several monochromatic recordings of the same dance performance are staggered and overlaid with one another, accentuating Mary Staton's languid, ludic choreography. The dancers interact with fluidly movable sculptures designed by Chase, whose nesting-doll character is accentuated both by the choreography and Chase's color separation technique. Accompanied by a synthesized soundtrack by Vito Ricci.
Rocking Orange (1970-71, 3.5 min) — In another collaboration with Staton, obelisk-esque hollow forms rock back and forth as they are shoved, lounged upon, spun, and gently rocked by dancers. Color editions of the dance are once again staggered and overlapped, with the obelisks posed up- and downstage to exaggerate the depth of the composition.
Dance Eleven (1975, 7.5 min) — This dance makes use of a favorite technique of Chase's: individually de-beaming the red, green, and/or blue color signals to create dramatic color trails. Chase's intention was to capture the unique character and strength of ballerina Cynthia Anderson, who was only a teenager at the time of this recording. Paired with a moody, evocative soundtrack by the great Laurie Spiegel, Dance Eleven inspires meditations on the aura of youth, the embodiment of emotion, and impressions that we leave as we move through the world.
Circles II (1972, 8 min) — No two ways about it – this video is utterly blissful. Dancers and their multicolored reiterations run in joyful circles, slowly cartwheel through space, and pirouette and pose within large sections of cylinders fabricated by Chase. As the number of film exposures and interactions between them reaches peak density, the film segues into a mandala format, filming dancers from above and mirroring their movements to create a marvelous symmetry.
Moon Gates (1974, 6 min) — Bringing together all of the signature elements of Chase's dance films – symmetry, geometry, body-scale sculptures as props, interplays of hue, solarization, and multiple exposure – Moon Gates' captivating flow of color and motion positively vibrates with the energy of its designer, hovering between extravagance and balance. (MIPoPS Communication Manager Paul's personal favorite!)
Introduction to Doris Chase Sculpture Series 1974–1984 (1984, 7.5 min) — This miniature video portfolio is a strong expression of the intersection of Chase's sculptural practice with her video art. As insistent rhythms center viewers' attention, a series of dramatically lit sculptures by Chase are processed using different video synthesis techniques, creating an unexpectedly seamless blend of the two mediums. Interstitial elements of purely synthetic video augment the series.
Dance Nine (1975, 9 min) — Lanky and liquid in his style, Gus Solomons Jr. performs a marionette-like dance in empty video space, accompanied by a linear background animation with its own frenetic footwork. Dance Nine is simultaneously stark, humorous, and endearing.
---
About [Virtual] Moving History
2nd & 4th Sundays, 4:30–5:30pm PT

MIPoPS is a nonprofit whose mission is to assist archives, libraries, and other organizations with the conversion of analog video recordings to digital formats according to archival best practices.
In order to adhere to social distancing best practices, MIPoPS is proud to partner with the Northwest Film Forum to bring you a weekly series of archival videotape documenting a diverse history in Seattle. Featuring a variety of material and topics, this series will curate a set of clips each second and fourth Sunday of the month to provide comic relief, local histories, music, poetry, and stage performance recordings, and much more.
MIPoPS hopes this series will educate and entertain viewers during this time of uncertainty and isolation.
---
Find out more about MIPoPS at mipops.org
Watch past screenings on their YouTube Channel
Browse hundreds of videos they've digitized on their Internet Archive collection
Connect with MIPoPS on social media:
Twitter @mipops_seattle
Facebook & Instagram @mipopsseattle
---