Virtual Moving History – Experimental Entertainment
Program I — Sun Nov 8: 4.30pm PDT
Program II — Sun Nov 22: 4.30pm PDT
This program will be streamed LIVE on this page and on our Facebook Videos page.
No password is necessary to view Moving History programs. Donations to NWFF and/or MIPoPS are optional but appreciated!
The AV archivists at Moving Image Preservation of Puget Sound (MIPoPS) have digitized countless boxes of magnetic video tape. For the most part, the materials that they're most concerned with preserving are tapes that document our region's history, as told by its denizens; journalism and public access television, along with discussions with important community members, artists, and figures in local politics.
Now and then, this work introduces a box of incredible video art to the office, or an entire avant-garde dance oeuvre in desperate need of digitization. Those are the weeks that MIPoPS lives for! In November 2020, MIPoPS will present EXPERIMENTAL ENTERTAINMENT: two programs of artistic artifacts and obscurities encountered in the course of their work, including several beautiful films by multi-talented Seattle video artist Doris Chase, an international collabo between Seattle filmmaker John D. Pai and Malaysian choreographer Mew Chang Tsing, performances from Seattle Mime Theatre and Sally Sykes Group, as well as selections from the Seattle Channel's film and video artist showcase program, Seattle Cine-visions.

Nov. 8 | Program 1
** Introduction by Paul Siple (Video artist, Communications Manager & Audiovisual Technician at MIPoPS) **
Clips include:
Two shorts by Doris Chase: Moongates and Full Circle, a profile on Chase's sculptural practice and technique, paired with video art
Selections from Seattle Channel's Seattle Cine-visions series, including:
– Little Lamb by Marianna Haniger (2001)
– Dazzling Bag of Paint Chips by David Russo (director of the 2008 dark comedy The Immaculate Conception of Little Dizzle, which was created through NWFF's Start-to-Finish Program)
– Decisions II by David Russo
– Toybox by David Steven Phillips
– Refuge by Ingrid Lahti (look out for an early appearance by the centerpiece chandelier that hangs in NWFF's lobby!)
– Flow by Serge Gregory
Seattle Cine-visions was a limited series collaboration between the Seattle Channel and the Seattle Arts Commission that was launched in 2002 to highlight local video and film artists.
Ventriloquist (1991) by Seattle Mime Theatre
Short films by Karl Krogstad, the late local legend of experimental film, digitized from tapes in the Scarecrow Video library. Karl was famed for splicing together a wild assortment of media to create films that buzzed with the energy and creative urgency of collage. These MIPoPS staff favorites express Karl's fiendishly experimental attitude to filmmaking.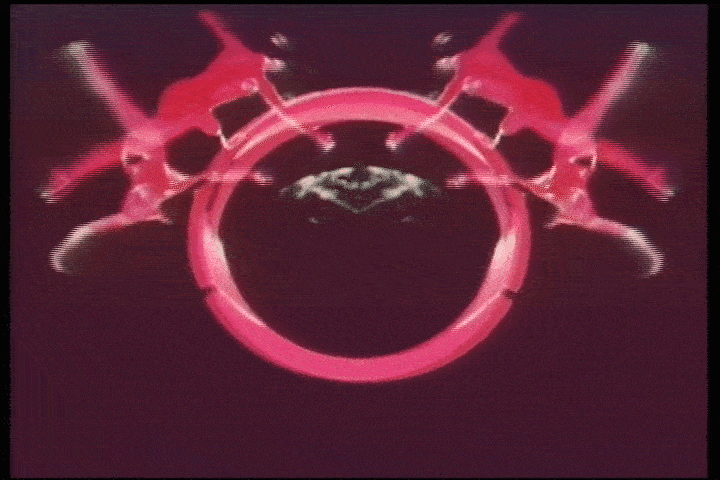 Nov. 22 | Program 2
** Introduction by Hannah Palin (Film Curator at UW Libraries, Special Collections) **
Film program TBA, but rest assured, it will share DNA with the Nov. 8 program! MIPoPS archivists' Karl Krogstad and Doris Chase films are burning holes in their curatorial pockets, so we can promise more of those with absolute certainty.
Nov. 22's film program shares much DNA with Nov. 8. MIPoPS archivists' Karl Krogstad and Doris Chase films are burning holes in their curatorial pockets! Clips include:
Performers swing dreamily through a suspended jungle gym, painting calligraphic distress signals and vividly embodying mythological beings in John D. Pai and Mew Chang Tsing's Traces. Digitized from the Northwest Asian American Theatre Collection at Wing Luke Museum, this collaborative, multi-media dance theater work uncovers the shared Chinese roots of its creators, who were inspired by the discovery that they may be distantly related. Feat. sound compositions by Susie Kozawa, original music by Byron Au Yong, scenic design by Craig Wollam, lighting design by Patti West, costumes by Rick Lourigh, and some of Y2K-era Seattle's best Asian American contemporary dancers, Yoko Murao, Melody Liu, and Ku'ulei Miura.
More incredible work by Seattle's own Doris Chase:

Artist in Motion, (1992) This doc on Chase's process features a behind-the-scenes look at the production on the following three shorts.
Circles II, (1972)
Tall Arches, (1974)
Rocking Orange, (1970–71)

More selections from Seattle Cine-visions, Seattle Channel and the Seattle Arts Commission's local film and video artist spotlight program:

Manzworld by David Russo
Set Apart by Marianna Haniger (1999)
Ode to Crude by David Russo
Fire Painting by David Hartz

1994 Seattle Mime Theatre performances featured on Seattle Arts, another series produced in partnership between Seattle Channel and the Seattle Arts Commission to highlight our local arts scene
Overload, an experimental dance performance choreographed and performed by Sally Sykes, with set construction by Seattle Mime Theatre's Bruce Wylie
Karl Krogstad's Wynken & Blynken & Nod dances through a kaleidoscope of perspectives on a handcrafted, miniature city and its environments, which are subject to fiery special effects, crawling crabs, and Krogstad's lovingly too-close 16mm cinematography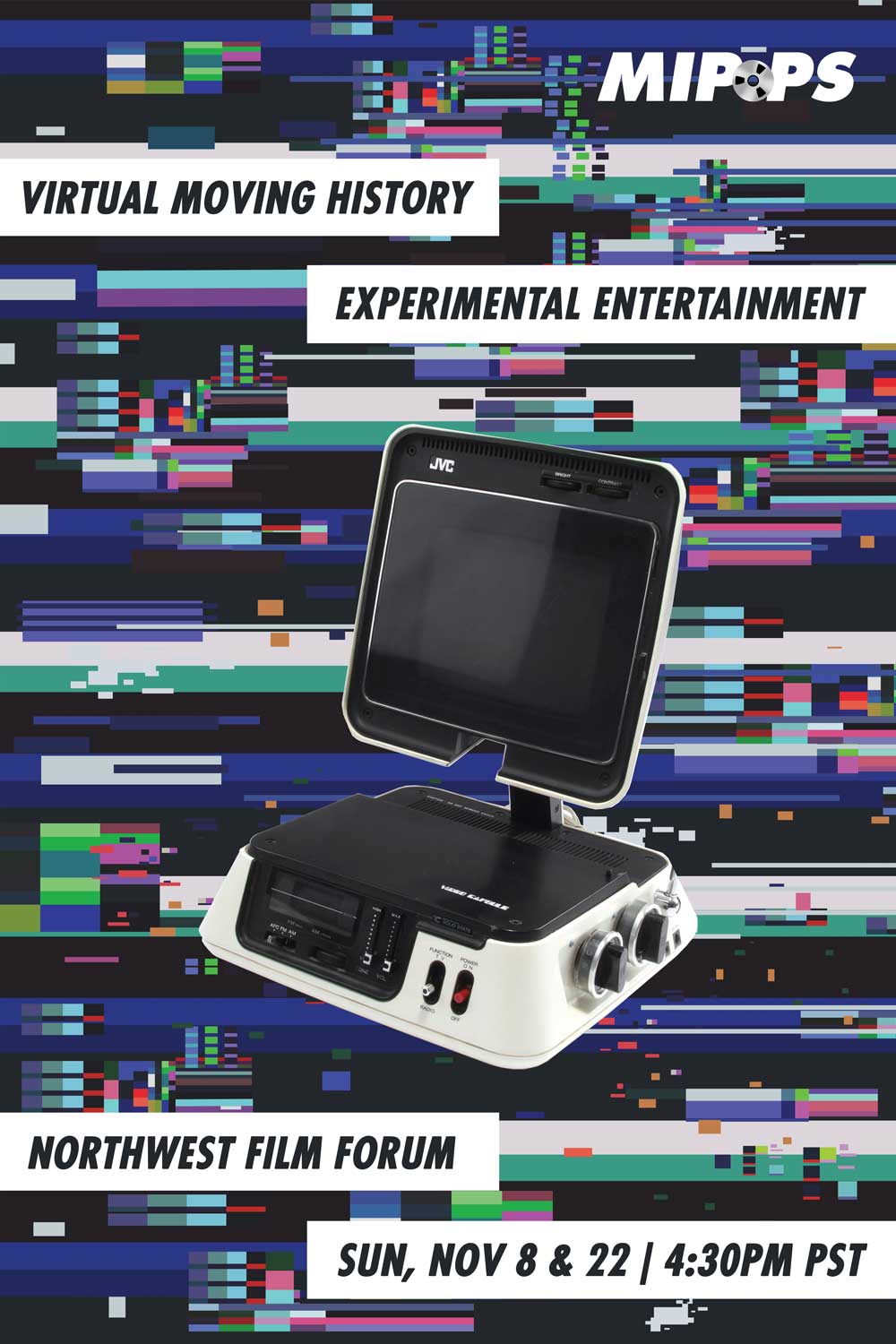 ---
About [Virtual] Moving History
Sundays, 4:30–5:30pm PDT

MIPoPS is a nonprofit whose mission is to assist archives, libraries, and other organizations with the conversion of analog video recordings to digital formats according to archival best practices.
In order to adhere to social distancing best practices, MIPoPS is proud to partner with the Northwest Film Forum to bring you a weekly series of archival videotape documenting a diverse history in Seattle. Featuring a variety of material and topics, this series will curate a set of clips each Sunday to provide comic relief, historically relevant medical and public health documentation, performance recordings, and much more.
MIPoPS hopes this series will educate and entertain viewers during this time of uncertainty and isolation.
---
Find out more about MIPoPS at mipops.org
Watch past screenings on their YouTube Channel
Browse hundreds of videos they've digitized on their Internet Archive collection
Connect with MIPoPS on social media:
Twitter @mipops_seattle
Facebook & Instagram @mipopsseattle
---