Virtual Moving History – Feminists in Hard Hats
Sun Mar 14, 2021: 4.30pm PST
This program will be streamed LIVE on our Facebook Videos page. Chat with the MIPoPS audiovisual archivists on FB throughout the stream!
No password is necessary to view Moving History programs. Donations to NWFF and/or MIPoPS are optional but appreciated.
MIPoPS' Women's History Month selections from their magnetic media treasure trove compile clips from WW2 to the mid-aughts that note women's contributions, both concrete and intellectual, to labor in the US.
It won't be all rose-colored glasses and Rosie the Riveter; MIPoPS programs are grounded by personalities that are as frank, flawed, and frustrated as the history that produced them. The titular centerpiece of the program: A roundtable of women workers from the Trans-Alaska Pipeline System, c. 1975, who discuss workplace discrimination and the ways that each of them has felt shaped by the challenges of their jobs.

The Program:
Margaret Norton Arnold introduces a local news program on changing hiring practices and attitudes about gender in the workplace; highlighted for particularly charming outtakes.
In an interview on UWTV, local television journalist icon Jean Enerson (KING 5 News) discusses challenges and double standards women face in the field, as well as the qualities that make a good reporter.
Speaking over a montage of beautiful 16mm color footage of their daily work, women in Seattle city utilities and engineering roles comment on how they found their way into their respective lines of work and how they've been received by their male peers.
Television profiles of women workers in Seattle's Water Department, in a variety of roles: pipe workers, truck drivers, and forest maintenance workers. Each describes how they feel about the work itself, and how they came into their job.
In the Seattle Channel's "Rosie the Riveter" program, women who supported the WW2 war effort as engineers and mechanics recall a handful of horror stories of their on-the-job injuries.
In this edition of Seattle City Light's endearing, internally produced employee newsreel "Switch," Nancy Callary gives an account of her trip to Houston for the 1977 National Women's Conference.
Positive testimonials from women employees of the King County Department of Public Works were collected for this promotional video that touts the department's career opportunities and its devotion to gender parity.
Seattle City Light's Training Unit produced this selection of interviews with female employees who participated in SCL's Clerical Upward Mobility Program, designed to give clerical workers opportunities to work in traditionally male-dominated positions.
In a 1975 Fairbanks, Alaska local cable TV program, women workers from the Trans-Alaska Pipeline System discuss the blatant workplace discrimination that they experienced, and how they feel the challenges of that work have shaped them. Describing the pervasive sexual harassment of working the TAPS, dynamite crewmember Jane Williams says "I had the feeling, living in the pipeline camp, that I was living in a bar, 24 hours a day." But on the other side of the job lay financial independence, and the less-imagined rewards of perspective, confidence, and a deeper experience of autonomy.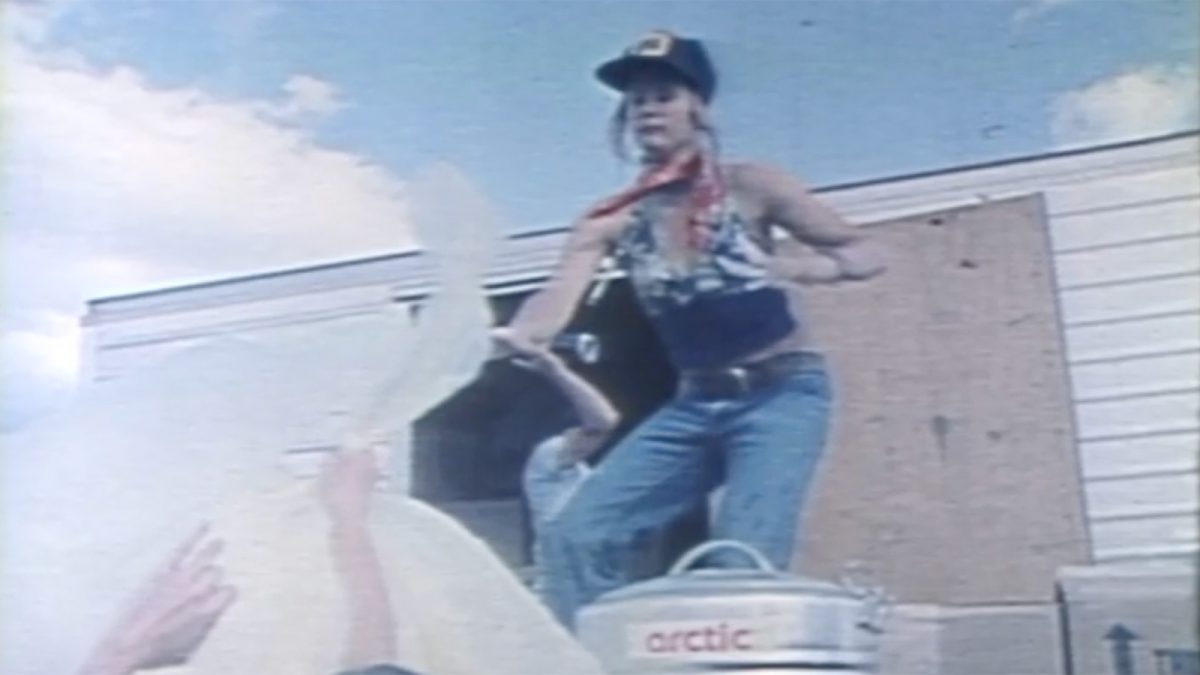 ---
About [Virtual] Moving History
2nd & 4th Sundays, 4:30–5:30pm PT

MIPoPS is a nonprofit whose mission is to assist archives, libraries, and other organizations with the conversion of analog video recordings to digital formats according to archival best practices.
In order to adhere to social distancing best practices, MIPoPS is proud to partner with the Northwest Film Forum to bring you a weekly series of archival videotape documenting a diverse history in Seattle. Featuring a variety of material and topics, this series will curate a set of clips each second and fourth Sunday of the month to provide comic relief, local histories, music, poetry, and stage performance recordings, and much more.
MIPoPS hopes this series will educate and entertain viewers during this time of uncertainty and isolation.
---
Find out more about MIPoPS at mipops.org
Watch past screenings on their YouTube Channel
Browse hundreds of videos they've digitized on their Internet Archive collection
Connect with MIPoPS on social media:
Twitter @mipops_seattle
Facebook & Instagram @mipopsseattle
---