Virtual Moving History II – Gay Camp Classics [Online]
This program will be

streamed LIVE

– visit this page right at showtime to join us! (Experiencing interruptions? Just refresh)

Sliding scale admission: $0–25
Please pay what you can; proceeds support our move to a virtual platform! No password is necessary to view this program. Donations are optional but appreciated.
Showtime listed is Pacific Standard Time.
About
In partnership with Scarecrow Video, MIPoPS presents staff favorites from Gay Camp Classics Volume I, a compilation VHS produced by Seattle's Something Weird Video. No other known copies exist. Selections include several delightful black and white, silent movie spoofs created by the geniuses of the "Gay Girls Riding Club" film collective.
Spy on the Fly
(ca. 1966)
Los Angeles-based spy Agent 0069 replaces Agent Fonda Peters after her tragic demise in a freak hair-dryer accident at Madam Tussaud's Beauty Salon.
Always on Sunday
(ca. 1962)
A dull day at the bar erupts into sudden, fabulous mayhem.
What Really Happened to Baby Jane
(ca. 1963)
Freida and Roz Berri star in this drag parody of the classic film, Whatever Happened to Baby Jane? Also starring Clod Hopper, Patti Pope, Loretta, Tony Silva, Mazie Meland and Cora Miles. Directed by Connie B. De Mille.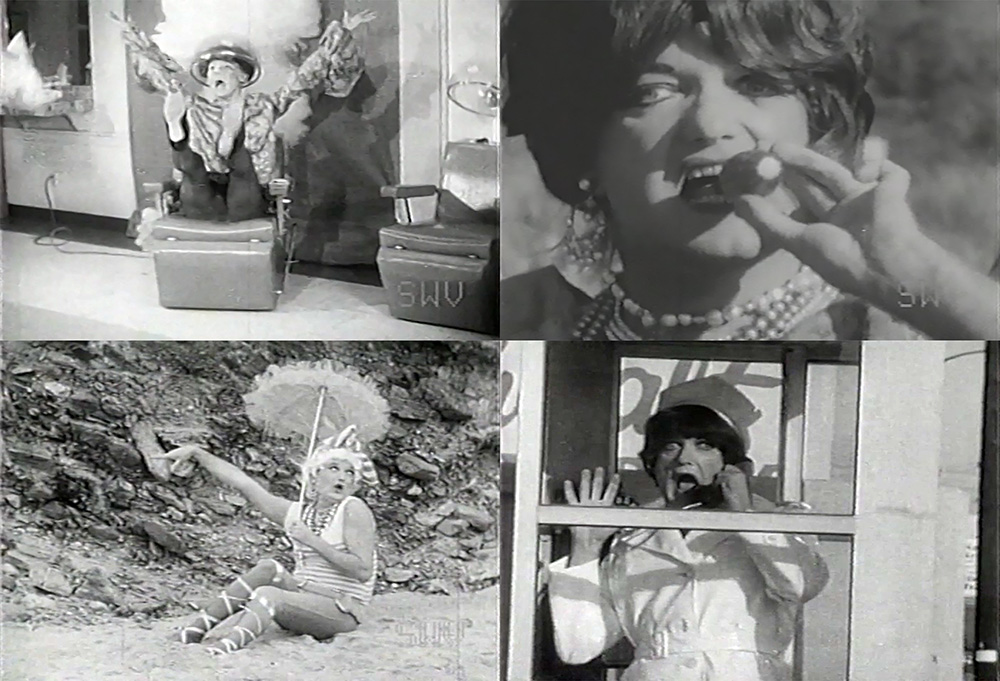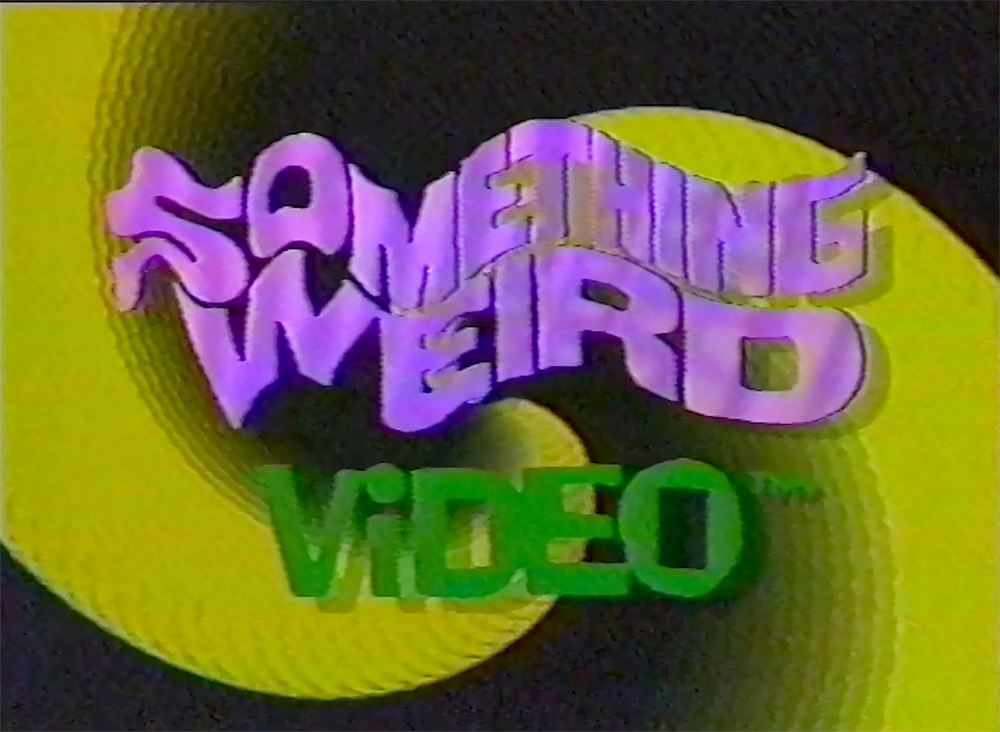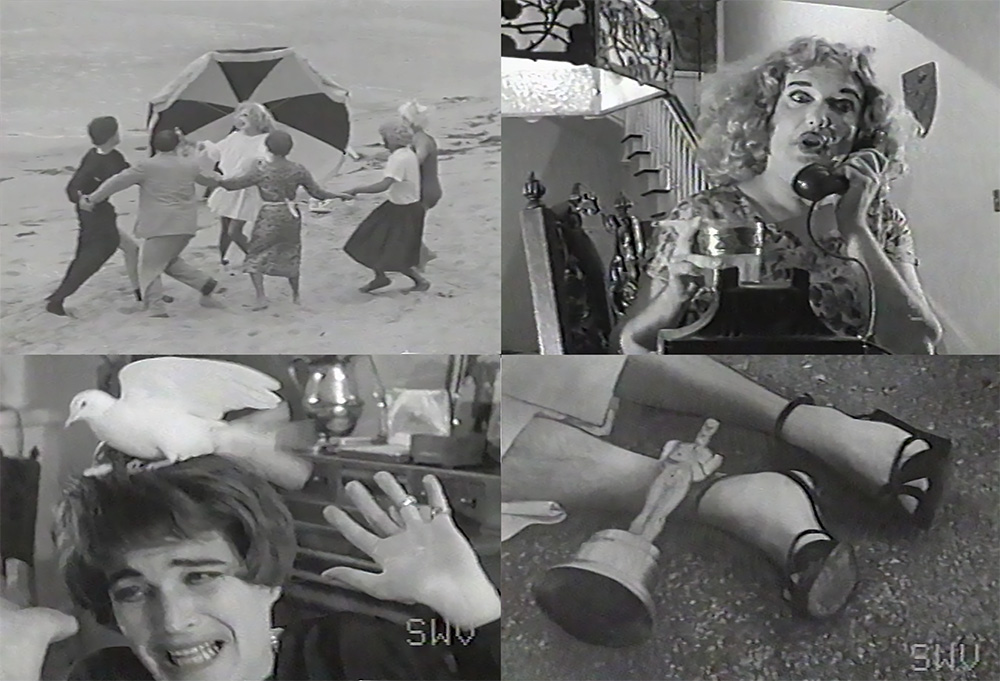 Background on Gay Girls Riding Club:
In early 1960s Los Angeles, a diverse group of gay men and recreational cross-dressers known as the Gay Girls Riding Club became sensations within California's burgeoning homosexual underground. In addition to their actual equestrian outings—and a legendary annual Halloween costume ball—the GGRC made their name with a series of surprisingly elaborate 16mm amateur films that spoofed Hollywood fare. The boys donned wigs and make-up (lots of it!) to rework the tragic tale of the Hudson sisters in What Really Happened to Baby Jane, shot only months after the initial release of Robert Aldrich's classic; they transformed Jules Dassin's prostitution comedy Never on Sunday into their own Always on Sunday, the title nodding to the gang's weekend brunch meet-ups; and in the GGRC's manicured hands, Warner Brothers' adaptation of Tennessee Williams's drama The Roman Spring of Mrs. Stone was refashioned as The Roman Springs on Mrs. Stone.
With non-stop scenery-chewing and scrupulous attention to original sources, the GGRC's movies play something like West Coast variants of early Kuchar brothers parodies, but with a somewhat more impressive access to locations and props (marvel, for instance, as a broad-shouldered, pancake-faced Baby Jane Hudson drives away in a genuine Rolls Royce). Indeed, many of the Club's members were employed in the entertainment industry, including James Crabe, who would become an award-winning cinematographer on later films like Rocky and The Karate Kid; former Disney artist Ron Anderegg; and GGRC screenwriter Ray Harrison, who worked as an assistant on TV's The Spike Jones Show. The pictures typically premiered at GGRC parties, sometimes preceded by extravagant live numbers, and the prints found their way to gay bars and more adventurous "art cinemas" around Los Angeles and San Francisco. Yet despite their reputation among the lavender demimonde of their era, these invaluable records of mid-century drag culture have, in more recent decades, been exceedingly difficult to see.
---
About [Virtual] Moving History
Sundays, 4:30–5:30pm
MIPoPS is a nonprofit whose mission is to assist archives, libraries, and other organizations with the conversion of analog video recordings to digital formats according to archival best practices.
In order to adhere to social distancing best practices, MIPoPS is proud to partner with the Northwest Film Forum to bring you a weekly series of archival videotape documenting a diverse history in Seattle. Featuring a variety of material and topics, this series will curate a set of clips each Sunday to provide comic relief, historically relevant medical and public health documentation, performance recordings, and much more.
MIPoPS hopes this series will educate and entertain viewers during this time of uncertainty and isolation.
---
Find out more about MIPoPS at mipops.org
Watch past screenings on their YouTube Channel
Browse hundreds of videos they've digitized on their Internet Archive collection
Connect with MIPoPS on social media:
Twitter @mipops_seattle
Facebook & Instagram @mipopsseattle
---