Virtual Moving History – Jimmy Mar
Sun May 23, 2021: 4.30pm PT
This program will be streamed LIVE on our Facebook Videos page. Chat with the MIPoPS audiovisual archivists on FB throughout the stream!
No password is necessary to view Moving History programs. Donations to NWFF and/or MIPoPS are optional but appreciated.
Jimmy Mar
💐 7/11/1914–7/11/2012 💐
"When my dad and myself were helping the people in this area, there were a few of us that were more community-minded than the people are today. … We'd just help each other, and that was it. But now – you can't blame people, now that things are different, the environment is different … they want to get paid for it."
For this month's Virtual Moving History programs, MIPoPS is digging into their collection of interviews conducted by Wing Luke Museum in the mid-'90s. Our May 23rd program is a candid chat from 1996 with Jimmy Mar of the Yick Fung Company, one of Seattle Chinatown-International District's original import/export companies. Mar talks about the history of the store and the relationships and support networks it helped build in the CID as a site of community connection, and discusses changes he expects the neighborhood to go through in the next couple decades.
Yick Fung, like Donnie Chin's IDEC (see our previous program), was situated in one of the Kong Yick Company buildings, which were established in 1910 by 170 Chinese immigrant investors who pooled their resources. The two buildings formed a geographic and economic root point of the CID as we know it today. In 2006, when the Wing Luke Museum acquired the buildings, Mar (a key shareholder of Kong Yick) helped broker the acquisition, and Yick Fung and the entirety of its stockroom was preserved as an exhibit for posterity.
Special thanks to the Wing Luke Museum, with whom MIPoPS worked to digitize this Betacam SP tape. This recording is available in two parts, here and here on MIPoPS's Internet Archive page. Digitization of this videotape material has been made possible in part by the National Endowment for the Humanities.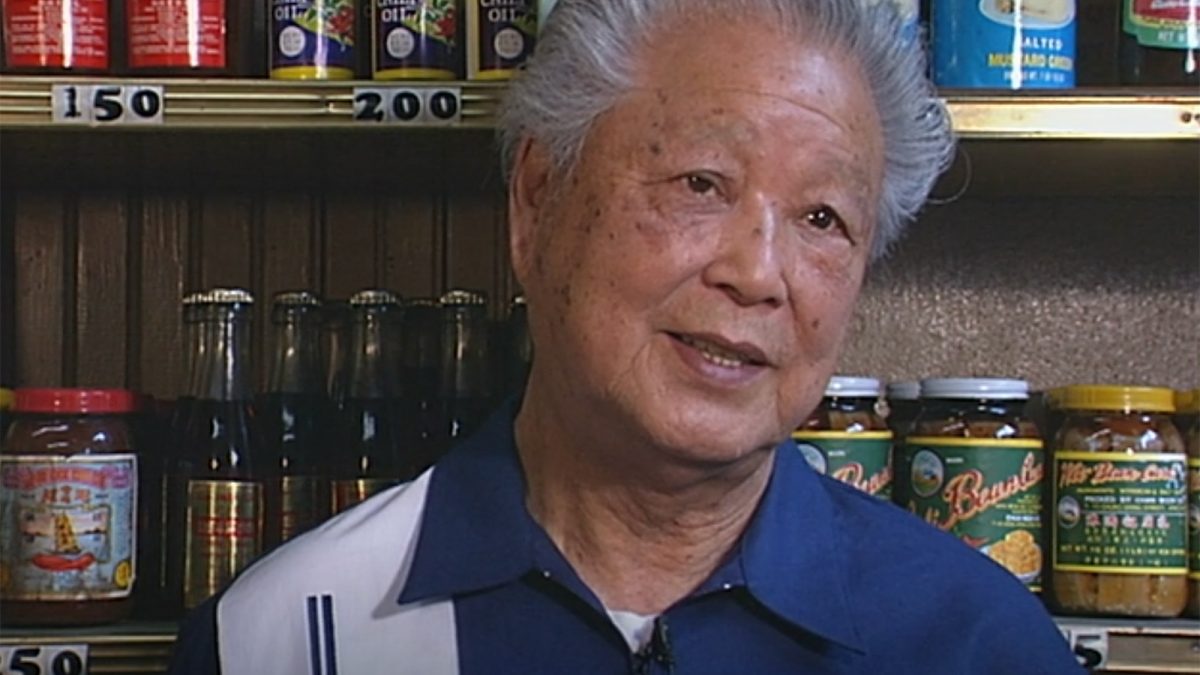 What did Wing Luke do with this footage?
This footage was used in a documentary produced by The Wing called Finding Home in Chinatown: The Kong Yick Buildings.
Finding Home in Chinatown: The Kong Yick Buildings tells the story of Seattle's Chinatown through the eyes of two buildings which were once the center of a vibrant immigrant community, but in the late 1990s were passing into an uncertain future. The Buildings were constructed in 1916 by over 150 Chinese pioneers who pooled their money to create a place they could call home. For several generations, the buildings provided places to live, do business and congregate. Offering a window into a rediscovered past, Finding Home in Chinatown captures the story a community told through brick and mortar.
The final cut of Finding Home in Chinatown is available to view online through Wing Luke Museum's Digital Tateuchi Story Theatre and is hosted on Vimeo by producer/writer/editor Shannon Gee.
Additional reading:
"Uncle Jimmy was a solid rock of calm, respect, and assurance" – Bettie Luke, vice president of the Ho Nam – Luke Family Association, in Northwest Asian Weekly's obituary for Mar (Jul. 26, 2012)
"…without the generosity and vision of Jimmy Mar, there would be not Wing Luke Museum…" – Ron Chew, former director of the Wing Luke Asian Museum, quoted in the International Examiner's obituary for Mar (Aug. 1, 2012), written by Dean Wong
Support guardians and advocates of Seattle Chinatown-International District (CID):
CID Community Watch Group is just what it sounds like! They meet Wednesday, Friday, and Saturday nights at 9pm Hing Hay Park.
Seattle Chinatown International District Preservation and Development Authority (SCIDpda, est. 1975) is a community development organization that provides services in affordable housing and commercial property management, real estate development, and community engagement and economic development.
InterIm CDA (ICDA, est. 1969) provides multilingual, culturally competent housing and community building services for low-income, Asian and Pacific Islander, immigrant, and refugee communities.
The Chinatown-International District Coalition (CID Coalition) is a grassroots group of community organizers dedicated to fighting displacement in the CID. Humbows Not Hotels!
---
About [Virtual] Moving History
2nd & 4th Sundays, 4:30–5:30pm PT

MIPoPS is a nonprofit whose mission is to assist archives, libraries, and other organizations with the conversion of analog video recordings to digital formats according to archival best practices.
In order to adhere to social distancing best practices, MIPoPS is proud to partner with the Northwest Film Forum to bring you a weekly series of archival videotape documenting a diverse history in Seattle. Featuring a variety of material and topics, this series will curate a set of clips each second and fourth Sunday of the month to provide comic relief, local histories, music, poetry, and stage performance recordings, and much more.
MIPoPS hopes this series will educate and entertain viewers during this time of uncertainty and isolation.
---
Find out more about MIPoPS at mipops.org
Watch past screenings on their YouTube Channel
Browse hundreds of videos they've digitized on their Internet Archive collection
Connect with MIPoPS on social media:
Twitter @mipops_seattle
Facebook & Instagram @mipopsseattle
---