Virtual Moving History – Nobuko Miyamoto's "A Grain of Sand"
Sun Apr 25, 2021: 4.30pm PT
(Due to a technical hiccup, this program went live at 5.00pm PT)
This program will be streamed LIVE on our Facebook Videos page. Chat with the MIPoPS audiovisual archivists on FB throughout the stream!
No password is necessary to view Moving History programs. Donations to NWFF and/or MIPoPS are optional but appreciated.
A Grain of Sand is the solo saga of one Japanese American woman, defying inherited bias and the erasure of assimilation on her quest for self-definition.

The Program:
** Content warning: This show covers several generations of Nobuko Miyamoto's family story, and is laden with heavy themes. Suicide, racial prejudice, slurs, murder, the violent displacement of internment, and damagingly narrow expectations of what a Japanese woman can do socially, artistically, politically, and economically — all come up in the context of her story, though they are always given appropriate narrative weight, and are not dwelled upon. **
In a poetic fusion of story, song, and video imagery, Nobuko Miyamoto traces the story of three generations of her family, from immigration, to internment camps, to the L.A. riots. As a young and willing subject of American culture and media, she rejected what she perceived as a limiting reservedness of Japanese tradition and tried to break into show business, but the artifice and tokenism of her roles nagged her. During the late '60s, as she responded to a rising pulse of Asian American activism around her, she found new strength in applying her talents to folk song and activism. Across the nation she met other artists and activists involved in Black, Latino and Native American civil rights movements, and joined their fights.
A Grain of Sand portrays a path of perspective, from the isolation and numbness of individualism to meaningful wholeness in a multicultural milieu.
Special thanks to Nobuko Miyamoto, and Wing Luke Museum, with whom MIPoPS worked to digitize magnetic media from NWAAT's collection, including this VHS recording. Watch it again after the livestream here! Digitization of this videotape material has been made possible in part by the National Endowment for the Humanities.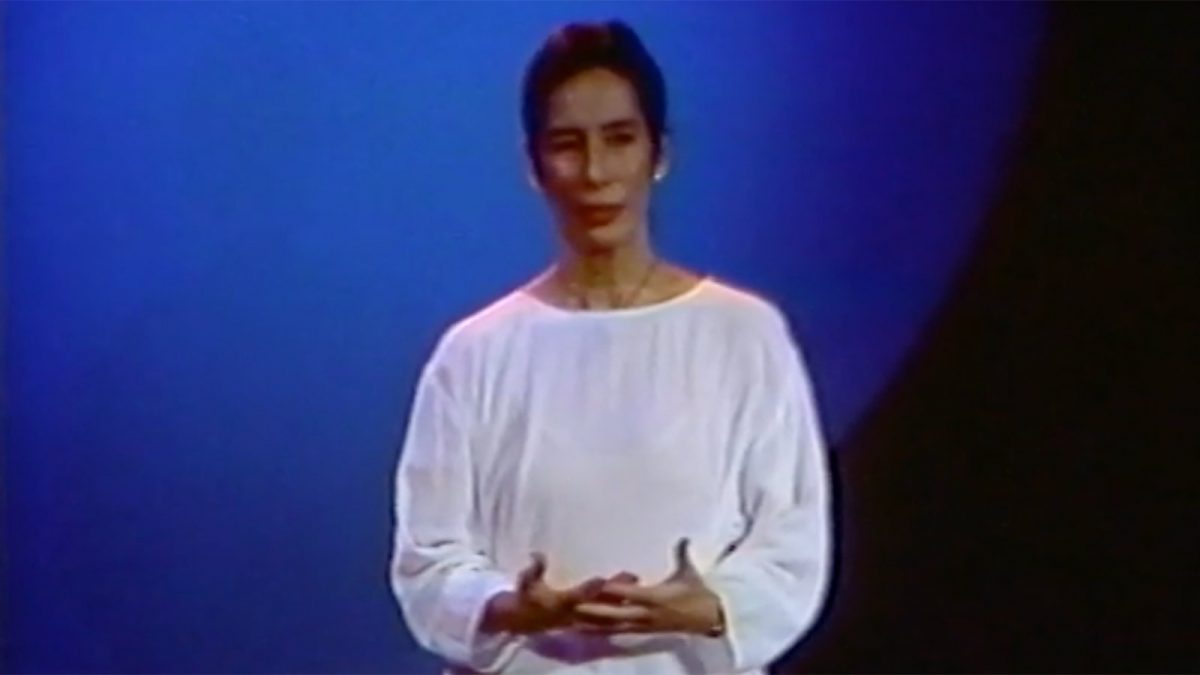 Additional reading and resources:
"With neither guideposts nor role models for reference, Nobuko improvised her own artistic path as a songwriter, dancer, and theater artist. Across five decades, she forged a creative practice that thrives on collaboration and continues today with a fire for justice. Now entering her eighth decade, Nobuko Miyamoto is unstoppable—firing up new projects, speaking out for racial justice, and undertaking new collaborations." – From Folkways' announcement of Nobuko Miyamoto's 120,000 Stories
---
About [Virtual] Moving History
2nd & 4th Sundays, 4:30–5:30pm PT

MIPoPS is a nonprofit whose mission is to assist archives, libraries, and other organizations with the conversion of analog video recordings to digital formats according to archival best practices.
In order to adhere to social distancing best practices, MIPoPS is proud to partner with the Northwest Film Forum to bring you a weekly series of archival videotape documenting a diverse history in Seattle. Featuring a variety of material and topics, this series will curate a set of clips each second and fourth Sunday of the month to provide comic relief, local histories, music, poetry, and stage performance recordings, and much more.
MIPoPS hopes this series will educate and entertain viewers during this time of uncertainty and isolation.
---
Find out more about MIPoPS at mipops.org
Watch past screenings on their YouTube Channel
Browse hundreds of videos they've digitized on their Internet Archive collection
Connect with MIPoPS on social media:
Twitter @mipops_seattle
Facebook & Instagram @mipopsseattle
---