What We Left Unfinished [In-Person Only]
This event took place Sep 8 - Sep 15, 2021
$13 General Admission
$10 Student/Child/Senior
$7 Member
In-person tickets available now!
⚠️ Public safety notice ⚠️
NWFF patrons will be required to wear face coverings while in the building. To be admitted, patrons ages 12+ will also be required to present EITHER proof of COVID-19 vaccination OR a negative result from a COVID-19 test administered within the last 48 hours by an official testing facility.
NWFF is adapting to evolving recommendations to protect the public from COVID-19. Read more about their policies regarding cleaning, masks, and capacity limitations here.
Mariam Ghani
Afghanistan, Qatar & US
2019
1h 11m
About
During Communist rule of Afghanistan, between 1978 and 1992, Afghan Films, the state-sponsored film production company, was commissioned to make dozens of films to push the government's ideological and political agendas. Of these films, many were left unfinished due to regime change; their prints either went missing or were destroyed when the Taliban came to power.
Director Mariam Ghani intricately weaves together rediscovered footage from five of these forgotten films with intimate interviews with surviving cast and crew from the films, granting a unique look into life and politics during this period of Afghan history. With many of these film clips being seen outside of Afghanistan for the first time, What We Left Unfinished asks audiences to look through the eyes of the Afghan creative community to gain a better understanding of all that has shaped modern Afghanistan.
(Mariam Ghani, Afghanistan, Qatar & US, 2019, 71 min, in English & Dari with English subtitles)
Images on this page courtesy of Dekanalog.
"We sometimes speak of art as a mirror for culture. What We Left Unfinished interrogates what reflection we see in the mirror; especially if that mirror was for a long time discarded because its reflection was deemed unsuitable for people to see." – Dan Schindel, Hyperallergic
"A true kaleidoscope of images and ideas, an extremely concise audiovisual avalanche from which you want to absorb everything, because you will not soon see anything similar." – Vice
"Powered by the curious, and fraught relationship that can exist between oppression and art, Ghani's immersive record is a curiosity that will satisfy any inquiring cinematic mind." – Film Inquiry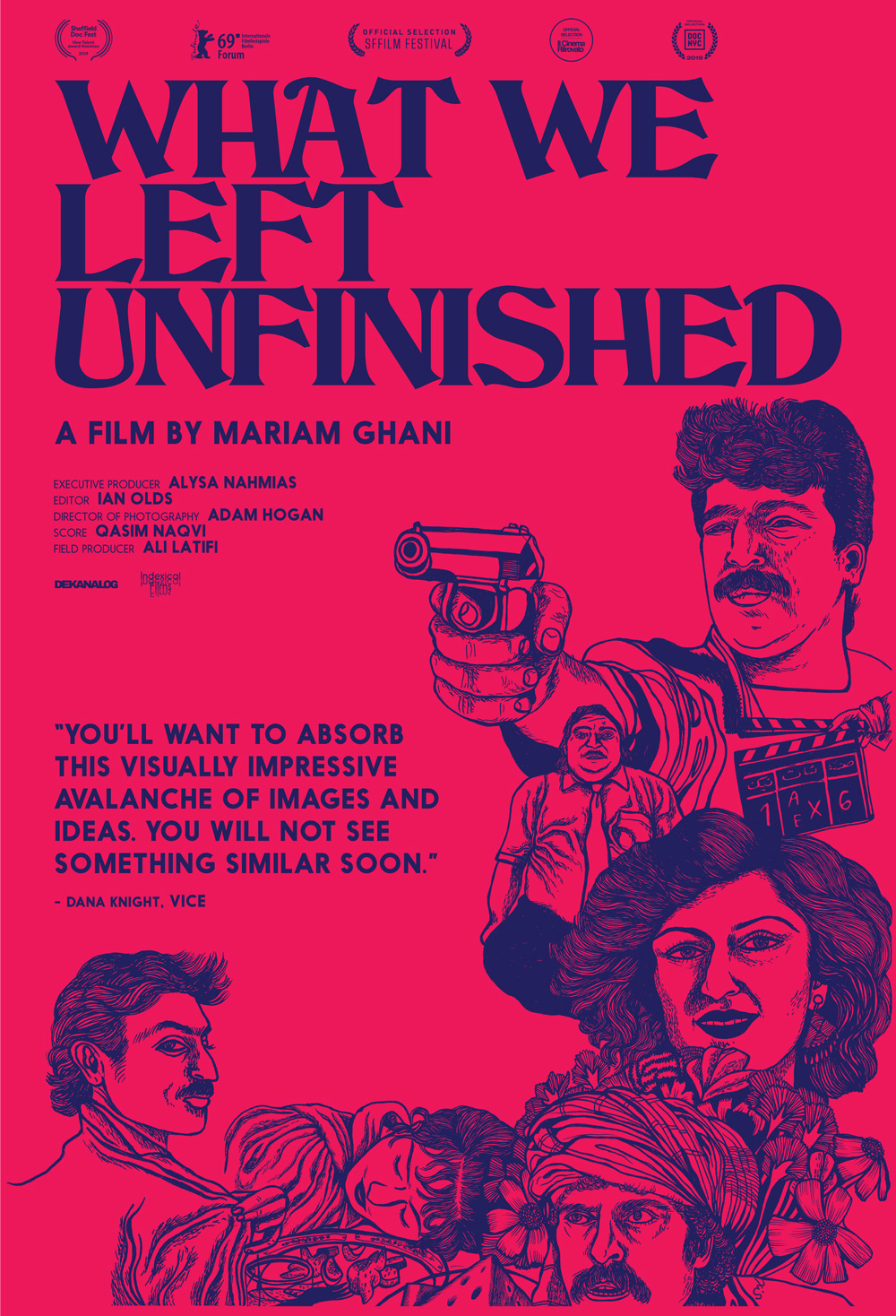 ---