---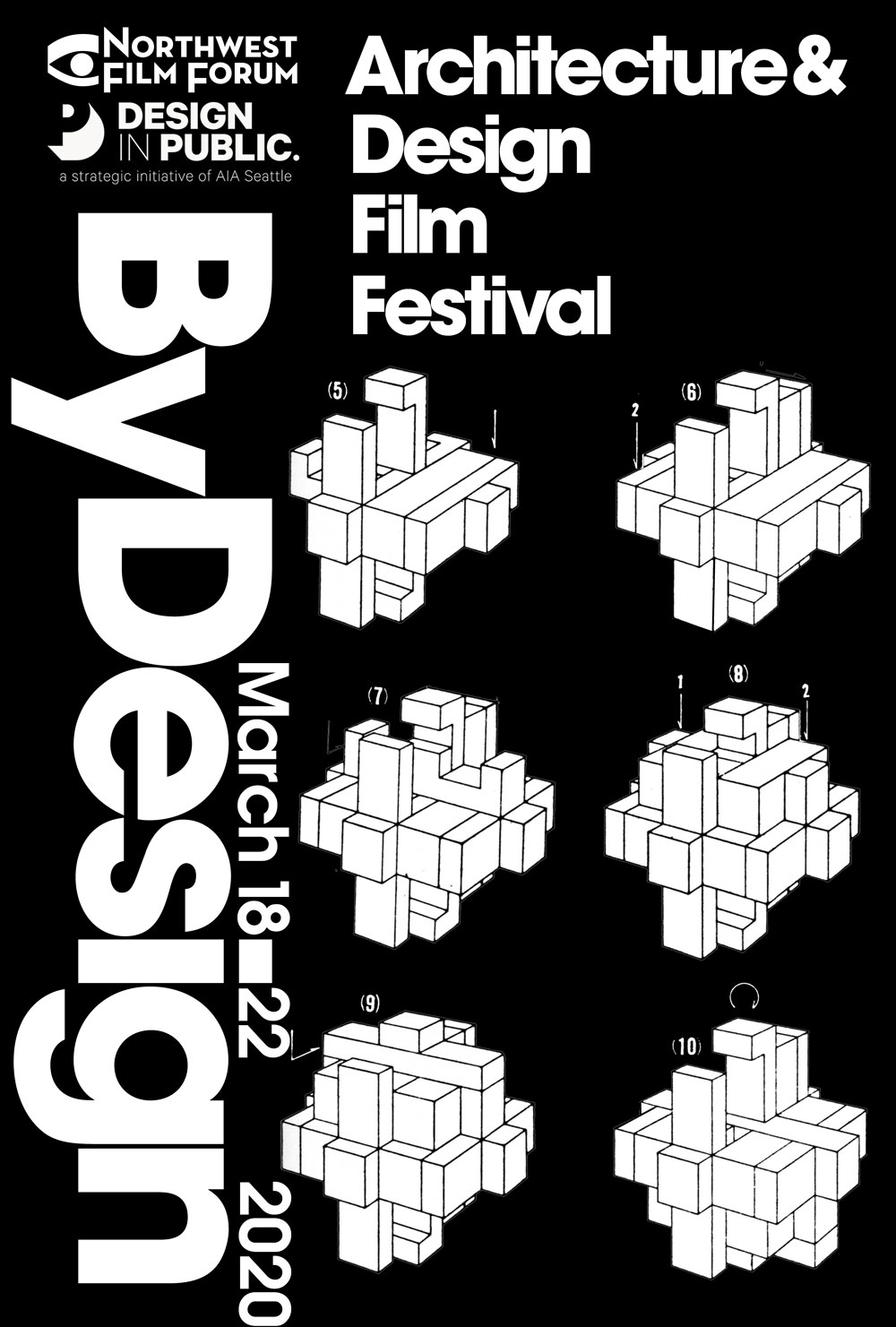 20th Annual ByDesign Festival: March 18-22, 2020 Presented in Partnership with Design in Public
March 2, 2020
The 20th edition of Northwest Film Forum's (NWFF) annual ByDesign Festival (http://bit.ly/nwbydesign) is curated in close partnership with Design in Public (DiP), a strategic initiative of AIA Seattle dedicated to unleashing the design thinker in everyone. The festival integrates NWFF and DiP's core missions and visions, by focusing on societal growth and community-building—as viewed through the lens of design-centered thinking. From March 18–22, experience programs at NWFF centered on design and architecture, including short and feature films, interactive installations, performances, panels, VR, and generative workshops.
ByDesign Festival is a cross-cultural exploration of people, structures, and ideas at the intersection of design and the moving image. In its 20th year, ByDesign recontextualizes the global to the local and examines pressing issues such as sustainability, affordability, indigeneity, and infrastructure, as they relate to design thinking. Featuring a broad, inclusive selection of films, performances, and interactive activities, ByDesign invites festival-goers to interrogate their own relationships to personal and collective identity and to examine how humanity's understanding of itself is central to the ways in which it creates the physical world.
FESTIVAL HIGHLIGHTS
Opening Night of ByDesign features a screening of the Argentinian film, Hidden (Escondido), preceded by local short Space Needle: A Hidden History, presented in partnership with Henry Art Gallery's In Plain Sight Film Series, with filmmakers in attendance!
Party ByDesign brings design lovers together over bites and libations at Blu Dot, and the rest of the weekend boasts feature and short film presentations with visiting filmmakers, panels, VR experiences, an embodied movement workshop, and an Americaville-themed potluck!
—
March 12, 6–9pm
Video Art Gallery + VR during Capitol Hill Art Walk
March 18, 7:30pm
Hidden (Escondido) (Argentina) screening with short film Space Needle: A Hidden History (US).
March 19, 6–9pm
Party ByDesign at Blu Dot in partnership with Civilization.
March 20, 6–9:30pm
Americaville (US, China) screening with director Adam James Smith in attendance, preceded by Americaville potluck and craft lecture.
March 21 & 22, 4pm
The clocks were striking thirteen: Short Film Program featuring films from Switzerland, Armenia, S. Korea, UK, and the US.
March 21, 4:30pm
Dream Tech: Designing the Gateway to Infinity panel presentation with Courtney Sheehan and Aleena Chia.
March 21, 6pm
Human Nature (US) screening.
March 21, 6:30–8pm
NIEMEYER 4 Ever (Lebanon) and Astana, City of the Future? (France) screening and discussion, with Astana director Laurier Fourniau in attendance.
March 21, 8pm
MEGALODEMOCRAT: The Public Art of Rafael Lozano‑Hemmer (Canada, Mexico) screening and discussion.
March 22, 9–11am
Embodied Futures movement workshop at Blu Dot.
March 22, 4:30pm
All On a Mardi Gras Day (US) screening with director Michal Pietryzk in attendance for Q&A after the film.
March 22, 6pm
Ever the Land (New Zealand) screening with short film Gathering Circle (Canada) followed by a discussion.
March 22, 6:30pm
The Maze (US) screening and discussion.
March 22, 8pm
Livingston: The Man and the Method (Método Livingston) (Argentina) screening.
Mar. 18 at 7:30pm (OPENING NIGHT)
SPACE NEEDLE: A HIDDEN HISTORY
(E. J. Bullert, US, 2019, 18 min)
Space Needle: A Hidden History explores the interplay of dance, art, and architecture of Seattle through the form of the Space Needle. Inspired by a wooden sculpture owned by architect Victor Steinbrueck called "The Feminine One," the film throws the legacy of the Needle into a new light, suggesting its story is intricately intertwined with other local artists, including Seattle-born dancer Syvilla Fort. Even Seattle natives are sure to see something new in the Needle after seeing this film.
+
(Miguel Baratta, Argentina, 2019, 70 min)
Inspired by abuses in Argentina's dictatorial past but maintaining a global perspective, Hidden highlights the art of suppressed personal ideologies, experiences, and memories. Director Miguel Baratta dissects the morphology of design and the potential to resurrect hidden stories through physical objects—from the bones of victims of the Mapuche genocide to the remnants of songs written by Holocaust prisoners. Hidden opens windows into the past while considering the possibilities of art to transcend oppression in the future.
_________________________________
Mar. 19 at 6pm
Blu Dot, Civilization, Design in Public, and Northwest Film Forum present Party ByDesign, a mid-fest mixer with structural bites and libations, festival trailers and photo ops, in Blu Dot Seattle's timber-framed showroom. Mix, mingle, groove, and lounge while exchanging ideas and inspiration with fellow design-minded thinkers and energizing for the rest of the fest!
_________________________________
Mar. 20 at 6pm
Americaville Potluck 
Marshmallow and Froot Loops pie, anyone? Join Director Adam James Smith in the NWFF lobby for a potluck featuring quirky dishes shown in his film Americaville to get a taste of what's in store.
Mar. 20 at 7pm
Craft Lecture with Adam James Smith
Hear from Adam James Smith, director of Americaville, about his process and his previous films, which explore the complexities of placemaking.
Mar. 20 at 8pm
(Adam James Smith, US and China, 80 min)
Filmmaker Adam James Smith takes his keen interest in the creation of built environments and the expression of identity within these spaces to an eerie replica of Jackson Hole, Wyoming, outside of Beijing, to which citizens escape to embrace the American dream. Each weekend, Beijing residents like Annie Liu travel to the hills outside the city to enjoy fresh air, a big house, and classic "American" activities: morning walks on Route 66, Jello potlucks, and visits from the horseback-riding town sheriff.
_________________________________
Mar 21–22 at 4pm
THE CLOCKS WERE STRIKING THIRTEEN: SHORT FILM PROGRAM
An expedition-type urban cruise that takes you to nostalgic harbors of the past and surreal ports of the future.
** Curated by NWFF Programming Intern Anastasia Babenko **
ALL INCLUSIVE (Corina Schwingruber Ilić, Switzerland, 2018, 10 min)
16 DISTRICT, 16 FLOORS, 16 PEOPLE (Tatevik Vardanyan, Armenia, 2018, 19 min)
IF… (Nils Clauss + Neil Dowling, S. Korea, 2018, 6 min)
IN THE ROBOT SKIES (Liam Young, UK, 2016, 10 min)
IT'S GOING TO BE BEAUTIFUL (Luis Gutiérrez Arias, US, 2018, 9 min)
GO HOME (Jeff Frost, US, 2019, 4 min)
_________________________________
Mar. 21 at 4:30pm
Dream Tech: Designing the Gateway to Infinity
This talk offers an overview and discussion of the nascent industry of dream tech and poses questions to the design community about the role of ethical design in an emerging tech space with universal resonance. A few examples of dream tech will be presented, such as wearable devices that attempt to induce lucid dreams – dreams in which you are aware of the fact that you're dreaming and may exert control over the dream narrative. Meanwhile, neuromarketers are waking up to the mouth-watering potential of a good night's sleep as eight hours of perfectly passive, untapped advertising real estate.
_________________________________
Mar. 21 at 6pm
(Adam Bolt, US, 2019, 95 min)
A breakthrough called CRISPR has given us unprecedented control over the basic building blocks of life. It opens the door to curing diseases, reshaping the biosphere, and designing our own children. Human Nature is a provocative exploration of CRISPR's far-reaching implications, through the eyes of the scientists who discovered it, the families it's affecting, and the bioengineers who are testing its limits. How will this new power change our relationship with nature? What will it mean for human evolution? To begin to answer these questions we must look back billions of years and peer into an uncertain future.
Mar. 21 at 6:30pm
(Nicolas Khoury, Lebanon, 2018, 30 min)
Tripoli, Lebanon, in the 1960's was a hotbed for art and intellectuals, poised to become the gateway for modern thinkers to all the Middle East. World-famous Brazilian architect Oscar Niemeyer came to build the jumping board: an international fair grounds in the most spectacular modern design. However, as the project neared completion, civil war halted construction indefinitely. Today, Tripoli is a shell of its former, boisterous self and the near-completed fairgrounds seems only a remnant of the past. However, for the city's people, the fairgrounds are still alight with hope and a sense of identity. Is there spring left yet in the fairgrounds to launch Tripoli back to its former glory?
+
(Laurier Fourniau, France, 2019, 29 min)
Kazakhstan's rapidly-expanding capital city is rife with innovation and futuristic design, as prescribed by the government. As historically nomadic people, the Kazakhs are hesitant to adopt the rigidity of city living, especially with the sour taste of Soviet squares still on fresh on their tongues. Many citizens from around the country come to work in Astana, but few call this city-in-scaffolding their home. The government can sculpt a skyline, but can it cultivate a national identity through architecture?
_________________________________
Mar. 21 at 8pm
MEGALODEMOCRAT: The Public Art of Rafael Lozano‑Hemmer
(Benjamin Duffield, Canada & Mexico, 2018, 94 min)
Acclaimed artist Rafael Lozano-Hemmer stages democratic takeover of public spaces with his disruptive pieces that rely almost entirely on public participation. Shot over 10 years in 30 cities around the world, the film provides intimate access to his large-scale interactive creations in locations such as Trafalgar Square in London, the Vancouver Olympics, and New York's Park Avenue Tunnel, culminating in a piece that crosses the US-Mexico border. Rafael's work is a rallying point for a disjointed urban population, longing to connect. His art doesn't discriminate, and all who participate are given a voice: "What I want is for people to feel like their presence has an urban scale and that they have a platform to self-represent…for a little while, people can feel like they own their city."
_________________________________
Mar. 22 at 9–11am @ Blu Dot
Embodied Futures is a workshop that joins together somatic movement and visioning tools to examine how movement practices can shift one's relationship to the future. The workshop identifies our lived experiences (of both hope and hopelessness) as source material to re-imagine and embody tomorrow's possibilities. Embodied Futures asks: given that somatic practices can be used to change one's relationship with a difficult past, how can similar techniques be used to change one's relationship to the future? How can improvised movement create a context for people to enact dreams of an imagined future? Using the body's innate inclinations towards movement, imagination, and playfulness, our bodies can experience new versions of hope.
_________________________________
Mar. 22 at 4:30pm
ALL ON A MARDI GRAS DAY + Panel
(Michael Pietryzk, US, 2019, 23 min)
In a gentrifying New Orleans, some African-American men from the city's roughest neighborhoods spend all year sewing feathered suits. All On A Mardi Gras Day follows Demond, who makes huge sacrifices to be Big Chief in this secret, 200-year old tradition known as Mardi Gras Indians. When the day comes, he battles in a competition that will decide who's "the prettiest."
_________________________________
Mar. 22 at 6pm
(Tracey Strnad, Canada, 2019, 10 min)
Indigenous architects and collaborators restore indigenous influence to a waterfront park with a welcoming canopy structure in Collingwood, Canada. The structure highlights ancient values and promotes the coming together of all people, which the designers hope generations upon generations after them will get to experience.
+
(Sarah Grohnert, New Zealand, 2015, 90 min)
In New Zealand's Te Urewera forest, the Maori tribe Ngāi Tūhoe wrestle with the Crown for autonomy in their ancestral homeland. Amid prodigious negotiations for settlement and stewardship rights, the Tūhoe embark on a landmark architectural project: a Living Building community center. To qualify as a Living Building, the structure must give more energy than it takes. The project would be the first in New Zealand and one of a small group worldwide, including the Bullitt Center in Seattle, which was named the most sustainable commercial building in the world. The new community center would symbolize the tribe's connection to the land and new hope for the future, however, not everyone is convinced that this symbolic gesture is worth the money. As the project moves along, a disconnect between the Tūhoe and the architects becomes evident. In these fragile moments, the power of architecture to bring people together shines through.
_________________________________
Mar 22. at 6:30pm
(Serginho Roosblad, US, 2018, 24 min)
Disturbed commuters coming from the Bay Bridge are split up by the Macarthur Maze interchange every day, but not in the same way that it splits up the east bay community. Surrounded on one side by a super mall built on an ancient native burial site, on another side by gentrified homeless being pushed out by expensive apartment development, and on another by a nature estuary saturated with pollutants, it's a kaleidoscope of societal issues. Everyday, thousands of drivers pass through the maze: does anyone stop to look around?
_________________________________
Mar. 22 at 8pm
(Sofía Mora, Argentina, 2019, 71 min)
Vines grow in through the windows of Argentinian architect Rodolfo Livingston's Buenos Aires home, but he doesn't mind. According to him, "the spiders are welcome in." The charming designer, still practicing into his late 80's, has spent his career connecting with the people who will experience his creation. His is an exploration of the human interaction with architecture. In Método Livingston, he walks us through his house, his connection to Fidel Castro, and his hopes for his young son – all in the context of architecture as a tool for change.
_________________________________
Mar. 12, 18–22
ROCKHAVEN CREEPERS TRILOGY
(Elizabeth Leister, US, 2018, 10 min)
Rockhaven Creepers Trilogy utilizes 360 video to bring the viewer into the space of the abandoned Rockhaven Sanitarium. Each room is inhabited by a dancer, a character, who embodies through movement the various "nervous disorders" associated with female health in the early 20th century. Inspired by Charlotte Perkins Gilman's "The Yellow Wallpaper," written in 1892, director Elizabeth Leister reminds us of mistreatment in the past while inciting critical thinking about the present day.
_________________________________
DESIGNED BY
(Edmund Talavera, US, 2019, 12 min)
The design of objects and spaces we use everyday impacts us. designed by visits the studios of three emerging female product designers for an intimate look at their process. The artists explore their experiences with the products they create as well as the experiences of those who use them.
_________________________________
Mar. 12 & 18–22
LINE
(Erin Cuevas + Luke Kraman, US, 2019, 7 min)
Twins dance with elastic bands that represent the tension, strength, connections, and divisions these sisters have built between one another over time. The sisters work together to construct their abstract notion of "home" both physically and mentally throughout their performance, building up a three dimensional drawing over time.
_________________________________
FRAME
(Erin Cuevas, US, 2019, 5 min)
Animated light projections begin by highlighting each individual dancer's movements, and converge over time into a symphony of light volumes and choreography. The growing complexity in the projected frames echoes the synergy that builds.
_________________________________
ECOS, ODA AL SILENCIO
(Andres Arochi, Mexico, 2018, 4 min)
Mexican architect Luis Barragán's Casa Estudio—a modernist house in Mexico City—hosts a body-bending dance troupe who twist and move through the geometric building's colorful spaces and rooms. Through play and experiment, the dancers evoke the energy of the building; the vibrations and ambiances of each volume. This multidisciplinary piece blends architecture, cinema, performance and music to elicit the human experience within Barragán's space.
—
—
About Northwest Film Forum
————————————————————
Founded in Seattle in 1995 as an independent film and arts nonprofit, Northwest Film Forum incites public dialogue and creative action through collective cinematic experiences. Each year the Forum presents hundreds of films, festivals, community events, multidisciplinary performances, and public discussions. As a comprehensive visual media organization, the Forum offers educational workshops and artist services for film and media makers at all stages of their development. nwfilmforum.org
About Design in Public
————————————————————
Founded in 2011, Design in Public is a platform for bold design conversations. We believe that design is for everyone and that inclusive co-design practices are essential to shaping an equitable Seattle. We collaborate with diverse communities, architects, designers, civic and business leaders, nonprofits, artists and activists to generate solutions to complex social, cultural and ecological challenges that affect all of us. designinpublic.org
---