---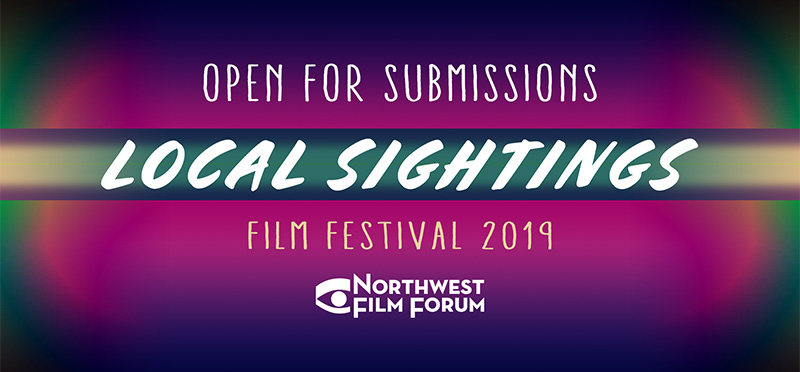 22nd Annual Local Sightings Film Festival Opens Call for Pacific NW Films & Media Submissions!
March 22, 2019
In its 22nd year, Northwest Film Forum's annual Local Sightings Film Festival evolves to showcase the growing complexity of creative communities in the Pacific Northwest. Featuring a competitive selection of curated shorts and feature film programs, Local Sightings 2019 invites regional artists to experiment, break, and remake popular conceptions around filmmaking and film exhibition. Moving onto FilmFreeway for the first time, Local Sightings will also accept 360 video and VR180 projects this year.
The 2018 edition of Local Sightings featured 75 shorts, features, web series, music videos, and VR projects, incorporating a wide range of stories, perspectives, and approaches to filmmaking, as well as achieving gender parity. Past festival successes have included animated GIF storytelling, interactive site-specific video installations, virtual reality dance films, and educational offerings, including the region's first-ever Sundance Institute Artist Services Workshop.
Working in conjunction with Pacific Northwest film centers and community partners, Local Sightings will use screenings, panels, workshops, performances and more to encourage critical discourse around the medium, with an eye towards a regional elevation of the industry. 2019's edition will invite additional expertise from local collaborators, such as: Engauge Experimental Film Festival, who will curate the festival's experimental programs; Cadence: Video Poetry Festival and Velocity Dance Center's Strictly Seattle Dance Film Track, with works generated on-site at NWFF; and numerous others to be announced.
Eligibility Criteria
All types of moving image media are eligible; projects must be finished within 18 months from start date of the festival, and the filmmaker(s) must live in the Pacific Northwest (Washington, Oregon, Alaska, Idaho, Montana, British Columbia, or the Yukon Territories) or have had the majority of their productions based in these states. Local Sightings does not require festival premiere status, though it is encouraged.
Submission Criteria
Festival film submissions must be completed through FilmFreeway. The standard submission fee is $15 for features, $10 for shorts, and $25 for VR, AR, and 360 projects, with lowered rates for students. Film submissions are due by 11:59pm on June 15th, with an extended late deadline of 11:59pm on July 7th. Full submission criteria are available online at FilmFreeway.
Competition Process
Local Sightings invites local and national judges to choose award-winning shorts and feature programs via a competitive selection process. Prizes awarded to filmmakers include cash grants, screening opportunities, production and post-production services, gear access, and other industry perks. Not all films are eligible for competition; initial pool of eligible submissions is selected by NWFF staff.

All questions about the festival and submissions can be directed to localsightings@nwfilmforum.org.
---