---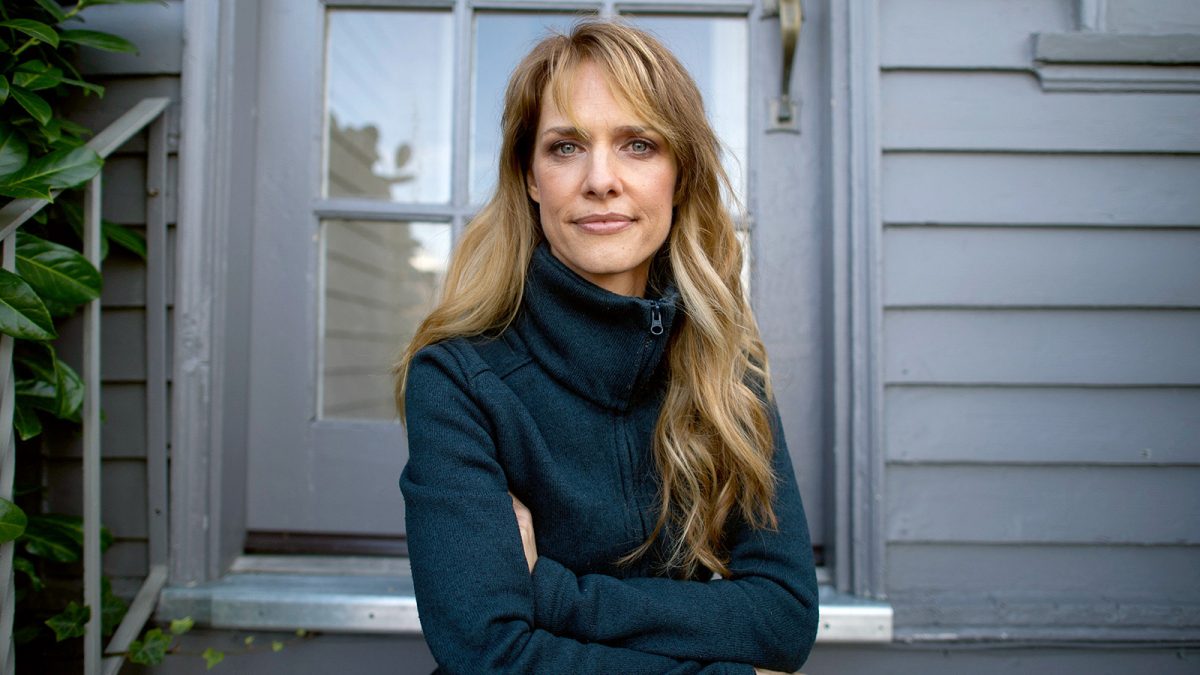 In Tribute to Lynn Shelton: Memories from NWFF Staff & Board, Plus a Special Participatory Screening of We Go Way Back
May 18, 2020
Director Lynn Shelton passed away suddenly on Friday, May 15th, 2020. A long-time friend of Northwest Film Forum and one of the Seattle film community's brightest lights, she will be deeply missed.
On Thursday, May 21st, Lynn had planned to chat along to a livestream of her first feature, We Go Way Back, on NWFF's Facebook Videos page. This event will still take place, with the accompanying live chat repurposed as a space to share memories of Lynn.
A Letter from Seattle Filmmaker Megan Griffiths:
How do I even begin to address the Northwest Film Forum community today, as we're all collectively reeling and mourning for our lost filmmaker/mentor/hero/friend/shining beacon of light and love, Lynn…
Mere days ago, Lynn and I were texting back and forth about Northwest Film Forum. It had been our plan today to share a Zoom call she and I recorded in April where we reminisced about all of our fond memories of the organization – a really fun, joyful conversation to celebrate the Forum's 25th Anniversary. It was always so easy to chat with Lynn about anything, and this was no different. The stories flowed as we dug into our memory vaults: things like Lynn's gathering of new moms to breastfeed together on camera back at the Little Theater on 19th for an experimental doc she was making, and our whole broke $5 Cover crew pooling our meager pocket change to make an in-person donation to Dave Hanagan when the NWFF was struggling to keep its doors open in 2009.
Over the past few years, Lynn and I were not often in the same city, since both of us worked so much in television, but we would always find time for long, wide-ranging catch-up calls. This call was one of the last times Lynn and I spoke, and I never imagined when I recorded it that I would come so quickly and deeply to treasure it as I do now. We are sharing it today in hopes that it is comforting to those mourning Lynn to see her vibrant face on your screen, to hear that laugh, and to feel the love that she had for this community of filmmakers.
We will be going ahead with Thursday's livestream of Lynn's first feature We Go Way Back. The intention was for Lynn to commandeer the comments section with stories from the set, but in her absence, we'd like to use the space as a place for this community to come together and remember Lynn. Please join.
Lynn made an indelible mark on me as a filmmaker and as a person. I know I am not alone in feeling that way, especially in Seattle. Let us all maintain her legacy of integrity, passion, humor, joy, and humanity in our work and in our lives.
Sending love,


Megan Griffiths
NWFF Board Member
---
Lynn Shelton & Megan Griffiths Remember Their Early Years at NWFF
---
Memories of Lynn from NWFF Board & Staff
Lynn was much loved in the Seattle community and beyond, and the number of tributes written to her are vast and meaningful. We have included a few from former members of NWFF's Board and Staff who knew her well and have witnessed her growth as a filmmaker through the years.
Michael Seiwerath
Former NWFF Executive Director
We first met when she was finishing 2000's The Clouds that Touch Us Out of Clear Skies: Stories Surrounding Miscarriage, her vulnerable, courageous short film on loss. Always generous, she was a diligent editor of other people's work and brought joy to so many projects.
Lynn was so inspired by Claire Denis, who on a trip to Northwest Film Forum, shared that she made her first feature at 40. Soon, Lynn was looking at 40 and making a feature of her own.
Lynn was always the most passionate champion of making movies where you lived and knew. She made a beloved string of improvised features, shooting here whenever possible. And she parlayed it into a proper career.
Lynn was always so generous with her time, her ideas, her connections.
Just a few weeks ago, we were texting about the mundane: back pain, the challenges of work, being stuck at home. I was thinking of all the great movies she had yet to make. All the art yet to come.
Much love to you and the thousands of people you touched.
Deb Girdwood
NWFF Co-Founder
I remember Lynn so well. Her laugh, her brilliant creative spark. I'm thinking of those early, funny and somewhat liberated breastfeeding experimental films we made in the late '90s and the poignant feminist short doc on motherhood she made in 2003 with baby Ursula as "her star." I'm happy I knew her then and I've been so impressed and inspired by her much-deserved success ever since. Much love to all who are grieving this beauty. What an awful loss; makes no sense. I really wanted to see what she was doing next. And I really wanted to see her again.
Adam Sekuler
Former NWFF Program Director
In mid-February of 2006 I arrived in Seattle from Minneapolis to begin my role as program director at Northwest Film Forum. That first week on the job I was urged to attend the first local screening of We Go Way Back, Lynn Shelton's first feature, which was returning home from having just won a major prize at Slamdance.
The theater was packed with locals who contributed to the film's production. It was on that night that I met Lynn, who came across as an ambitious, friendly, kind person. She was a burgeoning local filmmaker who wore her recent accolades lightly. There were literally dozens of people who shared the stage with Lynn and her infectious spirit radiated through each of them. It was an incredible introduction to Seattle film and I took a few minutes after the screening to thank Lynn for her work.
Lynn was a bit of a fixture at Northwest Film Forum, not just at our infamous parties, where she was a regular on the dance floor, but also on an ordinary afternoon or weekend. One Saturday, Lynn was wandering the building and we ran into each other. I was busy editing a quixotic little film I was working on called Merely Mouthpiece and she asked if she could have a look. Our work was so different from each other's, but I invited her into the editing suite where I was cutting a scene. She watched and to my great surprise was moved by the film. We talked for a while about our approaches to cinema and grabbed a coffee to talk some more. Lynn was definitely the kind of person you could find yourself engaged with for hours on end.
Over the years, many people mentioned Lynn's short film The Clouds That Touch Us Out of Clear Skies. When I finally had a chance to watch it, I was shaken. It's now likely an obscure object in Lynn's rather expansive catalog. But make no mistake, it's important and – dare I say – essential cinema. With that film, Lynn created a deep and profound piece of poetic beauty. In it she explores her experience of miscarriage with haunting visuals that won me over as a lifelong devotee.
But I also had the experience of working with Lynn, both as a producer and in a rare appearance as an actor. The film I produced was for NWFF's one shot film program, this one made by Lynn's friend Joe Swanberg, whose work she brought to my attention. It stars Alycia Delmore, who would later appear in Humpday, Lynn, and her son Milo, who I've been thinking an awful lot about since I heard the news.
In my last year in Seattle Lynn approached me to play a bit role in her film Your Sister's Sister. I was to be a cashier at a bodega checking out groceries for Rosemarie DeWitt, whom I got to spend the afternoon with in the mobile dressing room. The scene never made it into the film, but I was touched and surprised she even asked me to play a role. Perhaps she remembered my appearance in a short film she directed in 2006 for the Forum's annual gala. It was full of the usual Film Forum hijinks, including a surprise appearance from conservative commentator Michael Medved, who gave a guided tour of the new building on 12th Avenue. I appear in drag pulling some deviled eggs out of the refrigerator in the kitchen. That year our theme was appropriately Irrational Exuberance, a phrase that pretty much sums Lynn up. You can tell from the number of people writing about their own experiences with Lynn that that exuberance was infectious.
Lynn, you are and will be forever missed.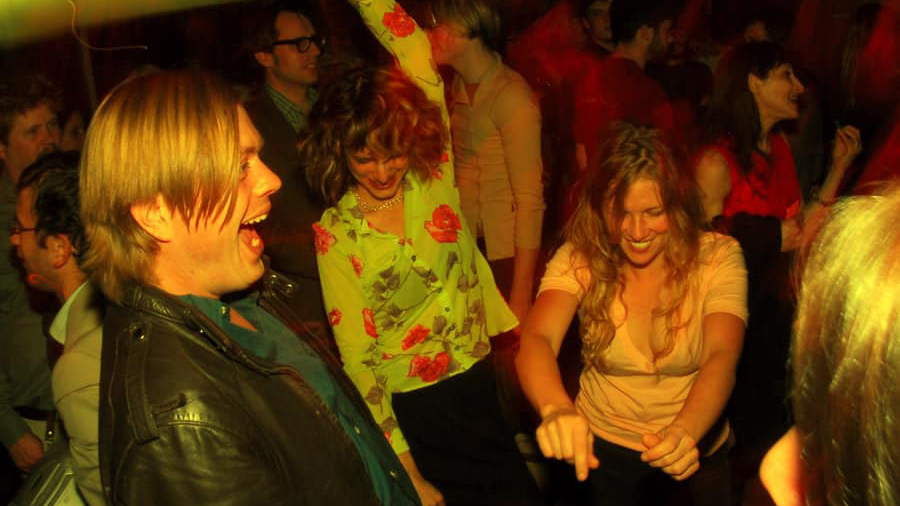 Peter Lucas
Former NWFF Program Manager
I'm sad and still shocked about the passing of filmmaker and old friend Lynn Shelton. I first got to know her many years ago while living in Seattle and working with Northwest Film Forum and Seattle International Film Festival. This was during formative, transitional years for both of us, before her rightly-deserved world fame. Of course, she was already a fantastic person and artist, but I got to witness her blossom into an accomplished director. Though we weren't super close, if my time in Seattle was a movie, Lynn would somehow be in every scene. She was a fixture at Northwest Film Forum. She came to our screenings, danced to my records, knew and loved everybody that I did. We had countless encounters and conversations – sometimes brief, often about film – always lovely. She asked me to come talk to her Art Institute classes a handful of times, and she would occasionally show up to screenings with some of her students in tow. She was always equally both student and teacher, both light and serious. I was excited to witness her begin work on her first feature film at Northwest Film Forum. And I was proud to present Lynn and that film, We Go Way Back, at SIFF. Happy to call her my friend, though I know so many who were much closer with her than I was – my heart goes out to her closest friends, collaborators, and family right now. Her passing has reminded me of a ton of great collaborative energies and unusual experiences in Seattle, of the power of a person's positivity and kindness, and of the impermanence of all. Thank you, Lynn, for being a great, active participant – in life and in cinema. You were an encouragement and an example to me, and you still are.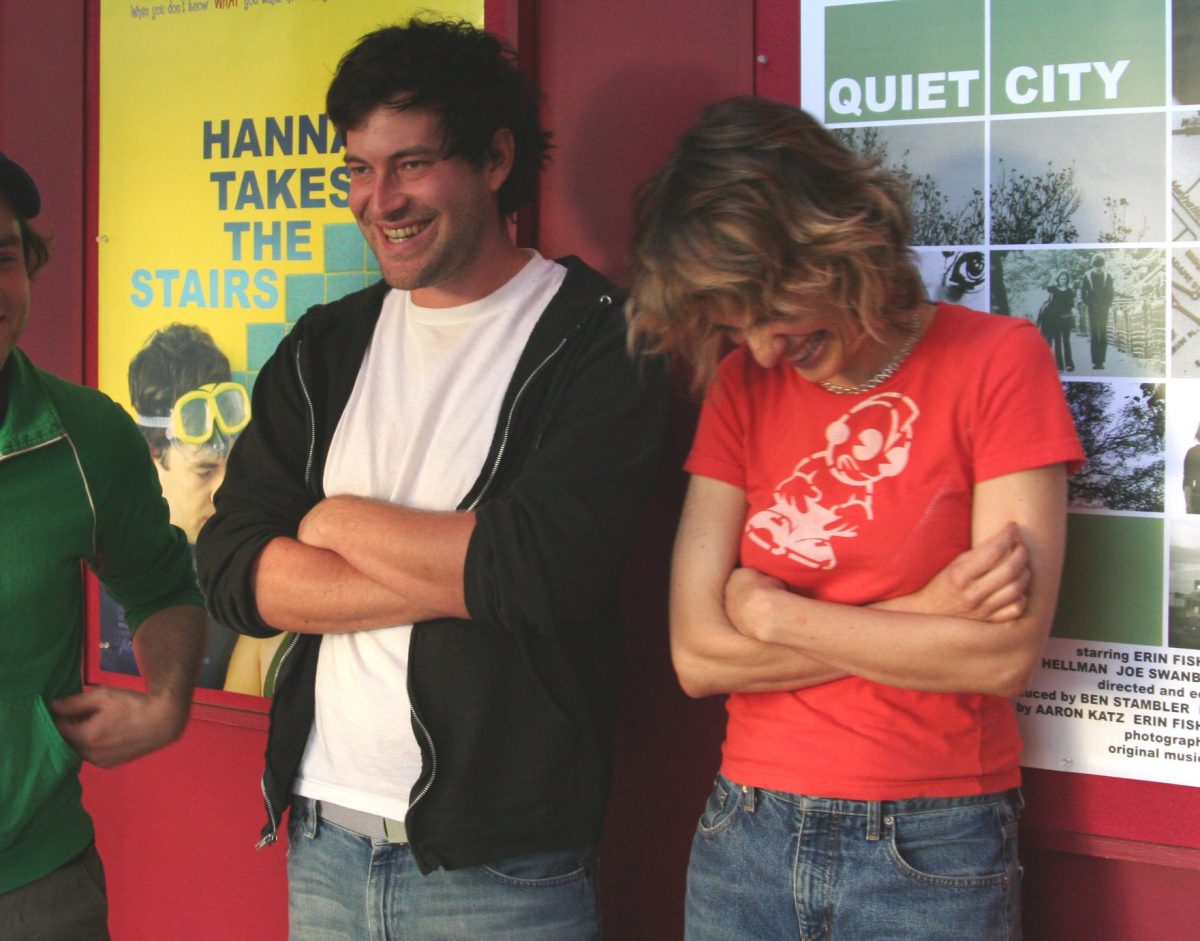 Dave Hanagan
Former NWFF Studio Director
If I close my eyes I can effortlessly conjure an image of Lynn Shelton walking through the door of NWFF with her beaming smile. Every interaction with her, every sighting, was joyous.
Jennifer Roth
Former NWFF Board President
Since I had the pleasure of working on a set with my dear friend Lynn Shelton in 2009, I have treated my colleagues, my crew and everyone around me differently. Lynn taught me that being a true professional is to lead with love, trust and respect. I am so grateful to have learned this from her and I will forever honor her by teaching others to do the same.
Lyall Bush
Former NWFF Executive Director
Somewhere around 2010, Lynn offered a master class at the Film Forum, to a packed house in the main cinema. She handed out copies of pages of her script for Humpday and talked through her writing and directing process, which included plenty of additions and improvisations by actors. She showed clips from the film and talked through how the filmed scenes differed from the written pages, and why, and helped everyone there understand that, as she said, her attitude throughout was "anything that works." It was the most modest possible of ideas about how to make a film, and everyone was on the edge of their seat. She was, as always, articulate, funny, insightful about process, and enthusiastic about the how she went about making. Everyone lingered afterwards, wanting more, even after two hours, and she answered questions for a long time after the official end.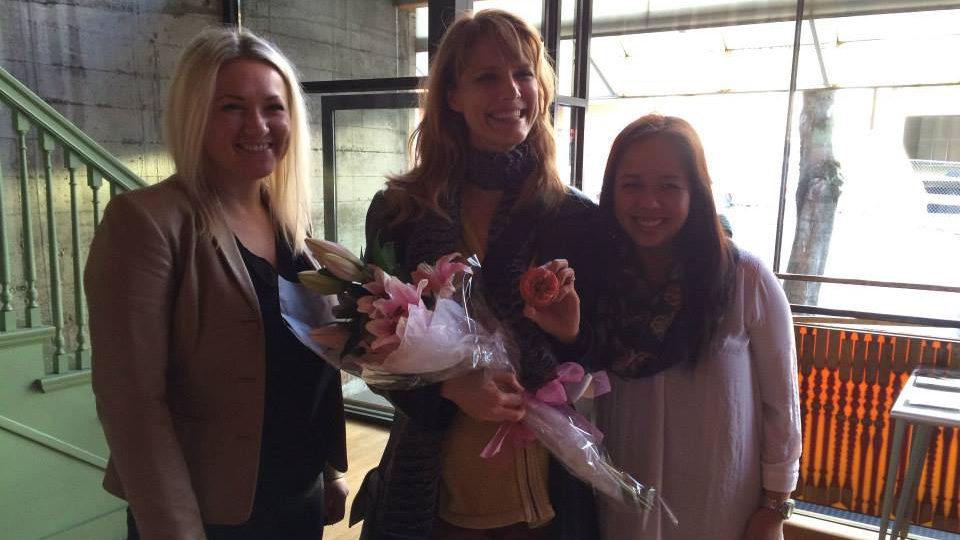 Courtney Sheehan
Former NWFF Executive Director
I don't think I'd ever cried in a director Q&A before International Women's Day 2015, when Lynn Shelton shared her phenomenal experimental short The Clouds that Touch Us Out of Clear Skies, about the emotional experience of miscarriage. Instead of a typical Q&A, Lynn was so excited to have the conversation with two international nursing students. She explained how her own experience drove her to to make the film, how we lacked the emotional language to talk about miscarriage – to talk about that kind of death, that kind of loss. She made the film with medical professionals in mind, hoping to equip them to engage with patients on this level.
So here was this audience of future nurses receiving this very rare and special gift of education in the form of Lynn's art, and here was Lynn with that boundless generosity of spirit, opening her heart and her past before us, so that we could all leave the theater that day with an elevated understanding of what it means to go through this kind of mourning. The intimacy and empathy of what she offered me, the students, the audience in that room leveled me then, brought the raw tears right out. And now, struggling and inevitably failing to grasp what she offered all the people in all the rooms in all the moments of her life – the leveling is infinite.
Lynn and Jody Early and her colleagues and students made this event one of the most memorable stand-outs, of the hundreds in my time at Northwest Film Forum. Someone showed up with a surprise box of homemade vagina-decorated cupcakes in honor of the day. That's what Lynn's grinningly displaying in the photo with the nursing students. It was a wonderful day.
And then there was the time Lynn and Jonathan Marlow and I started spontaneously dancing some electric shimmy before her screening because why not. And then, and then, and then… The loss is beyond comprehensible, but so is the vastness of her lasting imprint on so many of our lives, in more ways than anyone could dare to count. She IS the Vastness now.
A short documentary on Lynn for MTV's Amplified Docs.Directed, shot and edited by John Jeffcoat.
---