---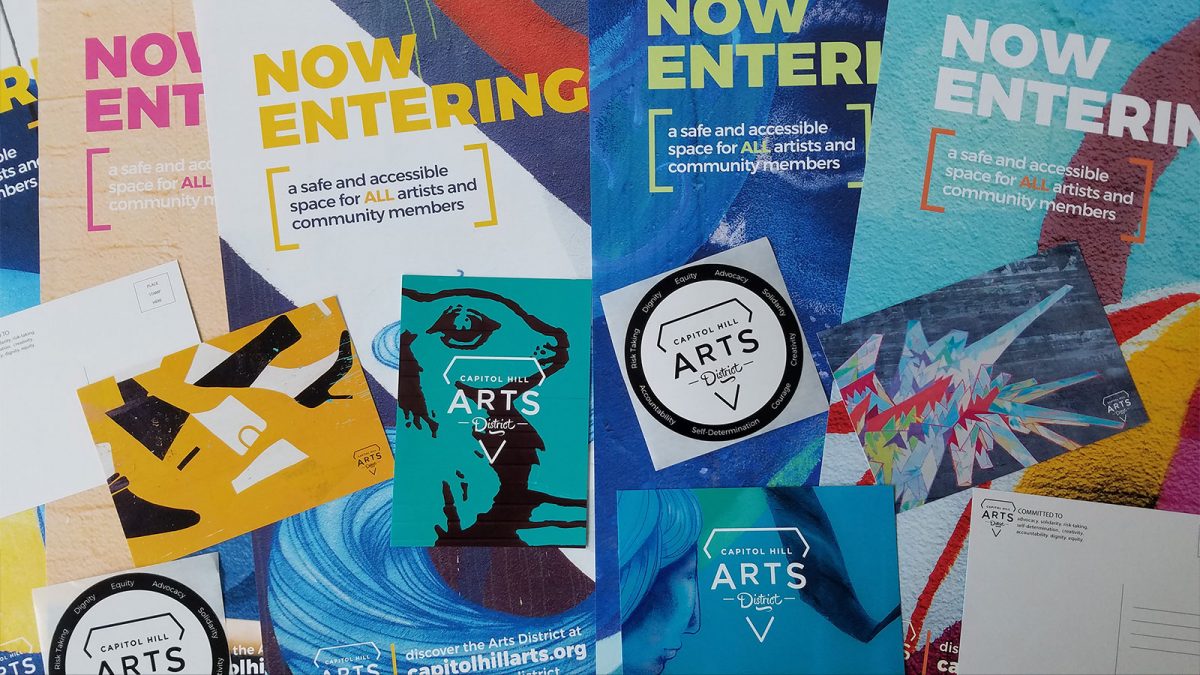 Announcing the Capitol Hill Arts District Streaming Festival April 29 to May 3
April 16, 2020
Arts District aims to raise visibility of local artists and arts organizations while offering levity through entertainment
From April 29 to May 3, the Capitol Hill Arts District is thrilled to present the Capitol Hill Arts District Streaming Festival, celebrating the creativity of Capitol Hill and offering community members a connection to interdisciplinary art while the Stay Home, Stay Healthy order is in effect.
"The Capitol Hill Arts District exists to champion local artists and arts organizations and there is no more critical time to do so than now. We are incredibly excited to have the financial resources, platform, and talented team to present a platform that supports our robust arts ecosystem," explains Terry Novak, Executive Director of Photographic Center Northwest and the Chair of the Arts District. "The streaming festival will represent a wide range of mediums and ideas, and in the heart of one of Seattle's oldest arts districts and LGBTQ neighborhoods."
Northwest Film Forum will stream the festival simultaneously via Vimeo, YouTube, and Facebook Live. While the event will be free to all, guests are encouraged to offer a donation on a sliding scale. All proceeds will go to the COVID-19 Artist Trust Relief Fund and will directly support individual artists. Direct donations to the presenting arts organizations and individuals are also encouraged.
View the full schedule, register, and donate at bit.ly/caphillarts2020.
"Whether through its activation of the former Value Village site or other pop-up events around the neighborhood, Capitol Hill Arts District has proven its ability to curate innovative artistic interventions," says Vivian Hua, Executive Director of Northwest Film Forum. "This streaming festival puts funds directly into the hands of artists and arts organizations in a time of urgent need, while championing the kind of innovative artistic thinking that Capitol Hill has become known for, and must hold onto."
Each of the 12 program blocks will be curated by a different neighborhood arts organization. To date, presenting arts organizations include: The AIDS Memorial Pathway, Annex Theater, BeautyBoiz, Capitol Hill Block Party, Central District Forum for Arts & Ideas, Crybaby Studios, Hugo House, Longhouse Media, Photographic Center Northwest, SubKulture Cabaret, Velocity Dance Center, and Washington Ensemble Theatre.
Individual artists and additional presenting organizations will be announced as confirmed.
Press is encouraged to reach out to these organizations for individual quotes and details.
The festival is generously supported by the City of Seattle's Office of Arts & Culture, and additional community partners include: Black Box Operations, Capitol Hill Business Alliance, Capitol Hill Housing, Capitol Hill Seattle Blog, The Derschang Group, Intiman Theatre, Marjorie, Sound Transit, The Stranger, and Vanishing Seattle.
Additional community partners will be announced as confirmed.
—
About Capitol Hill Arts District
The Capitol Hill Arts District is a coalition of arts advocates galvanized to keep the neighborhood a thriving art scene invested in the creation of daring work, independent artists, and emerging ideas. It promotes cultural engagement, harnesses resources, and preserves, enhances, and creates space for artists and the arts. The Capitol Hill Arts District serves arts organizations throughout Capitol Hill. Its Steering Committee includes representation from: BeautyBoiz, Capitol Hill Block Party, Capitol Hill Art Walk, Capitol Hill Housing, Hugo House, Intiman Theatre, Kinzer Partners, Neumos, Northwest Film Forum, Photographic Center Northwest, and Velocity Dance Center.
About Northwest Film Forum
Founded in Seattle in 1995 as an independent film and arts nonprofit, Northwest Film Forum incites public dialogue and creative action through collective cinematic experiences. Each year the Forum presents hundreds of films, festivals, community events, multidisciplinary performances, and public discussions. As a comprehensive visual media organization, the Forum offers educational workshops and artist services for film and media makers at all stages of their development. nwfilmforum.org
About Artist Trust
Artist Trust's mission is to support and encourage artists working in all disciplines to enrich community life throughout Washington State. In response to artists' urgent needs, Artist Trust pressed pause on business as usual to focus all resources on two things: The COVID-19 Artist Trust Relief Fund, which provides rapid response grants supporting critical needs of artists whose livelihoods have been impacted, and COVID-19 Artist Relief and Recovery Resources. Artist Trust is headquartered in Capitol Hill, Seattle.
---