---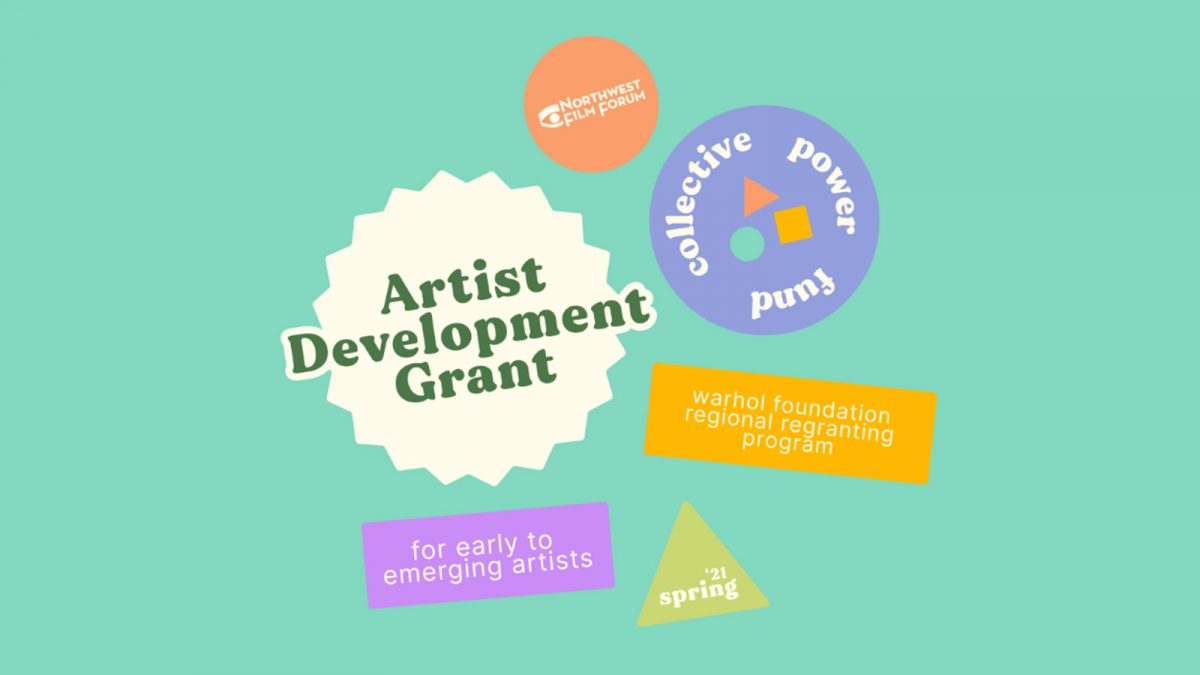 Collective Power Fund presents Artist Development Grants for Early to Emerging Artists in King County
April 21, 2021
Second Round of Andy Warhol Foundation for the Visual Arts' Regional Regranting Program Provides Unrestricted Cash Awards, Presentation Opportunities at King Street Station, and more
For its second installment, Northwest Film Forum's Collective Power Fund returns an Artist Development Grant, which will provide an unrestricted $750 award, plus a suite of artistic development benefits for six (6) individual, visual-based artists. Artists who live in incorporated or unincorporated King County and self-identify as early to emerging are eligible to apply.
The grant will be presented as a part of the Andy Warhol Foundation for the Visual Arts' Regional Regranting Program and in partnership with the City of Seattle's Office of Arts & Culture. It is inspired by focus groups and one-on-one chats with diverse interdisciplinary artists throughout the King County area and incorporates feedback from two months of collective dreaming and artists' needs assessments.
"We have a unique opportunity to enter the local grantmaking space and design grants from the ground up, centering community feedback," says Northwest Film Forum's Executive Director, Vivian Hua. "The artist focus groups that we've hosted have directed several key improvements to the intelligibility and accessibility of the grant application process. Responding to their input, the Collective Power Fund has incorporated video and audio submission options to augment artists' written applications, introduced holistic artist development support services, and focused on early-career artists who may not have had many opportunities to show in formal spaces or do not frequently get awarded grants."
This small-scale Artist Development Grant will help inform a larger grant in late 2021, which will disburse $60,000 to a larger number of artists.
"By listening to our arts community, we now have a deeper understanding about how to turn barriers into bridges and benefits for artists when it comes to grantmaking," says Zach Frimmel, Northwest Film Forum's Grants Manager. "There are so many amazing, undervalued artists who go unrecognized and unsupported due to inaccessible, disempowering structures in the arts and grantmaking industries. In this new garde of community accountability, we want Collective Power Fund to play a role in breaking down those structures."
Benefits for this grant round include:
A $750 unrestricted cash award;
A group exhibition at King Street Station with the other grant recipients;
Photos of work documentation (at King Street Station);
Professional headshots;
A short promotional reel and interview featuring the artist and their work;
A 30-minute, one-on-one mentorship conversation with a juror;
Stipends to assist artists with King Street Station travel costs. ($50 for those in Seattle, $75 for those outside of Seattle.);
Consultation on and facilitation of mounting artwork within King Street Station.
For more information about Northwest Film Forum's Collective Power Fund, please visit collectivepowernw.org or learn more about the Regional Regranting Program on the Warhol Foundation website.
---