---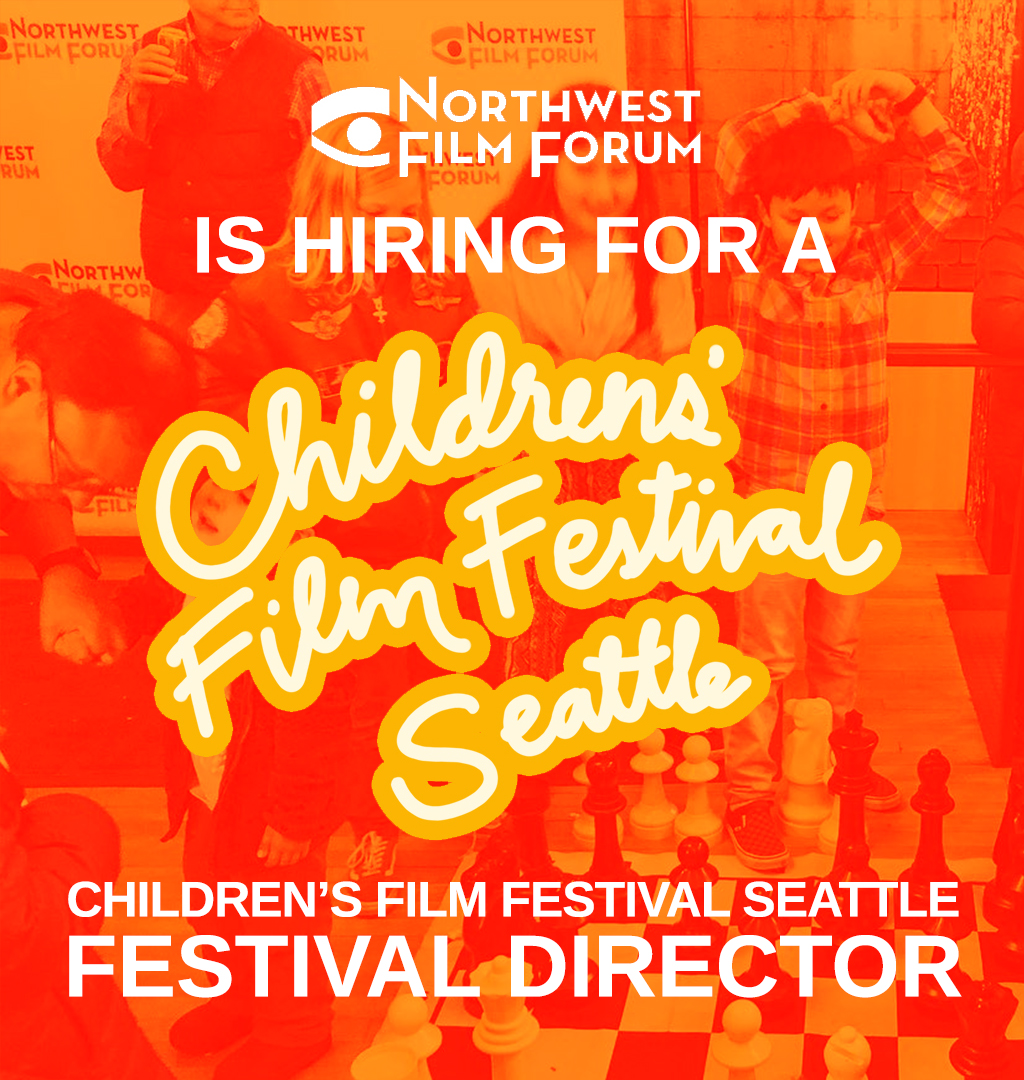 Come Work with NWFF as a Festival Director for Children's Film Festival Seattle!
June 22, 2021
Role Summary
Northwest Film Forum (NWFF) is seeking a visionary and experienced Festival Director for Children's Film Festival Seattle to set the vision for the festival and its associated programs. Reporting to the Executive Director and working closely with all aspects of the Film Forum team, the Festival Director will lead the vision for and oversee the execution of all aspects of the festival, including but not limited to: curation, exhibition, facilitation, partnerships, field trips, and touring programs. This strategically-minded, engaged, and detail-oriented candidate should be passionate about NWFF's mission, vision, and current organizational trajectory, as well as multicultural films and working with youth of all ages.
—
ABOUT CHILDREN'S FILM FESTIVAL SEATTLE
Since 2005, CFFS has used film as a tool for championing racial equity, diversity, inclusivity, social justice, global awareness, and the best in visual storytelling for young people. Crafted with care and concern for the urgent issues of the moment, the festival stands out for its ability to showcase the best and brightest in international cinema, while always upholding its values and commitment to creating intimate, community-minded viewing experiences.
—
Key Responsibilities
Northwest Film Forum believes in coalition-building and horizontal models of collaboration and leadership. The candidate for this position will be self-motivated and able to work independently as well as work in close collaboration with a larger team. All Film Forum staff wear many hats and are comfortable working in a passionate, shared environment of collaborative decision-making and visioning.
Please note that all roles and responsibilities will be executed alongside other members of the NWFF team, where appropriate.
CURATION & FACILITATION
Cultural Sensitivity: Prioritize stories and creators that are told from authentic points of view while researching, to the best of their knowledge, that programmed films do not cause harm to BIPOC, LGBTQ+, disability, low-income, and/or other historically underserved or under resourced communities.
Inclusive Programming: Ensure NWFF's festival programs and workshops include a wide range of perspectives, stories, creators, and educators, so that diverse constituencies can see themselves reflected on-screen and throughout their workshops.
Research & Outreach: Seek out short and feature film submissions for each in-house festival's unique mission and demographics.
Submissions Review: Collaborate with NWFF team, interns, and festival volunteers to review and judge submissions for all programs, including but not limited to feature films and short films.
Festival Correspondence: Gather promotional materials and assets from distributors or artists, including high-res images, film details, posters, trailers, press kits, etc, as well as any needs during or after the festival, including awards notifications and return of print traffic or promotional materials.
Event Facilitation: Develop, organize, and facilitate or co-facilitate discussions, pre- and post-screening talkbacks workshops, trainings, roundtables, and other events to help bolster film programming (virtually, or in person as appropriate), year-round and during festivals.
OUTREACH & MARKETING
Community Partnerships: Cultivate and maintain relationships with peer organizations, community partners, including local filmmakers, nonprofit groups, educational institutions, government agencies, production companies, and other content creators. Amplify excellent programming presented elsewhere on the international children's film festival circuit and find additional reach for CFFS programs.
Copywriting & Coordination: Develop and maintain cohesive standards for festival and workshop descriptions, in collaboration with educators and filmmakers.
Marketing: Work with the marketing team to create effective marketing strategies and outreach plans for festival promotion, including the creation of the comprehensive festival program.
FESTIVAL SPECIAL EVENTS & PROGRAMS
Field Trips: Oversee marketing and communication with educators around field trip bookings; create or compile additional educational materials related to selected festival programs.
Best of the Fest Touring Program: Curate prize-winning films for distribution to 20-30 additional venues nationwide after the festival.
Specially-Curated Programs: Work with partners to adapt CFFS programs for other national venues to present selected CFFS programs elsewhere.
Workshops: Work with Film Forum team, especially the Education Director, to curate educational offerings during the festival.
Children's Jury: Oversee Children's Jury Program, during which different age groups of youth attend Festival screenings and select prize-winning films in multiple categories.
Visiting Artists: Help curate special events and educational opportunities with visiting artists and filmmakers, as well as arrange travel, accommodations, and stipends as necessary.
MANAGEMENT
Management: Hire, onboard, orient, and set expectations for workshop instructors and festival assistants, volunteers, and interns.
Data Management – Oversight and maintenance of festival data and documentation.
Wrap-Up Reports: Contribute to festival wrap-up report in conjunction with NWFF team within two weeks of festival, including the development of festival best practice frameworks.
Grantwriting & Sponsorships: Work with NWFF leadership to seek new income streams for CFFS and related programs.
Qualities, Qualifications, and Experience
Ability to see, value, and adapt to cultural differences. Demonstrated and/or lived experience working with people of diverse ages, genders, sexualities, ethnicities, cultures, races, abilities, and socio-economic backgrounds, including those from society's historically underserved by mainstream arts organizations.
Passion for and dedication to NWFF's history, mission, vision, values, and programs.
Familiarity and passion for creating youth programs, with a deep understanding of the needs, interests, and desires of young people.
Experience with nonprofit organizations with multiple programs serving diverse constituencies in film, arts, and/or media.
Lived commitment to and investment in racial and social justice and anti-oppression analysis.
Familiarity and experience in Adobe suite, Google suite are not required but helpful.
Excellent written and verbal communication skills, with excitement for working in a collaborative team environment.
Self-starter, with an ability to multi-task and juggle distinct priorities and relationships gracefully.
Employment Information, Compensation, and Benefits
This staff position is full-time during the peak festival season (July through early March) and 20 hours a week during the festival's low season (late March through July) with a $43,750 annual salary range. Flexible work schedule, plus access to filmmaking gear, computers, and workshops. After positive three-month review, this position will be eligible for benefits, including 100% coverage of health, dental, and vision.
For the foreseeable future until pandemic restrictions and stay-at-home orders lift, this role will be remote. Candidate must be local to Western Washington area or willing to relocate when NWFF re-opens in Fall 2021. Due to the public nature of NWFF's work and our diverse constituency, the hired candidate must be fully vaccinated against COVID-19 at that time.
How to Apply
Please send resume, any applicable portfolio or work samples, and statement of interest (written, audio, or video) to Executive Director Vivian Hua at vivian@nwfilmforum.org with the subject line: Festival Director – Children's Film Festival Seattle at NWFF
Audio and video statements are not to exceed 3 minutes in length and can be sent via wetransfer.com to vivian@nwfilmforum.org.
Northwest Film Forum is an Equal Opportunity Employer. Employment policies and programs of Northwest Film Forum are nondiscriminatory in regard to race, gender, religion, age, national origin, disability, veteran status or sexual orientation. All potential candidates who identify as Black, Indigenous, person of color, immigrant, living with a disability, low-income, or LGBTQ+ are highly encouraged to apply.
Review of applications begins on July 7th, 2021, but the deadline for applications is July 11th, 2021. Ideal starting date is the end of July.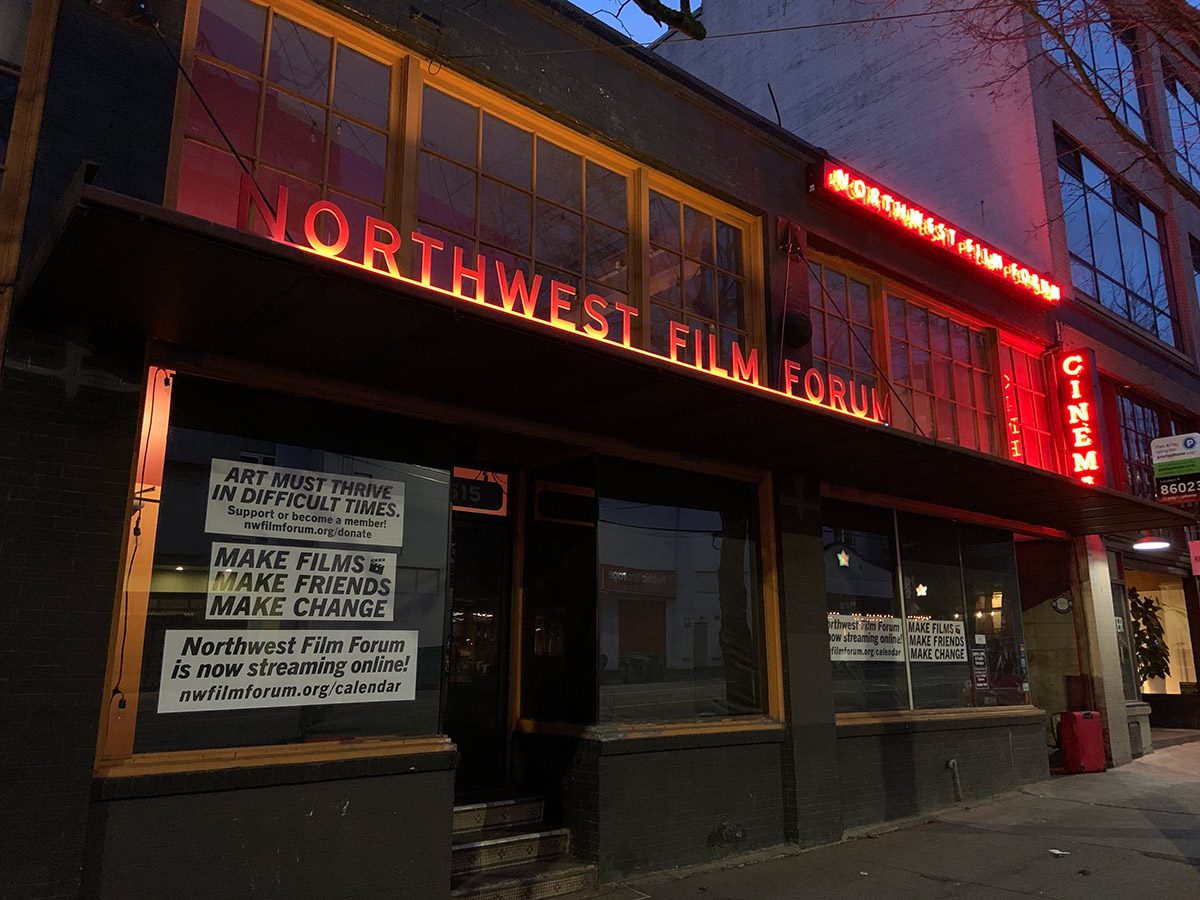 About Northwest Film Forum
Mission
Northwest Film Forum incites public dialogue and creative action through collective cinematic experiences.
About Northwest Film Forum
A nonprofit film and arts center located in Seattle, Northwest Film Forum presents hundreds of films, festivals, community events, multidisciplinary performances, and public discussions each year. A comprehensive visual media organization, the Forum offers educational workshops and artist services for film and media makers at all stages of their development. Artist services include access to space, gear, fiscal sponsorship, and an edit lab. Northwest Film Forum is a member-based organization. Our slogan is: MAKE FILMS / MAKE FRIENDS / MAKE CHANGE!
Vision
Our vision is a world where all people have the power to express themselves and connect with each other through visual storytelling and culture.
Values
Based in the city currently known as Seattle, we acknowledge that we are located on the ancestral lands and territories of the Coast Salish people, including the Duwamish Tribe (Dkhw Duw'Absh), who are still present among us and leading much of the important cultural and societal work in the region.
In recognition of the role of the arts as a vehicle for social change, we are committed to undoing systems of oppression in our work and lives. We are working everyday to learn and dismantle racist, sexist, and inequitable systems in our lives and organization.
---