---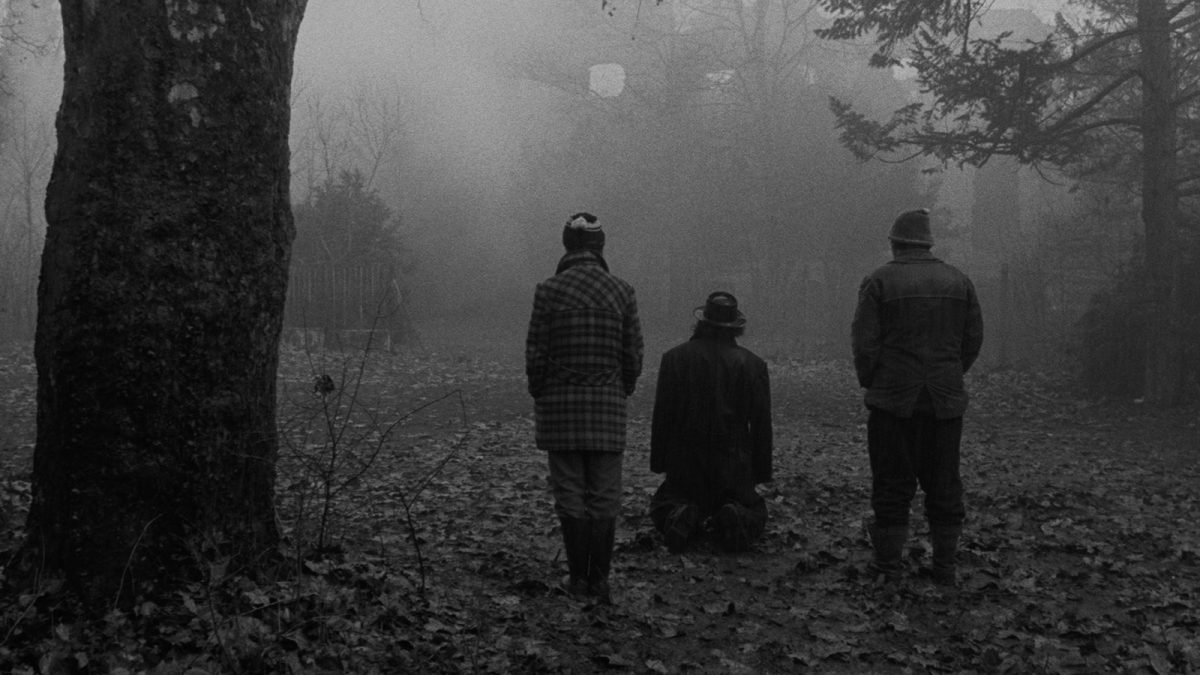 Sátántangó Film Review: An Epic of the Microcosmic
November 22, 2019
A sprawling seven-hour narrative portraying events which transpire over a single winter at a single farm in Warsaw Pact Hungary, Béla Tarr's Sátántangó is truly an epic of the microcosmic. Béla Tarr finds grave and wondrous significance in the mundane, using a stark, piercing and lustrous style of black and white imagery which focuses in on the textures of everyday objects – torrential rain thru a gauzy window curtain, the corduroy jacket of a stumbled-over drunk – to the point of dreamlike abstraction. In Sátántangó, the blank, rain-swept landscape reflects and is reflected in the world-weary inner landscapes of its inhabitants.
The genre and movement with which Béla Tarr is associated is often described as "slow cinema." This is not inaccurate, but could perhaps be misleading. Sátántangó is comprised mostly of long, pensive, meditative tracking shots which often last for several minutes each, drinking in every sensory detail of the mise-en-scène. But at the same time, Béla Tarr's compositions are almost never truly static, unfolding and progressing at an organic pace and often ending in a very different physical and emotional space from where they began.
—
The new 25th anniversary 4K restoration of Sátántangó plays Nov. 29 – Dec. 1, 2019. A ticket for this 7.5-hour film is valid for any screening day, with in and out privileges, and free popcorn refills for all!
—
Sátántangó is divided into twelve movements or chapters, each interlocking yet distinct. This gives the film a novelistic quality which is only bolstered by its focus on character interiority and sense impressions. While Sátántangó grounds itself in an earthly and world-weary realism, its characters take on an archetypal quality as they define themselves against Sátántangó's bleak landscape. Characters like the ominous prophet Irimiás or the reclusive, alcoholic Doctor feel iconic and almost familiar, as if they emerged from folklore or classic literature.
The dreamlike (at times nightmarish), gothic and allegorical atmosphere of Sátántangó is enhanced by the film's shifts between linear and non-linear chronology, lending it a hypnagogic atmosphere in which events are connected as much by resonances and themes as they are by temporal sequencing. The landscape is a character in itself, often hostile to the wills and desires of the human cast. Symbols from nature recur in the narration, dialogue and imagery – the ever-present rain representing impermanence and entropy, the spiderwebs that symbolize the interconnected threads of fate, narrative and causality in film and in life.
The cinematography focuses on textural and tactile details, lending it a rough-hewn, lived-in quality evoking early 20th century cinema, perhaps filtered thru the midcentury melancholy of artists like Ingmar Bergman and Andrei Tarkovsky. The limbo space created in Sátántangó feels timeless: it is set in the Iron Curtain era but often feels like it could just as easily be the middle ages, the 1800s or even a post-apocalyptic future. Sátántangó is a work of social realism that intensively details the pace and texture of life in a certain time and place, but it is at the same time universal and often allegorical in its themes and concerns.
Sátántangó is a deeply communal film in its approach to characters and relationships, even as it also journeys off on extended vignettes exploring the day-to-day psychology and routine of individual characters in exacting detail. It is an indisputably dark film, exploring the causes as well as the effects of human suffering and poverty. However, Sátántangó does not fetishize or glorify suffering for its own sake, retaining a certain warm, luminous quality that shines thru the uncompromising bleakness and regarding even the lowest of its many characters with a great deal of narrative empathy.
If any one character could be called central to Sátántangó, it would be Irimiás, a charismatic and mystical figure who was exiled from the village before the events of the film are set into motion and presumed dead. Irimiás is an uncanny, liminal figure who walks the line between holy man, villain and charlatan. For the first several hours, he is spoken of more than he is seen, usually with scorn, trepidation or awe.
He is first introduced to the audience as a capricious nihilist, but he reintroduces himself to the townsfolk as a preacher, castigating them for their sins and promising them a future full of abundance if they help his plans. Irimiás' intense charisma can be viewed as a parable about the intoxicating and dangerous allure of ideology and the mass movement, whether it be guised in the rhetoric of capitalism, communism or Christianity.
Indeed, an undeniable theme and current of Sátántangó's story is socioeconomic struggles and the attendant problems they bring in tow such as alcoholism. In particular, Sátántangó's fifth movement is (among other things) grim and uncompromising fable about the psychology of greed, ambition and the cruel expression of power.
The tone of Sátántangó is eerily folkloric, meditative and sombre, though not without its rousing and sudden moments of humor, horror or hope. Gothic and darkly transcendent, Sátántangó's austere, hypnotic cinematography relies on the sheer power of focus and composition to transfigure the ordinary into something profound and surreal. In its critical exploration of faith, doubt and deceit, Sátántangó makes for itself a graven image of the peasant soil, the people's hopes and the ominous revelations of the silver screen.
—
The new 25th anniversary 4K restoration of Sátántangó plays Nov. 29 – Dec. 1, 2019. A ticket for this 7.5-hour film is valid for any screening day, with in and out privileges, and free popcorn refills for all!
---

Review by Jackie Moffitt
Jackie Moffitt (he/they pronouns) is a 23 year old writer, actor, filmmaker and musician. In addition to their volunteer work at the Film Forum, Jackie is a performer and neurodiversity advocate with Theater of Possibility, a theater group for autistic and other neurodivergent young adults using techniques from Augusto Boal's Theater of the Oppressed. When not working on their myriad creative projects, a few of Jackie's interests include philosophy, linguistics and tabletop games.
---