---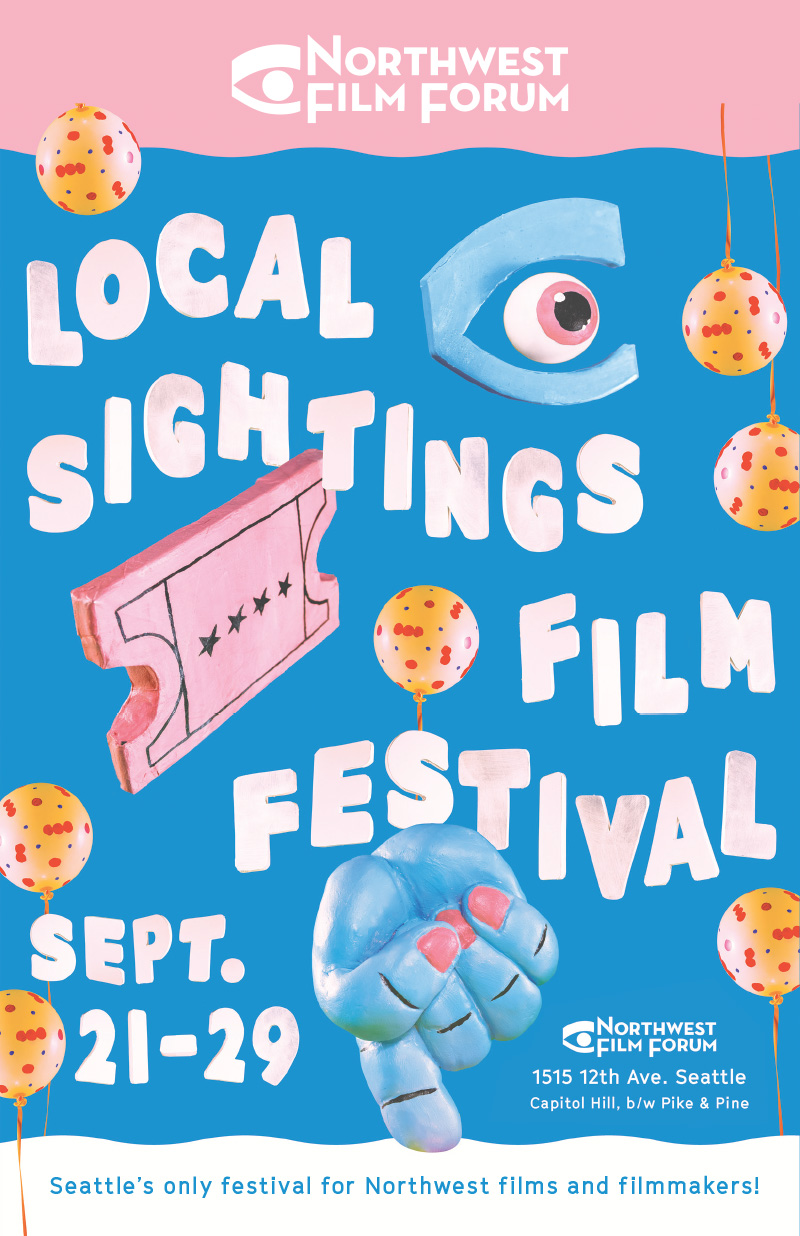 Local Sightings 2018 Print Catalog & October 2018 Calendar are Now Online!
September 19, 2018
Local Sightings is Seattle's only festival dedicated to Pacific Northwest films and filmmakers.
Feature screenings and short films are only part of the story: artist workshops, performances and networking events allow for a collective exploration of regional creativity.
Local Sightings plays a significant regional role in the discovery of new film talent and provides working filmmakers opportunities for community-building and exposure. The festival has also gained national recognition: last year's 20th Anniversary is featured in an episode of the Criterion Collection's 'Art House America,' and in recent years, it has hosted the first ever Northwest edition of the Sundance Institute Artist Services Workshop. Local Sightings jurors have included Oscar winner and Seattle native TJ Martin, Oscar winner Barry Jenkins, and producer and Ted Hope.
---
Twenty-one years ago, Local Sightings burst onto the scene!
(Well, it was more of a low-key, small-group-of-peers-sharing-their-recent-work type of thing, but a few years later, it really burst on the scene, ushering in a unique way of festival-ing.)
Since then, Local Sightings has brought you a beautiful concoction of screenings, live performances, parties, and workshops every year. As a uniquely regional festival, it is shaped by the voices and innovations of the artists who live and create in Seattle.
Many films at Local Sightings are imbued with a social and political consciousness. Features like Forgotten Man and Chronic Means Forever draw deeply upon personal narratives about class differences and health issues, while documentaries like Proof of Loyalty and Vancouver: No Fixed Address raise awareness of global issues like racial prejudice and gentrification. Using lessons learned from Detroit Narrative Agency, guest juror paige watkins will teach filmmakers best practices for equitable storytelling, which grows out of the communities they highlight.
Just as often, and just as importantly, films in the festival play with and push the boundaries of the film medium, like the electrifying feature-length experimental animation, North of Blue (p.10). And if you needed even more proof that PNW animators are innovating the form and medium, look no further than visual artist Kelton Sears' presentation of his new longform .gif comic, Trash Mountain. In his workshop, Sears will discuss the process of creating his hypnotic addition to the new genre of .gif storytelling, and teach you a thing or two about making your own.
The festival's many special presentations shine a spotlight on the history of film in the Pacific Northwest, from our co-presentation with Moving Image Preservation of Puget Sound (MiPOPS) on the films of indigenous educator and storyteller Vi Hilbert, to a 35mm screening of the rain city thriller Parallax View, presented with a musical performance by Evening Star. Our collaboration with SIFF, held at the Egyptian, features Elvis's sunkissed 1964 sing-a-long, It Happened at the World's Fair, with live commentary by filmmakers Charles Mudede and Ahamefule Oluo.
And the fun doesn't stop there! Northwest Film Forum has always been known for our spectacular parties, and this year we're taking that to new heights with Party On Set!, our opening night bash that'll turn NW Film Forum into movie set where you can create, collaborate, karaoke, and boogie the night away, and 2 Weeks Notice, our fund-rager and send-off to our incredible departing Executive Director Courtney Sheehan.
Local Sightings is the first film festival I ever went to, and it's beautifully surreal that I have the opportunity to be the director for the second year running. As a new chapter begins for Northwest Film Forum, I am honored and thrilled to invite you to watch, learn, and celebrate with us for the 21st edition of the festival.
Sophie Donlon, Local Sightings Festival Director
---