---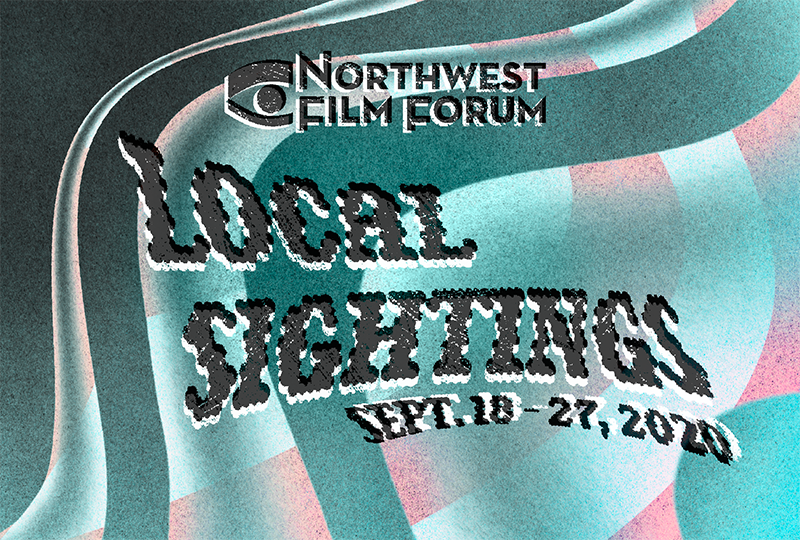 THE WORLD IS BRIGHT named Best Feature Film of Local Sightings Film Festival
October 6, 2020
Plus: best short films in Documentary, Feature, Animation, Experimental & Social Impact categories

---
Northwest Film Forum's 23rd Annual Local Sightings Film Festival (September 18–27, 2020) wrapped its first-ever virtual installment, showcasing over 135 films to 1,200 festivalgoers from throughout the United States and Canada. Local Sightings is one of few regional festivals of its kind, which champions emerging and established talent from throughout the Pacific Northwest, supports the local film industry, and promotes diverse media as a critical tool for public engagement.
---
JURIED AWARDS
Local Sightings jurors Shakira Refos (CA), Adele Pham (NYC), and Fiona Lam (BC) selected winners in six categories. Feature Film winner receives $300 and a potential film run at NWFF. Short film winners receive $100. All winners receive a NWFF membership!
BEST FEATURE FILM: THE WORLD IS BRIGHT (Ying Wang, Richmond, BC)
BEST NARRATIVE SHORT: Auntie Zariyah (Zora Bikangaga, Los Angeles, CA)
BEST DOCUMENTARY SHORT: YAI NIN (Champ Ensminger, Seattle, WA)
BEST ANIMATED SHORT: Fluidity (Clyde Petersen, Anacortes, WA)
BEST EXPERIMENTAL FILM: Rotten Fruit (Chessa Casper, Seattle, WA) – Co-sponsored by Engauge Experimental Film Festival!
SOCIAL IMPACT AWARD: Root Shocked (Cecilia Brown, Portland, OR)
AUDIENCE CHOICE AWARDS
These awards were tallied from write-in ballots filled in by Local Sightings attendees. Award winners receive a potential film run at NWFF and NWFF membership!
BEST FEATURE FILM: From Here (Christina Antonakos-Wallace, Seattle, WA)
BEST SHORT FILM: Tides of Hyperion (Alexander Lenzi, Seattle, WA)
---
Full details about all award winners below, with juror acknowledgements, filmmaker statements, and prize details.
---
(Ying Wang, Richmond, BC)
"This poignant film about a couple's struggle to find out the truth behind the death of their son and to obtain justice for him has unexpected layers. New revelations and insights unfold with each step of the parents' journey through a seven-year bureaucratic and legal labyrinth. What resonates throughout the film is the persistence of love in the face of grief and tragedy." – Fiona Lam, Author, Video Poet & Local Sightings Juror
"We are so thrilled to receive the Best Feature Film award at the 23rd Local Sightings Film Festival 2020! And congratulations to all the award winners! Seattle is the neighbor of our home base of Vancouver, BC. Even though the pandemic has separated us, arts can always break the physical barrier and bring our hearts closer. On behalf of the whole team as well as the parents, thank you Northwest Film Forum and the jury for this incredible honour! Keep safe and keep up the great work! " – Ying Wang, Director of THE WORLD IS BRIGHT

Ying Wang is an independent filmmaker based in British Columbia in Canada. As a migrant navigating between multiple cultures, Ying is fascinated by stories that reveal the geopolitical complexity of global migration. THE WORLD IS BIGHT is Ying's second film tackling the topic of immigration and mental health and won the the Sea to Sky Award at the 38th Vancouver International Film Festival in 2019 and Emerging Canadian Filmmaker Award at Hot Docs Canadian International Documentary Film Festival in 2020. Her filmmaking credits also include writing and directing Sisters, the first feature-length documentary on Chinese women who suffer from eating disorders, as well as producing Tricks on the Dead: The Story of Chinese Labour Corps in WWI, a Canada-China-France co-production that won two 2016 Canadian Screen Awards.
(Zora Bikangaga, Los Angeles, CA, 2019, 15 min)
"I'm so honored and humbled to receive this award. First, I'd love to give the biggest shoutout to everyone who helped me bring Auntie Zariyah to life – the incredibly talented actors (particularly the IRL Zariyah), my positively outstanding producer, the hardworking and dedicated crew, the supportive and forever-patient moms, and all of the friends/friends-of-friends who chipped in resources in their own different ways – we couldn't have done it without you. I also want to thank Local Sightings and the Northwest Film Forum for giving a platform to all of the uniquely gifted artists featured in this festival. And last, I would be remiss to not mention my own aunties who inspired this film, which was born out of the love and appreciation I have for these extraordinary Black women who made me the person I am today. Thank you." – Director Zora Bikangaga

Zora Bikangaga is a first-generation Ugandan-American actor/writer/director raised in Northern California (hella proud). After graduating from Seattle Pacific University, he studied television writing at UCLA in addition to going through the improv and sketch comedy programs at the Upright Citizens Brigade and Groundlings Theatre. Zora's writing credits include Zoey's Extraordinary Playlist (NBC), Raven's Home (Disney Channel), Drunk History (Comedy Central), and CBS Diversity Showcase. As an actor, he has appeared on television shows such as Drunk History, Kroll Show, The Late Late Show with James Cordon, and starred alongside Sarah Hyland, Keith David, and Wanda Sykes in the romantic comedy The Wedding Year. As a storyteller, Zora was featured in an episode of This American Life.
BEST DOCUMENTARY SHORT: YAI NIN
(Champ Ensminger, Seattle, WA)
"The team behind YAI NIN is humbled to be recognized by the jury of the 2020 Local Sightings Film Festival for Best Documentary Short. Since seeing Apichatpong Weerasethakul's film, Uncle Boonmee Who Can Recall His Past Lives, in their theater back in 2011, Northwest Film Forum has been a major influence in my personal development from a film enthusiast to a filmmaker. I have worked with several film centers in the decade that followed, and in that time the Northwest Film Forum has been the blueprint for what community-driven support for the arts is at its best. With their involvement in YAI NIN as a fiscal sponsor, I've been truly grateful for the Forum's support in the process of making our film happen. It's an honor to bring the film back full circle, and present it at one of my favorite film venues in the world." – Champ Ensminger, Director

Champ Ensminger is a Thai American filmmaker born in Chiang Mai and raised in Spokane, Washington. After graduating from the University of Washington in Seattle with a degree in comparative literature and anthropology, he moved to New York City, where he worked at the web company Vimeo and then as a freelancer and production assistant at the agency m ss ng p eces. He returned to Chiang Mai in 2013, where he spent time as a volunteer and workshop instructor at Documentary Arts Asia, a nonprofit aimed at bringing agency and exposure to Asia-based media artists. Ensminger earned the Emerging Artist Fellowship at the Jacob Burns Film Center in 2015, and an Artist Trust GAP Grant in 2019. He is currently part of the production team at the agency World Famous in Seattle.
BEST ANIMATED SHORT: FLUIDITY
(Clyde Petersen, Anacortes, WA)
"It's so cool that our music video won. I rarely collaborate, but I knew from the moment I saw what Clyde created that it was meant to be!" – Sassy
"Local Sightings has always been my favorite film festival. To bring home Best Animated Short with SassyBlack; that's some serious bragging rights. Bring on the matching commemorative t-shirts and the invitation for Sassy and I to co-write a new Star Trek series!" – Clyde Petersen
BEST EXPERIMENTAL SHORT: ROTTEN FRUIT
(Chessa Casper, Seattle, WA)
** Award co-sponsored by Engauge Experimental Film Festival! **
"I created Rotten Fruit in the first few months of my medical transition, while I was living in an space where I was closeted to those around me. Making the film was very much a way for me to cope with the pervasive feeling of being unseen in that environment, and simply being selected to have my work screened (to be deemed worthy of being seen!) was profoundly meaningful to me. For it to then be chosen as Best Experimental Short is even more so. As a transgender artist, I often fear that my stories and work will not appeal to those who do not share my specific identities, and I take this award as a reminder that people are in fact interested and invested in one another's experiences regardless of surface-level commonalities or lack thereof. I am immensely, immensely grateful to all the experimental filmmakers who have made me feel welcomed and supported in my festival debut, and of course to Northwest Film Forum and everyone who has taken the time and energy to witness this self-portrait of sorts." – Chessa Casper

Chessa Casper is an artist, student and experimental filmmaker based in the so-called Pacific Northwest. They can also be found researching and preparing herbal medicine, or wandering the neighborhood in search of approachable cats despite being potently allergic.
SOCIAL IMPACT AWARD: ROOT SHOCKED
(Cecilia Brown, Portland, OR)
"I am honored to receive this award from Local Sightings, and happy that this story is getting recognized in this moment, as Portland and the rest of the country reckon with the ongoing impacts of our racist history." – Cecilia Brown, Director

Cecilia Brown is a multimedia journalist based in Portland, Oregon. She is currently pursuing a master's degree in multimedia journalism at the University of Oregon and working as a freelance non-fiction storyteller. She focuses on telling stories in the Portland area that are underrepresented in mainstream media. Cecilia graduated with a BA in Psychology from Connecticut College in 2013 and spent the following 4 years doing ethnographic research, before she shifted her focus toward journalism.
---

Shakira Refos is an educator from The Netherlands who joined the California Film Institute's Education Department by way of the Sarasota Film Festival and Sundance Institute. Her career has been dedicated to empowering young independent thinkers through the exploration of art history and creative expression—prioritizing equitable praxis through engagements with film as well as demystifying the path for BIPOC students to becoming film fest administrators. With a deep passion for storytelling Shakira attributes her drive for community, justice and common sense from the cultures of her Mother and Father hailing from Suriname and Trinidad respectively.

Fiona Tinwei Lam has authored three books of poetry as well as a children's book.  Her work appears in more than 35 anthologies, including The Best Canadian Poetry (2010 and 2020 editions). She edited The Bright Well: Contemporary Canadian Poems on Facing Cancer, and co-edited two nonfiction anthologies, Love Me True: Writers on the Ups, Downs, Ins & Outs of Marriage with Jane Silcott, and Double Lives: Writing and Motherhood. Her award-winning poetry videos made in collaboration with Vancouver animators have screened at poetry film festivals locally and internationally. She teaches at SFU Continuing Studies.

Director/Producer/DP Adele Free Pham is an activist and filmmaker, with experience in all aspects of documentary production. NAILED IT premiered on PBS in May 2019 and is the highest streamed film of the America Reframed series. Her next feature STATE OF OREGON, uses the 2016 murder of Larnell Bruce Jr. by a white supremacist in Gresham, Oregon as a touchstone to the state's founding as a separatist white homeland in 1859—and its subsequent legacy of forgotten hate crimes, during one of America's most conflicted periods. The STATE OF OREGON short was released by Field of Vision in 2017, and has been viewed over 187k on social media. Follow @stateoforegon on IG and FB for updates.
---
🏆 AUDIENCE CHOICE AWARDS 🏆
AUDIENCE CHOICE AWARD FOR BEST FEATURE FILM: FROM HERE
(Christina Antonakos-Wallace, Seattle, WA)
"From Here is a dynamic portrait of the realities that immigrants and undocumented folks face in the daily fight for their right to belong—to very simply be treated as human beings. The filmmaker interweaves the protagonists' stories with great compassion and care, and the fact that it was filmed over 12 years is a call to action itself, amplifying the urgency to reform racist and oppressive immigration laws. Now." – Rana San, NWFF Artistic Director
"It is especially sweet to receive this Local Sightings Audience Award for Best Feature Film for our film From Here. I was born in Seattle, and after many years living in New York and Berlin (the two cities featured in the film), I returned to the Northwest to finish the edit and make the city my home again. The Northwest Film Forum, which curates Local Sightings, immediately became the most generative, and community-driven film space I had ever experienced. I feel so grateful for this recognition. I hope that this award helps to serve From Here's ultimate purpose deepening our collective commitment to creating the conditions where all of us can belong-including immigrants and refugees worldwide." – Cecilia Brown, Director, Producer, Editor, DP

Christina Antonakos-Wallace is a filmmaker and cultural organizer. Awards include the Euromedia Award for Culture & Diversity (2011), a Media that Matters Change Maker Award (2012), and recognition from the German Alliance for Democracy and Tolerance (2015). Her short films and interactive work has been exhibited in over a dozen countries–in contexts from schools, to festivals, galleries, to corporations. Commissions and grants include the New America Foundation, Seattle Office of Arts and Culture, and the German Ministry for Civic Education. She was a Fellow at Hedgebrook (2017) and the Port Townsend Film Festival (2015), and holds a BFA/BA from the New School & Parsons School of Design. Her work was recognized with a five-year MTV Fight For Your Rights Scholarship (2002) and a Humanity in Action Fellowship (2006), which she completed at the United Nations High Commission on Refugees, in Berlin. From Here is her first feature-length documentary.
AUDIENCE CHOICE AWARD FOR BEST SHORT FILM: TIDES OF HYPERION
(Alexander Lenzi, Seattle, WA)
"The filmmaker binds together delicate moments of human behavior and verisimilitude with a striking eye for composition. The emotions he creates are just out of the viewer's ability to describe them, yet they're palpably present." – Andy Stark, Local Sightings Programmer
"Thank you Northwest Film Forum. I've been attending Local Sightings since 2012. This is quite the honor. Our cast and crew worked really hard on this. Special thanks to our lead Laura Shelly for the support, passion and commitment from the very beginning and thank you Queer Bar for your support as well." – Alexander Lenzi, Director

AJ. is a queer filmmaker who discovered his passion for filmmaking at an early age, after seeing Steven Soderbergh's Traffic. He moved to Seattle, Washington to pursue a career in filmmaking. For nearly a decade, AJ. has been shooting films for independent filmmakers and also writing and directing his own narrative projects. AJ. draws inspiration from auteur cinema and aspires to make films that provide voices to people who live on the fringes of society.
---