---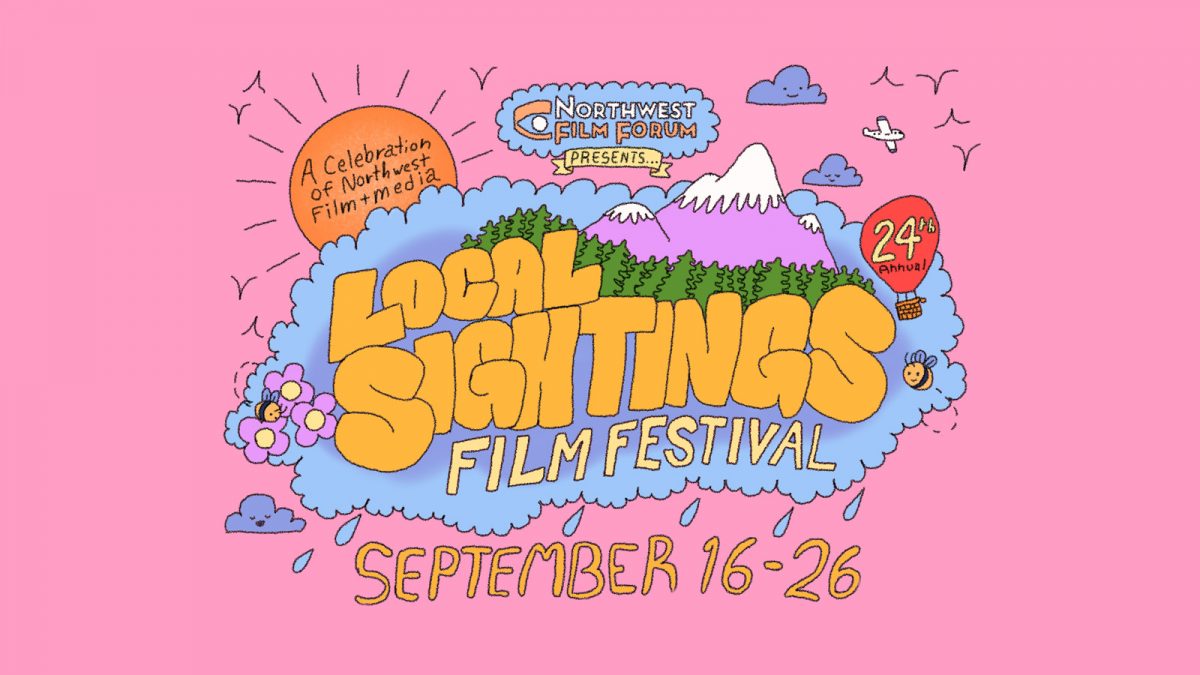 Local Sightings Film Festival 2021 Announces Award Winners for Best Feature & Short Films
September 30, 2021
Seattle, WA – September 29, 2021 – Northwest Film Forum (NWFF)'s 24th Annual Local Sightings Film Festival (September 16-26, 2021) has wrapped its first hybrid in-person and virtual festival! Local Sightings is one of few regional festivals of its kind, which champions emerging and established talent from throughout the Pacific Northwest, supports the local film industry, and promotes diverse media as a critical tool for public engagement.
---
JURIED AWARDS
Local Sightings jurors Isabella Price, Therese Casper, and Vivian Chuang selected winners in seven categories. Feature films will receive $200 cash. Short film winners will receive $100 plus a chance to be distributed by Argo.* All winners receive a NWFF membership!
BEST NARRATIVE FEATURE
THIN SKIN (Charles Mudede, Seattle, WA)
BEST NARRATIVE SHORT
Spring Tide (Jean Parsons, Vancouver, BC)
BEST DOCUMENTARY FEATURE
Since I Been Down (Gilda Sheppard, Seattle, WA)
BEST DOCUMENTARY SHORT
Joe Buffalo (Amar Chebib, Vancouver, BC)
BEST EXPERIMENTAL FEATURE
City by the Sound (Kolby Rowland, Seattle, WA)
BEST EXPERIMENTAL SHORT
Call Me Back (Melina Coumas, Portland, OR)
* Award co-presented by Engauge Experimental Film Festival *
BEST ANIMATED SHORT
What We See in the Clouds (Barb Hoffman, Seattle, WA)
HONORABLE MENTION
Dear Nanay (Frances Grace Mortel, Spokane, WA)
DISTRIBUTION VIA ARGO FOR SHORT FILM WINNERS
For the winners in all categories of the Local Sightings Film Festival short film programs, Argo would like to offer digital distribution on the platform. Along with an offer to be on the service, Argo will host a conversation with all winners to discuss the platform and walk through the ins and outs of the deal to decide if filmmakers are interested in licensing their work to Argo.
Argo is a new curated shorts platform that encourages audiences to discover meaningful stories which are in conversation with each other – which is why we feature films within playlists.  Argo is building out an ecosystem in which partners and artists support each other both artistically and financially through promotion, worldwide distribution and curation. You can check out our website here: https://watchargo.com/.
---
Full details about all award winners below, featuring statements from each filmmaker!
---
(Charles Mudede, US, 2020, 90 min)
"This award means a great deal to me and my Thin Skin team because of the importance and gravity of the Northwest Film Forum, an institution that has supported my career as a filmmaker from the very beginning. I also want to thank the organizers of the festival for emphasizing safety during this pandemic. That took a lot of work but it was worth it." – Director Charles Mudede
FILM SYNOPSIS
A struggling single dad clings to his dream of being a musician, much to the chagrin of his absent Nigerian father, until a mysterious illness throws his world into chaos. Thin Skin is a music-infused, darkly comedic true story about keeping it together when you're falling apart, starring Ahamefule Oluo as its main character, and with support from Annette Toutonghi, Ijeoma Oluo, Dwayne Kennedy, and Hari Kondabolu.
(Gilda Sheppard, US, 2020, 105 min)
"I am honored to receive this award for Best Documentary Feature from Local Sightings 2021 jury. Northwest Film Forum has always been a beacon of light and possibilities for independent film makers. The opportunities that NWFF has presented to me and filmmaker colleagues gives us hope in the role of art to inspire, provide hope and a platform for which to imagine and breathe life into our vision for a better world. This is the power of creating art and storytelling. I/we love NWFF!" – Director Gilda Sheppard
FILM SYNOPSIS
Since I Been Down shines a brilliant, harsh light on the fundamental dysfunctionality and raw corruption of America's "criminal justice system." The case study of Kimonti Carter, a Hilltop, Tacoma-born man sentenced to 777 years as a teenager, offers a dramatically different take on what justice can look like. The prisoner-led education program that Carter works within, T.E.A.C.H. (Taking Education and Creating History), creates a growing community of victims of the carceral state who are committed to personal growth, self-knowledge, and one another.
(Kolby Rowland, Seattle, WA, 2021, 70 min)
"I am deeply humbled to have been selected for this award. Thank you to everyone who brought this piece to life. Thank you to the Northwest Film Forum for lifting up my freaky voice and for believing in me. And thank you to the lands, seas, and critters that make up our magical home." – Director Kolby Rowland
FILM SYNOPSIS
Blurring the filmmaker's personal childhood experiences with mythic representations set around Seattle, City By the Sound explores the boundaries that make up documentary, fiction, and video essays, as seen through the sights of a hiker who can see through time and space. What unfolds is a non-linear series of vignettes ranging in complexity and duration, from a Sasquatch sighting and a ghost story, to an old woman telling a story about a tree; all are woven together to create a strange tapestry of personal and collective memories.
(Jean Parsons, Canada, 2020, 20 min)
"Thank you so much to the Local Sightings team and jury, and the talented, generous cast and crew who worked so hard to bring Spring Tide to life. It is an honour to share this award with you all! Local Sightings was one of the first festivals that programmed my work, and I am so grateful for the support they offer the Pacific Northwest filmmaking community." – Director Jean Parsons
FILM SYNOPSIS
Emily is excited for her best friend to stay with her in a seaside vacation town for the summer, but their different appetites for risk and romance threaten to shake their friendship to its core.
(Amar Chebib, Canada, 2021, 16 min)
"On behalf of the team, thank you so much for this award. We are honoured and grateful to have been a part of Local Sightings 2021 and look forward to screening future work at the festival!" – Director Jean Parsons
FILM SYNOPSIS
Joe Buffalo is an Indigenous skateboard legend and survivor of Canada's notorious Indian Residential School system. With a traumatic childhood and decades of addiction behind him, Joe must face his inner demons to realize his dream of turning pro.
(Melina Kiyomi Coumas, US, 2020, 3 min)
"I shot the footage for Call Me Back a while ago, a few years after my Grandmother's passing. Anything I tried to make with the footage never felt right until one day (while I was trying to free up storage space on my phone), I came across some old voicemails from my Grandma. One in particular teared me up a bit because it sounded like a call from any other day in my childhood, a message that would have just been deleted without thought or appreciation. I could vividly picture my Baachan in her apron by the window, calling me on her landline to see if my mom and I were coming over for dinner that night. I decided to pair this audio with the fuzzy, shakey visuals I shot back home in Hawaii to create this warbled short that I hoped would capture the emptiness and spiraling loss I now felt whenever I returned home.
"Being an experimental filmmaker who usually makes analog films on my own, it's often hard to tell if anyone actually connects to the work I make. This is why I was completely shocked by the news that my film won Best Experimental Short! I'm so honored to hear that my work resonated with viewers, and am so incredibly honored to have had my work included amongst such wonderful PNW creators. Local Sightings is truly one of my favorite festivals to attend, and I'd like to give a huge THANK YOU to this year's amazing filmmakers, Jury, and the NW Film Forum staff for all their hard work!" – Director Melina Kiyomi Coumas
FILM SYNOPSIS
The last voicemail from the filmmaker's grandmother forms the foundation of an experimental film meditating on loss and haunted space. Shot on Super 8mm film.
(Barb Hoffman, US, 2020, 7 min)
"Attending the Local Sightings Film Festival was such a delight to experience this year. The community there is so supportive, and all I can say is I wish I had submitted years earlier. This was the best way to come back to in person festivals, and I look forward to coming back to this festival every year from now on." – Director Barb Hoffman
FILM SYNOPSIS
Over the phone, friends of the filmmaker tell her what they see in cloud photographs that she sends them. Their visions are then animated over the clouds in a loving study of imagination and long-distance friendship.
(Frances Grace Mortel, US, 2021, 3 min)
"Dear Nanay sprang out of an unfinished photography series I had been (and still is) working on during the start of the pandemic — an introspection of my domestic role as a mother and artist — and the required matrilineal labor and service as a brown woman and immigrant. I am grateful and honored for my little film to be recognized by the jury in this year's Local Sightings Film Festival. I dedicate this award to my Mama and Nanay, and all the mothers and parents who came and cared before me." – Director Frances Grace Mortel
FILM SYNOPSIS
A love letter to her grandmother that explores the filmmaker's early memories in the Philippines, and the search for refuge from pandemic anxiety and domestic claustrophobia.
---

Isabella L. Price is a filmmaker, writer, costume designer, podcast host, burlesque performer, and horror film aficionado who currently runs Seattle's only paranormal radio show, Nocturnal Emissions, on Hollow Earth Radio 104.9 FM. Price has held panels and presentations focusing on genre film at conventions like Crypticon, Emerald City Comic Con, GeekGirlCon, PAXWest and New York Comic Con. She is also a Film Programs Manager with LANGON's Seattle Black Film Festival.

Thérèse Heliczer graduated from THE FILM SCHOOL and Wesleyan University. As an emerging filmmaker, Heliczer has been very active in the independent Seattle film community for the past several years, and thanks the mentorship and resources from the Seattle Documentary Association, Seattle International Film Festival (SIFF), Women in Film, and Northwest Film Forum. Heliczer was a programmer for the Post Alley Film Festival which spotlights women filmmakers and was a cast member in the short film Signs Everywhere, as well as the feature film The Boy Who Lived Before. Heliczer has also spent the last 30 years in public sector communications and project management. Currently, she is a project manager at the Seattle Department of Transportation where she manages over $50 million in transportation projects. This experience has given her the skills to produce and direct her first feature-length documentary film, The Invisible Father.

Vivian Chuang graduated University of Washington Seattle in 2020 with majors in Cinema Media Studies and Interdisciplinary Art, as well as a minor in experimental/new digital media. She has worked with local organizations such as North Bend Film Festival, Northwest Film Forum and Remove the Gap Productions in juror, production and organizational roles. As a programmer and juror, experimental and artistically subversive film blocks are her favorite to work on. She is also a regular co-host on Intertitled.wav podcast and produces graphic/illustrative/internet arts on the side, with a focus on futuristic kitsch, art nouveau and hauntological design.
---