---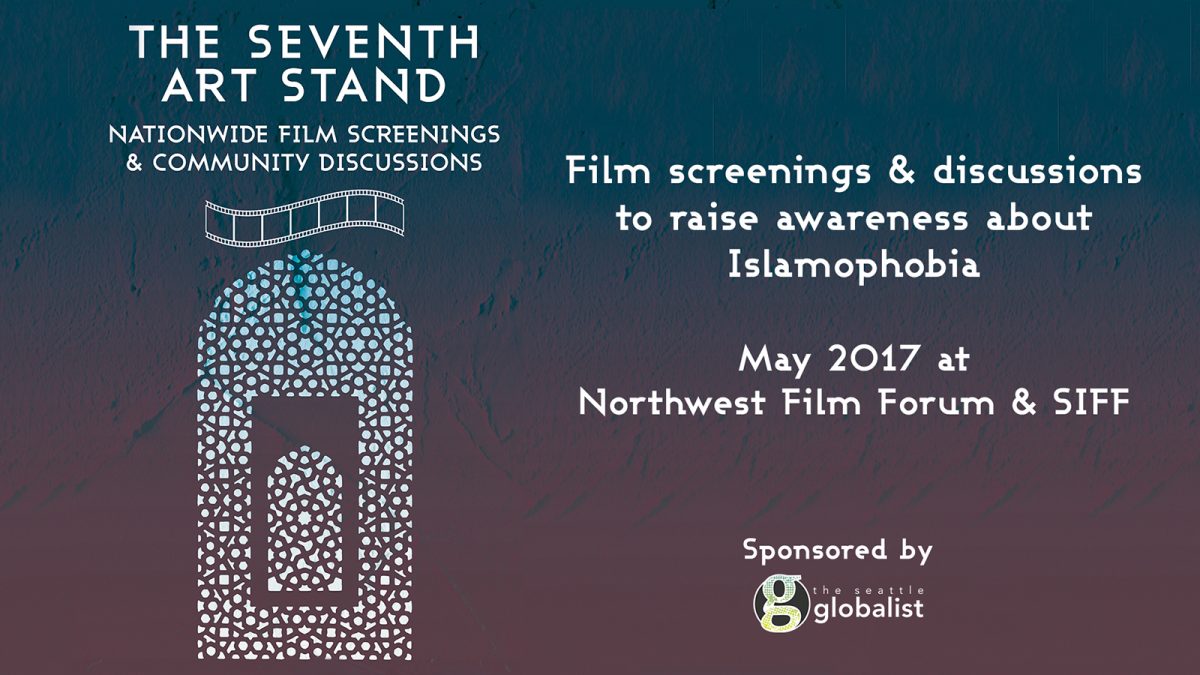 Northwest Film Forum & Abramorama Announce The Seventh Art Stand
March 16, 2017
NEW YORK, NY – A coalition of movie theaters across the United States announced today The Seventh Art Stand, a nation-wide series of film screenings and discussions. An act of cinematic solidarity against Islamophobia, the Stand will take place in May 2017, with over 30 locations in 18 states confirmed.
Representatives of the film and literary world have come together to support the initiative. Some of the many supporters include Evgeny Afineevsky, Laurie Anderson, Ramin Bahrani, Amir Bar-Lev, Charles Baxter, Joe Berlinger, John Beug, Jon Bowermaster, Nick Broomfield, Steve Buscemi, Jonathan Demme, Nick Flynn, Bart Freundlich, Sacha Gervasi, Keith Gordon, Rachel Griffin, Paul Haggis, Woody Harrelson, Mary Harron, William Horberg, Azazel Jacobs, Dan Janvey, Barbara Kopple, Neil LaBute, Jonathan Lethem, Ron Mann, Natalie Merchant, Ricky Moody, Brett Morgan, Louis Psihoyos, Alysia Reiner, Richard Russo, Erin Sax, Tanya Selvaratnam, Mark Slouka, Robert Stone, John Turturro, John Walsh and Debra Winger among many others.
Participating movie theaters, community centers and museums will show films from the countries affected by Islamophobia and the Muslim Ban in this coalitional effort to elevate the cinemas and stories of the people affected by the executive orders inhibiting their rights to travel to the U.S.
Lead organizers Richard Abramowitz, Founder and President, Abramorama and Courtney Sheehan, Executive Director, Northwest Film Forum, have convened partners in every region of the U.S., including the Arab American National Museum (Dearborn, MI), the Metrograph and Anthology Film Archives (New York), the Honolulu Museum of Art, Northwest Film Forum, and college campuses and theaters in the Midwest. The Network of Arab Alternative Screens (NAAS) supports U.S. theaters in the Stand. NAAS is a growing constellation of non-governmental cinema spaces presenting visionary film programs that engage and challenge audiences across the Arab region.
In addition, TUGG has come on board to arrange facilitate community and church screenings throughout their entire network. Sheehan and Abramowitz said, "We believe it is crucial to build a tradition of sharing more stories, voices, and faces on our screens."
Films will include Asghar Farhadi's Oscar-winning The Salesman (Iran), Karama Has No Walls and The Mulberry House (Yemen), Fishing Without Nets (Somalia) and About Baghdad (Iraq), among many other features, as well as a short film program for youth, and Flight Path: a narrative short film and media campaign to combat Islamophobia and foster inter-community dialogue.
Complete screening details will be listed at seventhartstand.com in the coming weeks.
PRESS COVERAGE FOR THE SEVENTH ART STAND
---