---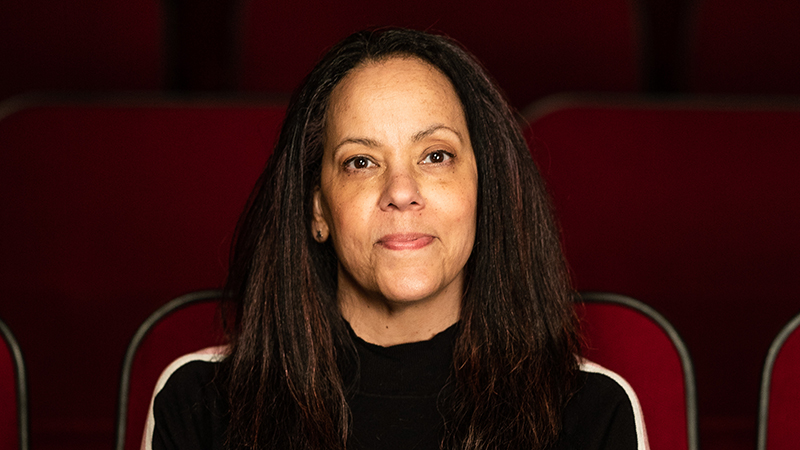 Northwest Film Forum Announces Cara Mia Harris as New Executive Director
March 9, 2022
Main image: Executive Director Cara Mia Harris, photographed by Derek Edamura.
Seattle, WA — March 9, 2022 – Northwest Film Forum (NWFF) announced today that filmmaker and non-profit arts professional Cara Mia Harris has been appointed as its new Executive Director. In this role, Harris will oversee the strategic direction and vision of the organization, working collaboratively with Managing Director Christopher Day and Artistic Director Râna San in a leadership trifecta.
For over 25 years, Harris has worked at renowned creative institutions to hone her focus on film and music. With a background in film production, music and sound design, her career has touched down in several major arts hubs. In Los Angeles, her early career was spent in production and music editorial. During three years at the Sundance Institute, she programmed for the Sundance Film Festival and coordinated the Film Music program. In New York, Harris took up key roles at Alex Gibney's Jigsaw Productions and the arts funding organization Creative Capital, applying her aptitude for high-level logistical coordination of films, events, and artist-serving programs at each. After managing an international residency and conference program for the Rockefeller Foundation, Harris concluded 16 years of work in New York to return to Seattle, ready for a new challenge.
"One of the first things I did upon moving back home five years ago was become a member of Northwest Film Forum. It is quite literally one of my favorite places in Seattle. I am overjoyed to join Northwest Film Forum in a leadership position, and to continue the outstanding work of former Executive Director Vivian Hua and the staff during their tenure. The fact that they have kept the organization running and thriving during a pandemic is an incredible accomplishment," says Harris.
Harris joins the organization at a notable high point: following a wave of community support that saw them through a pandemic closure, Northwest Film Forum was able to greatly increase their capacity for programmatic growth by creating several new staff roles. The community-oriented art house cinema and filmmaker resource expects to leverage this growth during their current capital campaign, seeking to find and/or develop a new venue with facilities that are better suited to accommodate their increasingly complex multimedia presentations and education initiatives.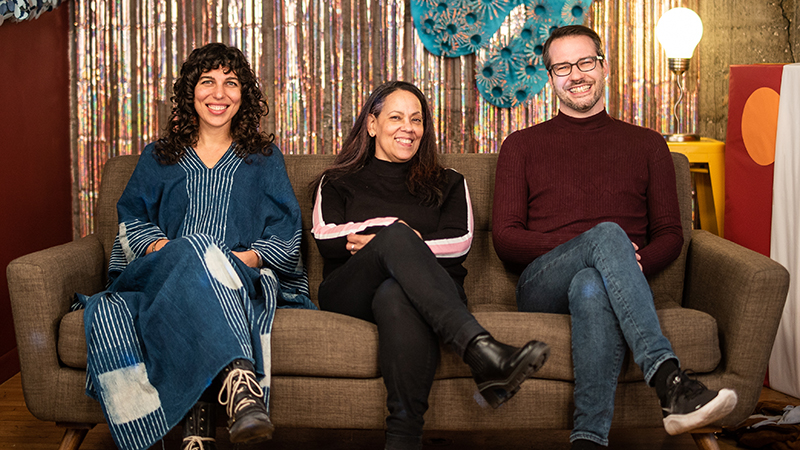 L to R: Artistic Director Râna San, Executive Director Cara Mia Harris, Managing Director Christopher Day. Photographed by Derek Edamura.
"It is always an honor to support the film community, but I feel this particularly deeply about the Forum, as an organization that shares my own commitment to diversity and inclusion. Being mixed race, the majority-BIPOC staff and board of NWFF really stands out to me as an important indicator of our organization's capacity to make everyone feel seen, welcome, and valued," Harris continues. "I look forward to working with this talented team to launch our capital campaign to secure a new home. I see the autonomy and security of NWFF owning its venue as an essential safeguard for us to continue our work. It will create new opportunities to center accessibility, direct even more of our focus and intention towards strengthening and broadening partnerships, and lay the foundation for sustainable plans that better resource and serve the creative community."
"As our team embarks on this period of collective evolution for the benefit of the Forum community, including the exhilarating move toward home ownership, we are ecstatic to take the next critical steps with Cara Mia," say Râna San and Christopher Day. "We look forward to visioning the future of the Forum together through our shared passion for the moving image as a tool for connection and change."
"Cara Mia brings a wealth of knowledge and experience to our already outstanding NWFF team. As a homegrown Seattleite, her passion for our community is deep rooted, and I'm excited for the future of the organization," shares filmmaker and Board Chair Nesib CB Shamah.
Northwest Film Forum is currently planning a spring meet-and-greet (date TBA) to introduce Harris to the community at large; press, Forum members, stakeholders, and representatives from peer organizations will all be invited.
---