---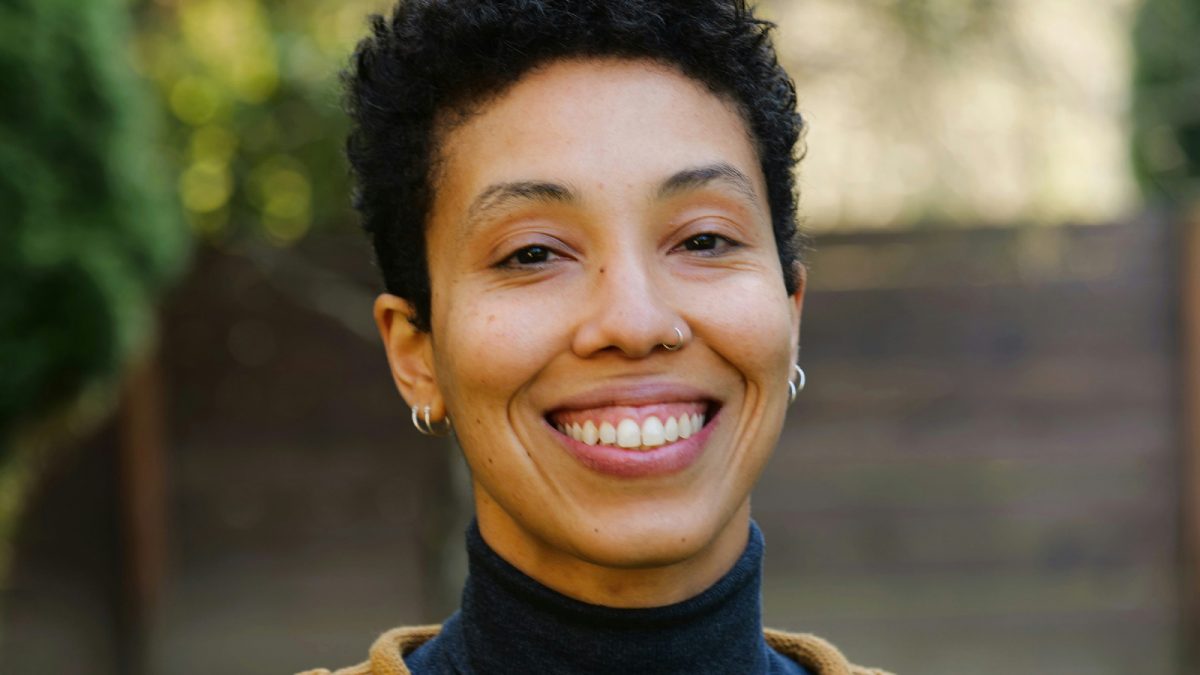 Northwest Film Forum Announces Jill Busby as Artistic Director
August 16, 2023
Photo credit: Chris Williams
Northwest Film Forum (NWFF) announced today that Jill Busby has been appointed as its new Artistic Director. Busby joins the Forum's collaborative leadership team of Executive Director Derek Edamura and Managing Director Christopher Day to share in overseeing the strategic direction and vision of the organization.
Jill Louise Busby is a writer, trainer, and filmmaker who fearlessly dissects and challenges the status quo. She has spent years in the nonprofit sector specializing in Equity and Inclusion. She has spoken at academic institutions, businesses, and detention centers on the topics of Identity and Power and delivered hundreds of workshops to nonprofit organizations all over the country. With a keen eye for unveiling the layers of personal and societal hierarchies, Jill's creative journey is driven by her belief in dismantling limiting narratives. Through her thought-provoking work, she playfully pushes audiences beyond their comfort zones, encouraging them to explore genuine freedom within the realm of truth.
As a queer Black woman growing up in Auburn, Alabama, Busby had to look hard for media that reflected her experience, or gave it new dimension. A now-defunct independent video store became her creative anchor, and a wellspring of perspective and exploration. "I began to find overlap with people who were not me; to know them through a shared love of meaningful art. Even if you don't objectively see yourself in it, art can invite you into a new mode of self-reflection," says Busby. "My search for media that invited that intimate exchange of ideas eventually evolved into motivation to make my own art – to create work that offers that same invitation."
Throughout her professional journey, Jill has grappled with thought-provoking, crucial questions about matters of representation and expression. She challenges the film industry to consider who truly represents the communities they speak for, reflecting upon the complexities of authenticity in storytelling. A central concern is whether a single individual's work can genuinely encapsulate an entire community's experiences. Jill urges makers and audiences alike to engage with this question, highlighting the need for a holistic portrayal of diverse narratives.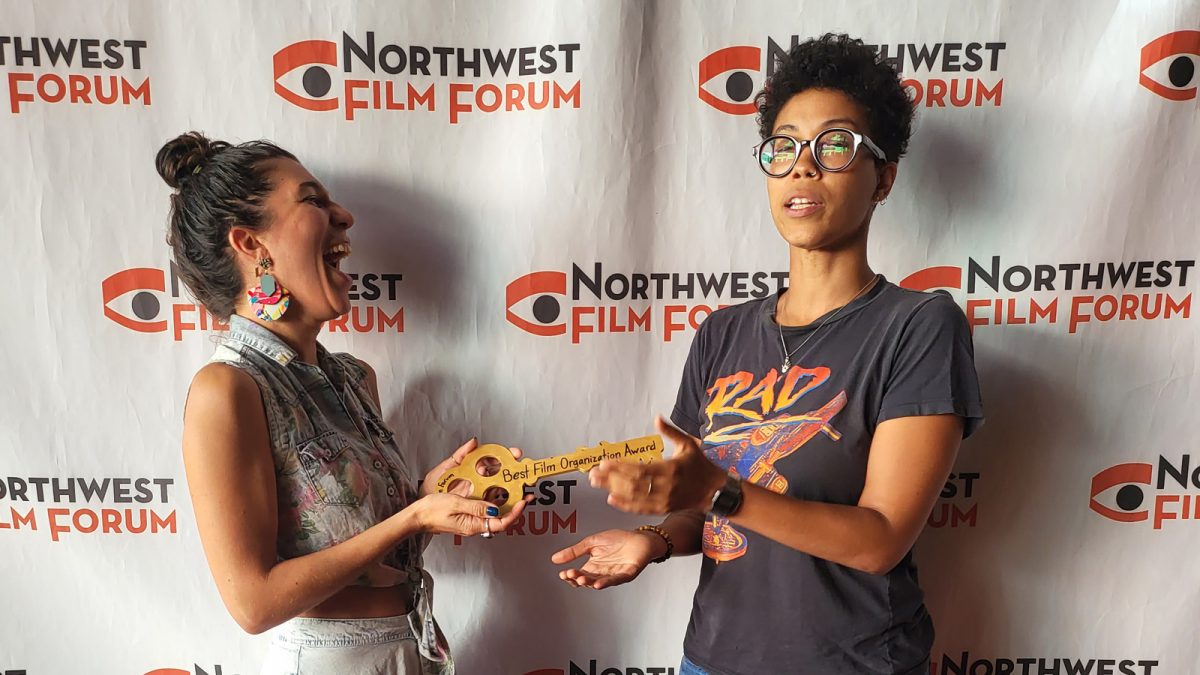 Pictured: Former Artistic Director Rana San hands a symbolic key to the Forum to Busby, NWFF's new Artistic Director
Pictured: Former Artistic Director Rana San hands a symbolic key to the Forum to Busby, NWFF's new Artistic Director
"We are so excited to bring Jill's radical creativity and innovative vision to the Forum," says NWFF Executive Director Derek Edamura. "Jill has demonstrated a clear, creative practice and perspective throughout her career, and we look forward to the exciting new programs that she will lead here at the Forum."
A staunch believer in the power of media and a fervent advocate for true inclusivity, Jill brings a fresh perspective to her new position and a strong commitment to reshaping the landscape of creative expression. The Forum, as a like-minded arts center and community hub that wears its values on its sleeve, drew her attention as a possible site of generative disruption.
"I think that the Forum really stands out because it's nimble. It has these rich organizational values that consider the entire environment in which one makes their art, while also changing and reengaging as necessary," says Busby. "I feel honored to contribute to their important work and legacy, and I'm grateful for those whose efforts have left deep roots and a solid foundation for me to continue building on."
Through various ventures, including her web series "Moms as Managers" and "The Yellow Table," her social media persona, her book Unfollow Me: Essays on Complicity (Bloomsbury), and her work in conflict resolution and communication, Jill has cultivated spaces that encourage dialogue and reflection. Her innovative approach to art focuses on inviting engagement and provoking self-discovery, which neatly matches the Forum's mission to empower communities through creative expression.
"The Forum wishes to lead by example, to turn talk into action. That's what I'm all about. I want to see us form more community partnerships, elevate more stories, and provide more resources. If we see a gap, I want us to see what we can do to fill it. Of course, I'd like us to show some really great films, too. That part remains really important."
"I look forward to working with the Forum's passionate team to move this moment forward. The work of creating a more supportive and equitable film and arts ecosystem inspires me," says Busby. "I'm grateful for the opportunity to give what this job calls for in me."
---