---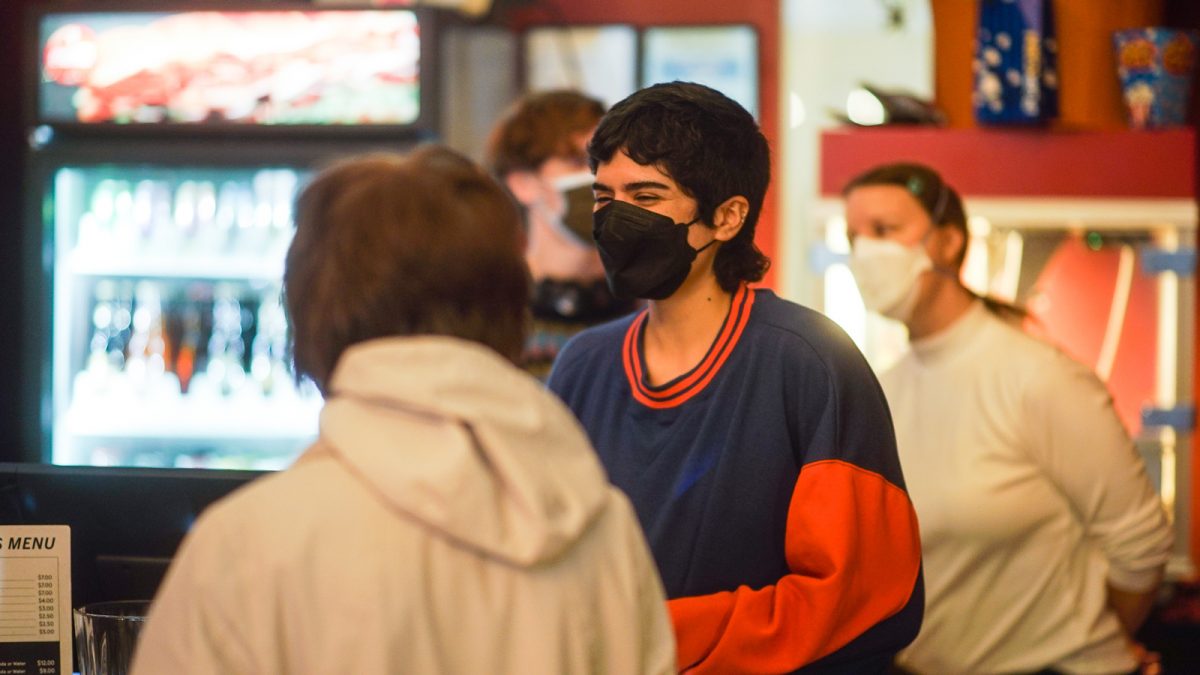 Now Hiring: Patron Services Assistant
July 21, 2022
Northwest Film Forum is now hiring for one 15-hour-a-week role for Patron Services Assistant!
Mission
Northwest Film Forum incites public dialogue and creative action through collective cinematic experiences.
About Northwest Film Forum
A nonprofit film and arts center located in Seattle, Northwest Film Forum presents hundreds of films, festivals, community events, multidisciplinary performances, and public discussions each year. A comprehensive visual media organization, the Forum offers educational workshops and artist services for film and media makers at all stages of their development. Artist services include access to space, gear, fiscal sponsorship, and an edit lab. Northwest Film Forum is a member-based organization. Our slogan is: MAKE FILMS / MAKE FRIENDS / MAKE CHANGE!
Vision
Our vision is a world where all people have the power to express themselves and connect with each other through visual storytelling and culture.
Values
Based in the city currently known as Seattle, we acknowledge that we are located on the ancestral lands and territories of the Coast Salish people, including the Duwamish Tribe (Dkhw Duw'Absh), who are still present among us and leading much of the important cultural and societal work in the region. NWFF donates 2% of our proceeds to the Duwamish Tribe as an action towards restitution.
In recognition of the role of the arts as a vehicle for social change, we are committed to undoing systems of oppression in our work and lives. We are working everyday to learn and dismantle racist, sexist, and inequitable systems in our lives and organization.
To Apply:
Please send resume, any applicable portfolio or work samples, and statement of interest (written, audio, or video) to Managing Director Christopher Day at chris@nwfilmforum.org with the subject line: Patron Services Assistant at NWFF
Audio and video statements are not to exceed 3 minutes in length and can be sent via wetransfer.com to chris@nwfilmforum.org.
Northwest Film Forum is an Equal Opportunity Employer. Employment policies and programs of Northwest Film Forum are nondiscriminatory in regard to race, gender, religion, age, national origin, disability, veteran status or sexual orientation. All potential candidates who identify as Black, Indigenous, person of color, immigrant, living with a disability, low-income, or LGBTQ+ are highly encouraged to apply.
We will be accepting applications from July 27th to August 6th. Review of applications begins on August 3rd, 2022. Ideal starting date is around August 10th.
Patron Services Assistant (15 hours / week)
Northwest Film Forum is seeking a hospitality-minded, engaged, and detail-oriented Patron Services Assistant who is passionate about NWFF's mission, vision, and current organizational trajectory. The ideal candidate will have a passion for customer service, hospitality, public events, accounting and management, with a strong focus on prioritizing the needs of patrons. They will have a diverse lived experience with a proven track record of championing diversity, equity and inclusion, with a vision for ensuring that NWFF is a safe, comfortable and welcoming space for a wide variety of audiences. The Patron Services Assistant role will be key in supporting NWFF's public programming, working closely with our Patron Services Manager and the entire team to adapt to emergent changes.
This 15-hour a week position represents one of the principal public facing positions at NWFF and is key to the organization's annual success.This person is a welcoming face of the Forum, responsible for building and sustaining relationships and offering outstanding customer service to artists and constituents. The Patron Services Assistant works with the Patron Services Manager with box office and lobby operations, including ticketing transactions and will call; sale and restocking of concessions; crowd management, accessibility and safety; and maintenance of public spaces. The ideal candidate is community-focused, self-driven and adaptable to the Forum's ever-changing programmatic needs.
Northwest Film Forum believes in coalition-building and horizontal models of collaboration and leadership. The candidate for this position will be self-motivated and able to work in close collaboration with a larger team. All Film Forum staff wear many hats and are comfortable working in a passionate, shared environment of collaborative decision-making and visioning.
—
Key Responsibilities
HOSPITALITY & CUSTOMER SERVICE
Ensure excellent customer service and patron experiences for all who enter the Film Forum space
Adapt to last-minute changes and identify opportunities to improve patron experiences for a diversity of audiences
Ensure that NWFF's physical space does not cause harm to BIPOC, LGBTQ+, disability, low-income, and/or other historically underserved or under-resourced communities.
Collaborate with Patron Services Manager with development and documentation of customer service policies and procedures
Maintain NWFF email address and assist with customer service inquiries when necessary.
Resolve any patron conflicts and problems proactively through analysis, critical thinking and flexibility in approach
Maintain familiarity with emergency protocols in order to provide leadership in emergency situations, including fire alarm, inclement weather, and mental health crises situations.
Ensure consistency, quality, and joy in the NWFF's show-going experience, with a deep attention to detail and commitment towards excellent customer service and patron experiences
Collaborate with Patron Services Manager with member, sponsor and donor screenings, in conjunction with the rest of the Film Forum team
BOX OFFICE MANAGEMENT
Assist Patron Services Manager in running the box office for 15 hours each week. Depending on event popularity, venue rental scheduling, and the Patron Services Manager's availability, these hours can be spread out differently week-to-week; the Assistant Patron Services Manager will be flexible enough to accommodate a variety of schedules.
Notify Patron Services Manager when concessions inventory and box office supplies are low in stock. In addition, assist Patron Services Manager with unloading and organization of concessions supplies.
Maintain box office equipment and computer systems, with assistance from Technical Director and Managing Director
Provide monthly input on patron experiences and box office trends, as well as contribute to festival wrap-up reports in conjunction with NWFF team within two weeks of every major in-house festival, to help improve customer service.
FACILITIES MAINTENANCE
Maintain the appearance, cleanliness, and safety of all NWFF's public spaces
Communicate with cleaning personnel, volunteers and other NWFF staff to ensure a clean, presentable environment
Ensure accessibility throughout the building at all times, including access to ramp, entrances and exits, and by orienting patrons with accessibility needs.
VOLUNTEER COORDINATION
Lead, support, coach, motivate and manage box office volunteers and interns alongside Patron Services Manager, with a focus on customer service and patron satisfaction
—
Qualities, Qualifications, and Experience
Proven track record of centering patron experiences to create a warm, welcoming, and inclusive environment.
Ability to see, value, and adapt to cultural differences. Demonstrated and/or lived experience working with people of diverse ages, genders, sexualities, ethnicities, cultures, races, abilities, and socio-economic backgrounds, including those from society's historically underserved by mainstream arts organizations.
Passion for and dedication to NWFF's history, mission, vision, values, and programs.
Familiarity with and deep understanding of independent film and arts communities, especially those in the Pacific Northwest region and Seattle area.
Experience with nonprofit organizations with multiple programs serving diverse constituencies in film, arts, and/or media.
Lived commitment to and investment in racial and social justice and anti-oppression analysis.
Familiarity and experience in Adobe suite, Google suite are helpful.
Excellent written and verbal communication skills, with excitement for working in a collaborative team environment.
Self-starter, with an ability to multi-task and juggle distinct priorities and relationships gracefully.
Food handling permit required; CPR Certification a plus.
Employment Information, Compensation, and Benefits
This staff position is paid an hourly rate of $22/hour for a minimum of 15 hours a week for this part-time, non-exempt position. A timesheet for Patron Services Assistant hours shall be kept and submitted every two weeks to the Managing Director; payroll is conducted in 24 pay periods annually. To the extent required by applicable law, all payroll payments will be subject to mandatory employment deductions (State & Federal Taxes, Social Security, Medicare).
Candidate must be local to Western Washington area or willing to relocate. Due to the public nature of NWFF's work and our diverse constituency, the hired candidate must be fully vaccinated against COVID-19 at that time.
---