---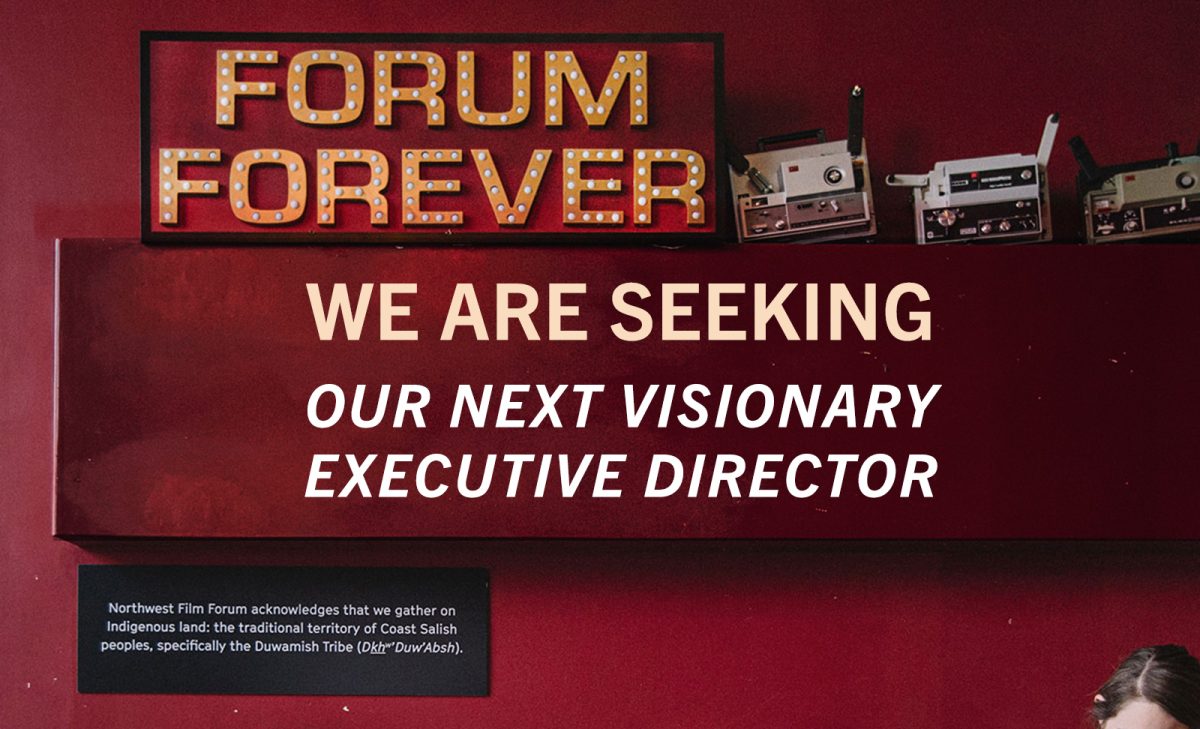 Now Seeking Our Next Visionary Executive Director
October 26, 2021
NOTE: ALL APPLICATIONS MUST BE SENT VIA E-MAIL. ANY APPLICATION WITHOUT A COVER LETTER OR STATEMENT OF INTEREST WILL BE IGNORED.

Please see details at bottom of e-mail for information about how to apply.
///
ROLE SUMMARY
NWFF is seeking a collaborative, visionary leader to join the team in building on NWFF's current trajectory of being a film center and community hub which centers equity, collective action, and community coalition-building as instrumental to creating and presenting film and media arts. The Executive Director will champion the organization to leverage collective resources and build capacity for NWFF's mission and programs. The ideal candidate will deepen community alliances and center equity in all operations, as well as help lead the organization through a capital campaign to establish a new physical home.
NWFF's recent growth has been marked by vibrant programs overseen by a synergistic team, increases in public attendance and visibility, deep grassroots community partnerships, an expansion of artist support systems, and an unwavering commitment to undoing systems of oppression through all of our work. As leader of a small but mighty organization, the Executive Director will work intimately with the Artistic Director, Managing Director, and entire NWFF team, to chart a dynamic course for the organization's ongoing evolution towards a more supportive and equitable film and arts ecosystem within the King County region.
KEY RESPONSIBILITIES
NWFF believes in coalition-building and horizontal models of collaboration and leadership. The candidate for this position will be self-motivated and able to work independently as well as work in close collaboration with a larger team. All NWFF team members wear many hats and are comfortable working in a passionate, shared environment of collaborative decision-making and visioning.
EXECUTIVE LEADERSHIP
Represent the organization publicly and engage a diverse group of stakeholders in a wide range of settings.
Cultivate and maintain relationships with peer organizations, community partners, educational institutions, government agencies, funders, the Board, donors, and members.
Lead strategic planning, working with NWFF team and Board to set organizational direction, priorities, and goals.
Expand NWFF's reputation as a recognized leader in the local, regional, national, and international film and media arts communities.
Steward meaningful opportunities for NWFF to participate in wide-ranging community-building efforts which further its mission in dynamic ways.
Stay informed on local, regional, and national trends to ensure NWFF considers individual, societal, and systemic factors in all decision-making.
EQUITY & INCLUSION
Develop an organizational culture which promotes transparency, collaboration, as well as racial equity and social justice policies across the organization.
Center anti-oppression values in all aspects of NWFF, ensuring strategies evolve with shifting trends.
Ensure NWFF's programming and workshops include a wide range of perspectives, stories, creators, and educators, so that diverse audiences and students can see themselves reflected on-screen and throughout their workshops.
Prioritize opportunities for filmmakers, students, and patrons, from historically underserved or under-resourced communities.
Maintain a positive work environment where everyone on the diverse NWFF team feels empowered to share ideas, be creative, and develop their professional skills and interests.
Recognize potential talent in team members, interns, volunteers, and collaborators, elevating growth opportunities where appropriate.
DEVELOPMENT & FUNDRAISING
Oversee annual development activities and events; drive planning and strategy for increasing and diversifying individual, corporate, foundation, and government sources.
Manage major donor portfolios; collaborate with staff and Board to identify, cultivate, and steward donors.
Set standards for high-functioning development operations, systems for managing donor records / relationships, an annual development plan, and grant calendars with Managing Director.
Oversee marketing to produce messaging, campaign strategies, and collateral in partnership with Communications Manager.
Manage grants program and contribute to grant writing with the support of contract grant writer, where appropriate.
Cultivate membership through marketing efforts in partnership with Communications Manager.
Ensure that appropriate recognition, stewardship, reporting, and relationship maintenance occurs for all donors, grantors, funders, and corporate sponsors.
FINANCE
Work closely with the Board and Managing Director to set the annual operating budget, manage the assets and financial affairs of NWFF, monitor expenses carefully, and maintain an appropriate balance of earned and contributed income sources.
Monitor financial health of NWFF and take action to ensure future financial stability.
Coordinate management of expenditures across departments.
Manage protocols to ensure compliance with appropriate accounting systems; maintain internal controls consistent with current federal, state, and city accounting best practices.
Oversee financial procedures and processes, including the authorization of payments for contracts and expenditures, and the maintenance of a chart of accounts.
Monitor company operations and ensure employees and business practices comply with regulatory and legal requirements.
CAPITAL CAMPAIGN
Guide decision-making, strategy, and planning for future capital campaign in conjunction with NWFF Board, team, and any appropriate contractors.
Formulate overall campaign timeline, including milestones, communications timeline, etc.
Work with board, staff, community members, and consultants to create vision for future space.
Hire capital campaign manager or relevant experts, as necessary for campaign.
Assess locations for development or redevelopment, guided by the outcome of the feasibility study and evaluation of space needs.
Develop budget for securing and building out new space, including engagement with relevant experts.
Create financial projections with relevant committees and outside consultation, including strategy around scale of growth before and after a capital campaign.
Research and secure potential avenues for governmental and quasi-governmental funding from local, state, and national sources.
Have temporary or long-term capital campaign plan secured by end of NWFF's current lease, at the end of September 2023.
COMMUNICATIONS
Oversee communications strategy and implementation to increase and deepen public engagement with NWFF's programs and services, in collaboration with Artistic Director and Communications Manager.
Serve as a chief spokesperson for the organization through press and messaging.
Facilitate discussions, pre- and post-screening discussions, workshops, trainings, roundtables, and other events to bolster film programming, year-round and during festivals.
ADMINISTRATION
Provide leadership and support all departments in strategic planning, evaluation, and development, ensuring all programs reflect NWFF's vision, mission, and values, in collaboration with NWFF Leadership Team.
Assist all departments in setting goals and metrics to track progress and evaluate short and long-term program impact.
Include the entire NWFF team on key decision-making processes, prioritizing space for open dialogue and shared understanding.
Hire, onboard, orient, and set expectations for full-time, part-time, and contract employees, as well as festival assistants, volunteers, and interns.
Review and update employee hiring, onboarding, and review practices, keeping the Employee Handbook updated as needed.
Maintain and build employee benefits packages and professional development offerings.
BOARD
Serve as an ex officio non-voting member of the Board of Directors.
Work with the Board President, Vice President, Treasurer, Secretary, and relevant committee chairs to prepare Board agendas and packets.
Attend Board Meetings, reporting to the board regularly.
Meet with each Board Member at least once a year to discuss programming and the state of the organization.
Work with the Board and relevant team to devise and employ strategic planning goals.
Support Board members to become ambassadors and advocates for the organization.
Participate in annual executive performance review by the Board.
Work with Board members on recruitment, maintenance, and governance.
QUALITIES, QUALIFICATIONS, AND EXPERIENCE
Passion for and dedication to NWFF's history, mission, vision, values, and programs. Familiarity with and passion for independent film and arts communities.
Proven track record in supervisory experience, e.g. experience managing, developing, and motivating staff and volunteers.
Proven track record of fundraising, demonstrating ability to implement innovative strategies for fundraising and organizational development.
Ability to see, value, and adapt to cultural differences. Experience working with people of diverse ages, genders, sexualities, ethnicities, cultures, races, abilities, and socioeconomic backgrounds.
Experience with nonprofit organizations with multiple programs serving diverse constituencies in film, arts, and/or media.
A propensity for thinking in creative, non-traditional channels.
Excellent interpersonal skills, high emotional intelligence and self-awareness, ability to build meaningful relationships with a variety of stakeholders, community-oriented, outgoing, energetic, and perceptive personality.
Demonstrated ability to successfully problem-solve, build consensus, and resolve conflicts.
Commitment to providing NWFF's resources to community members with limited access to media education and programs.
Lived commitment to and investment in racial and social justice and anti-oppression action.
Excellent verbal and written communication skills, ability to inspire a range of supporters.
Strong organizational and time management skills, experience meeting and managing multiple deadlines, and a high level of self-motivation.
Ability to work flexible hours as necessary.
Ability to prioritize effectively, flexibility, ability to handle multiple projects at once, agility, and adaptiveness.
PREFERRED SKILLS
Knowledge of regional granting entities and foundations.
Experience with member-based and member-driven organizations.
Experience as a filmmaker or artist.
Experience with human resources, de-escalation, and conflict resolution.
EMPLOYMENT INFORMATION, COMPENSATION, AND BENEFITS
This staff position is full-time, at $71,500 a year, and reports to the Board. Benefits for this position include 100% coverage of health, dental, and vision. Hired candidate will also receive professional development funds, an ORCA pass for transportation, plus access to filmmaking gear, computers, and workshops.
Candidate must be local to Western Washington area or willing to relocate. Due to the public nature of NWFF's work and our diverse constituency, the hired candidate must be fully vaccinated against COVID-19 at the start of employment. Candidate should be prepared to provide references and must pass a WA State background check.
TO APPLY
Please send resume, any applicable portfolio or work samples, and statement of interest (written, audio, or video) to the Hiring Committee at hiring[at]nwfilmforum[dot]org using the subject line: Executive Director at NWFF
Audio and video statements are not to exceed 3 minutes in length and can be sent via wetransfer.com to hiring[at]nwfilmforum[dot]org.
Applications submitted without a statement of interest (written, video, or audio) will not be considered.
Northwest Film Forum is an Equal Opportunity Employer. Employment policies and programs of Northwest Film Forum are nondiscriminatory in regard to race, gender, religion, age, national origin, disability, veteran status or sexual orientation. All potential candidates who identify as Black, Indigenous, person of color, immigrant, living with a disability, low-income, or LGBTQ+ are highly encouraged to apply.
The deadline for applications is January 3rd, 2022. Ideal start date is in February 2022.
///
ABOUT NORTHWEST FILM FORUM
Mission
Northwest Film Forum incites public dialogue and creative action through collective cinematic experiences.
About Northwest Film Forum
A nonprofit film and arts center located in Seattle, Northwest Film Forum presents hundreds of films, festivals, community events, multidisciplinary performances, and public discussions each year. A comprehensive visual media organization, the Forum offers educational workshops and artist services for film and media makers at all stages of their development. Artist services include access to space, gear, fiscal sponsorship, and an edit lab. Northwest Film Forum is a member-based organization. Our slogan is: MAKE FILMS / MAKE FRIENDS / MAKE CHANGE!
Vision
Our vision is a world where all people have the power to express themselves and connect with each other through visual storytelling and culture.
Values
Based in the city currently known as Seattle, we acknowledge that we are located on the ancestral lands and territories of the Coast Salish people, including the Duwamish Tribe (Dkhw Duw'Absh), who are still present among us and leading much of the important cultural and societal work in the region.
In recognition of the role of the arts as a vehicle for social change, we are committed to undoing systems of oppression in our work and lives. We are working everyday to learn and dismantle racist, sexist, and inequitable systems in our lives and organization.
///
NOTE: ALL APPLICATIONS MUST BE SENT VIA E-MAIL. ANY APPLICATION WITHOUT A COVER LETTER OR STATEMENT OF INTEREST WILL BE IGNORED. 
Please details above for information on how to apply.
Learn more about Northwest Film Forum at nwfilmforum.org!
---