---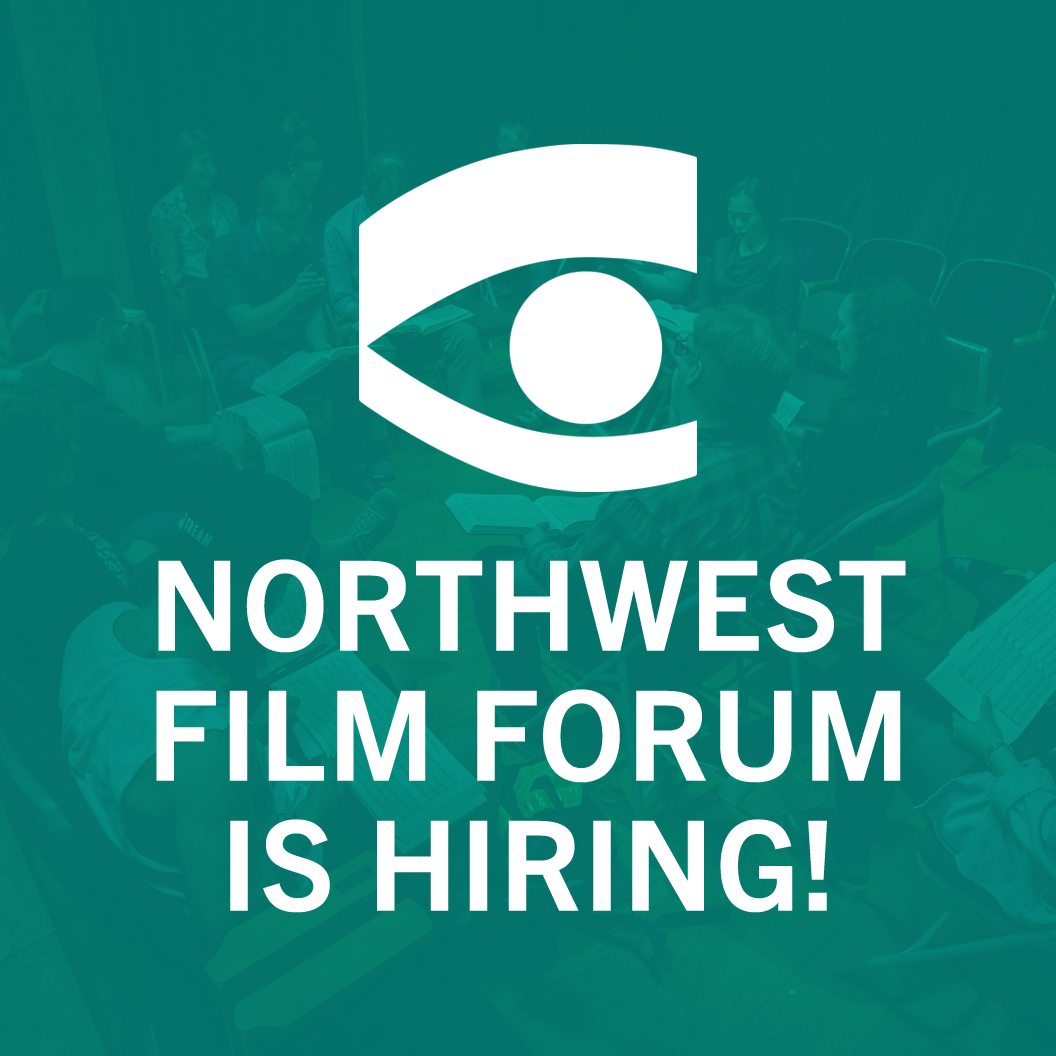 NWFF is Hiring for a Marketing & Outreach Specialist!
January 6, 2021
Role Summary
Northwest Film Forum (NWFF) is seeking a strategically-minded, engaged, and detail-oriented Marketing & Outreach Specialist who is passionate about NWFF's mission, vision, and current organizational trajectory.
The candidate will help us develop and implement compelling digital, print, and social media communications timelines and strategies, in a shared team environment. They will also build new relationships and expand upon current ones with our diverse community of stakeholders, which include but are not limited to: artists and art lovers of all kinds, members, partner organizations, nonprofits, film festivals, event producers, and grassroots groups.
Northwest Film Forum believes in coalition-building and horizontal models of collaboration and leadership. The candidate for this position will be self-motivated and able to work independently as well as work in close collaboration with a larger team. All Film Forum staff wear many hats and are comfortable working in a passionate, shared environment of collective decision-making and visioning.
Key Responsibilities
Please note that all roles and responsibilities will be executed alongside other members of the Film Forum team, where appropriate.
COMMUNICATIONS & MARKETING
In collaboration with Communications Manager, Artistic Director, and Executive Director.
Audience Engagement: Research and implement new strategies to reach new users and increase engagement with current users on NWFF's various platforms; provide reports to Film Forum team about effective and ineffective practices.
Marketing Calendar: Coordinate strategies and timelines for marketing strategies across all platforms.
Social Media: Create social media schedule; maintain regular presence on all platforms, paying attention to honing an "organizational voice" on MailChimp, Facebook (including latest updates), Twitter, and Instagram, using social media scheduling and analytics software.
Advertising: Work with NWFF annual budget to monitor ad spending and work with the team to create marketing campaigns for assigned projects and tasks, ensuring fiscal responsibility and compliance.
PARTNERSHIPS
In collaboration with Education Manager, Communications Manager, Artistic Director, and Executive Director.
Meaningful Relationships: Establish and grow partnerships and meaningful relationships with organizations throughout the Pacific Northwest region and beyond, which include but are not limited to: artists and art lovers of all kinds, members, partner organizations, nonprofits, film festivals, event producers, and grassroots groups.
Equitable Transactions: Ideate dynamic strategies to develop partnerships with aligned organizations, ensuring mutual benefit and visibility through equitable exchanges.
Horizontal Collaborations: Coordinate grassroots promotions with relevant organizations in support of chosen screenings, film festivals, and events.
OUTREACH & COMMUNITY ENGAGEMENT
In collaboration with Education Manager, Grants Manager, Artistic Director, and Executive Director.
Event Facilitation: Develop, organize, and facilitate or co-facilitate discussion groups, workshops, trainings, round-tables, and other events (virtually, or in person as appropriate), to receive feedback from NWFF's various stakeholder groups.
Cultural Sensitivity: Develop culturally respectful engagement efforts specialized for each of Film Forum diverse programs, and custom-tailored to BIPOC, LGBTQ+, disability, low-income, and/or other historically underserved or underresourced communities, where appropriate.
Authentic Representation: Ensure all community engagement activities center the needs, voices, and perspectives of local community members as the starting point for shared learning that will lead to meaningful systemic change within NWFF's programs and beyond.
Project Schedules: Manage and oversee community engagement projects from start to finish, ensuring all deliverables are achieved according to schedule.
Info Shares: Develop and provide structures for data management and collection; share community engagement learnings with the Film Forum team.
Qualities, Qualifications, and Experience
Ability to see, value, and adapt to cultural differences. Demonstrated and/or lived experience working with people of diverse ages, genders, sexualities, ethnicities, cultures, races, abilities, and socio-economic backgrounds, including those from society's historically underserved by mainstream arts organizations.
Passion for and dedication to NWFF's history, mission, vision, values, and programs. Familiarity with and passion for independent film and arts communities.
Experience with nonprofit organizations with multiple programs serving diverse constituencies in film, arts, and/or media.
Commitment to providing NWFF's resources to community members with limited access to media education and programs.
Lived commitment to and investment in racial and social justice and anti-oppression analysis.
Demonstrated skills using G Suite (Google) applications, Zoom, Instagram, Facebook (including latest updates), Twitter, Mailchimp, and social media scheduling software is necessary.
Familiarity and experience in Adobe suite, Google Analytics, and Shopify are not required but helpful.
Employment Information, Compensation, and Benefits
This staff position is 20 hours/week, $18/hour, and reports to the Executive Director. Flexible work schedule, plus access to filmmaking gear, computers, and workshops. After positive 9-month review, this position will be eligible for benefits, including 100% coverage of health, dental, and vision, plus a stipend for workforce development training.
For the foreseeable future until pandemic restrictions and stay-at-home orders lift, this role will be remote, though a candidate local to the Western Washington area is encouraged, as the role will likely be in-person when NWFF is able to open our doors once again.
To Apply:
Please send resume, any applicable portfolio or work samples, and statement of interest (written, audio, or video) to Executive Director Vivian Hua at vivian@nwfilmforum.org with the subject line: Marketing & Outreach Specialist Role at NWFF
Audio and video statements are not to exceed 3 minutes in length and can be sent via wetransfer.com to vivian@nwfilmforum.org.
Northwest Film Forum is an Equal Opportunity Employer. Employment policies and programs of Northwest Film Forum are nondiscriminatory in regard to race, gender, religion, age, national origin, disability, veteran status or sexual orientation. All potential candidates who identify as Black, Indigenous, person of color, immigrant, living with a disability, low-income, or LGBTQ+ are highly encouraged to apply.
Review of applications begins January 18, 2021, but the deadline for applications is January 25, 2021. Starting date is negotiable, but ideally begins in mid-February.

About Northwest Film Forum
Mission:
Northwest Film Forum incites public dialogue and creative action through collective cinematic experiences.
Vision:
Our vision is a world where all people have the power to express themselves and connect with each other through visual storytelling and culture.
Values:
Based in the city currently known as Seattle, we acknowledge that we are located on the ancestral lands and territories of the Coast Salish people, including the Duwamish Tribe (Dkhw Duw'Absh), who are still present among us and leading much of the important cultural and societal work in the region.
In recognition of the role of the arts as a vehicle for social change, we are committed to undoing systems of oppression in our work and lives. We are working everyday to learn and dismantle racist, sexist, and inequitable systems in our lives and organization.
About Northwest Film Forum:
Since its founding in 1995, Northwest Film Forum has evolved from a filmmaker's collective focused on supporting niche local productions into a robust multimedia hub, film center, and community space. We now present nearly 500 films and events annually. At our core are major film festivals such as Children's Film Festival Seattle, which reaches over 10,000 people a year on-site and through its touring program, as well as Local Sightings Film Festival, which highlights Pacific Northwest artists and filmmakers. Our robust calendar of educational workshops served 263 youth and 900 adults in 2018, both incubating new filmmakers and supporting established ones.
Three years ago, NWFF urgently and intentionally shifted our mission to reflect the organization's changing direction. Our previous mission to "…discover and champion the work of visionary filmmakers and, engage the public and artists alike in deeper exploration of the art of film," has been revisioned to encompass a larger definition of community. NWFF now promotes film as a mechanism for open dialogue and collective action; we pride ourselves on curating shared, experientially-rich events. We actively push for structural change within an industry that has long fallen short of providing meaningful opportunities and access for artists of color, women, and LGBTQ communities, and as an organization, our fluid ability to adapt quickly has allowed us to become a local leader that takes meaningful risks on film and event programming, as well as sets and seeks to achieve gender parity and racial equity throughout our organization.
MAKE FILMS / MAKE FRIENDS / MAKE CHANGE
---