---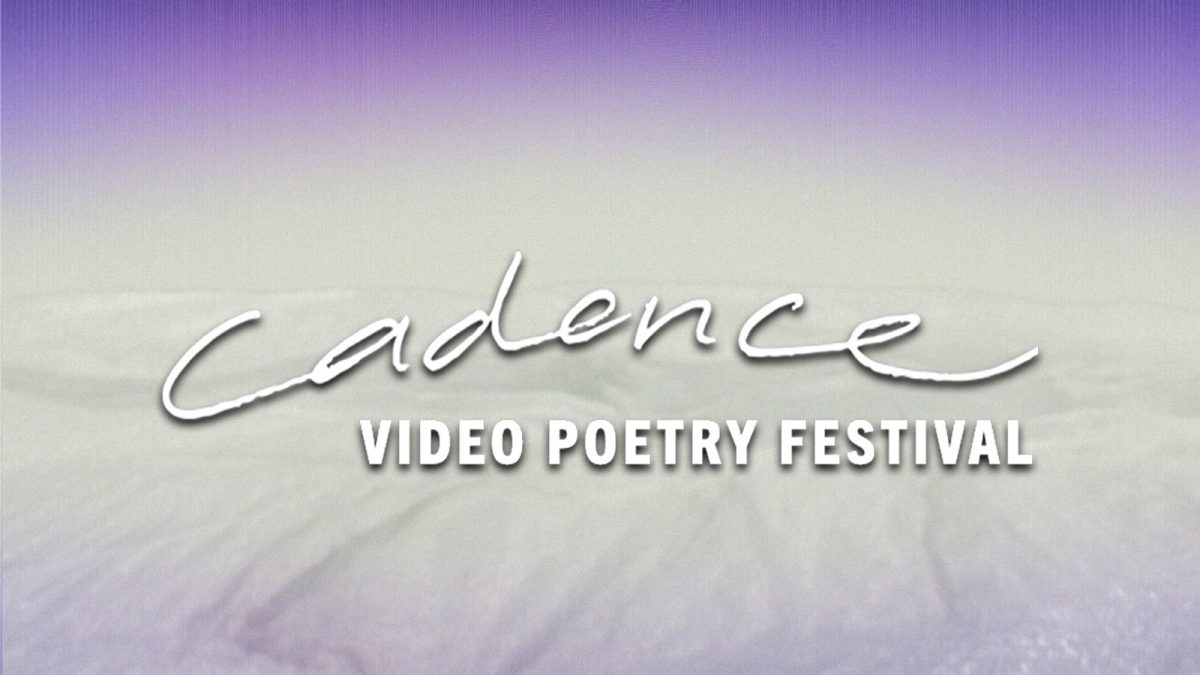 Presenting the Award Winners of Cadence Video Poetry Festival 2023!
May 15, 2023
Northwest Film Forum (NWFF)'s 6th Cadence Video Poetry Festival (April 27 – May 7, 2023) has announced five award-winners from among the 50+ artist teams that were selected this year. The annual festival presents screenings, workshops, and discussions on video poetry, and remains the only festival dedicated to the genre in the Pacific Northwest. It is curated by Seattle author Chelsea Werner-Jatzke and intermedia artist Rana San.
Cadence jurors: Matt Mullins (Adaptation/Ekphrasis Award), Ching-In Chen (Collaboration Award), Dr. Natalia Di Pietrantonio (Poetry by Video Artists Award), Lisa Marr (Video by Poets Award), and Chelsea Werner-Jatzke (Wild Card Award).
Each of the five award-winning artist teams receive a package of poetry and art books from Cadence collaborators.
AWARD RECIPIENTS
ADAPTATION/EKPHRASIS AWARD: BECAUSE YOU SPEAK OF FUR (directors: Patricia Delso Lucas & Johanna Wagner, poet: Georg Leß)
COLLABORATION AWARD: Transcendence (director: Jamil Suleman, poet: Mei'lani Eyre) 
POETRY BY VIDEO ARTISTS AWARD: moto baby (director/poet: Awa-Moon)
VIDEO BY POETS AWARD: My Home Is (⠍⠽⠀⠓⠕⠍⠑⠀⠊⠎) (director/poet: Ariana Simpson)
WILD CARD AWARD: You cannot remember your mother's voice (director/poet: Lin Li)
ABOUT THE AWARD CATEGORIES
Adaptation/Ekphrasis: Videos created to bring new meaning and dimension to pre-existing poetry. Any poems used for this purpose must be in the public domain or else used with written consent of the author.
Collaboration: Video poems created in collaboration between a video artist and writer.
Poetry by Video Artists: Video artists using text visually or through audio intrinsic to the poetic meaning.
Video by Poets: Poets creating video from, or as, their writing.
Wild Card: Video work that's poetically informed or poetry that's visually informed that doesn't neatly fit into one of the other categories.

BECAUSE YOU SPEAK OF FUR
Receives the ADAPTATION/EKPHRASIS AWARD
(directors: Patricia Delso Lucas & Johanna Wagner, poet: Georg Leß, Belgium, 2022, 3 min, in English with no subtitles or captions)
Plays in The great entanglement
"I kept trying to convince myself I didn't like this videopoem, telling myself things like, "It doesn't incorporate the source poem fully enough," "It's too coy," "It's trying too hard to be experimental." I tried to dig in my heels, but this kept pulling me off my feet. I kept coming back to it. Its brevity. Its frictions. The musicality of its dissonance. And it gradually dawned on me: its scattered, repetitious language and sparse incorporation of the source poem is surreal and evocative. Its seeming coyness is actually a kind of surreal charm. Its experimental nature creates space for us to think into what it's trying to say. It reminded me to not to dismiss things at first glance. To dig deeper. To question my assumptions about what is compelling videopoetry and compelling visual art." – Matt Mullins

Transcendance
Receives the COLLABORATION AWARD
(director: Jamil Suleman, poet: Mei'lani Eyre, US, 2022, 2 min, in English with no subtitles or captions)
Plays in A tune to contain all your revolt
"Transcendence is a beautiful, layered film honoring the threads of lineage, power and joy. I felt inspired watching it!" – Ching-In Chen

moto baby
Receives the POETRY BY VIDEO ARTISTS AWARD
(director/poet: Awa-Moon, US, 2023, 4 min, in English with English subtitles)
Plays in A tune to contain all your revolt
"This one was my favorite. The clicks of the camera were distracting. However, the rest was brilliant. Good structure and writing." – Natalia Di Pietrantonio
"With a layered visual terrain as vast as the emotions it invokes, moto baby awakens the spirit and stirs up a wide-eyed longing for the open road. Awa-Moon's poetry follows the uncharted path that leads back to oneself, to the fullest embodiment of one's true nature." – Rana San

My Home Is (⠍⠽⠀⠓⠕⠍⠑⠀⠊⠎)
Receives the VIDEO BY POETS AWARD
(director/poet: Ariana Simpson, 2023, 4 min, in English with hardcoded English text and Braille)
Plays in The edge of here
"Words rolling languid off the tongue; images pixelicious and crystal clear; line dancing in a lightning storm. The invitation to read meaning and memory through tactile connection got me from the get-go. I love this film." – Lisa Marr

You cannot remember your mother's voice
Receives the WILD CARD AWARD
(director/poet: Lin Li, United Kingdom, 2020, 4 min, in English with English subtitles)
Plays in Melting memories
"Elegant in its simplicity and moving in its honesty, "You Cannot Remember Your Mother's Voice" visualizes lineage through a craft passed down from mother to daughter. As a photo of the artist's mother is folded into shapes that bring new meaning to the text, the image becomes covered in creases symbolizing the aging parent, the mother as malleable, and the wrinkles of our memories. This piece uses an ancestral material process to elevate both text and image." – Chelsea Werner-Jatzke
---