---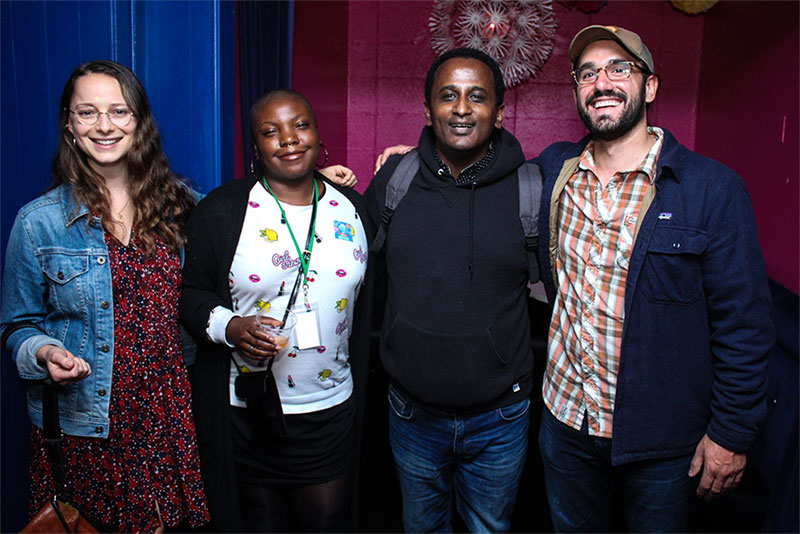 Reshaping Education in 2019
December 20, 2018
To reflect the successes we've found in our film and event programming, Northwest Film Forum will be restructuring our Education & Artist Services in 2019, to actively incorporate community members throughout our programmatic process.
We are currently welcoming new proposals from teaching artists, industry professionals, community organizations, and students, as we revision and reshape our youth and adult workshop offerings.
Photo credit: Local Sightings 2018 with CHIMAERA (second from left). Photography by Mujale Chisebuka
---
An Outgoing Message from Outgoing Education & Artist Services Manager, CHIMAERA
Hello NWFF community,
I am reaching out to let you know that my contract with Northwest Film Forum has come to a close and I will be moving on from my role as Education and Artist Services Manager. I've appreciated working with such passionate talented media makers and arts advocates and hope to continue creating magic with you all in other exciting capacities.
As new works continue to emerge from underrepresented voices in film and media, I look forward to deepening my connection with this work through transformative collaborations focused on affirming complex narratives from marginalized creatives such as some of the works shared at Local Sightings this year that I am especially proud of.
Thank you for embracing my ideas and making space to try new ways of supporting the creative goals of filmmakers.
Feel free to stay in touch with me via chimaera@groundswellartscollective.com and follow where this trajectory leads me at www.groundswellartscollective.com.
Hope to see you around!
* For questions about workshops, registration, gear, and the edit lab, contact Jonah from our Education Department at jonah@nwfilmforum.org.*
---
JOIN NWFF IN BUILDING A FORUM FOR ALL!
As a member-based nonprofit, Northwest Film Forum takes great pride in sustaining the local artistic community through hundreds of dynamic films, festivals, community events, multidisciplinary performances, and public discussions every year.
Your participation helps us champion independent artists and make our spaces accessible for communities of all kinds. If you value the work that we do, please make a contribution today.
---