---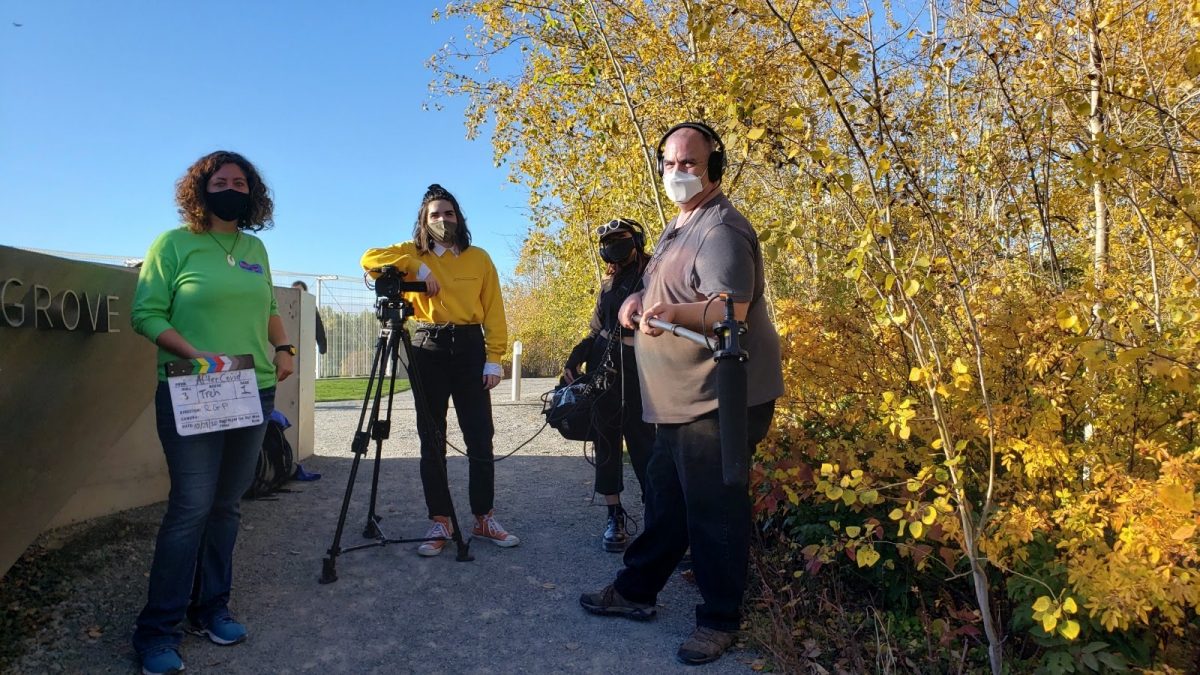 Announcing A NEW NAME & RENEWED FOCUS FOR RG PRO! Reel Grrls Pro is Now Remove the Gap Productions 🌟 Support NWFF's Renewed Film Apprenticeship Program for #GivingTuesday
November 24, 2020
Since the shuttering of Reel Grrls in 2019, NWFF has been honored to carry on their legacy as the new stewards of Reel Grrls Productions (RG Pro) — a full-scale production company that includes an apprenticeship program for emerging filmmakers. Reel Grrls had a profound impact on local film for 19 years, shaping generations of creators while making the industry more accessible and hospitable, particularly for those identifying as women or nonbinary.
Today, RG Pro moves to officially become REMOVE THE GAP PRODUCTIONS, so that our organization can better address the industry's changing concerns. Long-time supporters can rest assured that we will continue to support and uplift the careers of girls, women, nonbinary, femme, trans, and gender-nonconforming filmmakers — just as we always have — but also widen our intersectional scope to incorporate race, sexual orientation, and disability as a part of our work.
—
"In a year where opportunities and job prospects have been changing rapidly, [RG Pro] has provided a stable foundation for me to continue learning and progressing in film. Collaborating with a team to produce arts and educational content for students around the state has been a really fulfilling experience." – Caroline Beston, RG Pro Apprentice
—
BELOW: Statistics from USC Annenberg's Inclusion Initiative and the Annenberg Foundation around industry "gap" statistics.
Northwest Film Forum and Remove the Gap Productions will continue to strengthen the local workforce pipeline, with a multi-tier approach that focuses on:
PAY-WHAT-YOU-CAN TRAININGS & EDUCATION
Our popular Production Intensives workshop series returns in January 2021, giving students a well-rounded view on the fundamentals of film. The modified virtual curriculum includes a deeper focus on pre-production, livestreaming, and post-production, and eligible participants who complete the entire series then have the opportunity to become an RG Pro apprentice. All workshops will move to a completely sliding-scale, pay-what-you-can model of $0-$80 per workshop, to better serve our community in these economically-strained times.
APPRENTICESHIPS & REAL-LIFE JOB EXPERIENCE
Throughout the pandemic, RG Pro has continued to provide jobs for working professionals and mentors, paid opportunities for apprentices, and production services for the community. From virtual art lessons in conjunction with the Office of Arts and Culture, NFFTY, and the Creative Advantage Online Arts to our recent youth-focused work on the "State of Innovation," all of our work is shot on COVID-19-compliant sets and comprised with a crew of RG Pro mentors and apprentices.
"[RG Pro] was a great path to gain more experience as well as develop relationships, network with like-minded individuals and connect with industry mentors. It's been really great being able to work, especially during the pandemic and have opportunities come up that I wouldn't have expected before joining the team." – Vivian Chuang, RG Pro Apprentice
—
The time is NOW — to not just talk about an inclusive creative economy, but to actively take bold and proactive steps towards making one.
If you believe that the Northwest Film Forum and RG Pro are vital players in creating a more equitable film industry, please make a donation today.
///
VIEW PRODUCTION INTENSIVES WORKSHOPS
///
Changing the world one film at a time,
Jonah Kozlowski – Education Manager
Laura Jean Cronin – RG Pro Lead
Vivian Hua 華婷婷 – Executive Director
RG Pro mentors and apprentices worked together on the "State of Innovation" project, which engaged Washington youth in high-quality, virtual, project-based, career connected learning focused on real challenges being confronted by Washington State. This clip was designed to help the state imagine how we could redesign our buildings, public spaces, homes, and/or communities to allow for both social distancing and community connections. View our portfolio on Vimeo.
---