---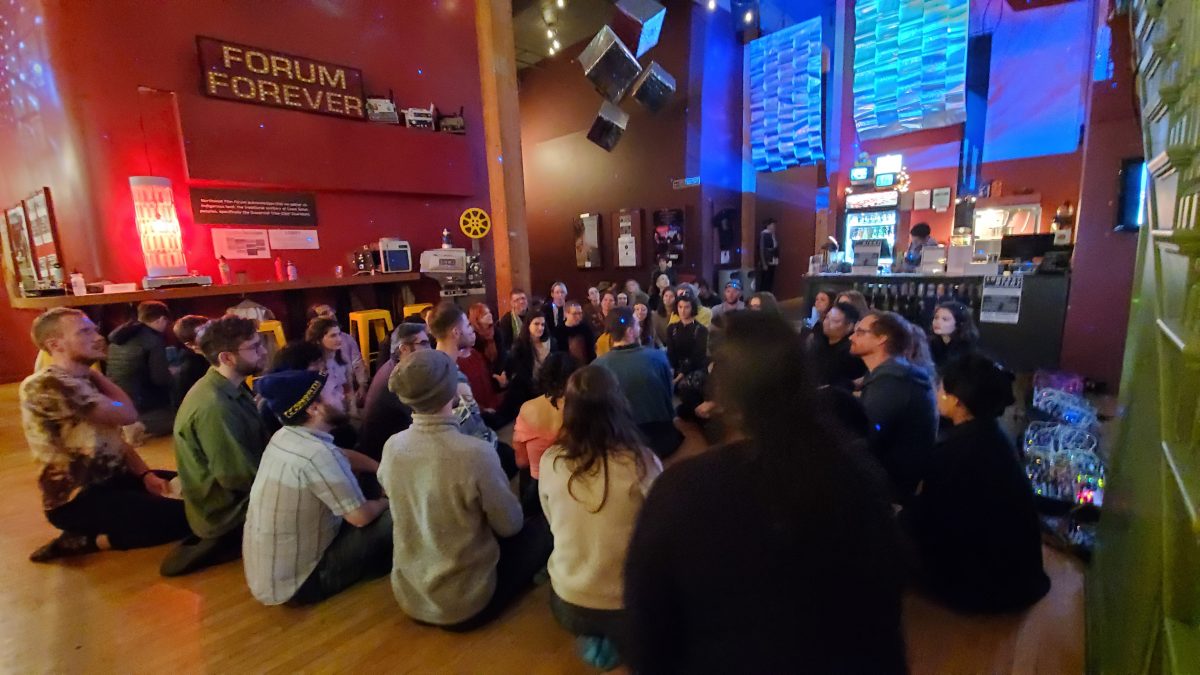 From "Safe Space" to "Safe House" 💞 A Letter from NWFF's Executive Director
November 16, 2020
Dearest Forum Friend,
As we enter the end of this historic year, focusing on the negative is altogether too easy. Allow me to shift the focus onto something positive for just a moment.
2020 is a year that has exposed structures of systemic inequality while simultaneously illuminating pathways forward,  towards authentic change. Turbulent social and personal transformations have galvanized a broad constituency of allies and alliances to work together in ways never seen before. Chaos has created space for moments of pause, during which we are reminded of the human interactions and spiritual safe havens that add so much value to our lives.
I think often of Northwest Film Forum's lobby — that great, cavernous space with an ebb and flow that welcomes thousands of people every year, spanning myriad races, genders, sexual orientations, abilities, and ages; a place where unexpected magic blossoms.Over the past fifteen years, filmmaker and activist Tracy Rector has collaborated with NWFF on co-presenting Indigenous Showcase, a powerful film series that champions emerging talent from Native and Indigenous communities. Ahead of its time, the series and Tracy's curatorial perspective resonate with the multi-faceted work of the Forum, especially in times like the present. As she recalls:
"Oftentimes, I would say that gathering together is an act of revolution or resistance. I firmly believed in building community in that shared space together as an opportunity to have dialogue, [but also to] create networks and foster bonds in a way that I would say went deeper." – TRACY RECTOR, LONGHOUSE MEDIA
Today, the Forum continues to show up for our networks not just with our words, but through our actions. In spite of COVID-19 and the closure of our physical space, we have continued to offer dynamic virtual screenings, film festivals, and educational programs — most of which have prioritized sliding scale, pay-what-you-can pricing due to this period of economic uncertainty. Our "safe space" has also become a "safe house" for many throughout the Black Lives Matter uprising; we have served as a sanctuary from violence, mutual aid hub for those impacted by the pandemic, and reliable support system for grassroots journalists in need of resources.
We have expanded our artist services programs as well. This summer, we launched our inaugural Lynn Shelton Of a Certain Age Grant — a $25,000 unrestricted cash grant for a woman or nonbinary filmmaker over the age of 39. In honor of the late, great Lynn Shelton, and in collaboration with Duplass Brothers Productions, the grant was awarded in its first to visionary Caribbean-American filmmaker Keisha Rae Witherspoon, who will be using the funds towards Untitled Opa-locka Project, a post-alien-abduction Black sci-fi drama.
NWFF is also one of the newest additions to the Andy Warhol Foundation for the Visual Arts' Regional Regranting Program, joining 31 other boundary-pushing arts organizations across the U.S. and Puerto Rico. With the launch of our Collective Power Fund, we have the great honor of distributing over $130,000 in financial assistance to artists throughout unincorporated and incorporated King County, by way of COVID-19 emergency relief and project-based grants.
Your support will ensure that NWFF — as one of few art house cinemas nationwide with people of color in key leadership positions — can continue to help lead the conversation around equity in arts spaces, while prioritizing mutual aid and support for the people of our region. All of the work that we do is in service to our unwavering belief that Seattle is a vital cultural and creative hub, and that arts organizations and artists must THRIVE, even in the face of great challenges.
In collaborative spirit,
Vivian Hua 華婷婷
Executive Director
vivian@nwfilmforum.org
---