Champs-Elysées Film Festival US Tour | Seattle Edition 2020 [Online]
Screening online
Dec. 12–13, 2020
Individual Tickets and Short Film Packs available!
Features (Single Ticket):
$10 General Admission
$7 AF Seattle + NWFF Members
Shorts (Single Ticket):
$8 General Admission
$5 AF Seattle + NWFF Members
Shorts (3-pack):
$21 General Admission
$12 AF Seattle + NWFF Members
** Pre-recorded Q&As associated with screenings will be included in the event playlist. **
About
** Co-presented with Alliance Française de Seattle and Northwest Film Forum **
The Alliance Française de Seattle is delighted to virtually host the Seattle edition of the Champs-Elysées Film Festival's US Tour for the first time in 2020, by showcasing a program of short and feature films between December 12–13, 2020.
Organized since 2017, the US Tour of Champs-Elysées Film Festival brings to an American audience a rich variety of French short and feature independent films. The festival aims to showcase emerging talents and new voices in French independent cinema, acting as a bridge for cultural exchange between the two countries.
The US Tour will take place virtually with support from Justine Lévêque, Artistic Director of the festival, and will feature several pre-recorded Q&As with directors.
---
AVAILABLE STARTING SATURDAY, DEC. 12 at 12:01AM PST:
** This program includes a pre-recorded Q&A with director Alexandra Pianelli! **
(Alexandra Pianelli, France, 2020, 78 min, in French with English subtitles)
Alexandra films her visual diary as she helps her mother tend to her newspaper kiosk in a chic neighborhood of Paris. Behind the cash register, she records the world as it goes by, playing both the director and the salesperson, as if in an old childhood dream… But print media in crisis. It is not just a game.
This program of three short films—two narratives and one documentary—explores ideas of gender, identity, and the pursuit of personal freedom.
In this program:
Beauty Boys
(Florent Gouëlou, France, 2020, 18 min, in French w/ English subtitles)
At seventeen, living in a small village, Léo and his friends love wearing makeup. At the village open stage event, against his brother's advice, Léo decides to take the stage as a drag queen.
Cut the Chit Chat (On Fait Salon)
(Léa Forest, France, 2019, 25 min, French w/ English subtitles)
In a small hairdressing salon, eight boys are getting their hair cut. They are between 12 and 18 years old. Their backgrounds, their origins and their social backgrounds diverge. As the skilled hands of hairdressers bustle over their heads, they describe their relationship to the world.
Miss Chazelles
(Thomas Vernay, France, 2019, 22 min, French w/ English subtitles)
Clara and Marie are rivals. Clara is first runner-up, while Marie won the famous Miss Chazelles-sur-Lyon prize. As tension mounts between Clara's friends and Marie's family in the village, the two girls navigate an ambiguous relationship.
Night brings illusions and dreams to life. This program of short films takes us beyond our scope of reality, and into another.
In this program:
Tar (Blaké)
(Vincent Fontano, France, 2019, 23 min, in Reunionese Creole w/ English subtitles)
Two security guards in an underground parking lot keep watch over nice cars. The parking lot is empty, and the night is likely to be long. They discuss their philosophies, their wounds, their dreams. Vincent is convinced that he is having a great love affair with the woman he walks to her car every evening. But fantasy doesn't come with impunity, especially in an empty parking lot, where dream and reality collide.
Genius Loci
(Adrien Merigeau, France, 2020, 16 min, in French w/ English subtitles)
One night, Reine, a solitary young person, sees in the urban chaos a living and brilliant movement, a sort of guide.
So What if the Goats Die (Qu'importe si les bêtes meurent)
(Sofia Alaoui, France & Morocco, 2019, 24 min, in Berber w/ English subtitles)
In the high Atlas Mountains, Abdellah, a young shepherd, and his father, are stranded. With their animals dying, Abdellah has to stock up on food in a trading village more than a day's walk away. With his mule, he arrives at the village and discovers that it is deserted because of a curious event which has upset all believers.
AVAILABLE STARTING SUNDAY, DEC. 13 at 12:01AM PST:
(Océan, France, 2019, 111 min, in French with English subtitles)
Océan is the name this transgender actor and director chose to adopt. In this breakthrough documentary on trans identity in France, Océan traces a year of their life, from testosterone tests to court approvals. Océan captures the intimate, filming discussions with family, friends, lovers, and doctors, and offering a new, needed perspective on the internal upheavals of such a life change.
Friends, lovers, lifelong partners. Three films explore the complex relationships that can exist between two people.
In this program:
Life's a Bitch (Chienne de vie)
(Jules Carrin, France & Switzerland, 2019, 20 min, in French w/ English subtitles)
In a forgotten countryside of France, two teenagers spend their time drinking beers. Lamiche, ten years older, tortures Yannick and leads him into a multitude of bad moves. Their friendship falls apart and Lamiche finds himself alone, on the fringes of the world.
Shiver of Love (Frisson d'amour)
(Maxence Stamatiadis, France, 2019, 20 min, in French w/ English subtitles)
Neon sneakers and platinum hair, Suzanne is haunted by the disappearance of her husband Édouard. She talks to him, his photos invading the apartment. Something slips in between her and the ghost…
Sukar
(Ilias El Faris, France, 2019, 10 min, in French w/ English subtitles)
On the beach of Casablanca, two teenagers keep their desire discreet. Children and adults alike are watching, but a fight distracts their attention.
---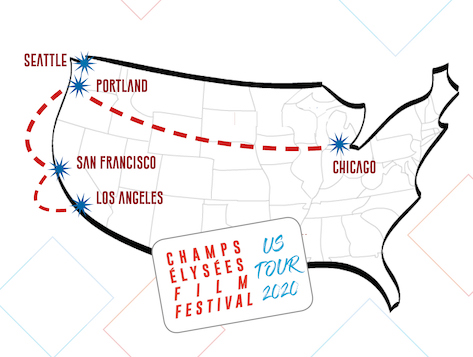 ---

About Champs-Elysées Film Festival
Organized by the Champs-Élysées Film Festival association and chaired by Sophie Dulac, Champs-Élysées Film Festival is the first and only festival in Paris dedicated to French and American films. Its main ambition is to create a bridge between French and American cinema.

About Alliance Francaise Seattle
AFSeattle is a 501(c)(3) educational and cultural non-profit organization registered in the state of Washington. It is a member of an 800+ network of Alliances Françaises around the world aiming to promote French language and Francophone cultures towards a variety of programs.
---
---