Longest Night: Solstice Ceremony 2021
Tue Dec 21, 2021
6:30pm – 11:59pm PST
(5:30pm Doors)
PRICING
Sliding-scale, pay-what-you-can; no one turned away for lack of funds.
• $11 • $22 • $33 • $99 • $333 • $1111 •
⚠️ Public safety notice ⚠️
NWFF patrons will be required to wear face coverings while in the building. To be admitted, patrons ages 12+ will also be required to present EITHER proof of COVID-19 vaccination OR a negative result from a COVID-19 test administered within the last 48 hours by an official testing facility.
NWFF is adapting to evolving recommendations to protect the public from COVID-19. Read more about their policies regarding cleaning, masks, and capacity limitations here.
About
Enter a waking dream as Northwest Film Forum's space is transformed in celebration of the longest night of 2021. Full of music performances, guided movement, wellness activities, participatory rituals, and countless inventions culled from subconscious states, LONGEST NIGHT is a communally-minded, staff-invented, season-inspired Solstice party that brings light to the liminal space of the year's darkest day.
This is a going-away party for NWFF Executive Director Vivian Hua, who departs the organization the end of January 2022! It is serves as a collective year-end birthday party for Sagittarius and Capricorn folx! If you would like to participate in the festivities and have a birthday this season, please e-mail vivian@nwfilmforum.org to see how you can get involved.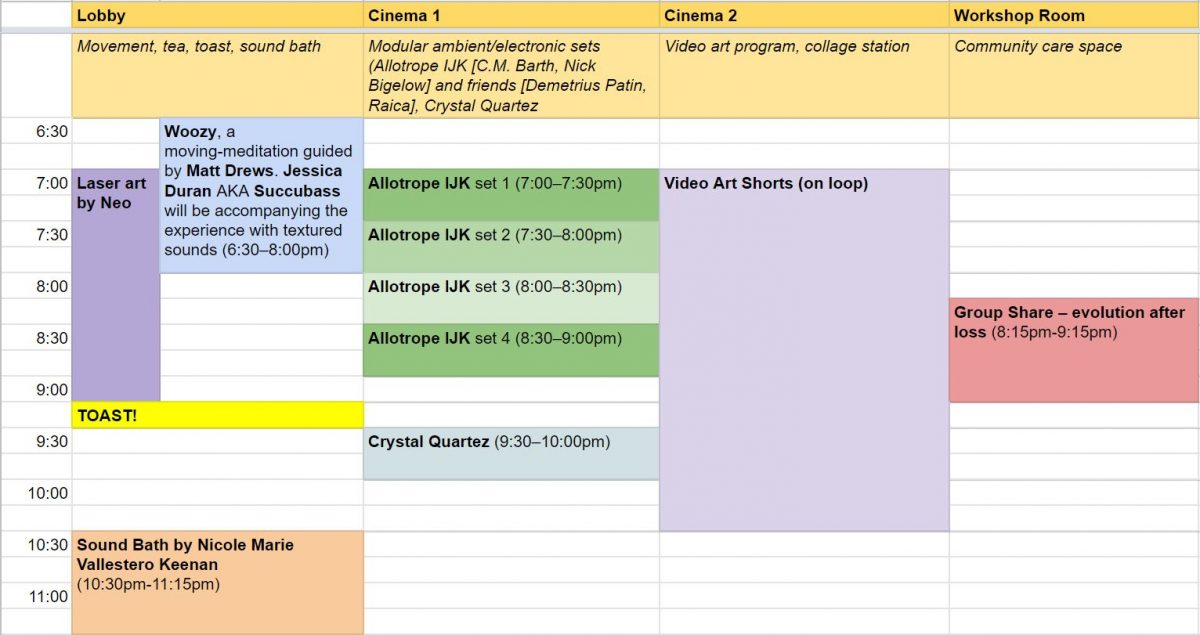 ---
Lobby: Communal Experiences
Opening Event: Woozy w/ Matt Drews
Woozy is a moving meditation that disrupts and reorders isolation. It's designed for all bodies to separate from stagnation and move into spacious embodiment. Through the raw freedom of our bodies moving we reach towards ecstatic states. We aim for the liminal, a dreamy seam of trance that awakens the flesh and unwinds the mind. You'll be guided through a series of poetic cues and become a conduit for many textures, images, states, and rhythms. Get wooz'd out, fade into wholeness, and ride a lucid groove towards healing and connection.
Textured Sounds by Succubass (soundcloud.com/succubass)
Photo by Stefano Altamura (instagram.com/salt.photo)

Guided by Matt Drews
Matt Drews is a Seattle-based artist who harnesses yoga + dance as rituals toward communal immersion. His creative roles oscillate as connector, producer, teacher, and performer. He also works individually with clients through an integrative healing approach weaving massage, breathwork, and Reiki.

Laser art by Neo
From 7–9pm, Neo will be designing a dreamy laser experience on the fly in our lobby. Live, full color laser graphics – set to a curated ambient mix from Katrina and Paul – will whisk us away to a plane between realities. Whether you want to zone out or zone in, Neo can take you there.
BIO: Katrina (Neo) Marro has been performing laser shows at Pacific Science Center's Laser Dome since March 2019 with the aim of bringing the same light and joy to others as was brought to her. A recent Film Studies graduate from Seattle University, she'll now be turning her focus to freelance, tours, and beyond!
Nicole Marie Vallestero Keenan is a sound healer, intuitive coach, seer and musician who comes from a lineage of Filipino and Irish seers, healers and musicians. Her work connects to the heart of the matter through music, conversation and meditation to bring you from where you are to an entirely new place. Informed by her own journey to recover from burn-out from working in the nonprofit sector, she shares practices that helped her find moments of connection, belonging, a sense of groundedness and peace in the storm. At the end of the longest night, 12/21/21, Nicole will hold a sound bath and ceremony to ground us in our hearts, give gratitude to the earth, and step into the next cycle as the seasons shift from fall to winter. For more info please visit tala.earth.
---
Workshop Room: Community Care Space
Community gathering to express loss, longing, and – hopefully – find some collective relief.
This year saw the continuation of a global pandemic with no immediate signs of relief, tragedies that compete for media attention, resources and on-going activism, the loss of so many, and the list of misery goes on. How will we adapt to this different arrangement of physical and spiritual being? What might we shed of our old skin to regenerate into an evolved version of ourselves who can wield the experiences and learnings of our former selves/lives to face the future? In this collective space, we'll share what has brought us grief this year and how we are coping to recalibrate the function of living.
Participants should sign up in advance. RSVP HERE.

Facilitated by Jess Kim
Jess Kim is a queer 2nd-gen Korean femme who facilitates conversations around racial equity within their work at the Seattle Dept. of Transportation and the bicycling community at large. Jess grounds their work in grassroots organizing to cultivate spaces where people of the global majority are invited to bring their full selves to the table. Having grown up in-between cultures amidst the cycle of enlightening self-discovery and pains of acculturation, their personal journey has been one of loss and longing to find their place in the world. They will be facilitating a circle process in which all participants are encouraged to share their truths in solidarity with our collective struggle through what has been a tremendous year.
---
Cinema 1: Music Performances
Crystal Cortez is a sound & installation artist based out of Portland Oregon. She is also a professor of Creative Coding & Sonic arts at Portland Community College. As someone who never saw herself represented in computer music or creative tech her work focuses on the empowerment of underserved populations gaining access and knowledge around technology. In 2019 she co founded whateverSpace, a maker space offering free and sliding scale workshops and technology rentals with priority going to the BIPOC community. Under her performance moniker Crystal Quartez she transforms field recordings, uses synthesis, audio programming, data sonification, and 3D sound spatialization to produce complex sonic realms. Her practice has recently involved the development of interactive sculptural interfaces and wearable technology that monitor movement and other corporeal methods to liberate the performer from their interfaces.

allotrope ijk
allotrope ijk is a multimedia art collective based out of Seattle, WA. It was formed in 2019 to create live video performance tools for audio visual experiences. The collective has actively worked to film and document eurorack performances in the Seattle area for the last two years.
For Longest Night 2021, allotrope ijk will perform in a special quadraphonic mix in collaboration with fellow modular artists Demetrius Patin and Raica in Cinema 1.

Demetrius Patin
Artist statement:
I make music with the intent of turning sound into an emotional experience.
---
Dreamy visual distortions by local experimenters on a 30 min loop.
** Co-presented with South Sound Experimental Film Festival. The inaugural SSEFF program is viewable through NWFF from Dec. 17–20! **

Afloat
(Oliver Vy Le Nguyen, the traditional lands of Cahuilla, Duwamish, Nisqually, Puyallup & Squaxin peoples, 2018, 5:19 min)
A viet kieu's visceral dreamscape weaving in between realms of memory and inner dialogue surrounding his mother, Vietnamese upbringing, and belonging.

Into the Depths
(Inga Markstrom, Olympia, WA, 2021, 6:10 min)
The sea fairies have been summoned by an unknown force to visit and protect mother ocean from future harm but how will they prevent the humans from destroying their own planet?

Faces, Displays and Other Imaginary Things
(Woodrow Hunt, Portland, OR, 2020, 9:52 min)
An evocative exploration of Indigenous labor in Oregon through maps, physical landscapes, and recovered archival material.

Proteus Vox Human
(Vivian Hua 華婷婷, Rana San, Seattle, WA, 2021, 8:20 min)
Corporeal guide to connecting with one's future self, with music by Paul Siple.
---