Sister Spit 2020 Tour
This event took place on Mar 8, 2020
$13 General Admission
$10 Student/Senior/Veteran
$7 Member
About
Sister Spit began in San Francisco in the 1990s as a weekly, girls-only open mic that was an alternative to the misogyny-soaked poetry open mics popular around the city (and the nation) at that time. Inspired by two-bit punk bands who managed to go on the road without hardly knowing how to play their instruments, Sister Spit became the first all-girl poetry roadshow at the end of the 90s, and toured regularly with such folks as Eileen Myles, Marci Blackman, Beth Lisick and Nomy Lamm.
The tour was revived as Sister Spit: The Next Generation in 2007, and has toured the United States annually since, with authors and performers such as Chinaka Hodge, Dorothy Allison, Lenelle Moise and Justin Vivian Bond. In this next incarnation, out of respect to the changing gender landscape of our queer and literary communities, Sister Spit welcomes artists of all genders, so long as they mesh with the tour's historic vibe of feminism, queerness, humor and provocation.​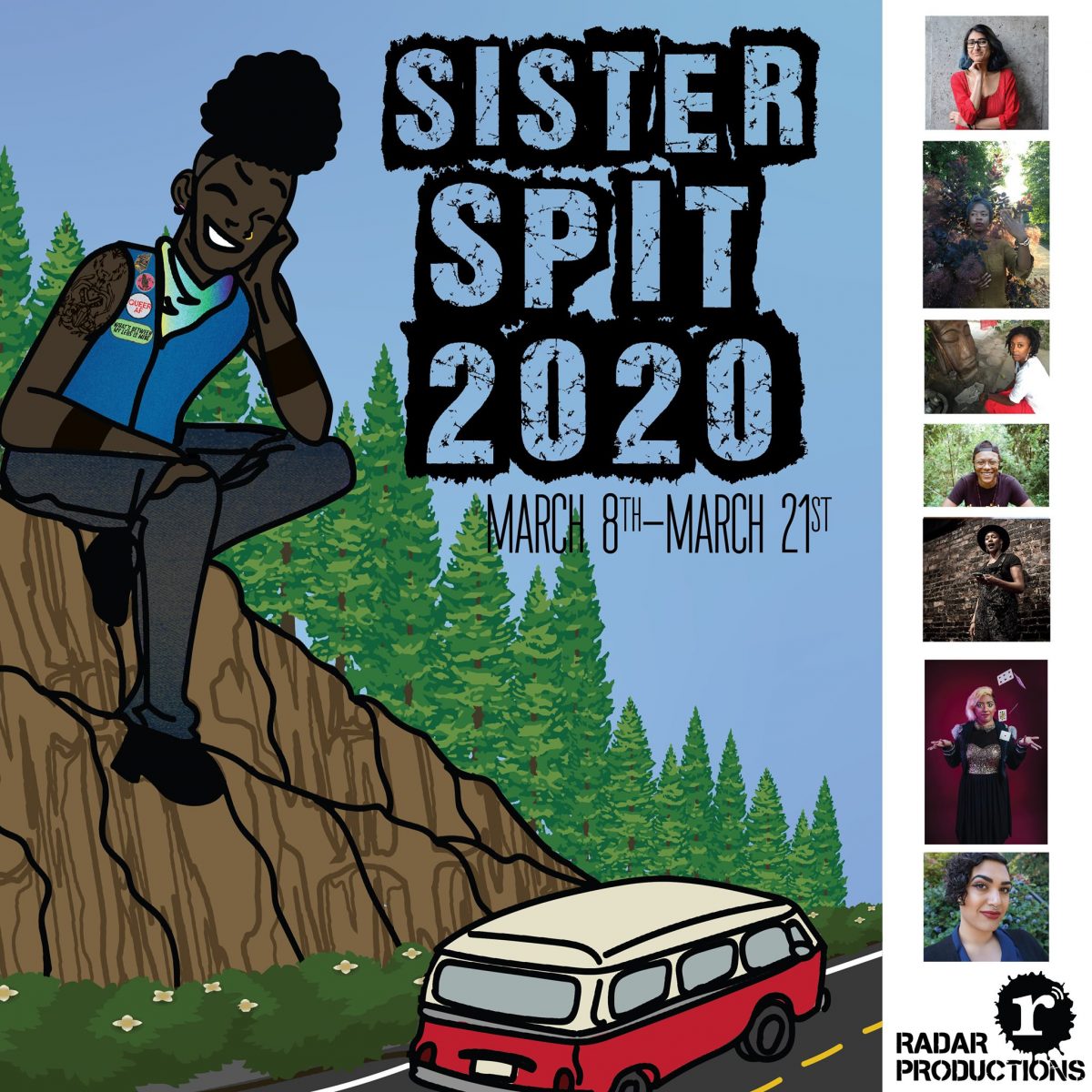 ---

Ananya Garg
Ananya Garg is a young queer Indian poet and spoken word performance artist. She is slowly learning to heal and shine. She sees her QTPOC arts community as a central force in her healing process and hopes her words can be a part of your healing. She attended the the University of Washington where she studied Gender, Women, Sexuality Studies & Comparative History of Ideas, with minors in Anthropology & Diversity. ​ You can find her working as an Educator with the Washington Building Leaders of Change Seattle Freedom Schools at Rainier Beach High School. She is also a poet/performance/teaching artist in the Seattle area.

Creatrix Tiara
Creatrix Tiara works with creative arts & media, technology, games, community cultural development, and education to explore ideas around community, identity, liminality, belonging, and social justice. Tiara is very interested in exploring the ways that various mediums can be used to convey and support experiences of transience and flux while also building empathy and understanding for experiences and stories outside one's own. In 2018 Creatrix Tiara wrote, produced, and performed in their first full-length theatre show, Queer Lady Magician, exploring stage magic through a queer, feminist, decolonial lens. Tiara also performs and produces for LGBTQIA+ disability arts collective Quippings, was a Dandy Minion and Burlesque Dancer in the 2017 Melbourne Festival production of Taylor Mac's 24 Decade History of Popular Music, produced and performed for San Francisco South Asian women's theatre program Yoni Ki Baat, and has made work across US, Australia, and elsewhere.

Dena Rod
Dena Rod is a writer, editor, and poet based in the Bay Area. A graduate of San Francisco State University, they have an M.A. in English Literature. They run the RADAR Productions weblog and are the Assistant Creative Nonfiction Editor at Homology Lit, and the former Managing Editor of Argot Literary Magazine, a queer non-profit with a mission to highlight and sponsor LGBQTIAA+ perspectives and art across the globe. They were selected for RADAR Productions' Show Us Your Spines Residency, Kearny Street Workshop's Interdisciplinary Writer's Lab, and Winter Tangerine's Summer Writer's Workshop. Through creative nonfiction essays and poetry, Dena aims to illuminate their diasporic experiences of Iranian American heritage and queer identity, combating negative stereotypes of their intersections in the media.

Imani Sims
Imani Sims is an alchemist and author.  She believes in the power of community ritual and performance art, in public space, to shift social narratives around the magic of blackness, queerness, and femme identity. Over the past two decades Imani has collaborated with community organizations and independent artists to deliver arts programming all over the nation. Her heart soul love work is elevating the voices of QTPOC folk in public and virtual space.  Sims' book (A)live Heart is available on Sibling Rivalry Press.

Junauda Petrus
Junauda Petrus is a writer, pleasure activist, filmmaker, runaway witch, cosmic bag lady and performance artist of Black-Caribbean descent, born on Dakota land. She creates performance and written work centering in wildness, queerness, Black-diasporic-futurism, ancestral healing, sweetness, shimmer and liberation. She is the co-founder with Erin Sharkey of Free Black Dirt, an experimental arts production company. She is currently writing and directing, "Sweetness of Wild" a poetic-episodic film series themed around Blackness, queerness, biking, resistance, love and coming of age in Minneapolis. Her first young adult novel, The Stars and The Blackness Between Them, debuts September 2019 on Dutton Children's. It's about queer, Black diasporic love, mass incarceration, astrology, ancestral magic, Whitney Houston, and trusting the sacredness of your existence despite oppression and heartbreak. She lives in Minneapolis with her wife and magically aquarian, bonus-daughter.

librecht baker
librecht baker is the author of vetiver (Finishing Line Press), an English Professor, and a Sundress Publications' Assistant Editor. She was part of The Vagrancy's 2018-2019 Playwrights' Group and Eastside Queer Stories Festival 2019 and 2017. baker has attended Ragdale, VONA/Voices, and Lambda Literary Writer's Retreat. she has a MFA from Goddard College. Her poetry appears in Solace: Writing Refuge, & LGBTQ Women of Color, Bone Bouquet (Issue 8.1), Sinister Wisdom 107, and other publications. Baker's play, "Lineage Undone," was awarded Top Performance in the "Top Papers and Performances in Performance Studies" category at Western States Communication Association's 89th Convention.

Mia S. Willis
Mia S. Willis is a Black performance poet from Charlotte, North Carolina. Their work has been featured by or is forthcoming in FreezeRay, Curating Alexandria, WORDPEACE, Peculiar, Foothill, Button Poetry, and Slamfind. Mia's poem "hecatomb." was nominated for a 2018 Pushcart Prize and for inclusion in Best New Poets 2018. They ranked fourth out of 96 femme poets at the 2018 Women of the World Poetry Slam, placed fifth out of 150 poets at the 2018 Southern Fried Poetry Slam, and recently became the first two-time Capturing Fire Slam Champion (2018, 2019). Mia was also named a 2019 Lambda Literary Fellow in Poetry as well as the 2019 Young Artist Fellow at ChaShaMa's ChaNorth residency in Pine Plains, NY. Their debut poetry collection, monster house., was the 2018 winner of the Cave Canem Foundation's Toi Derricotte & Cornelius Eady Chapbook Prize and is available now with Jai-Alai Books.
---