South Sound Experimental Film Festival 2021 [In-Person]
This event took place on Nov 12, 2021
$13 General Admission
$10 Student/Child/Senior
$7 Member
⚠️ Public safety notice ⚠️
NWFF patrons will be required to wear face coverings while in the building. To be admitted, patrons ages 12+ will also be required to present EITHER proof of COVID-19 vaccination OR a negative result from a COVID-19 test administered within the last 48 hours by an official testing facility.
NWFF is adapting to evolving recommendations to protect the public from COVID-19. Read more about their policies regarding cleaning, masks, and capacity limitations here.
About
The South Sound Experimental Film Fest is an inaugural one-night only curation of experimental short films from local artists.
SSEFF seeks to build community around the consistent exploration and development of the creative potentialities of this growing medium. The festival celebrates a multiplicity of voices from our region—filmmakers who may otherwise get pushed to the fringe due to identity, insufficient resources, or "quality" of technique.
In collaboration with Northwest Film Forum, SSEFF contributes to a vast international network of ambiguity, experimentation, new filmic vocabulary and contemporary hybridity, within the usage, development, and screening of film.
Wet Mouth
(Duncan Dickerson, Seattle, WA, 2021, 4:20 min)
An inventory specialist at a weed shop gets asked to try a newly engineered product before it goes on sale.
Theia Unfurling
(Sierra Grove, Olympia, WA, 2021, 3 min)
In the camera-roll (in-camera edit) film, Theia plays their magical camera machine, gathering light, and unfurling through time. Fatigue grows until Light's power consumes them completely.
Afloat
(Oliver Vy Le Nguyen, the traditional lands of Cahuilla, Duwamish, Nisqually, Puyallup & Squaxin peoples, 2018, 5:19 min)
A viet kieu's visceral dreamscape weaving in between realms of memory and inner dialogue surrounding his mother, Vietnamese upbringing, and belonging.
Into The Depths
(Inga Markstrom, Olympia, WA, 2021, 6:10 min)
The sea fairies have been summoned by an unknown force to visit and protect mother ocean from future harm but how will they prevent the humans from destroying their own planet?
One
(Hali Autumn, Olympia, WA, 2020, 28:29 min)
A poetic short film tracing echoes between a past and present.
Underwater Phone Sex
(Gabriella Arrastia, Occupied Duwamish Land (Seattle, WA), 2021, 4 min)
A platinum-haired mermaid runs a hotline for those who are unlucky in relationships or can't stop falling in love with strangers. To reach them, one only needs to dial a rotary phone and a body of water.
Shadow Boxing
(Tatiana Garmendia, Brier, WA, 2019, 3:26 min)
Hand-drawn animation as a kind of ritual, paralleling the tedium of drawing each individual cell with the daily battle against the Othering our bodies are subject to.
Tacoma Avenue From End to End
(Donovan Wilson, Tacoma, WA, 2020, 6:08 min)
Through the lens of a camera, Tacoma Avenue becomes a microcosm of our culture.
Bagboy
(Nick Roetemeyer, Olympia, WA, 2021, 4:57 min)
An unsent letter about coming to grips with an unspoken love.
Petit Pains
(Thomas Hadley, Olympia, WA, 2018, 10:27 min)
A short film about depression and bread.
Alert
(Ahmad White, Seattle, WA, 2019, 2:40 min)
Alert is a call to action to make new connections rooted in the physical world.
All That Was New Is Old Again
(Jason Biehner, Tacoma, WA, 2021, 7:15 min)
An experimental film making use of outdated technology to explore the impact of our tech-heavy lifestyle on the rest of the world.
The Unraveling
(Vanessa Skantze with Osteo Parliament and dancers, Port Townsend, WA, 2021, 27:46 min)
A quartet of dancers encased in carapaces: the binds of the past, the anguish of ancestors and histories – they tear at these shuddering with relentless grief; opening them to reveal fragments of dreams, memories and dances; shadows of unborn works their bodies contain.
Border Crossing
(Tatiana Garmendia, Brier, WA, 2015, 2:31 min)
The human body becomes contested territory in Border Crossing as a spotlight tracks movement across the body, revealing international visas stamped on her skin while a spoken litany creates a disorienting intonation.
My Most Toxic Trait
(Audrey Linehan, Olympia, WA, 2020, 5:10 min)
A traumedy dive into an obsession with love.
Protection Spell
(Maren Moreno, Olympia, WA, 2021, 7:31 min)
A pair of suburban witches band together to soothe a mysterious vaginal ailment.
Temple of Reclamation
(Daniel Chang, Seattle, WA, 2021, 1:42 min)
A spiritual tribute to queer, Black, and brown femme bodies
This film contains graphic nudity.
Come When She Calls
(Nightmayor (Percy James, Stella R.S, and Joey Schmitt), Olympia, WA, 2021, 3:27 min)
Any room becomes scary if you stay there long enough.
It's Only Us
(Nick Roetemeyer, Olympia, WA, 2019, 5:07 min)
A mixed-media reflection on familial mental illness and the impact it has had on a young man's life.
Lists
(Oscar Kryzanauskas, Olympia, WA, Nisqually & Squaxin Island traditional land, 2021, 11:30 min)
A dreamer wakes up and is given a music box with a special message by a clairvoyant in their basement.
I Miss Seeing You
(Sierra Grove, Olympia, WA, 2021, 6:31 min)
Completed during March of 2021, I Miss Seeing You documents feelings of frustration, loneliness, desire, and fear experienced a year into the COVID-19 pandemic.
What Do We Do With What's Been Done To Us
(Taylor Bednarz, Seattle, WA, 2021, 7:20 min)
An audio/visual collaboration in search for the warm hug we wish we could feel once again.
Silent Partner
(Jane Johnson, Occupied Duwamish Land (Tukwila, WA), 2021, 1:04 min)
An animated meditation on grief, memory, and inheritance of a self. Who are we when our shadows leave?
Life Is A Gift
(Gloria Muhammed & Mu Knowles, Tacoma, WA, 3:13 min)
What does it mean to be liberated? to be free? for yourself and those you love? in life is a gift, Mu Knowles (born & raised on the hilltop in Tacoma, WA) takes us on a journey through these questions.
An Approaching World
(Andy Motz, Tacoma, WA, 2021, 3:15 min)
An Approaching World mediates on the journey so many queer people take from rural to urban, from unsafe to safe, and from storm to shelter in search of liberation.
Failure Film
(Isabel Abeln, Seattle, WA, 2021, 14:38 min)
A young adult enlists the help of her friend to make sure she completes a short film in a very short period of time.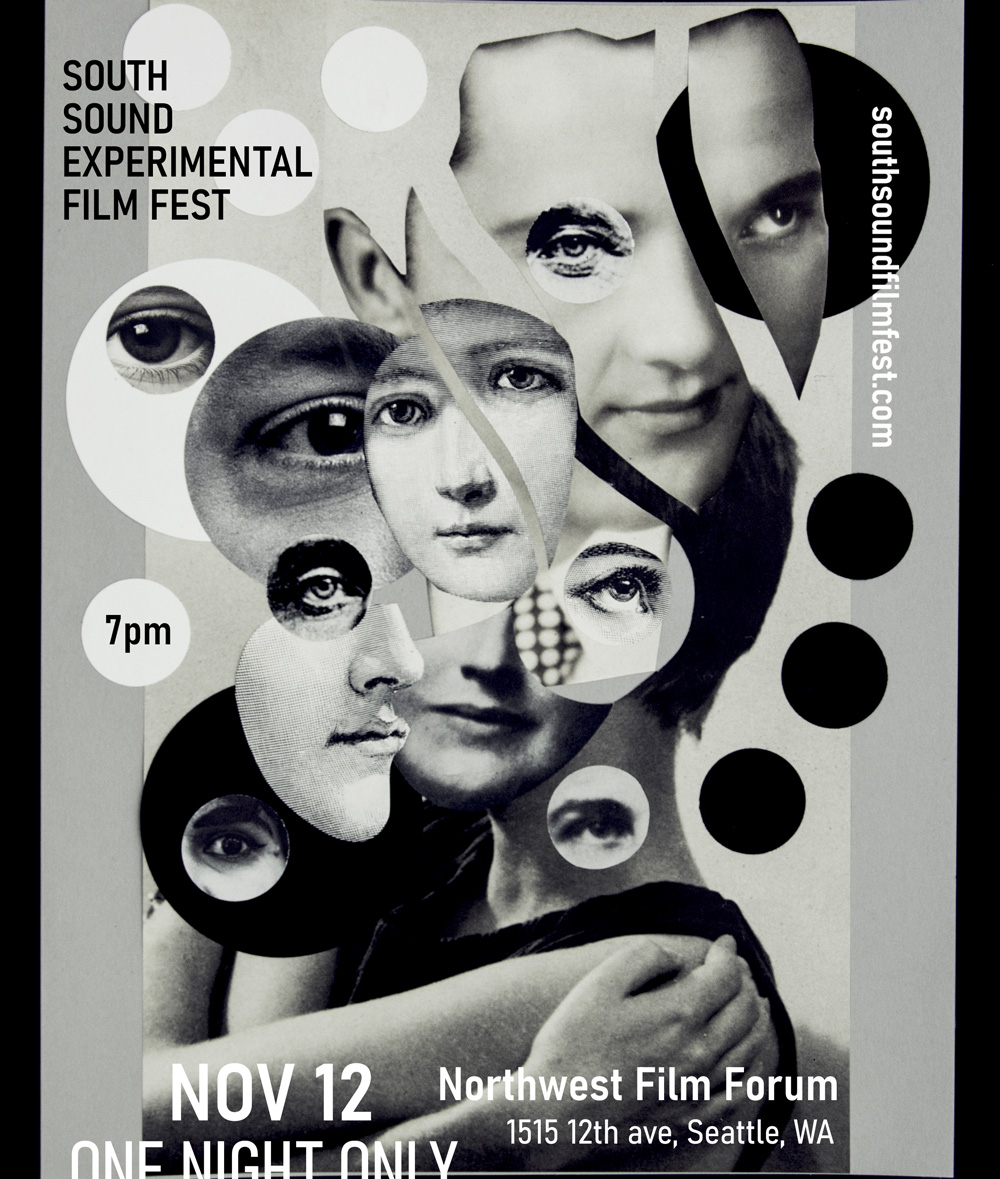 ---
---