Sister Spit Tour 2021 [Online]
This event took place on Mar 13, 2021
Sliding scale admission: $5–25.
Please pay what you can; proceeds support the Sister Spit Tour and Northwest Film Forum! 
---
Northwest Film Forum is SCREENING ONLINE! NWFF's physical space is temporarily closed in light of public health concerns around COVID-19, but community, dialogue, and education through media arts WILL persist.
• • HOW TO PARTICIPATE VIRTUALLY • •
Reserve your ticket through Brown Paper Tickets.
1 hour before the event, NWFF will send a Zoom link and password to your registered e-mail address! (Don't see it? Check your spam filter.)
If by showtime you do not receive an e-mail with details, please contact rana@nwfilmforum.org for a quick follow-up. (But please, check your spam!)
About
** Presented by Radar Productions! **
In 2021 Sister Spit celebrates its 24th year "on the roads" of the United States. With COVID-19 hitting hard during the 2020 tour, we've adapted the 2021 tour to be all virtual for the safety of our artists, partners and audience members. That being said – Sister Spit 2021 offers much needed connection after a year of isolation, even if held in the digital and virtual atmosphere.
The tour began in San Francisco in the 1990s as a weekly, girls-only open mic that was an alternative to the misogyny- soaked poetry open mics popular around the city at that time. Sister Spit became the first all-girl poetry roadshow at the end of the 90s.
The tour was revived as Sister Spit: The Next Generation in 2007. In this next incarnation, out of respect to the changing gender landscape of our queer communities, the tour welcomed artists of all genders.
Sister Spit 2018 marked a new chapter in the tour's history. As Radar Productions, the non-profit that houses Sister Spit, has shifted its vision toward Queer & Trans People of Color (QTPOC) specifically, so too had the tour shifted in lineup and style. In 2022 we are rebranding the Sister Spit tour to reflect the intersectional identities of our community.
This year marks the tour's 24th anniversary of bringing powerful, provocative, vital queer writers and performers on the road. Tour alum include Eileen Myles, Dorothy Allison, Justin Vivian Bond and Chinaka Hodge.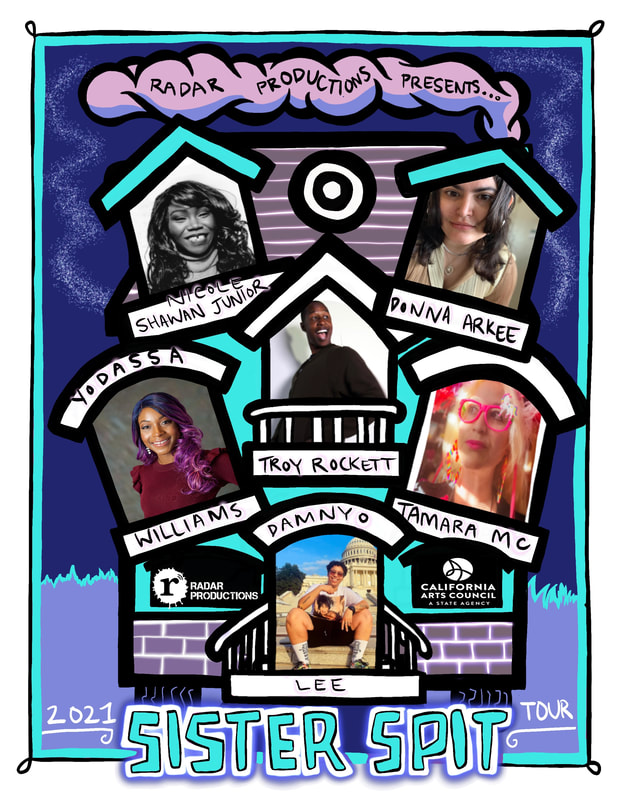 Damnyo Lee
Damnyo Lee is a Los Angeles native. She's been performing poetry and spoken word since 2001, during which she's performed at universities, festivals, schools, on radio programs, podcasts, slams, and poetry events all over the country. Her experience doesn't only include just performing, she has hosted several open mic shows and poetry events, produced and curated numerous shows, retreats, and festivals; including: Elements, El le Mental Sol, Black Lesbians United, and the Damn Slam. Damnyo was the Slam Master/ Coach for the LA Slam Team in 2006 and Slam Master/Team Member of the Damn Slam in 2010 – 2012. The Damn Slam has been featured in the Los Angeles Times. Damnyo has been published in several anthologies, such as Hi-Fi to Lo- Fi and Super Stoked. She is also a decorated U.S. Navy Sailor, serving since 2011. Currently, Damnyo Lee is the Performance Chair for Butch Voices.

Nicole Shawan Junior
Nicole Shawan Junior was bred in the bass-heavy beat and scratch of Brooklyn, where the cool of beautiful inner-city life barely survived crack cocaine's burn. She is a black, queer and poverty-born counter-storyteller. Nicole's literary art appears in Kweli, ZORA, SLICE Magazine, The Feminist Wire, Gay Mag, and elsewhere. She's a Hedgebrook Writer in Residence and has received fellowships from PERIPLUS, NYFA, SAFTA, Esalen, and more. Nicole is the founder and executive director of Roots. Wounds. Words. (a literary arts revolution that serves BIPOC storytellers, particularly those who are QTGNC, justice-impacted, and poverty-born), editor in chief of Black Femme Collective, associate nonfiction editor at SLICE Magazine, has guest edited for The Rumpus, and curates a column penned by justice-impacted women for Raising Mothers: A Literary Magazine. Learn more about her at NicoleShawanJunior.com.

Donna Arkee
Donna Arkee is a Bay Area based artist, freelance journalist, and pigeon enthusiast. Iranian against their will and good judgement, they truly enjoy a cup of hot chai with a side of hot gossip. Despite having a Master's in Women & Gender Studies, and two bachelor's degrees in Anthropology and Ethnic Studies, they perpetually work retail and service jobs and can personally assure you that baristas do not care about what you order. Their master's thesis focused on the ways in which Iranians in the United States negotiate the conditions that circumscribe their legibility as neoliberal citizen subjects, focusing on visual texts circulated on social media. They have also been a member of the art collective Browntourage, penned a digital project review for American Quarterly, and wrote one of the first articles about selfie culture, race, gender, and sexuality that blew up and has featured in multiple academic articles, university syllabi, as well as getting quoted in Henry Giroux's book, America's Addiction to Terrorism, but no one knows it was them. But you do now. They spend their free time spilling paint all over the couch and bothering their cat and wife.

Dr. Tamara MC
Dr. Tamara MC is an Applied Linguist who focuses on language, culture, and identity in the Middle East and beyond, specifically her hybrid identity of being Jewish and Muslim. She is currently the Pauline Scheer Fellow in Grub Street's Memoir Incubator. Her debut memoir titled MUSLIM JEWISH LOVE CHILD chronicles her life growing up in Texas in America's first, and perhaps only, Sufi Muslim commune and to Holocaust refugees from Lithuania. Tamara has been awarded residencies and fellowships at such places as Bread Loaf, Virginia Center for Creative Arts, Summer Literary Seminars in Lithuania, Noepe, and Naropa. She served as full-time faculty at the University of Arizona and has consulted for the Department of State. She's the Founder and President of "Muslim Jewish Love," a nonprofit that spreads peace, love, and joy between Muslim and Jewish communities worldwide. Tamara has traveled to 76 countries and has studied more than seven languages. She's a lifelong vegetarian and a passionate animal lover. Two grown sons and a Boston Terrier named Blazer call her Mama.

Yodassa Williams
Yodassa Williams is a powerful conjurer of black girl magic (70 percent Jedi, 30 percent Sith). A Jamaican American writer, speaker, and award-winning performing storyteller, an alumna of the VONA/ Voices Travel Writing program and the Fortify Writer's Retreat, and the creator of the podcast The Black Girl Magic Files, Yodassa (Yoda) launched Writers Emerging, a wilderness writing retreat for women of color and non-binary people of color, in 2019. She grew up in Cincinnati, Ohio, and currently resides in the Bay Area. The Goddess Twins is her debut novel.

Troy Rockett
Troy Rockett (he/they) is a multidisciplinary artist and theatre- maker based in Oakland California. He discovered performance and playwriting through poetry where he embodied the genre to empower himself: a Black Trans adoptee. Troy is a VONA/ Voices Fellow and Astraea Lesbian Writers' grant recipient and holds a joint MA degree in Creative Writing and Literature. His poems are included in Best New African Poets Anthology, Chorus: A Literary Mixtape, Sinister Wisdom 106: The Lesbian Body, CALYX, Q-Zine, Bay Area Generations, Nomadic Press' Get Lit and Imagoes: A Queer Anthology. Dyke Central, Oakland's first Queer web series, is Troy's most prominent screen acting role. Troy was later cast in Jewelle Gomez's Leaving the Blues, 2017. In 2018 he landed his first lead role WAAFRIKA 123 by Nick Hadikwa Mwaluko. His growing body of work as an emerging artist includes roles in short films, stage productions, and his poetry.
---