Instant Dreams
This event took place Jul 19 - Jul 25, 2019
$12 General Admission
$9 Student/Senior
$7 Member
Willem Baptist
Netherlands
2017
1h 31m
About
** Co-presented with Photographic Center Northwest! **
Instant Dreams is a feature documentary by Willem Baptist (Wild boar, I'm Never Afraid!) about the fascination and love for Polaroids. When Polaroid announced the end of instant film in 2008, the last still-working factory was bought by a small group of enthusiasts. Among them is the retired scientist Stephen Herchen who previously collaborated with the inventor of Polaroid and is still trying to unravel the secret of the lost chemical formula.
In this overwhelming cinematic journey, Baptist introduces us to a number of individuals who connect to Polaroid in special ways: the German artist Stefanie Schneider, who does a photo shoot in the California desert with her last existing original Polaroid stock; New York Magazine editor Christopher Bonanos, who wrote a book about Polaroid's history and tries to capture the relationship with his son with his instant camera; and a Japanese girl who first discovered the magic of Polaroid in Tokyo. Everyone tries to keep the instant dream alive in his or her way.
Slowly we also begin to feel the magic of Polaroids. Like the instant photos, we are chemical creatures full of unpredictable reactions. Eventually, the Polaroids in Instant Dreams are a metaphor for our desire to capture our dreams.
Film description courtesy of distributor.
"A moody mishmash of people in unique disciplines addicted to Polaroids, starting with the creators of the process and their complex journey." – Anne Brodie, What She Said
"This is the sort of stuff that will always find an audience amongst people who are drawn to cinema because of their interest in the medium itself, but Willem Baptist's documentary has the potential to reach far beyond that." – Jennie Kermode, Eye for Film 
"Instant Dreams does a remarkable job of juggling each story and making the viewer invested in each part. The history of the company and its founder, Land, would be enough for a movie all on its own." – Bobby LePire, Film Threat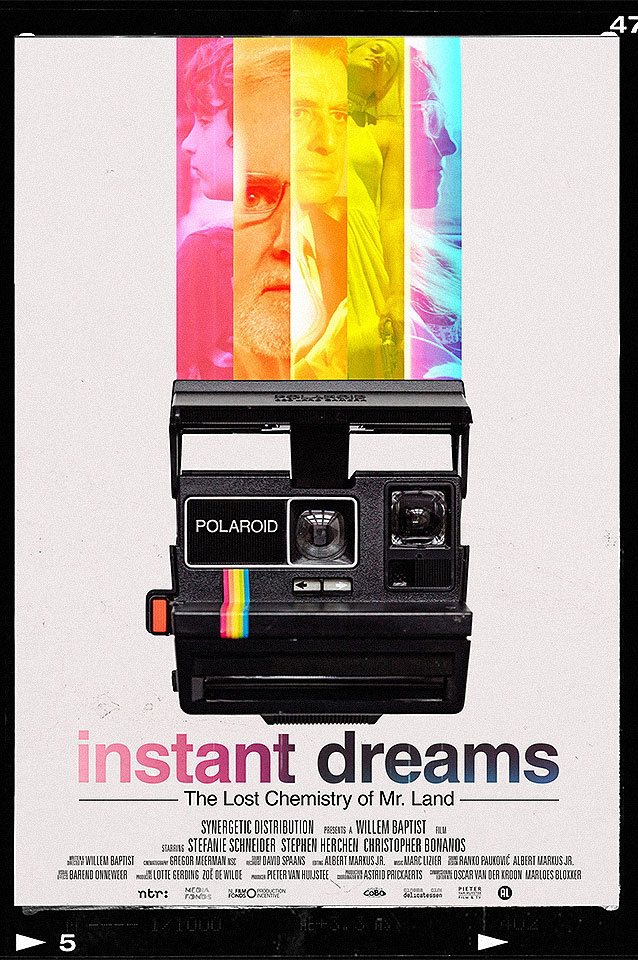 ---