Let's Rock Again! [In-Person Only]
This event took place Jul 8 - Jul 10, 2022
** Free screening with RSVP! **
⚠️ Public safety notice ⚠️
NWFF patrons will be required to wear masks that cover both nose and mouth while in the building. Disposable masks are available at the door for those who need them. To be admitted, patrons ages 5+ will also be required to present either proof of COVID-19 vaccination OR a negative result from a COVID-19 test administered within the last 48 hours.
NWFF is adapting to evolving recommendations to protect the public from COVID-19. Read more about their policies regarding cleaning, masks, and capacity limitations here.
About
(Dick Rude, US, 2004, 67 min, in English)
Let's Rock Again! is a one-hour documentary that follows Joe Strummer on tour across America and Japan. In his post-Clash life, Strummer is striving to break even on his latest record with The Mescaleros and make their music heard. By any account, it's a very familiar, ordinary performers' grind: photo shoots, interviews, and press appearances in the highest moments, but in the humblest, handing out flyers on the boardwalk and cold-calling a radio station to ask them to play Strummer's latest songs to promote The Mescaleros' concert.
Personable, genuine, and down to earth, experiencing Strummer behind the scenes in all his grounded glory is an honor, complemented by sensational live footage of The Mescaleros playing their own material alongside Clash classics (with a bonus visit to the recording studio!). The film alternates between the energy of a band on tour and the philosophical musings of a man who, in equal measure, is an everyman who radiates wisdom and warmth, and a larger-than-life rock icon.
Strummer produced Let's Rock Again! with his longtime friend Dick Rude, who also directed this intimate portrait; that foundation of familiarity gives the film a tangible ease and spirit of camaraderie.
At the close of 2002, the world lost Joe to a congenital heart condition. Let's Rock Again! is a final message from Joe: an encouragement to live our lives passionately, dedicated to truth and to our aspirations.
Stills courtesy of Dick Rude.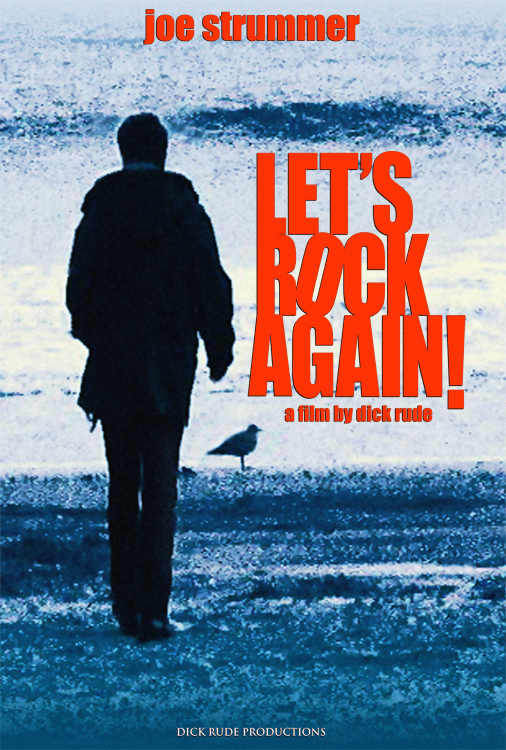 ---