The Garden of Secrets
This event took place on Aug 25, 2019
$5–15 sliding scale ($5 increments)
No one turned away for lack of funds.
Nathalie Attallah
Canada
2018
21m
** Followed by a panel discussion with Patrick Lewis, Director at University of British Columbia Botanical Garden and Alexandra Ralevski, Director, AskNature at the Biomimicry Institute, moderated by Lana Sutherland, CEO & Co-Founder of TEALEAVES. **
About
** Enjoy a specially brewed cup of Garden of Secrets herbal blend! Co-presented with Design in Public's Seattle Design Festival! **
Throughout history, people have sought connections with nature. In particular, designers have observed nature, investigated its materials, and imitated and abstracted its forms and qualities.
Join UBC Botanical Gardens and TEALEAVES, along with a series of industry experts for a screening of the documentary The Garden of Secrets. The screening will be followed by an intimate conversation on biomimicry and biophilia and how designs inspired by the natural world strike the perfect balance between innovation and environmental respect, contributing to the betterment of humanity and a greener future.
Panelists include:
Patrick Lewis, Director, University of British Columbia Botanical Garden
Patrick Lewis is Director of UBC Botanical Garden (est. 1916). He is responsible for the leadership and strategic direction of the Garden, including its development, oversight, organization and financial management, the management of professional and support staff (curatorial, horticultural, and administrative, and contract), and project management.
Alexandra Ralevski, Director, AskNature at the Biomimicry Institute
Alexandra Ralevski, PhD recently completed her postdoctoral work at Yale University in plant biology and neuroscience. She is currently the Director of AskNature at the Biomimicry Institute, where she uses inspiration from nature to drive solutions to design challenges in academia and industry.
Panel moderated by:
Lana Sutherland, CEO & Co-Founder, TEALEAVES
Lana Sutherland is a co-founder and the CEO of TEALEAVES, the tea maker of choice for five-star hotels and Michelin chefs. Known for her creativity, commitment to diversity and fierce devotion to equality, Lana has proudly led a women and minority based team for 25+ years.
For more information on the film, visit thegardenofsecrets.com
We will not refuse anyone for lack of funds.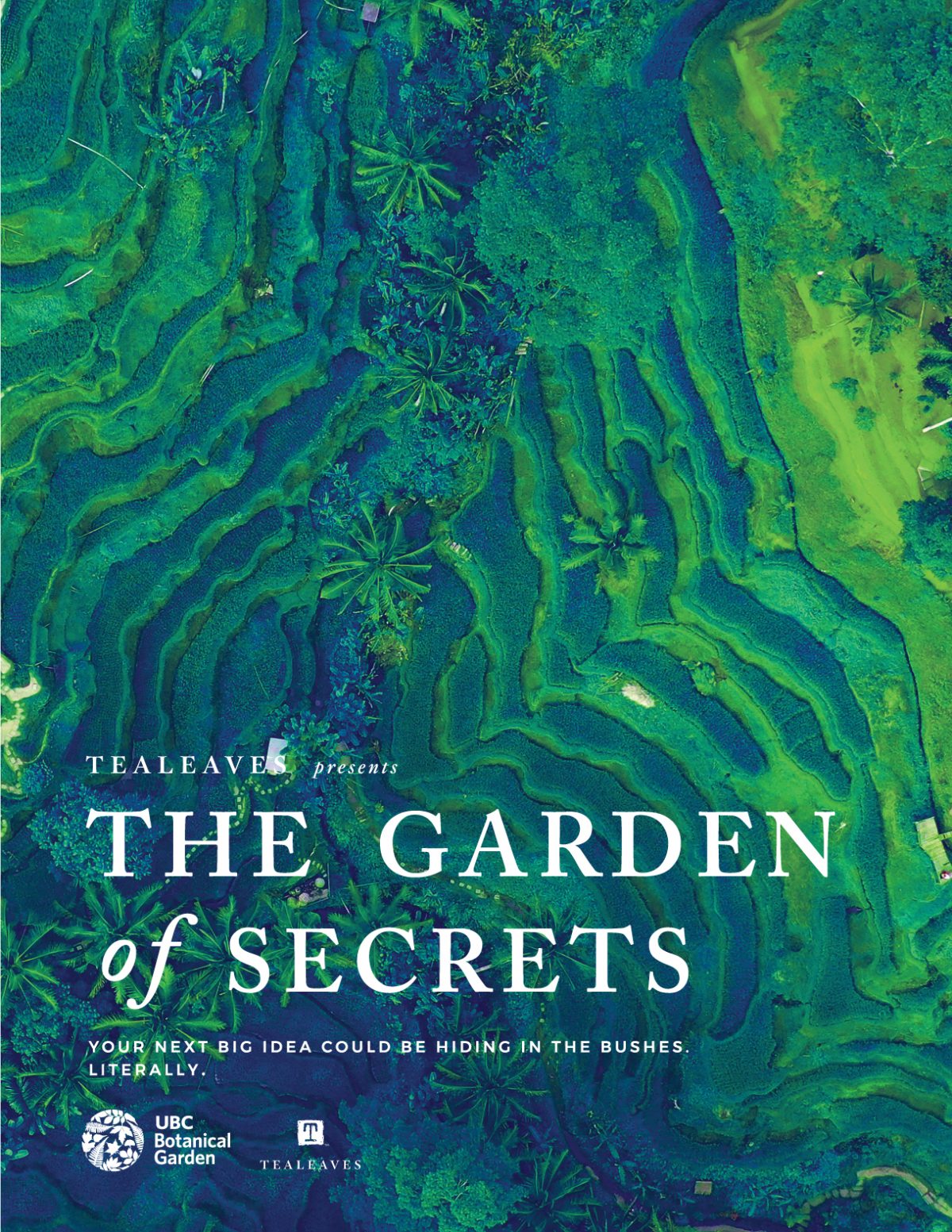 ---
About UBC Botanical Garden:
UBC Botanical Garden is Canada's oldest university botanic garden, established in 1916 under the directorship of John Davidson, British Columbia's first provincial botanist.
The original mission of the garden was research into the native flora of British Columbia. Over the past 100 years, the mission of UBC Botanical Garden has broadened to include education, research, conservation, community outreach, and public display of temperate plants from around the world.
Est. 1994, five-star hotel and Michelin chefs' best-kept secret; now for those in-the-know. TEALEAVES is one of the very few tea blenders in the world, known for crafting the highest quality teas in small batches by hand. We strive for perfection. What drives us? Our never-ending quest to make the perfect cup of tea. With the philosophy of inspiring creativity and connections through the art of blending, TEALEAVES has captured the hearts and minds of five-star hotels and Michelin Star chefs, worldwide, as their tea brand of choice for over two decades. We keep only 1% of the tea leaves presented to us from the world's highest grade gardens to ensure that we stay your cup of tea from generation to generation, whether in a five-star environment or in the comfort of your own home.
Achieving and maintaining balance is essential for the well-being of our planet, our society, and ourselves. Our natural world provides the model: vast ecosystems that have evolved over millions of years to create symbiotic relationships that are in
balance.
Yet our world right now is fundamentally out of balance. Human needs and desires relentlessly compete with the needs of natural systems. Whether we are weighing the impact of our daily decisions on the future of our planet, working towards greater equity in our cities, or striving for greater balance between our work life and personal life, we are in a constant state of negotiation.
Balance is needed for our earth, our communities, and our families, but how do we achieve it?
Can design foster greater equilibrium with our natural world to restore balance?
How do we minimize environmental impacts on the planet through design?
What lessons can we learn from nature and how is it translated into design
What role does design have to help us achieve personal balance and live our best lives?
2019 is the year of Balance. From August 16–25, the Seattle Design Festival will gather together designers, community members and civic leaders to explore how we design for Balance.
---