Wife of a Spy (スパイの妻) [In-Person Only]
This event took place Oct 1 - Oct 3, 2021
$13 General Admission
$10 Student/Child/Senior
$7 Member
⚠️ Public safety notice ⚠️
NWFF patrons will be required to wear face coverings while in the building. To be admitted, patrons ages 12+ will also be required to present EITHER proof of COVID-19 vaccination OR a negative result from a COVID-19 test administered within the last 48 hours by an official testing facility.
NWFF is adapting to evolving recommendations to protect the public from COVID-19. Read more about their policies regarding cleaning, masks, and capacity limitations here.
Kiyoshi Kurosawa
Japan
2021
1h 55m
About
Master filmmaker Kiyoshi Kurosawa (Pulse, Cure, Tokyo Sonata) won the Silver Lion (Best Director) at the Venice Film Festival for this riveting, gorgeously crafted, old-school Hitchcockian thriller shot in stunning 8K.
The year is 1940 in Kobe, on the eve of the outbreak of World War II. Local merchant and amateur filmmaker Yusaku (Issey Takahashi, Kill Bill) senses that things are headed in an unsettling direction. Following a trip to Manchuria, he becomes determined to bring to light the things he witnessed there, and secretly filmed.
Meanwhile, his wife Satoko (Japan Society's 2021 Honoree Yû Aoi) receives a visit from her childhood friend, now a military policeman. He warns her about Yusaku's seditious ways and reveals that a woman her husband brought back from his trip has died. Satoko confronts Yusaku, but when she discovers his true intentions, she is torn between loyalty to her husband, the life they have built, and the country they call home.
(Kiyoshi Kurosawa, Japan, 2021, 115 min, in English and Japanese with English subtitles)
Description and images courtesy of Kino Lorber.
"Critic's Pick! Thrum[s] with unusual intensity… Wife of a Spy is something like linear narrative perfection, with every scene perfectly calibrated." – The New York Times
"Kiyoshi Kurosawa demonstrates an unexpected mastery of suggestion and restraint… Yū Aoi persuasively embodies a woman who goes from make-believe to real-life cloak and dagger… She's the emotional pilot light to the film's slow-burning suspense." – Film Comment
"A work of someone in masterful control of atmosphere…" – John Lui, The Straits Times
"An old-fashioned drama replete with big performances and plot twists, double-cross and triple-cross." The Guardian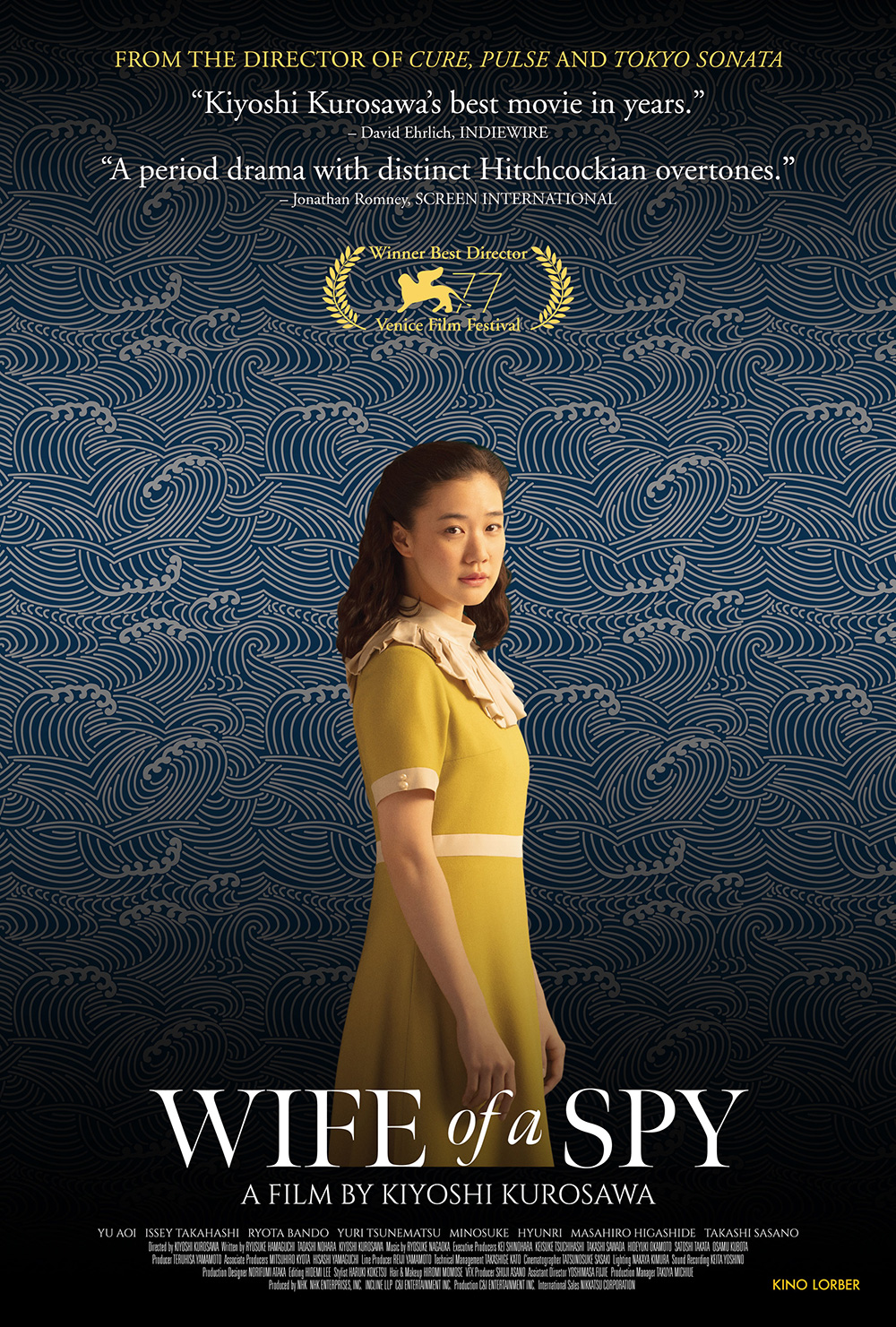 ---