---
Building a Forum for ALL: A Letter from NWFF's Executive Director
November 17, 2018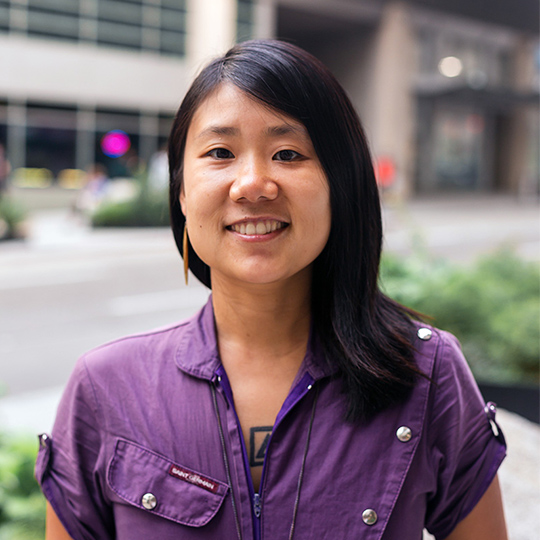 Headshot credit: 2 Weeks Notice. Photo credit: Leo Carmona
Dear Friend of the Forum,
As Northwest Film Forum's recently appointed Executive Director,  I believe that direct communication is necessary to hold ourselves accountable to the NWFF community—so I want to start by saying that we are incredibly grateful for your support of local art and film. None of our arts institutions could do it without you. To that end, I invite you to read the following letter, and encourage you to reach out with any thoughts, questions, and concerns.
The bleak reality, as we enter into 2019, is that arts journalism (❤️ R.I.P. CityArts ❤️) and art house cinemas around the country are struggling.
Despite this, the Forum has been fortunate to find renewed success through a combination of fluid programming and diverse partnerships. Since 2004, our highly customizable, modular space in the heart of Capitol Hill has allowed us to adapt to community needs: through experimentation with immersive live experiences, curation of meaningful, intimate conversations, and expansion upon our already dynamic film and event programming.

Photo credit: 2 Weeks Notice. Photo credit: Mujale Chisebuka
"What does that look like, in practice?" you ask?
VISITING FILMMAKERS
A recent week-long run of Sadie—local director Megan Griffiths' latest feature drama—boasted sold-out screenings followed by robust Q&As with the film's cast and crew, and our ongoing Communal Coffee series creates opportunities for up-and-comers to interface directly with seasoned local filmmakers.
NWFF also has a proven track record of bringing in internationally-renowned artists and visionaries, including:
ARTIST SERVICES & SUPPORT
We provide vital infrastructure for the local film community. NWFF subsidizes rent for a number of media collectives housed under our roof, and filmmakers regularly use our venue for script reads, equipment rental, dress rehearsals, and work-in-progress screenings.
In the past year, our fiscal sponsorship program has helped 55 local productions raise funds, including notable works helmed by women and people of color, such as:
Thin Skin, a comedic feature film from heavy-hitters Lindy West, Ahamefule Oluo and Charles Mudede
Since I Been Down, Gilda Sheppard's epic, multi-year documentary following education systems devised within prisons
COMMUNITY PARTNERSHIPS
Perhaps the most exciting development is that community partnerships have become woven into Northwest Film Forum's artistic fabric. No longer are we simply reaching out to community groups to see how they can participate in our programming; community groups are coming to us with their own ideas—often citing a lack of accessible space or willingness on the part of other institutions to entertain their ideas.
We've recently partnered with these organizations to bring awareness to pressing issues like youth empowerment, QTPOC/LGBTQ rights, immigration, and gentrification:

Photo credit: Local Sightings 2017. Photo credit: Ashlyn Gehrett
Considering all that we do, what do artists and audiences value most about NWFF?
We've been inviting community members to ponder that question over the past month, and as their video responses roll out over the next few weeks, I invite you to pay attention to the common themes. Time and time again, a broad selection of individuals have expressed that NWFF is open and welcoming, and that it feels like home.
Creating a FORUM FOR ALL is a constant work-in-progress, however — and that's why we are turning to you.
Please make a tax-deductible contribution to help Northwest Film Forum raise $100k by January 15th, 2019!
Your gift is vital: it will expand our support of the local artistic community and help us seek new ways of empowering everyone to share their stories.
—
Thank you for all of your support, and we can't wait to co-create more experiences with you! If you are free on December 13th, we invite you to join us for Light & Levity: Roommate Revelry… (which is our fancy name for a rambunctious Annual Holiday Party!)
With gratitude,
Vivian Hua (華婷婷)
Executive Director
vivian@nwfilmforum.org
---