---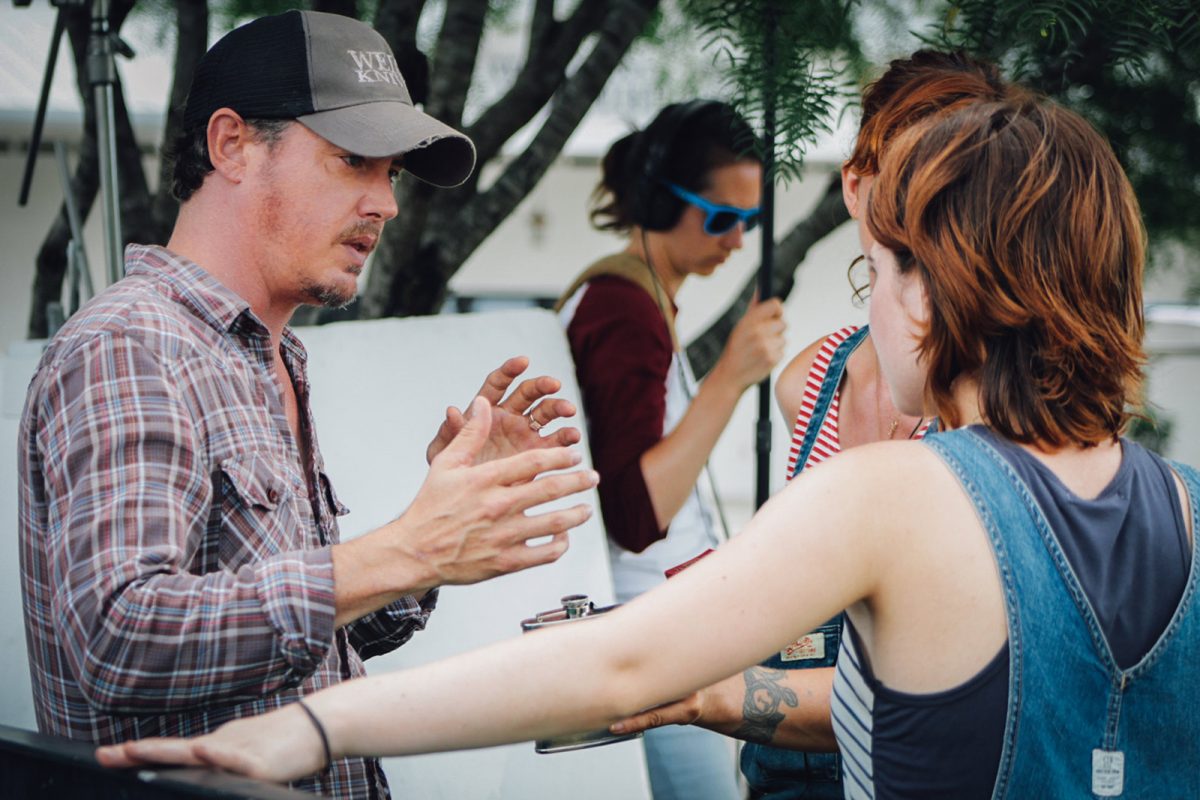 As Far As The Eye Can See: Interview & Directing Workshop with Director David Franklin
January 29, 2018
(Pictured above:) Jason London and Jasmine Skloss-Harrison on the set of As Far As The Eye Can See, with production sound mixer Nikki Dengel in the background.
After many years as a film professor and editor, director David Franklin decided to take creative matters into his own hands with his first feature film, As Far As The Eye Can See. Written over two years by Franklin's producing partner, Paden Fallis, As Far As The Eye Can See is the story of a former classical piano prodigy who has retreated back to his family's out-of-commission farm, but is faced with mounting pressure from a local corporate farm to sell his property. Starring Jason London of Dazed and Confused, As Far As The Eye Can See uses the scenic backdrop of North Texas to tell a common story, while also portraying rural populations in a light not often seen.
In the following Q&A, Franklin — who will be kicking off the film's mini-tour with a February 1st date at Northwest Film Forum — describes the process of working with actors from LA to pull off a convincing Texan drama, "friend-funding" his film, and the inventive things low-budget films have to do in order to pull off convincing performances.
Those who are interested in a more intimate session with Franklin can attend his Making a Scene workshop prior to the February 1st screening of the film, where he will run through the nuts and bolts of a scene, from script to set to editing suite. The workshop will include discussion of scene mechanics, blocking for camera, working with actors, and sound design.
TOUR DATES
02/01/18 – Seattle, WA at Northwest Film Forum
02/08/18 – Davenport, IA
02/11/18 – Madison, WI
02/12/18 – Chicago, IL
02/25/18 – Paris, TX
02/26/18 – Dallas, TX
03/05/18 – Nashville, TN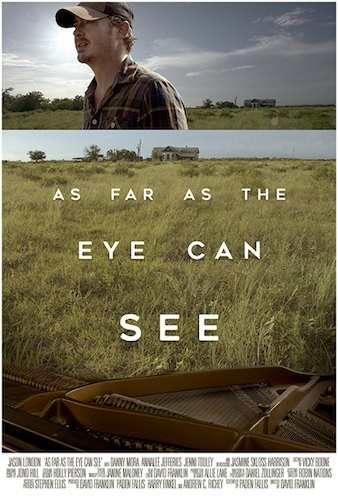 As Far As The Eye Can See was your first feature film, but you obviously had had plenty of experience working on and discussing other people's projects prior to that. What were your main takeaways in translating theoretical knowledge to working knowledge?
My first job after film school was as a professor. I taught film for eight years. But then I went into television, which pretty much cured me of being too theoretical in my approach. Werner Herzog says "Cinema doesn't come from abstract academic thinking, it comes from knees and thighs, from being prepared to work 20 hour days." And maybe it's a mark of theoretical knowledge that I'm quoting Werner Herzog, but I think anyone who's ever made a film knows he speaks the truth. There is room for ideas in film, but at least in my own work, I like to keep those ideas pretty simple and focus on storytelling. What should this character look like? What should they sound like? Where should we put the camera?
Can you just very briefly discuss your budget and how the money was raised?
The budget was in the low six figures, though if you count all the free stuff we got as "in-kind" contributions it was probably closer to the mid six figures. It was raised privately through people we already knew.
We had been developing the script for 2 1/2 years and had travelled to Texas on our own dime to scout and research before we started raising funds. So we had a pretty robust "look book" to show people.
We also raised over $17,000 through Kickstarter after we'd shot the film to use for a sound mix and color correction. And for that we cut a trailer of actual footage from the film to sell the idea of the movie to a wider audience.
Would you run a crowdfunding campaign again? Why or why not?
I definitely would. But to be clear, I think ours was really more of a "friend-funding" campaign. I'm not sure we ever crossed out of the realm of people we knew personally. Everything I'm told about crowdfunding is that you should not try to raise money from your friends. So if I was going to do it again, it would only be for a project that has built-in appeal to a specific target audience, like video gamers, or skateboarders, or kindergarten teachers. Because that core group is what makes it possible to raise $100,000 or more.
You took a "If you build it, they will come," approach to this film, and luckily, things did indeed work out! What about this particular project made you believe that this confidence — or, faith, if you might call it that — would see you through?
To me As Far As The Eye Can See is a film about what happens when you realize that your life didn't turn out the way you thought it would. And what do you do at that point? Do you hide from that realization? Or do you change something about how you're living? That seemed like a pretty universal question to me, and I thought if we just committed to that idea and tried to dramatize it sincerely, then people would respond. And thankfully, people have responded!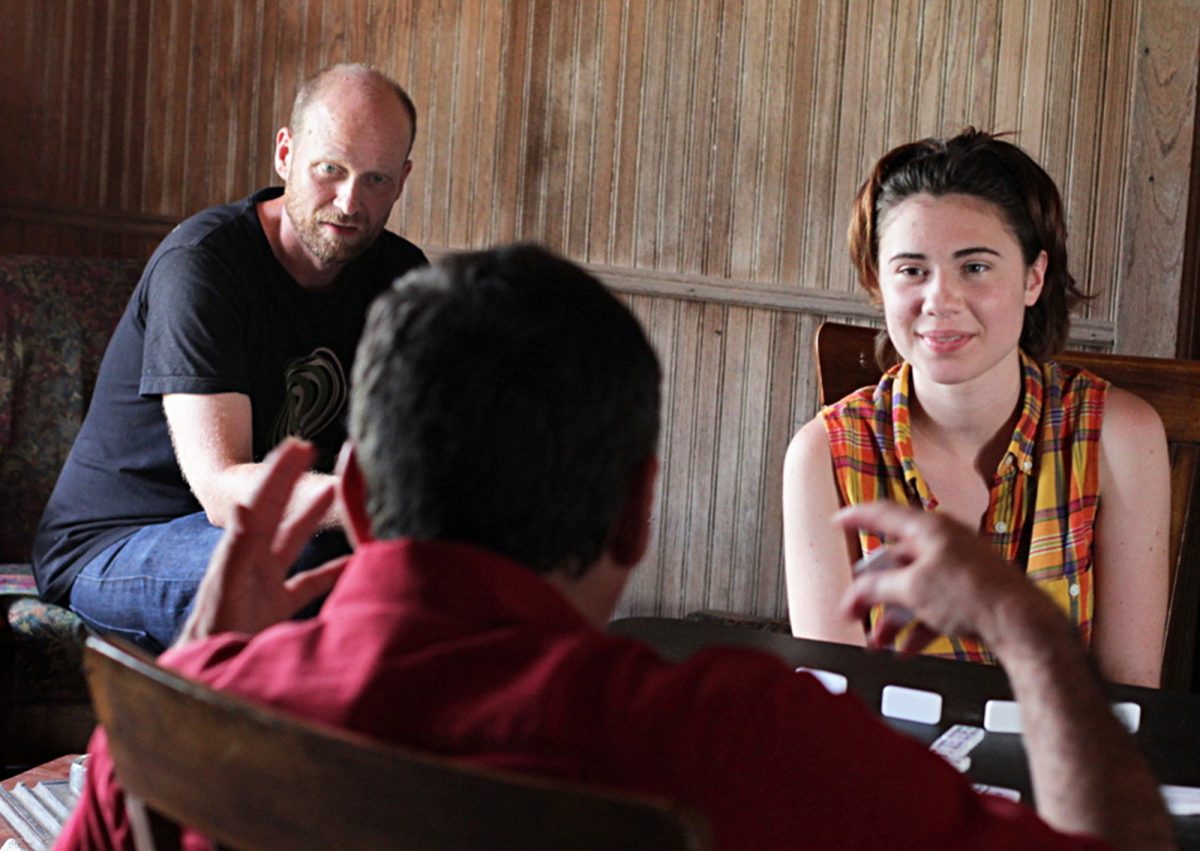 Director David Franklin discussing a scene with Danny Mora and Jasmine Skloss-Harrison.
It's my understanding that you cast locally in Texas but also brought in people from New York and Los Angeles. How much of your cast and crew came locally from Texas and how many came from outside? Can you describe the intention behind that, as well as any potential practical benefits?
The film was cast by Vicky Boone, who is based in Austin, TX. So yes, most of the cast was local to Austin (or at least local to Texas). But we were lucky that Vicky had the skills and reputation to put out a casting breakdown to New York and LA and get us a bunch of video auditions from non-locals. The intention was just to help us choose the best people. And the practical benefit was that we got great people. Danny Mora has been around forever, but this is a really full role for him, and I'm really happy with his performance. And Jason London just inhabits his character in this film. I mean, he's in almost every scene. It hasn't been a big part of his screen persona overall, but Jason was born in Oklahoma and went to high school outside Dallas. So he has the accent of the character as his native speech. But we wouldn't have even known he was available if Vicky hadn't been casting such a wide net, so to speak.
As far as crew went, the only New Yorker was Holly Pierson, our costume designer. Daniel Zollinger, the cinematographer, is based out of Albuquerque. (He just camera op-ed the Bruckheimer film "12 Strong" there). So he approached me about working together and brought his gaffer and Assistant Camera person with him. And most of the rest of the crew were from Austin. The practical advantage of that was that everyone slept at home at night. Because our budget didn't include hotel rooms for a 20 person crew.
Rehearsals were a crucial part of your process. How did you decide to incorporate them, and how much time did you allow for them? Can you think of any notable change that came about through the rehearsal process?
I wish I could say we had rehearsed more. I read that Aronofsky rehearsed Mother for three months in a warehouse. We were not a $30 million dollar movie, so I had one day to do a cast read-through, and then rehearsal takes before we rolled camera on each scene. So in terms of total time, I'd say it was perhaps 20 hours total over the entire shoot.
The most valuable thing that came out of rehearsal was Alyssa's accent. When we did the read through, she read the part in her natural speaking voice, which is a kind of neutral, Austin-speak. So I asked Jasmine if she could try a more accented approach. Her grandparents are from Texas, and so she started from that point, just mimicking how her family talked at home, and it really helped. She did some work on her own, and emailed me some videos, like "what do you think?" and we decided to go in that direction. And I'm so happy that we did!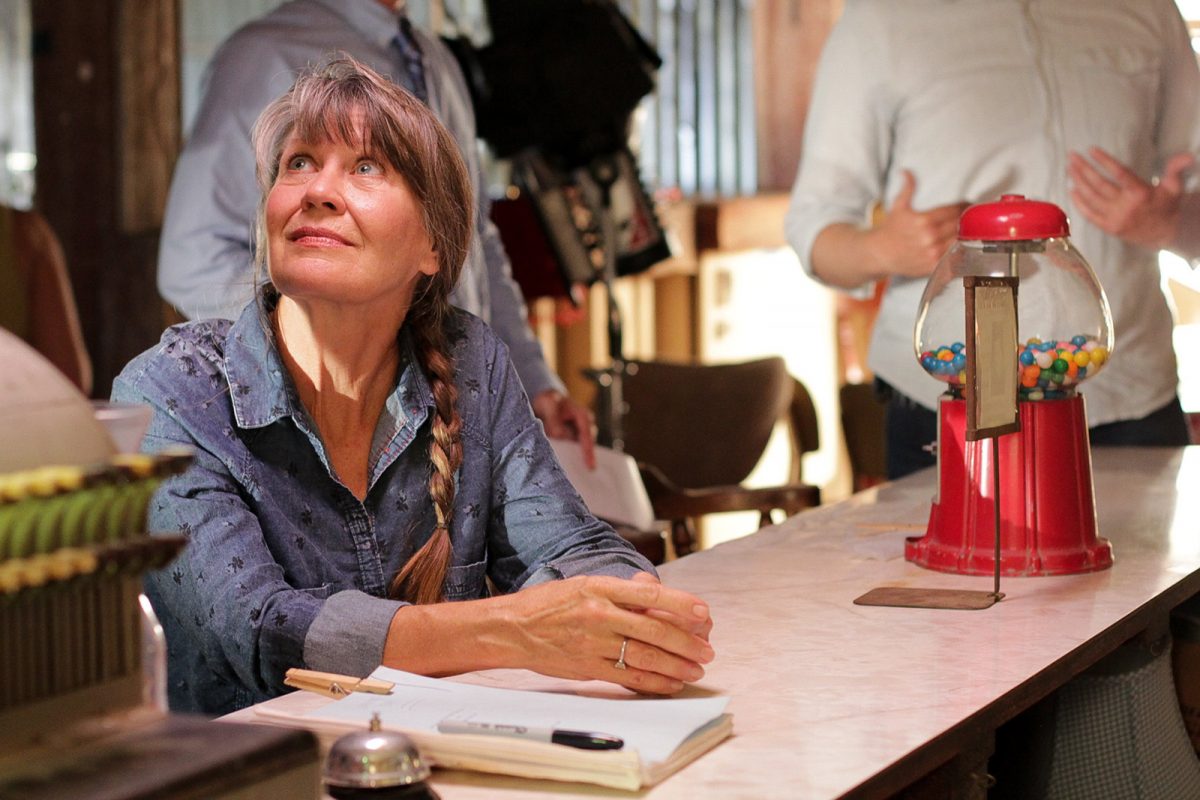 Annalee Jefferies on the set of As Far As The Eye Can See.
Can you compare and contrast a bit the feedback you received from those in major cities versus those from rural areas akin to where the film was set? How did the dialogue you had after the film change, if at all, your own relationship to the film?
I think people are always cooler emotionally in big cities. So when we screened in New York, people said "nice job." Or "I really enjoyed it." But when we screened at the Hill Country Film Festival in Fredericksberg, Texas, someone came up and hugged me after the screening. Another man said "I feel like I was just at my grandmother's house." We showed it at the church in Cedar Creek, Texas that was one of our major locations, and a woman afterwards told me she was a big fan of Danny Mora and that it was great to see him in this. So people will surprise you! The reactions have changed my own relationship with the film in that they have helped me to embrace what we did, to remember my hopes for it as a movie. Because that's how people are engaging with it.
What is some advice that you wish you would have been given before you had embarked on this journey yourself?
Well, now I'm going to go to a sports analogy, but "Trust the process." I had a lot of stress throughout making the film that some basic thing was going to slip through the cracks. That we'd forget to film something we needed, or that we'd remember to film it but the camera files would be corrupted, or something I thought was going to work in terms of storytelling would not work at all. And as far as I can tell, there really was no upside to any of that stress.
I think it helps if you can hire experienced people. On our project, where everyone was doing their job for the first time (with a couple of exceptions), it was tough to feel confident that everyone had their own area locked down. But as it turned out, they all came through. So my advice would be hire the best collaborators you can, and then trust that they'll help you make the movie.
What's next for you?
Right now I'm focused on getting "As Far As The Eye Can See" out into the world. Our Seattle screening is the first stop on a nine-city theatrical tour that's going to take us to the midwest, New York, Los Angeles, as well as back home to Texas. So I'm trying to build awareness, contact people in each of those markets, reach out to press, etc. And then we have some other developments that we'll be announcing soon regarding the film's life beyond that. So stay tuned…
---