---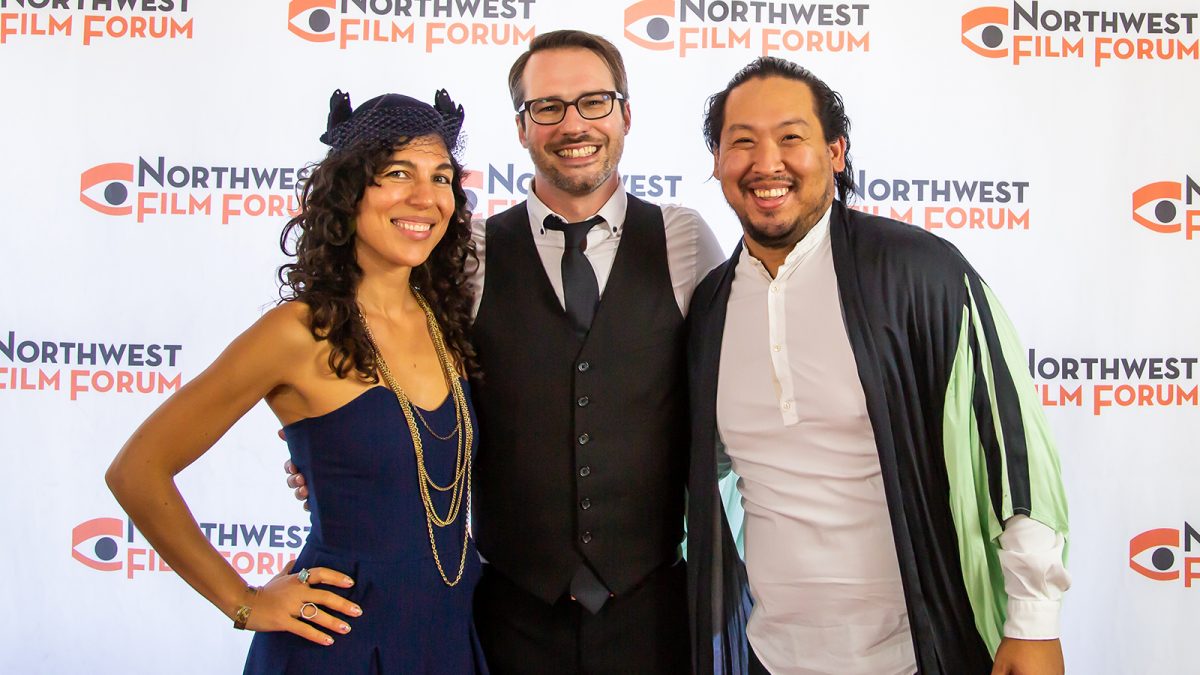 Northwest Film Forum Announces Derek Edamura as Interim Executive Director
November 8, 2022
Northwest Film Forum (NWFF) announced today that former Education Director Derek Edamura has been appointed as its new Interim Executive Director. Edamura joins the Forum's collaborative leadership team of Managing Director Christopher Day and Artistic Director Rana San to share in overseeing the strategic direction and vision of the organization.
Edamura joined the Forum as Education Director in July 2021. Over the previous 13 years, he had worked as a documentary editor, teaching artist, and community organizer for various corporate clients, non-profits, independent films, and local government agencies. During his tenure as Education Director, Edamura oversaw the reinstatement of all of the Forum's educational programs after their 18-month pandemic closure. He worked closely with staff members and community stakeholders to develop the new ACTION! Narrative Apprenticeship Program, and also oversaw the expansion of the RG Pro Production Intensives and Filmmaking Fundamentals, the Forum's two core workshop series.
"My career was predicated on the mentorship and guidance that I received as an emerging filmmaker, and working here at the Forum has allowed me to build an ecosystem that helps support other artists in a similar way," says Edamura. "The Forum is a place where we empower artists and filmmakers, showcase impactful narratives, and are a nexus point for community and artists to connect and share stories and resources."
"Derek is a rockstar! I am beyond thrilled to have Derek at the helm of the Forum," says Board President Kiran Dhillon. "He has a strong, inspiring vision for the Forum and, importantly, has the dedication to bring that vision into reality. The commitment and consideration he gave his work as Education Director clearly demonstrates Derek's passion for empowering all people with the ability to tell their own stories."
Edamura steps into this role at a pivotal moment in the history of the Forum. Despite the challenges presented by reopening the space and resuming engagement with audiences, artists, educators, and community members, his programs thrived, and his magnanimous spirit unified staff. Edamura looks forward to continuing to connect with audiences through dynamic year-round programming, and to building a robust education program that trains and supports emerging artists. The art house cinema and filmmaker resource plans to leverage this momentum in a capital campaign focused on developing a long-term future facility that can accommodate their increasingly complex multimedia presentations and education initiatives.
Edamura's transition is accompanied by additional exciting shifts in current staff roles that prioritize professional growth and development among the team. Former Patron Services Manager Cris Vázquez de Mercado will assume the role of Cinema Programmer; former Patron Services Assistant María Zamora will be NWFF's new Patron Services Manager; and newcomer Cole Wilder will join NWFF as their Technical Director. Applications for Edamura's former role as Education Director will be open through December 5th, 2022.
"Derek is the embodiment of compassion and passion, where vision meets action," says San. "Since coming on as Education Director, he has built a foundation for educational offerings to result in tangible opportunities for paid work in the film industry." Day adds, "His commitment to the Forum community is unwavering and we look forward to co-authoring this exciting next chapter of our organization.
Northwest Film Forum is hosting a holiday party on Friday, December 9, where Forum members, stakeholders, press, and representatives from peer organizations are all invited to meet, mingle, and raise a toast to bright futures with Edamura and the Forum team.
---