---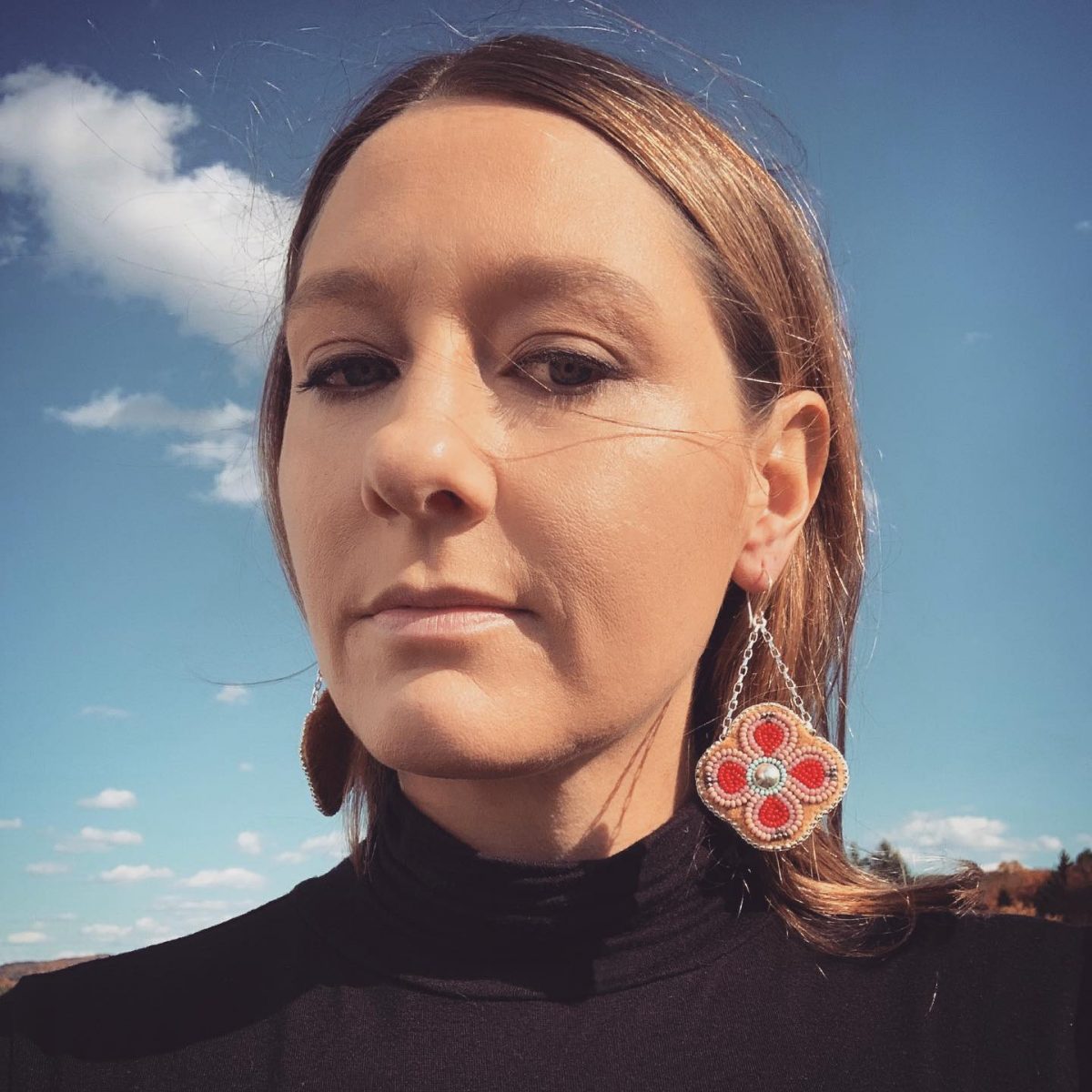 NWFF Awards Erica Tremblay $25,000 as the 2021 Recipient for the Lynn Shelton "Of A Certain Age" Grant
December 7, 2021
Northwest Film Forum (NWFF) is proud to announce Erica Tremblay, an award-winning writer and director from the Seneca-Cayuga Nation, as the 2021 recipient of the Lynn Shelton "Of A Certain Age" Grant. Tremblay will receive an unrestricted cash award of $25,000 to support her first narrative feature film, FANCY DANCE.
"Building off of my own experiences as an Indigenous and queer woman, and drawing from the true stories of my relatives who live in the wake of genocide and colonization, FANCY DANCE offers a spotlight on the matriarchal bonds that hold my community together," explains Tremblay. "For centuries, Native families have been fractured by corrupt systems and yet a vibrant and beautiful community still withstands. FANCY DANCE is ultimately my love letter to that community and the women and queer folks who hold it together."
Co-founded by Duplass Brothers Productions and NWFF, and with ongoing support from a number of community members including major support from COLOR, the Lynn Shelton "Of A Certain Age" Grant is now in its second year. It champions a U.S.-based female, non-binary, intersex, and/or transgender filmmaker – age 39 or older – in the process of developing and directing their first narrative feature.
"It is apt to be accepting this award while visiting my childhood home," Tremblay explains. "This is where I picked up my first camera, an old beat-up VHS camcorder that my mother bought me at the Goodwill. All of the neighborhood kids quickly deemed me the 'bossy girl' as I corralled them into the backyard to perform my plays in front of the camera. That was over thirty years ago, and I'm still holding onto my dream of making my first feature film. I am beyond appreciative to the granting committee and to Lynn's family, friends, and colleagues who have made this opportunity possible. It means so much to have such a strong group of human beings rooting for me."
This year's cross-country Award Selection Committee was comprised of Kris Rey (Chicago), Kristen Lopez (Los Angeles), and Clyde Petersen (Guemes Island, WA).
"I could not have been more honored to participate as a juror for the Lynn Shelton 'Of A Certain Age' Grant," explains Rey, a narrative filmmaker. "As a friend of Lynn's and a fan of her work, I am thrilled to be able to champion the work of female filmmakers over the age of 39. I can't imagine a better legacy for Lynn or a more supportive start for a first time director."
"As someone who does write about the struggles of media representation daily, reading the submitted work from the amazing talent in contention gave me such hope for the future," adds Lopez, an IndieWire film critic and disability advocate. "I wish all of the nominees could have won. I cannot wait to see what FANCY DANCE, and all the directors who submitted, do from here on out!"
"FANCY DANCE is absolutely rooted in community, history, language and culture, but pushes beyond old narratives to create a new future," emphasizes filmmaker, animator, and interdisciplinary artist Clyde Petersen. "Along with a strong work sample and clear storytelling, Erica directly addressed aspects of representation in production, stating 'With Native artists in front of and behind the camera, we will tell this story on our own land and in our own language.' For me, choosing this film felt like choosing to trust in a solidly grounded director with both force and momentum to make it happen."
The 2020 grant recipient was Miami-based filmmaker Keisha Rae Witherspoon. Last year's grant process evaluated 26 nominated filmmakers and during this year's open call process, NWFF received 205 eligible applications from throughout the country. The high caliber of applications showed a vast array of storytelling styles and filmmaker voices.
Northwest Film Forum is excited to sustain and steward the Lynn Shelton "Of A Certain Age" Grant in perpetuity. For those looking to give in her honor, donations to the Shelton/Seal Family Fund for the Northwest School for Deaf and Hard-of-Hearing Children, or Seattle's Northwest Film Forum are encouraged.
Including Tremblay, twelve filmmakers made it into the finalist round of the grant process. Those with an asterisk (*) received an Honorable Mention from the Award Selection Committee.
Cali Bondad
Charlotte Glynn *
Claire Fowler
Elaine Del Valle
Erica Tremblay **
Erin Li
Geraldine Baron *
Jessica Sanders
Kyoko Miyake
Larin Sullivan
Sabina Vajrača
Sushma Khadepaun
ABOUT ERICA TREMBLAY
Erica Tremblay is an award-winning writer and director from the Seneca-Cayuga Nation. Her short film LITTLE CHIEF premiered at the 2020 Sundance Film Festival. In 2021, she was awarded the Walter Bernstein Screenwriting Fellowship, the Maja Kristin Directing Fellowship, and the SFFILM Rainin Grant. Tremblay is a current Sundance Screenwriters and Directors Lab fellow. She was the Executive Story Editor on DARK WINDS, an upcoming AMC series produced by George R.R. Martin and Robert Redford and will be the Executive Story Editor on season two of RESERVATION DOGS at FX. Up next, together with Sterlin Harjo, she will be co-writing and Executive Producing a series adaptation of the Pulitzer Prize finalist, "Yellow Bird" for Paramount+. Tremblay lives on Cayuga Lake in upstate New York, where she is studying her Indigenous language.
ABOUT THE 2021 AWARD SELECTION COMMITTEE
Kristen Lopez has been an entertainment writer, film critic and pop culture essayist for 12 years and is currently the TV Editor for IndieWire. Her work has been published on Forbes, MTV, and The Hollywood Reporter, much of it having an emphasis on marginalized communities, particularly disability in media. She holds a Masters in English from California State University, Sacramento. In her free time she podcasts and spends her days binging on Turner Classic Movies. You can follow her at @journeys_film
Kris Rey began her film career at Southern Illinois University where she studied film production.  Her first feature – It was great, but I was ready to come home – played in competition at the SXSW Film Festival in 2009. In 2015, Rey's third feature Unexpected premiered in competition at the 2015 Sundance Film Festival. In the summer of 2020, Rey's most recent film I Used To Go Here starring Gilian Jacobs and Jemaine Clement premiered amongst the pandemic and can be found on HBOMax. Recently Rey has directed television for Showtime and Disney/Hulu.
Clyde Petersen is a transgender Northwest artist, working in film, animation, music, installation, and fabulous spectacle. He re-creates lost worlds and documents queer culture that has been largely erased by AIDS, capitalism and gentrification. He works to offer alternate, more equitable realities and futures through the reexamination of overlooked histories of queer communities. His work is slow and patient, animating only a few seconds of film a day, gathering new oral histories and building scale-model worlds to tell stories in. Clyde is the director of Torrey Pines, an autobiographical film about growing up with a schizophrenic mother as a queer youth in the early '90s. Clyde is currently working on two new feature films. Find out more: clydepetersen.com
ABOUT LYNN SHELTON
Lynn Shelton emerged from her hometown of Seattle to become a major force in American independent cinema and a prolific television director. She was a vibrant, kind, creative human being. Her work drew acclaim for its compassion, humor, unique voice and wonderful performances. Shelton directed eight features including Humpday (2009), Your Sister's Sister (2011), Outside In (2018), and Sword of Trust (2019). Shelton also worked in television, directing memorable episodes of acclaimed series, including Mad Men, GLOW, The Mindy Project, and Little Fires Everywhere.
ABOUT THE LYNN SHELTON "OF A CERTAIN AGE" GRANT
In 2020, Seattle's Northwest Film Forum (NWFF), alongside Duplass Brothers Productions, launched their inaugural Lynn Shelton "Of a Certain Age" Grant to honor the legacy of beloved late filmmaker Lynn Shelton. Shelton often spoke of seeing filmmaker Claire Denis at NWFF and feeling inspired that Denis did not make her first feature until age 40. At age 39, Shelton then went on to make her own first feature film (We Go Way Back); she followed it with a prolific canon of feature and television work which made an indelible mark on the landscape of American cinema.
The Lynn Shelton "Of a Certain Age" Grant was spearheaded by Duplass Brothers Productions, which includes Mark Duplass, Jay Duplass and Mel Eslyn, and 2021's installment is funded by many others, including Washington-based production company COLOR, Tracy Rector, Eliza Flug, Marc Maron, Joshua Leonard & Alison Pill, Michaela Watkins & Fred Kramer, CB Shamah, and Jennessa & Robert West.
ABOUT NORTHWEST FILM FORUM
Northwest Film Forum incites public dialogue and creative action through collective cinematic experiences. A nonprofit film and arts center located in Seattle, Northwest Film Forum presents hundreds of films, festivals, community events, multidisciplinary performances, and public discussions each year. A comprehensive visual media organization, the Forum offers educational workshops and artist services for film and media makers at all stages of their development. Artist services include access to space, gear, fiscal sponsorship, and an edit lab. Northwest Film Forum is a member-based organization. nwfilmforum.org
ABOUT DUPLASS BROTHERS PRODUCTIONS
Under their banner Duplass Brothers Productions (DBP), award-winning filmmakers Mark Duplass, Jay Duplass and Mel Eslyn create original projects for film, television, and digital media.  In television, DBP is under a first-look deal with HBO which has yielded the hit series ROOM 104, TOGETHERNESS, and the HBO animated series ANIMALS, which sold after premiering at Sundance in 2015. Currently, DBP is producing a series for HBO starring Bridget Everett.
DBP is also active in the docuseries television space, best known for producing Netflix's WILD WILD COUNTRY, winner of the Emmy Award for Outstanding Documentary or Nonfiction Series in 2018. Most recently, DBP produced the popular series THE LADY AND THE DALE on HBO, which followed Elizabeth Carmichael, a larger-than-life entrepreneur who rose to prominence in the 1970's with her promotion of a fuel-efficient, three-wheeled car known as The Dale.  The team also produced Hulu's SASQUATCH,  ON TOUR WITH ASPERGER'S ARE US for HBO, and EVIL GENIUS for Netflix.
In film, Mark and Jay first gained recognition in the early 2000's for writing, directing and producing several acclaimed independent and studio films, including THE PUFFY CHAIR, BAGHEAD, CYRUS, and JEFF, WHO LIVES AT HOME. DBP's numerous feature film credits in the decades following have included THE ONE I LOVE, TANGERINE, SAFETY NOT GUARANTEED, CREEP (1 & 2), THE OVERNIGHT, BLUE JAY, HORSE GIRL, PADDLETON, OUTSIDE IN, DUCK BUTTER, and THE SKELETON TWINS. DBP recently released Natalie Morales' directorial debut LANGUAGE LESSONS, as well as the documentary NOT GOING QUIETLY about the life and work of the activist Ady Barkan.
---