---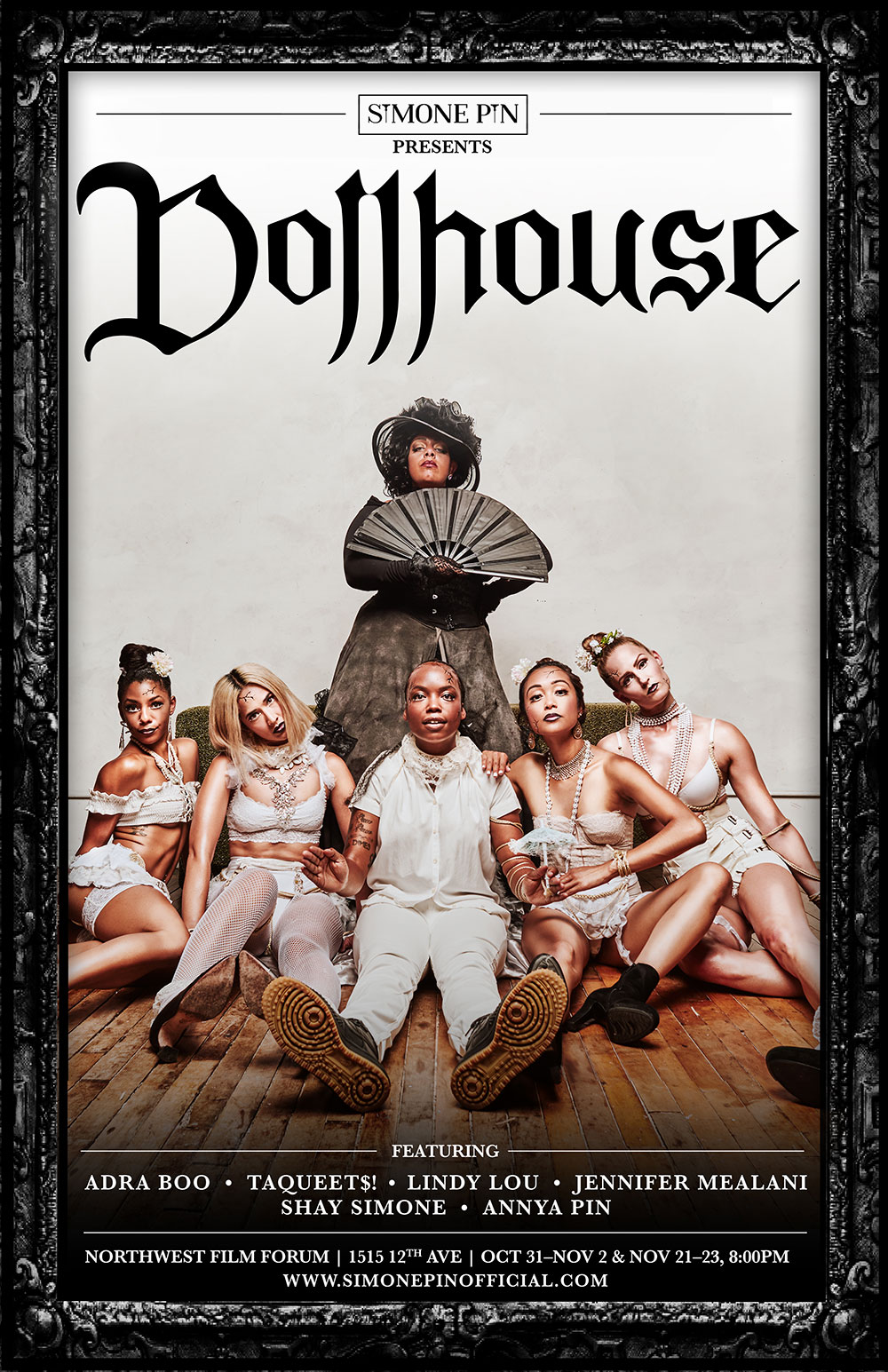 NWFF & Simone Pin Productions Announce Latest Residency Show, Dollhouse (Oct. 31-Nov. 2 & Nov. 21–23)
October 2, 2019
FOR IMMEDIATE RELEASE
(View MailChimp version of newsletter)
Seattle, WA – October 1, 2019 – Northwest Film Forum (NWFF) announces the next residency show with Simone Pin Productions, which brings curated burlesque performances to NWFF. Simone Pin Productions is a west coast-based, women of color-owned production company, co-founded by local Seattle burlesque dancers Shay Simone and Annya Pin. Simone Pin Productions is dedicated to captivating audiences with their thought-provoking performances, diverse cast, sex appeal and editorial aesthetics through technical burlesque.
From October 31 to November 2 and November 21 to 23, Simone Pin Productions brings another mind-blowing show to their residency at NWFF. Dollhouse, choreographed by Shay Simone, presents a hauntingly beautiful experience that draws inspiration from Southern Gothic stories, and reclaims diverse bodies and skin to celebrate the fixation of female roles. Expect a dose of sinister, a dash of grotesque, and a whole lot of sin!
The Dollhouse Coven features TAQUEET$!, Lindy Lou, Jennifer Mealani, Shay Simone, Annya Pin and Adra Boo as Mama of the Dollhouse.
VIP tickets for all shows include reserved seating in the first two rows of the theater, entry to experience a special cupcake and wine pairing before the show, a drink ticket, your choice of favorite cupcake from the pairing experience, a signed poster, and a meet-and-greet with the cast of Dollhouse. For additional information regarding VIP and general admission tickets and to purchase, please visit bit.ly/southerndoll. Tickets to the show's opening night (Halloween, Oct. 31) and encore's closing night (Nov. 23) include access to the after-party at the Forum. We invite you to celebrate the show's run with libations and a DJ set!
DOLLHOUSE ONLINE
—
Press from Simone Pin Productions' Jun/Aug 2019 debut residency show, Queens at NWFF:
"From beginning to end, the audience is gifted a peek into the power of liberated female sexuality, with women of color very deliberately at the center of it all — a gift not to be taken lightly. In a world that uses women's sexuality against them, and continues to devalue the centuries of fundamental contributions made by women of color in every field, it's no small thing that Simone and Pin are using the art of burlesque to center the sexuality of women of color and take control of the narrative." – West Liberty, SeattleDances
"Simone Pin Productions is much more than a dance company; they are dreaming of a new world. They are in the work of visioning for a more inclusive, sexy, editorial, and equitable creative space." – Becs Richards, South Seattle Emerald
—
Audience Reviews from Simone Pin's Fall 2018 production of Dollhouse at Re-Bar:
"Watching Dollhouse revitalized my deep love for performance art in the city. Their pristine, perfect, innovative and magical movements transported me into that space that's indescribable while experiencing art. These women are masters of their craft, I could watch this show 1 million times. Pure beauty, joy and thought-provoking. There was so much to chew on. I can't wait to see what they do next!"
"Dollhouse was a delight for the eyes and spirits. The excitement before the show was palpable. It was a beautiful crowd full of folx excited to greet each other and give hugs, as laughter and talking filled the room. Once the curtain went up all eyes were transfixed to the stage where the hostess with the most dolls worked her magic. The audience was transported to a gorgeous, impeccable choreographed world where folks of all sizes and intersections shined. The choreography, songs and costumes were on point. It was inspiring to see talented folks of color coming together to make a memorable, sexy night come alive."
"My mind, body and soul…these were all peeked, challenged, delighted and filled when I was a visitor in mama's dollhouse. From the simple yet stunning set to the lighting and costume changes, Dollhouse evoked feelings that deeply engaged my eyes and my mind to get lost in the intricacies and details of every aspect of the performance. Mama and her dolls were incredibly talented, captivating, stunning and bluntly, all. the. way. badass. The depth of the cast and crew was proven over and over again with each ʻpeekʻ into the lives of mama and her dolls. Would I be a guest in mama's dollhouse again? **checks mail for invite**"
—
About Northwest Film Forum
Founded in Seattle in 1995 as an independent film and arts nonprofit, Northwest Film Forum incites public dialogue and creative action through collective cinematic experiences. Each year the Forum presents hundreds of films, festivals, community events, multidisciplinary performances, and public discussions. As a comprehensive visual media organization, the Forum offers educational workshops and artist services for film and media makers at all stages of their development. More information is available at nwfilmforum.org
About Simone Pin Productions
Simone Pin Productions is a west coast-based women of color owned production company, co-founded by Shay Simone and Annya Pin. We are passionate about creating shows that include a diverse cast, and showcases the beauty, strength and sex appeal of performers of all shapes, sizes and ethnicities. Our mission is to entertain and present our audience with an experience that is innovative, sexy and powerful. We utilize elements of burlesque along with a variety of dance genres from modern to contemporary, to hip hop to enrich our audience experience. We are inspired by our shared background as women of color and themes of female empowerment. Creatively intertwining these concepts, we produce thought provoking shows that push the envelope. For more information, visit www.simonepinofficial.com
####
NWFF contact
Paul Siple, Communications Manager
paul@nwfilmforum.org
Simone Pin Productions
Shay Simone, Founding Artistic Director
Annya Pin, Founding Director of Operations
simonepinofficial@gmail.com
---