---
An Interview with Choreographer Christin Call About Her Immersive Performance, What is Home?
June 27, 2018
Leading up to poet and choreographer Christin Call's multidisciplinary show, What is Home an Obscure Kingdom an Opera Buffa It's You Always You (July 27-28), Call enlightens us as to what this project has meant to her as an individual, and more broadly what it means to the community of individuals it incorporates. She touches on themes of art both as a process of discovery and self-analysis, the nature of home as she sees it for herself, and the ways that art can reveal the universality of suffering when it digs deep enough to listen fully to everyone's stories. She speaks to the importance of details in artistic expression, and kindly draws us in to some of the most important and transformative ones used in this performance.
To learn more about Call and the performance, continue reading the interview below, and purchase tickets for this event HERE.
INTERVIEW BY ETHAN MOSCOSO
---
You have spoken before about your desire to weave together different artforms so that a larger framework emerges which does not overrun the forms themselves, but gives them a greater context of shared meaning.  Could you describe what some of these overarching themes might be, or do you find it hard to put them into specific words?
Failure, grief, and loss have all been major themes in my work over the years. I've found that the artifice or imaginary setting of artmaking can provide access to and reveal experience around difficult subject matter more readily and more safely than any other mode of processing material. The use of different art forms is a means to dig into these themes in a material way, externalizing them to a certain extent, so they can be examined more thoroughly.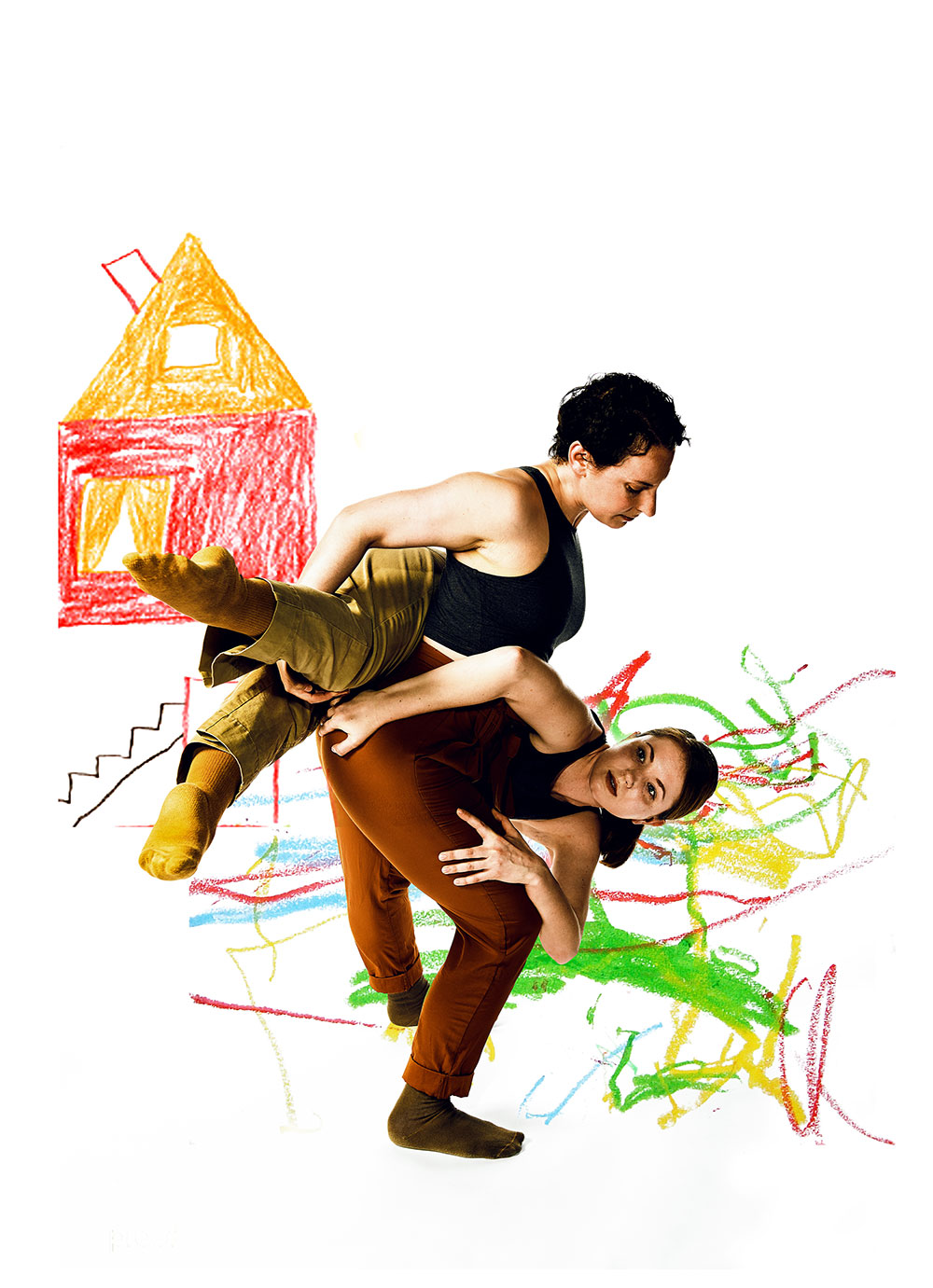 One of your most fascinating statements is the following: "I am interested in the discoveries that are made in the cognitive process from observing non-order to finding patterns to constructing a meaningful narrative." What kind of discoveries have you encountered in this work? Have they been primarily self-reflective or general as well? How would you say the emotional process of making a work of art contrasts with the emotional impact of the result? Furthermore, do you find a specific work to be done when a narrative has emerged?
The discoveries I make are often in the details. One instance of this in the rehearsal process that has emerged is an arm position I originally gave to all the dancers from archaic ballet vocabulary. The gesture was historically used for "sylph" characters, such as in Fokine's Les Sylphide. The hands are held closely and delicately to the ear as if listening to tiny, invisible bells. We took this gesture, which at first existed for no reason other than being a part of the ballet canon, and made it a way of imagining that we were putting our ears to a conch shell and could hear the whole world humming. For some characters in the work, this is affirming of their place in the world and ability to listen in with control. For others it's a kind of despair, of feeling lost, of being unable to shut out the judgments put on them by society. These kinds of differences emerged for me and the dancers only after the gesture existed.
I think it's impossible for a work to not be self-reflective, but I also acknowledge that my experiences are not so different from many other peoples' experiences. If I can tap into a meaningful dialogue with myself about not knowing how to feel at home, chances are that there are many other people out there also reflecting and wanting a reflected expression of their own experience of feeling out of place.
I'm very aware that I ask a great deal emotionally from the performers and collaborators I work with, but I feel very adamantly that the creative process is a way to manage a human experience that includes pain and suffering without being one of the causes of that suffering. We take care in rehearsals to be kind and support each other, so we can facilitate in each other deep investigations of difficult states of being.
Almost all my work carries a narrative significance and does feel incomplete up until that point. The narrative might be fragmented, surreal, and somewhat opaque to a viewer/audience, but I do work towards creating a language in the work that can be recognized and experienced as narrative.
—
You've worked a great deal with language in the past and even invented your own language to communicate poetry. You've also said that written word and sentence structure can be forms of giving a real shape to something that may be initially experienced as amorphous. The title What is Home an Obscure Kingdom an Opera Buffa It's You Always You is intelligible, but has a very subjective structure to it. What does this specific sentence mean to you and how did you come to it?
I received a residency from Seattle Demo Project to do something in this century-old house on Capitol Hill that was about to be demolished, and so I was doing a lot of writing initially. The phrase came out of some poems that were exploring the paradoxical sensation of being in that house, which was filled with so many intricate and absurd details. A house that had been taken care of for over a hundred years and then in the span of 10 months became completely dilapidated? A space in which squatters had punched holes in the walls and toppled appliances but also written love letters to each other on the walls? How a space can hold the idea of home seemed so elaborate and contradictory. At the same time I was trying to process a life-changing moment I'd had during a brief re-connection with an ex-partner. I'd had this almost fantastical revelation in which one physical touch (our hug goodbye) overwhelmed me with a physical and overpowering knowledge of this person as home. Making this series of work initially was a way of realizing I'd lost home when I lost that relationship many years ago. But it was also a way of deciding to still let go of it, without knowing if I'd ever feel at home again.
—
Continuing on the topic of language, how do you navigate this craft as a writer, using it as a vehicle to shape the chaos you see, without acquiescing to the normative grammatical structures of language?
When I was in art school my teachers called me a "writer's artist." I didn't understand it then, but language is a crucial access point for me. I completely trust that, through semiotics, the associative power of a word will bring forward connections that are unexpected and capable of giving new insight into any given inquiry. One of the first pieces I made in this series was a collection of poems that I posted publicly on construction fences around Seattle as gifts to the pedestrians whose paths are often interrupted by closed sidewalks. As I moved towards increased cross-collaborations with subsequent pieces I've ended up writing songs with an opera singer and writing scripts for actors. These have been wonderfully rich ways of staying in the density of poetic language while excusing the poem from its normative place on a white piece of paper.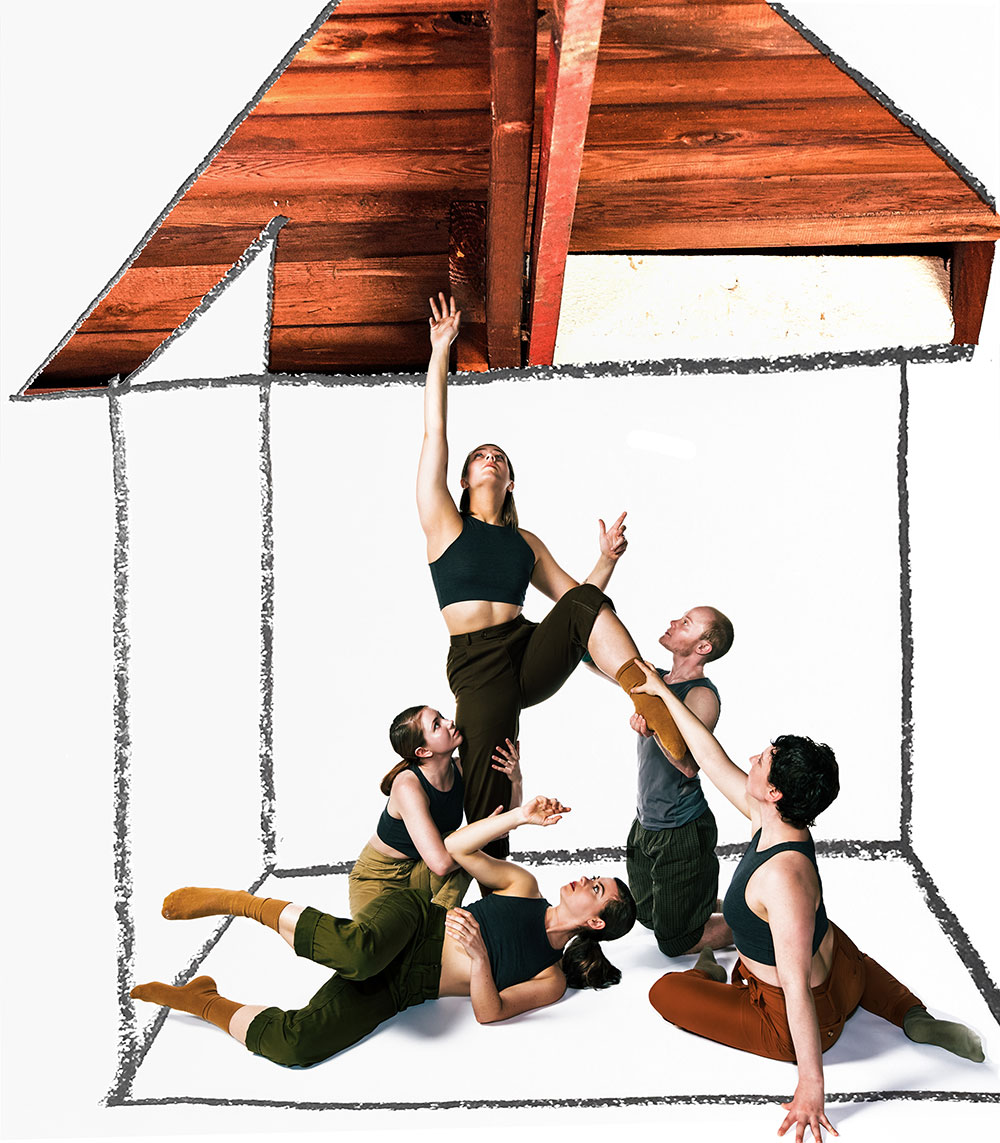 The idea that "home is you" is a heartwarming concept that has been expressed by many others. Accordingly, we could imagine this sense of home being expressed in many different walks of life with their own respective rhythms — from a lone vagabond who preys on seeking out new chaos to a person who lives a controlled and systematized life and has done so for years. Beyond yourself, have there been any archetypes or images of different forms of home-building and their accompanying rhythm that you have brought into your performance?
The main characters in the performance each have their own idea of what they need in a home. One sees housing development as a grand vision for a perfect city. Another sees it as a container for memories. Another as a safe place to express their ideas about the external world. The world that these characters live in is already a house–the structure is pre-existing in the way that we encounter society already existing when we are born. The struggle of these characters is how to coalesce all their different ideas and needs for a home together, so the house can function as a place of belonging for all of them.
—
For your "Self Portrait as a Home" project, you have asked others to work through an artistic medium they feel comfortable with to "draw" an image of themselves as a home.  This is a lovely idea and will surely lead to many different representations of self that express commonalities and differences among each other. How do you envision unifying these into a whole that both celebrates their similarities and differences?  What do you hope others will get out of this project?
So far the drawings I've received from this are all as unique as the individuals who drew them. At the same time they express a very common set of values and needs. The drawings will be displayed as the roof and walls of a three-dimensional house structure, and audiences who draw self-portraits can add theirs to the interior and exterior of this house.
---