Local Sightings 2019: Direct Cameraless Animation
$50-$150 Sliding Scale Tuition*
* Scholarships available upon request! Please e-mail vivian@nwfilmforum.org for details.

Duration: 5h
Instructor: Devon Damonte and Argo Navx
About
** Co-presented with Engauge Experimental Film Festival, hosted in November at NWFF! **
Learn a plethora of crackpot techniques not recommended by any manufacturer to create handcrafted motion graphics in 16mm and 35mm without any cameras or computers. Direct animation is an analog fine art offering experiential liberation from increasingly digital visual cultures. In this workshop participants will scratch, ink, paint, and collage etc. directly onto film leaders to create unique effects.
We'll collaborate on creating a 35mm Welcome Film for the Engauge Experimental Film Festival at NWFF in November – see your own creations on the big screen!
No experience necessary!
NOTE: Workshop will be held off-site at Pound Gallery (1216 10th Ave., Seattle, WA 98122) from 11:00pm to 4:00pm!
---
FAQ
Who should participate? Is any experience necessary?
Newbies heartily encouraged! Especially science nerds and random misfits.
What is the minimum age for participation?
Participants under 16 should come with an adult responsible for monitoring stuff like razor blade usage, etc.
What materials will students be working with?
Sharpies, razor blades, inks, paints, plastic tablecloths, washi tapes, candy wrappers, bleach for the fumes-tolerant (can do that outside too)…
Can students bring their own materials?
Heck yeah! Best results = permanent inks and semi-transparent materials that stick on bending plastics without flaking off.
What kind of finished product might one expect?
Participants can make 16mm loops and bring them home, wear them as necklaces, string up raspberry plants with them, shoot them dead with cellphones, whatever.
We'll be collaborating on a 35mm trailer? That's amazing…
Heck yeah it is! Where else you gonna get 35mm hands-on production? Well, Evergreen college, but besides that? Nowhere! It's wild! Large format movies at your fingertips, literally! The 90-second, 35mm Engauge Welcome for last year's fest was composed by instructor Devon Damonte using all hi-con photograms and cyanotypes on film (!!). This year you get to mess with Devon's footage to create the Engauge 2019 Welcome, huzzah!
---

Devon Damonte
Since 1989 Devon Damonte has made, taught, and shown handcrafted cameraless direct animation hither and yon, including: REDCat Theater at Disney Hall in LA; New York Film Festival Views from the Avant Garde; Ottawa International Animation Festival; Pacific Film Archive at Berkeley Art Museum; Quickdraw Animation Society in Calgary; and McMurdo Station, Antarctica. Devon is featured in recent books "The Animation Bible" by Maureen Furniss, and "Experimental Filmmaking: Break The Machine," by Kathryn Ramey. Damonte is currently adjunct faculty at Evergreen State College in Olympia, WA teaching a summer Visual Music 16mm & 35mm direct animation intensive, also a ringleader of the Crackpot Crafters collective, and believes we are now all smack dab in the Golden Age of Adhesive Tape.
---

Argo Navx
Argo Navx is a Latina multimedia experimental artist, poet, filmmaker and musician currently living in Seattle. She enjoys experimenting with analog and digital techniques and has created music videos for independent bands. She is currently working on an album for September release along with a zine of bilingual poetry on roots, healing from trauma and self discovery.
---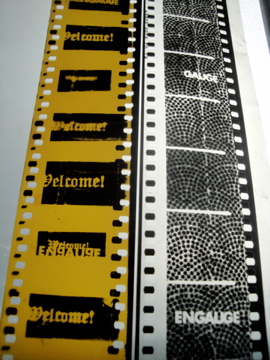 ---
---