Queens (Encore)
AUGUST 22-24
VIP pre-show wine & cupcake tasting:
6–7:30pm
Doors: 7pm
Showtime: 8pm
Thursday, August 22
Friday, August 23
$40 General Admission
$50 VIP Tickets †
Saturday, August 24
$50 General Admission
$60 VIP Tickets †
Closing Night guests' tickets include admission to a post-show after-party, with a DJ set to close out the August run of QUEENS!
** Please note: Strobe lights will be used during the performance. **

** Simone Pin Productions joins NWFF for a new residency program that will bring a series of curated burlesque shows to the Forum in 2019 **
About
Drawing inspiration from the strategic drama of chess, Simone Pin Productions presents a sexy, thought-provoking burlesque centering two opulent, opposed queens. Gaze upon the staggering beauty of rooks, knights, and two primal Queens facing off on the chessboard! Powerful female figures, love, and the battles experienced by women of color all take center stage in this stimulating burlesque.
The Queen's Court features Adra Boo, Caela Bailey, TAQUEET$!, Elise, Shay Simone and Annya Pin, with choreography by Shay Simone that fuses burlesque and technical dance to scintillating effect.
VIP tickets for all shows include reserved seating in the first two rows of the theater, entry to experience a special cupcake and wine pairing before the show, a drink ticket, your choice of favorite cupcake from pairing experience, a signed poster, and a meet-and-greet with cast of Queens. Closing night tickets include access to the after-party at the Forum. We invite you to close out the show's run with libations and a DJ set!
† VIP Experience tickets include:
Reserved seating in the first two rows in the theatre
Early entry to experience a special cupcake and wine pairing before the show
Choice of favorite cupcake from pairing experience
Drink ticket
Signed poster
Meet and greet with cast of Queens
SERIES PASSES
$75 General Admission pass to Thursday or Friday showings of Queens and Dollhouse!
$100 VIP † pass to Saturday Closing Night showings of Queens and Dollhouse!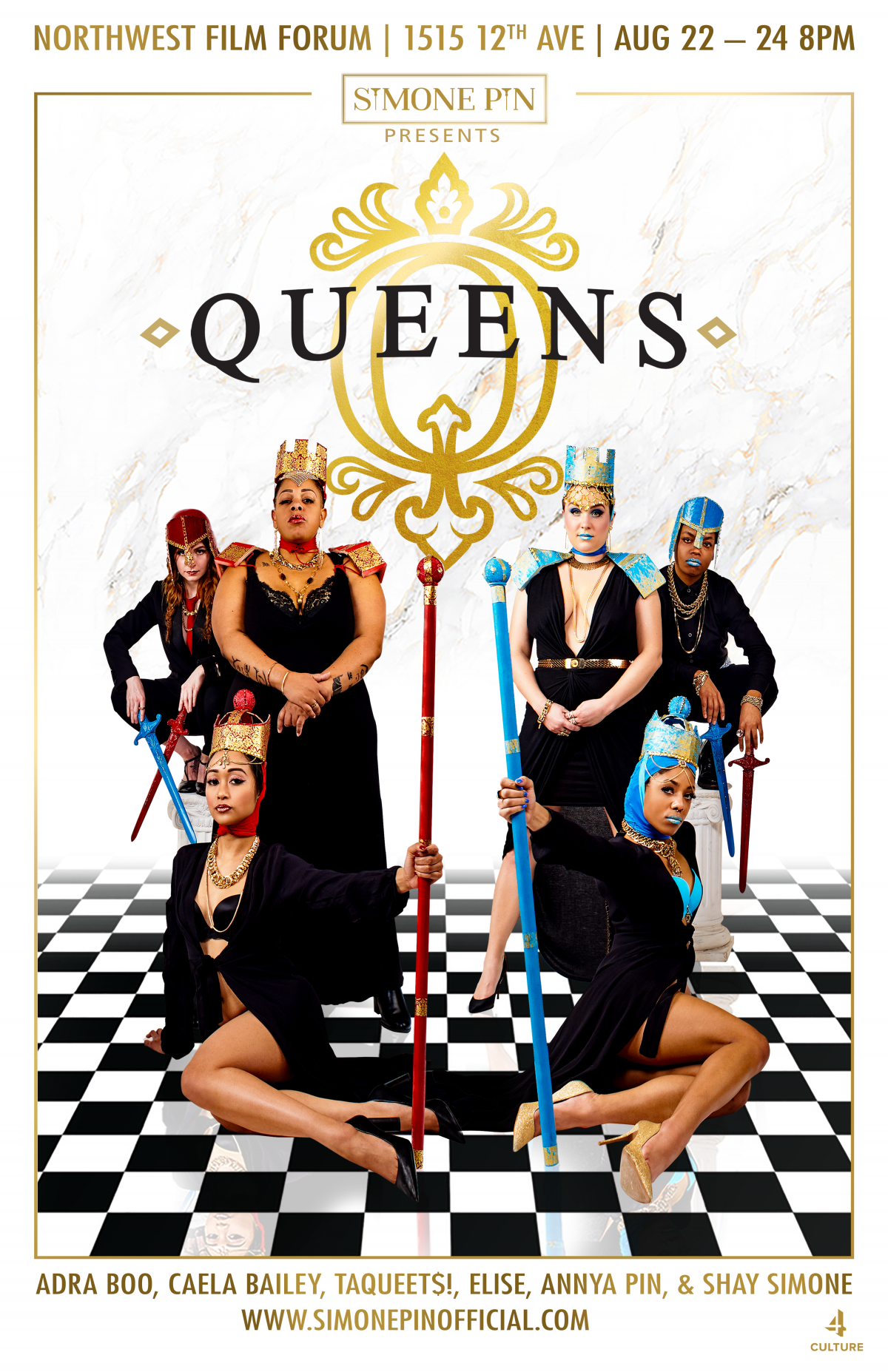 ---

TAQUEET$!
Meet one of the cast members of Queens and knight of the Queen's Court, TAQUEET$!. The Physical Representation of Sound. A freestyle dancer who created a unique style of performance that utilizes a multitude of disciplines and turns music into visual art. With roots in Tap and Ballet, coupled with self taught street styles, this Seattle native seeks to incite conversation and contemplation with every movement.

Adra Boo
Meet Adra Boo, one of the cast members of Queens and rook of the Queen's Court. Seattle soul singer, teacher and actress, Adra Boo, walks through walls. While some in the age look to construct boxes for others, Boo flouts these efforts, working to inspire through interconnectivity, sacrifice and, of course, a touch of sweetness. Formerly known in the Emerald City as one half of the electric-funk duo, Fly Moon Royalty, which has shared stages with the likes of Sharon Jones & The Dap Kings and Macklemore, Boo also performs regularly as a solo artist or as a featured singer for musicians like Erik Blood, Vox Mod, Massy Ferguson, and the Grammy Award-winning composer and Seattle native, Andrew Joslyn. Currently, she is the newest member of Seattle's new wave noir band, Hotels, which has been proving to give the band's sound new energy, and in this new arrangement, not even the sky is the limit.
When not singing, however, Boo works in her community in multiple facets, including holding a board seat with the Pacific Northwest Grammy Chapter, and directing the Seattle Ladies Rock Camp, energizing womxn and gender non-binary individuals towards living their best lives, musically and beyond. Boo is also a regular emcee for summer music festivals, burlesque and cabaret, and a former festival correspondent for the award-winning alternative weekly, The Stranger.
A veteran performer on a myriad stages, Boo has been compared to timeless musicians like Aretha Franklin and Tina Turner, unafraid to ruffle feathers or rouse would-be audiences. And while all of these efforts cause her to stand out in the city, it's her work as an artistic liaison that has made her a local legend.

Caela Bailey
The cast of Queens includes Caela Bailey as a rook of the Queen's Court. Caela Bailey is a born and raised Seattle artist and entertainer. Last year she celebrated the release of her first album, "The Gospel of the Gutter Queen." Caela grew up surrounded by street performers, circus legends, burlesque stars, and incredible musicians, traveling and performing around America & Europe. Caela is a full time performer, drawing her inspiration from modern cabaret, classic vaudeville, burlesque, old school Rock & Roll, and R&B, as well as today's mainstream pop culture – one night you might catch her with a bad-ass live band and the next night in a small vaudeville club as a charismatic host and personality. Brimming with talent and emotional honesty, she keeps the audience firmly in the palm of her hand from the moment she walks on stage until she hits her last note or risqué joke. She has released three music videos, all worth watching to get a glimpse of what you are in for if you are lucky enough to see her live.

Elise
Elise Landles Graduated in 2013 from Cornish College of the arts with a BFA in Dance. Since Graduating she has worked with several Seattle artists and companies including DASSDance and Intrepidus Dance Company. In 2014 she realized her love for burlesque and cabaret, performing with the Heavenly Spies and at Can Can Cabaret, until 2018. Elise has also had the opportunity to perform with Seattle band Thunderpussy at Sasquatch Music Festival, KEXP, and at many of Seattle's premier music venues. Elise is very much looking forward to performing in her first production with Simone Pin!

Shay Simone
Shay Simone is originally from the east coast where she began her dance journey training in Vaganova Ballet with Evgenia Singur and Bat Udval from The Russian State Ballet of Moscow. She has competed in nation wide dance competitions performing in a variety of styles such as Jazz, Hip Hop, Contemporary and Pointe. She then moved to the Big Apple where she was featured in Dance Spirit Magazine, Good Morning America and completed Broadway Dance Center Professional Semester program. In 2013, Shay was accepted into The Edge Scholarship Program in Los Angeles, California to train with the top choreographers and teachers in the industry and thus began her commercial dance career.
Since then Shay decided to relocate a third time to Seattle, Washington to take on the world of Burlesque. Shay quickly became a crowd favorite at the Can Can Culinary Cabaret where she performed in six different burlesque productions. While actively performing at various venues in the city Shay is currently giving back to the youth community twice a week by training and inspiring young dancers in the Poulsbo area.
You can also catch Shay in her Adult Heels class at Belltown Dance Studio every Thursday evening and Adult Burlesque Heels class at Westlake Dance Center every Saturday. She has teamed up with business partner and dear friend Annya Pin to create Simone Pin. A women of color owned production company curating technical burlesque shows. As the Founding Artistic Director of Simone Pin, Shay takes the lead in choreography, costume design and concept of the shows. She will also hit the stage as the lead in the blue Queen's court.

Annya Pin
Annya Pin is originally from Indonesia and found a passion for performing since a young age. Her performances exude sex, sass and sultriness, and she blends elements of her performances with her eclectic dance background in traditional Javanese and Balinese dancing, West African, hip hop, cabaret and burlesque.
After moving to Seattle in 2012, Annya joined the Can Can Culinary Cabaret cast as part of the Heavenly Spies and performed in Zombie Cheerleaders, The Midnight Show, Kitty Kat Club and Diamonds. Besides the stage, you can also find Annya Pin in the music videos of local Seattle musicians including Prom Queen, Caela Bailey and The Pazific.
Annya Pin is inspired in using the stage as a creative outlet to express themes she finds in her day-time career and brings her 10 year experience of working in project management to her role as Founding Director of Operations in Simone Pin Productions. As a co-producer with her close friend and creative-business partner Shay Simone, Annya Pin looks forward to exploring ways to mix burlesque with other genres and shaping a space for women of color and diverse body types to be celebrated. Annya Pin is a cast member of Queens and will also hit the stage as the lead in the red Queen's court.
---